Stefano Mirabello
Pharmacist / B.Pharm
Weight loss is an important part of many people's lives. Shedding those extra pounds can be challenging whether you want to improve your health or feel better. Fortunately, there are medications available that can help you with your weight-loss journey. One such medication is the brand name drug Wegovy manufactured by the pharmaceutical company Novo Nordisk. In this blog post, we will discuss the basics of Wegovy and how it works to help you reach your weight-loss goals.
Wegovy is a prescription drug used for chronic weight management in adults who have been overweight or obese for at least 6 months and have at least one weight-related condition such as high blood pressure, type 2 diabetes or high cholesterol.
How does Wegovy work?
Wegovy contains the active ingredient semaglutide. Semaglutide is a glucagon-like peptide-1 (GLP-1) receptor agonist used as a weight loss therapy. GLP-1 receptor agonists are found in the intestines, pancreas and brain and are part of the body's hormone system, which regulates appetite, making it an effective target for treating obesity. When semaglutide binds to GLP-1 receptors, it increases the glucagon concentration in the blood, reducing food intake by decreasing hunger levels and speeding up digestion.
In clinical trials, treatment with semaglutide led to significant weight loss in obese patients when combined with healthy lifestyle changes such as calorie restriction and increased physical activity. As a result, semaglutide is becoming increasingly popular as a medically supervised weight loss therapy.
Who should take Wegovy?
Wegovy is a weekly injection prescription medicine used for chronic weight management along with diet and exercise to help:
Adults patients
Pediatric patients
Aged 12 years and older with an initial body mass index at the 95th percentile or greater for age and sex (obesity)
Body Mass Index, commonly called BMI, is a tool used for measuring an individual's relative body size. It applies to adults over 18 and considers one's height and weight. Doctors use it to help them understand how healthy someone's weight is regarding their height; the higher the number, the more likely someone falls into a category associated with being overweight or obese. It's important not to take only your BMI at face value since other risk factors, such as exercise levels, diet and lifestyle habits, can contribute to your overall health.
Wegovy should not be used as a standalone treatment, but as part of an overall plan that includes a reduced-calorie diet and exercise modifications. In clinical trials, those who took Wegovy combined with lifestyle changes saw more significant improvements in their health than those who just made lifestyle changes alone.
Who should not take Wegovy?
Wegovy is not suitable for everyone; it should be avoided by:
People aged over 75 years
Pregnant and breastfeeding mothers
People with liver or kidney failure
People with heart problems
People with an eating disorder
People with a history of pancreatitis
People with a history of medullary thyroid carcinoma
People taking insulin, sulphonylureas or other types of weight loss drugs similar to Wegovy, such as Victoza
How much weight can you lose on Wegovy?
In a 68-week clinical study of 1,961 adults living with obesity or excess weight with a related medical problem:
83% of adults taking Wegovy lost 5% or more body weight, compared to 31% taking a placebo
66% of adults taking Wegovy lost 10% or more body weight, compared to 12% taking a placebo
48% of adults taking Wegovy lost 15% or more body weight, compared to 5% taking a placebo
Both groups were instructed to take medicine, a reduced-calorie meal plan, and increased physical activity.
How do you take Wegovy?
Wegovy is administered subcutaneously, meaning it needs to be injected under the skin. For this reason, you should always choose a different site for your injection each week. The most common injection sites are the upper arm, thighs, abdomen and buttocks; you may use either one or all of these sites for injecting Wegovy. When you inject Wegovy, take the weekly semaglutide as directed by your doctor and follow the instructions exactly.
What are the common side effects of Wegovy?
Taking Wegovy has been associated with some mild side effects, including bloating and pain in the abdomen area, burping, diarrhoea or constipation, dizziness, gas discomfort, headaches as well as feelings of fatigue. Other discomforts after taking this medication are indigestion/heartburn and stomach flu-like symptoms like nausea and vomiting.
Most people experience these unpleasant episodes shortly following a dose of Wegovy, but they usually go away within days to weeks without requiring any further action. However, it's always best to consult your pharmacist or other healthcare professionals if you feel uneasy about them.
What are the serious side effects of Wegovy?
Wegovy can have rare but serious side effects requiring urgent medical attention. These may include:
Gallbladder problems such as gallstones and inflammation
Increased heart rate
Low blood sugar levels (hypoglycemia)
Pancreatitis (inflammation of the pancreas)
Diabetic retinopathy (damage to the eye's retina)
There are additional risks associated with the drug too. The prescribing information for Wegovy contains a boxed warning to inform healthcare professionals and patients about the potential risk of thyroid cancer and allergic reactions. So if you're ever worried something isn't right following the use of this medication, it's best to seek medical advice without delay.
Is Wegovy available in the UK?
It is available in the US, but the drug has recently been approved in the UK and will be available soon. On February 13 2023, it was revealed by Novo Nordisk that Wegovy (semaglutide) would be available in high-street pharmacies in the UK this spring.
You should speak to your pharmacist or doctor if you are interested in exploring this treatment option. Public health policies can change rapidly, and Wegovy might become more widely available. As such, if you are in the UK and would like to learn more about whether Wegovy is known to treat your condition, keep up-to-date with medical news and ask your healthcare provider for the latest updates.
How to switch from Saxenda to Wegovy?
Switching from Saxenda to Wegovy can be beneficial based on your desired weight loss goals. If you find that Saxenda is not providing the desired results, then switching is an option. Before making any changes to your treatment plan, it's important to first consult with your healthcare provider and let them know why you wish to switch. They may be able to guide you more on which medication might work best for your specific situation and answer any questions you have about potential side effects, dosing instructions, or further recommendations.
Are Wegovy and Ozempic the same?
Ozempic and Wegovy may appear to be the same medications as they both contain the active ingredient semaglutide. Still, upon closer inspection, there are some differences that you should know about.
Ozempic is an injection used to help improve blood sugar levels in adults with type 2 diabetes, while Wegovy is an injection used to help adults with obesity manage their weight.
These medications are licenced to treat different conditions, and the dosages and frequency of injections differ between the two. Whilst Ozempic should only be prescribed for type 2 diabetes, Wegovy possesses a specific licence for weight management in the USA and UK.
This means that Ozempic shouldn't be prescribed off-label for weight loss; Wegovy already fulfils this purpose. Always consult your doctor regarding which treatments suit you and your particular condition.
Is Wegovy better than Saxenda?
The active ingredient of Saxenda is liraglutide, and the active ingredient of Wegovy is semaglutide. After a comprehensive 2018 study comparing Wegovy and Saxenda, the results highlighted that weight loss was substantially greater in those taking Wegovy. On average, participants achieved an impressive 11.2-13.8% reduction of their body weight with Wegovy, significantly more than the 7-8% observed when using Saxenda as part of the same year-long experiment.
Speak to a healthcare professional
Wegovy is a prescription medication designed to assist adults who have been overweight or obese for at least six months to achieve their weight-loss goals safely and effectively. It works by suppressing appetite via hormones in the brain while increasing metabolism so that fewer calories are consumed, and more calories are burned off throughout the day. While generally safe for most people, speaking with your healthcare provider before starting any new medication is important to ensure it's right for you. Before taking Wegovy, talk with your doctor and pharmacist. Tell them about all prescription, over-the-counter and other weight loss treatments you take. Also, tell them about any vitamins, herbs and supplements you use.
About Now Patient
Now Patient's online services are available in the US and UK. We help you manage your prescriptions, doctor appointments, test results, health risks and a lot more, all in one place for FREE. US prescriptions are available on a discounted 'cash' basis and delivered across all 50 states by our network of pharmacy providers dispensing FDA-approved generic and branded medications. We do not currently handle commercial insurance, Medicare or Medicaid. UK NHS and private prescriptions are delivered FREE of charge across England & Wales by our UK regulated online pharmacy.
Sources
Disclaimer
Now Patient has taken all reasonable steps to ensure that all material is factually accurate, complete, and current. However, the knowledge and experience of a qualified healthcare professional should always be sought after instead of using the information in this page. Before taking any drug, you should always speak to your doctor or another qualified healthcare provider.
The information provided here about medications is subject to change and is not meant to include all uses, precautions, warnings, directions, drug interactions, allergic reactions, or negative effects. The absence of warnings or other information for a particular medication does not imply that the medication or medication combination is appropriate for all patients or for all possible purposes.
WHY WE BUILT NOW PATIENT
To improve the lives of everyone by making high-quality care accessible and convenient
As technologists and clinicians, we built Now Patient to be more than just an online pharmacy. We are here to improve lives. Our service gives you access to smart features & resources that can help empower you to take control of your health and improve your health outcomes. All this, in one place, for FREE. We strive to bring a fresh perspective to managing health. Not play by the rules. Now Patient can be accessed by downloading the App or using your web browser.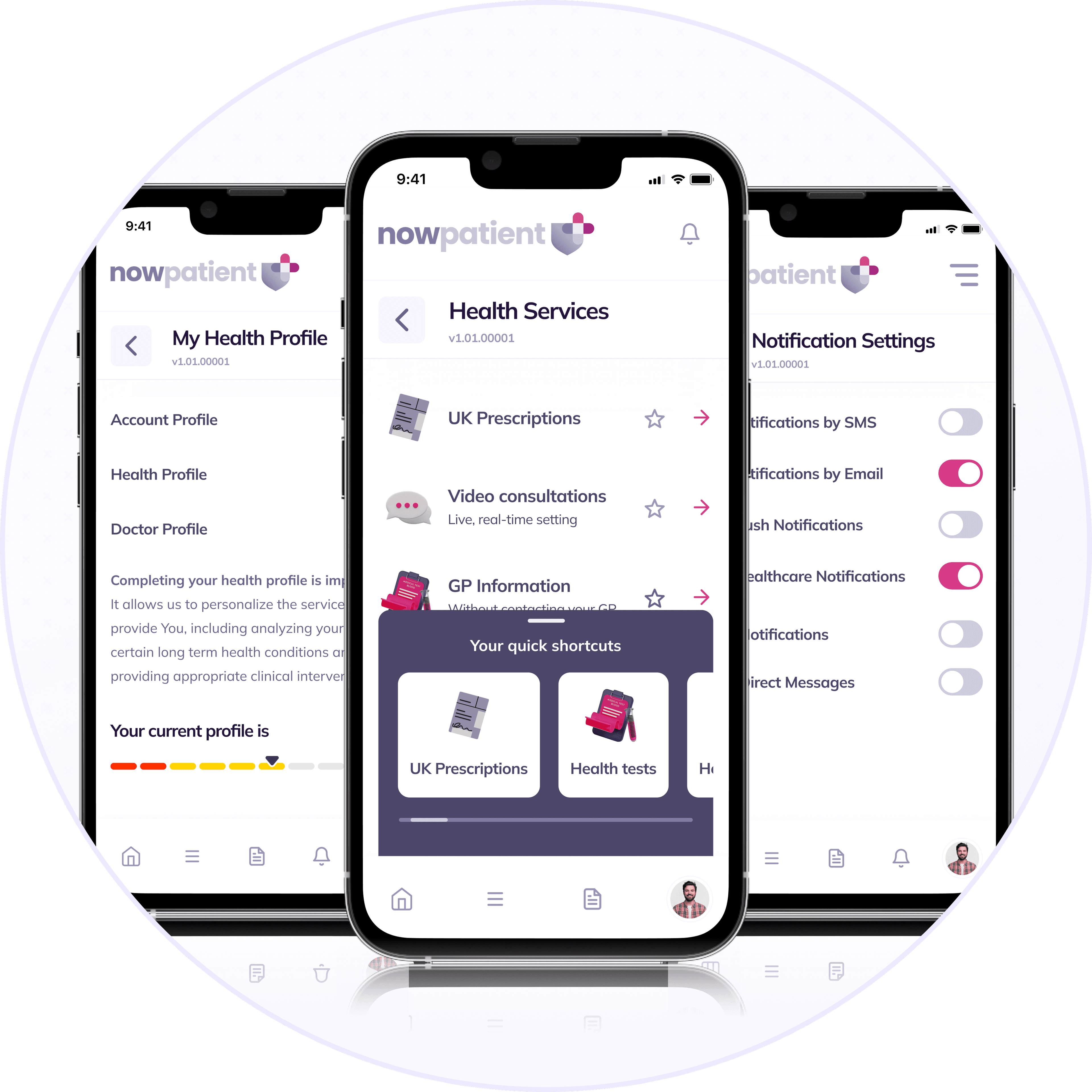 NOW PATIENT
Join the thousands of happy customers in the US and UK already using Now Patient
Manage your health and prescriptions all in one place for FREE. Available to use by downloading the App, or using your web browser.
Your Questions Answered
For your peace of mind, we can answer your health questions quickly
If you want to learn more about the range of services that we provide which can help manage and improve your health, then just click the button below.
Find your answers