http://www.nowpatient.com (our "Website") is operated by Infohealth Limited (company number 04004930, whose registered office is at Lynwood House, 373 – 375 Station Road, Harrow, England, HA1 2AW). Throughout this Cookie Policy, "Now Patient", "we", "us" and "our" refer to Infohealth Ltd. Like many organisations, Infohealth Ltd. employs "cookies" or similar technologies on our website, www.nowpatient.com (our "Website"). This Cookie Policy tells you about the use of Cookies and similar technologies.
When you first access our Website from certain jurisdictions, you will receive a message advising you that cookies and similar technologies are in use. By clicking "Accept", closing the message, or continuing to use our Website, you signify that you understand and agree to the use of these technologies, as described in this Cookie Policy.
You do not have to accept cookies and consent can be withdrawn at any time (see How to Control Cookies, below). You can change your browser settings to refuse or restrict cookies, and you may delete them after they have been placed on your device at any time. If you do not accept or delete our cookies, some areas of the Website that you access may take more time to work, or may not function properly.
Notification of changes to the cookie policy
WHY WE BUILT NOW PATIENT
To improve the lives of everyone by making high-quality care accessible and convenient
As technologists and clinicians, we built Now Patient to be more than just an online pharmacy. We are here to improve lives. Our service gives you access to smart features & resources that can help empower you to take control of your health and improve your health outcomes. All this, in one place, for FREE. We strive to bring a fresh perspective to managing health. Not play by the rules. Now Patient can be accessed by downloading the App or using your web browser.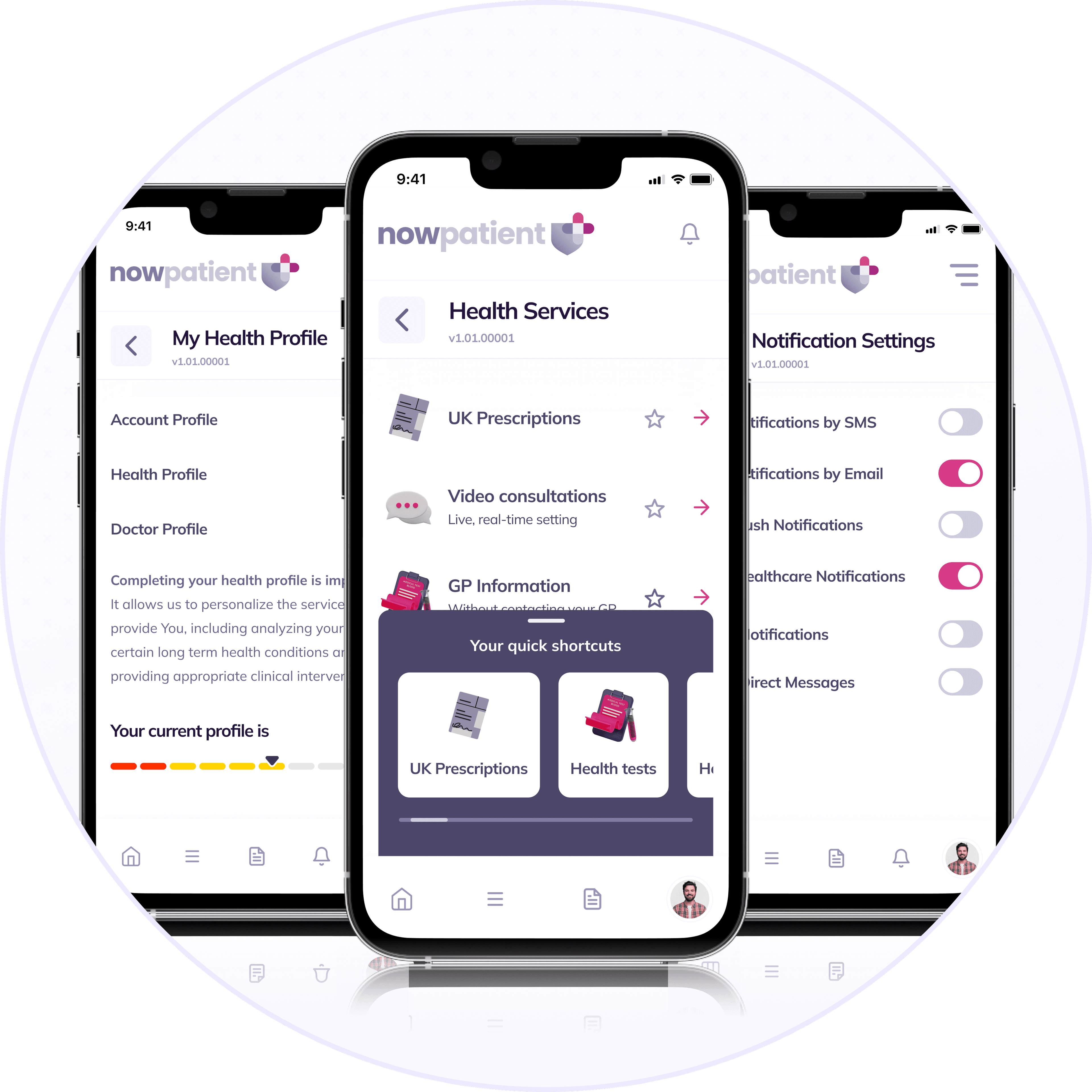 NOW PATIENT
Join the thousands of happy customers in the US and UK already using Now Patient
Manage your health and prescriptions all in one place for FREE. Available to use by downloading the App, or using your web browser.
Your Questions Answered
For your peace of mind, we can answer your health questions quickly
If you want to learn more about the range of services that we provide which can help manage and improve your health, then just click the button below.
Find your answers