A world of healthcare at your fingertips
Benefits of joining
More of what you want
Now Patient is packed with rich features that allow you to manage all your health care needs in one place, for FREE. Browse the cards below and click through to see the benefits and how it works.
Prescriptions
How it works
Now Patient is connected directly to your doctors practice meaning you can view and order your NHS repeat prescriptions once you have joined. Now Patient makes managing your prescriptions easy, with regular status updates, a 7 days a week delivery service and photographic proof of delivery. Follow the simple steps below to get started.
Step 1

Create your account

Download the App or use your web browser to securely create an account using your email or NHS Login

Step 2

Medications imported

Now Patient connects to your NHS prescription records and pulls your available prescriptions

Step 3

Order medication

When you place an order, your doctor will be notified to approve your prescription

Step 4

Medication dispensed

As soon as your prescription is approved by your doctor. Our pharmacists will dispense your medication

Step 5

Medication shipped

Once your medication is checked against your prescription, it is securely packaged and ready to ship. You get to track your order

Step 6

It doesn't end there

Now Patient is packed with useful features such as FREE symptoms checker, health education resources, private testing services, NHS remote services and lots more
HEALTH EDUCATION
Latest health news and trends
Now Patient's clinically reviewed healthcare and wellbeing articles are packed with useful information, keeping you updated with the latest news and trends, because good healthcare starts with patient education.
Our team of highly skilled US and UK clinicians write and review content that is both factual and engaging. We even personalise what you see, based on your health profile and potential risks.
Explore Trusted Health Content By
Blog
Conditions
Health news
Medications
Videos
Customers Love for Now Patient
Read what customers love about our service
We love our patients and we want everyone to be healthy and happy. That's what keeps us going. See what some of them have to say about us.
I am really happy Now Patient is delivering my prescription every month to my door because I am working in the night and I sleep in the day time. Thank You.

As a busy mum of 3 it's an absolutely wonderful and reliable service that saves me a lot of time every month. I would highly recommend this service.

Now Patient are so easy to use. Setting up reminders on the app saved me worrying when I had to order my next prescription.

So easy and quick so glad I signed up! What a great idea if you have a busy lifestyle.

One brilliant hassle free way to get your prescriptions. Very helpful staff that keep you informed all the way up to receiving your medicines.

I had my first delivery yesterday, I think it's a brilliant service. It saves time going to doctors, once to hand in then again to collect. They do what they say they do. 5 stars.
WHY WE BUILT NOW PATIENT
To improve the lives of everyone by making high-quality care accessible and convenient
As technologists and clinicians, we built Now Patient to be more than just an online pharmacy. We are here to improve lives. Our service gives you access to smart features & resources that can help empower you to take control of your health and improve your health outcomes. All this, in one place, for FREE. We strive to bring a fresh perspective to managing health. Not play by the rules. Now Patient can be accessed by downloading the App or using your web browser.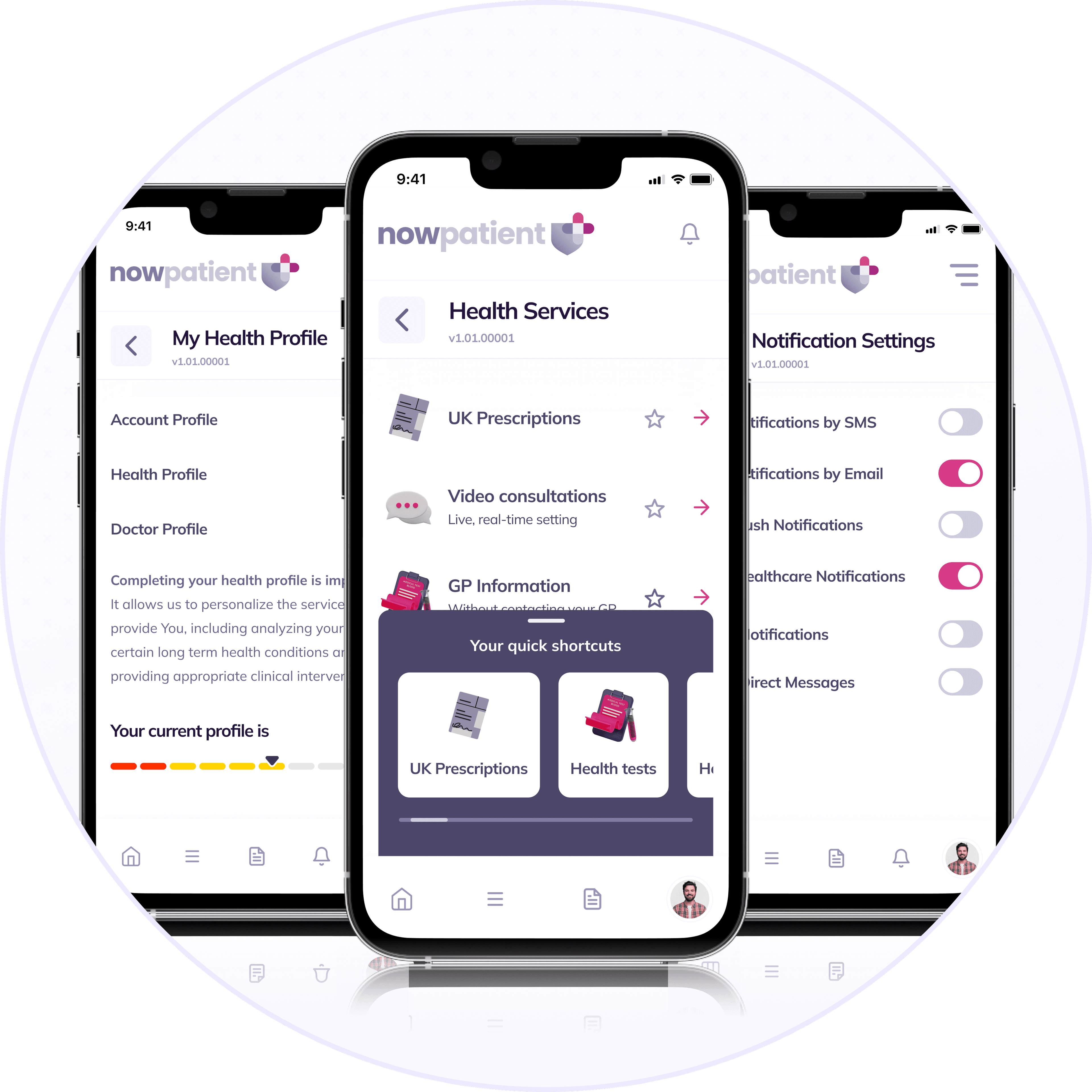 PERSONALISED HEALTHCARE
So what's it all about?
Now Patient personalises the services made available to you, based on your health profile and potential risks. With features such as AI risk calculators, you can see how likely you are to develop certain long-term conditions. Users have access to video consultations in a live, real-time setting, so you can discuss any aspect of your health or access services such as treatment plans from our team of qualified pharmacists, physicians and specialist clinicians based in the US and UK. With a comprehensive range of FREE healthcare resources, Now Patient will always ensure you are in control of your health.
NOW PATIENT
Join the thousands of happy customers in the US and UK already using Now Patient
Manage your health and prescriptions all in one place for FREE. Available to use by downloading the App, or using your web browser.
Your Questions Answered
For your peace of mind, we can answer your health questions quickly
If you want to learn more about the range of services that we provide which can help manage and improve your health, then just click the button below.
Find your answers