/
Blog
/
Your Guide to choosing the right dosage of Wegovy medication
Your Guide to choosing the right dosage of Wegovy medication
22 May 2023

Stefano Mirabello
Pharmacist / B.Pharm
Choosing the right dosage for a medication can be a daunting task, especially if you are a first-time user. This is especially true when it comes to weight loss medications like Wegovy. It is always important to find the right dosage that works for you, as it not only ensures safe use but also increases the effectiveness of the drug. Fear not – this guide will provide you with all the necessary information you need, to make an informed decision about the right dosage of Wegovy for you.
Before we dive into the specifics of the dosage of Wegovy, it's vital to understand what this medication is and how it works.
What is Wegovy?
Wegovy (semaglutide) is an injectable medication used for long-term weight management alongside a reduced-calorie diet and increased physical activity to reach a healthy weight. Essentially, Wegovy contains a drug called semaglutide, which is the active ingredient. Semaglutide is a glucagon-like peptide-1 receptor agonist class of drug.
Wegovy was first developed more than ten years ago by the Danish Pharma company Novo Nordisk for the treatment of type 2 diabetes. Marketed as Ozempic, semaglutide is already available on NHS prescription (although at lower doses than Wegovy and not for body weight management).
How does Wegovy work?
Wegovy works by mimicking the effects of the hormone GLP-1, which is naturally produced by the body in response to eating. GLP-1 helps regulate blood sugar levels, reduce appetite and reduce food cravings, helping individuals who struggle with weight loss. Another way the medication works is to slow down stomach emptying, slowing down the absorption of calories and contributing to the feeling of fullness.
Who is Wegovy suitable for?
Wegovy is a prescription drug generally used for people who have a body mass index (BMI) of 30 or higher, indicating obesity. Alternatively, it may be prescribed to individuals with a BMI of 27 or higher if they have significant weight-related health issues, such as high blood pressure (hypertension), type 2 diabetes or high cholesterol levels.
Clinical trials have shown it to help reduce weight and improve metabolism in obese individuals, making it a potential option for those struggling to lose weight through diet and exercise and to help them reach their weight loss goals.
How do you take Wegovy?
Wegovy is typically given as a weekly subcutaneous injection, which means it's administered just under the skin with a needle. You can choose from one of three places to inject Wegovy, on your stomach, upper arm, or upper thigh. Your prescribing doctor or other healthcare professional will instruct you on how to properly give yourself the Wegovy injections. It's essential to follow their instructions carefully for the best results. Additionally, it's recommended you take the medication at the same time each week to help establish a routine.
Understanding the dosages
Wegovy pens come in five different dosages: 0.25 mg, 0.5 mg, 1 mg, 1.7 mg and 2.4 mg. The dosage you require is dependent on various factors including your age, weight, and overall health. The general rule of thumb is to begin with the lowest dosage (0.25 mg) and work your way up, gradually titrating higher until you reach the maximum maintenance dose of 2.4 mg. Your healthcare provider will determine your dosage and titration schedule based on your individual needs.
According to manufacturers instructions, the following dosing regime is recommended:
Month 1 – Start your Wegovy dose of 0.25 mg weekly
Month 2 – increase your weekly dose to 0.5 mg
Month 3 – increase your weekly dose to 1 mg
Month 4 – increase your weekly dose to 1.7 mg
From month 5 – onward, you can increase your weekly dose to the full dose of 2.4 mg
When starting on Wegovy medication, it is important, to begin with a lower dosage to allow your body to adjust. The recommended starting dose for Wegovy is 0.25mg, which is a quarter of the full dose. This ensures that your body can handle the medication and minimises the risk of side effects. If you tolerate the lower dosage well, your healthcare provider may gradually increase the dosage over time until the standard maintenance dose is reached. This is where the weight management effects will be most noticeable.
Starting the medication
It's important to set realistic expectations when starting Wegovy. While it has been proven to be highly effective in encouraging weight loss, it's not a magic pill. It works in conjunction with a healthy diet and exercise regimen. You'll need to inject the medication once a week, on the same day of the week, at the same time each week. It's suggested to inject Wegovy in the abdomen, thigh or upper arm. To save time and remain consistent, it's recommended to inject it at the same time each week.
Your BMI
BMI can play a role in determining the right dosage of Wegovy medication. If your BMI is over 30, you will likely require a higher dosage of the medication compared to someone with a lower BMI. This is because people with higher BMIs tend to have more weight to lose and may require more assistance to reach their weight loss goals.
Your medical history
People with certain medical conditions or taking certain medications may require a different dosage of Wegovy medication. Conditions such as thyroid disease or renal impairment may require a lower dosage, while those with hepatic impairment may require a higher dosage. It is essential to discuss your medical history and any medications you are taking with your healthcare provider, to ensure your Wegovy dosage is appropriate for your needs.
Monitoring progress
It's crucial to monitor your progress when using Wegovy. Your healthcare provider will monitor your weight, waist circumference, and blood sugar levels regularly. Keep track of any adverse side effects and let your healthcare provider know if there are any changes. If you're not seeing significant progress within the first 16 weeks of starting Wegovy, the medication may not be effective for you.
What are the side effects of Wegovy?
As with any medication, there are potential adverse side effects to keep in mind. Nausea, vomiting, diarrhoea, heartburn, stomach pain and constipation are some of the most common side effects.
Other less common but more serious side effects include pancreatitis (inflammation of the pancreas), allergic reactions or kidney and gallbladder problems. Wegovy may also increase the risk of low blood sugar levels or hypoglycemia.
Your healthcare provider will need to monitor these potential side effects. If you experience any, it's important to notify them immediately. It's also worth noting that patients who have a personal or family history of medullary thyroid cancer or multiple endocrine neoplasia syndrome type 2 (MEN 2) should not take Wegovy.
What if I miss a dose?
It's important to stick to a consistent schedule when taking medication, but occasionally things happen that can throw off our routine. If you miss a dose of Wegovy, don't panic.
If you miss a dose of Wegovy and the next scheduled dose is more than 2 days away (48 hours), take the missed dose as soon as possible
If you miss a dose of Wegovy and the next scheduled dose is less than 2 days away (48 hours), do not administer the dose. Take your next dose on the regularly scheduled day
If you miss doses of Wegovy for more than 2 weeks, take the next dose on the regularly scheduled day or call your healthcare provider to talk about how to restart your treatment
It's important not to double up on doses to make up for a missed one, as this can lead to unwanted side effects. If you have any concerns or questions about missed doses or your medication regimen in general, don't hesitate to speak with your healthcare provider for guidance.
Speak to a healthcare professional
Wegovy has shown significant weight loss results of up to 15% of body weight over several weeks. However, it's an injectable medication that may not suit some patients. Ultimately, the best weight loss drug for you should be discussed with your healthcare provider, taking into account your health history, lifestyle, and goals. Remember that weight loss is a journey and not a quick fix, and a combination of lifestyle changes and medication may be necessary for some people to reach their weight loss goals.
When taking a prescription medication like Wegovy it is crucial to inform your healthcare professional about health conditions and medications you take including supplements, over-the-counter meds, and alcohol intake. Your healthcare provider may also provide you with additional guidance on how to use the medication safely and effectively.
About Now Patient
Now Patient's online services are available in the US and UK. We help you manage your prescriptions, doctor appointments, test results, health risks and a lot more, all in one place for FREE. US prescriptions are available on a discounted 'cash' basis and delivered across all 50 states by our network of pharmacy providers dispensing FDA-approved generic and branded medications. We do not currently handle commercial insurance, Medicare or Medicaid. UK NHS and private prescriptions are delivered FREE of charge across England & Wales by our UK regulated online pharmacy.
Sources
Disclaimer
Now Patient has taken all reasonable steps to ensure that all material is factually accurate, complete, and current. However, the knowledge and experience of a qualified healthcare professional should always be sought after instead of using the information in this page. Before taking any drug, you should always speak to your doctor or another qualified healthcare provider.
The information provided here about medications is subject to change and is not meant to include all uses, precautions, warnings, directions, drug interactions, allergic reactions, or negative effects. The absence of warnings or other information for a particular medication does not imply that the medication or medication combination is appropriate for all patients or for all possible purposes.
WHY WE BUILT NOW PATIENT
To improve the lives of everyone by making high-quality care accessible and convenient
As technologists and clinicians, we built Now Patient to be more than just an online pharmacy. We are here to improve lives. Our service gives you access to smart features & resources that can help empower you to take control of your health and improve your health outcomes. All this, in one place, for FREE. We strive to bring a fresh perspective to managing health. Not play by the rules. Now Patient can be accessed by downloading the App or using your web browser.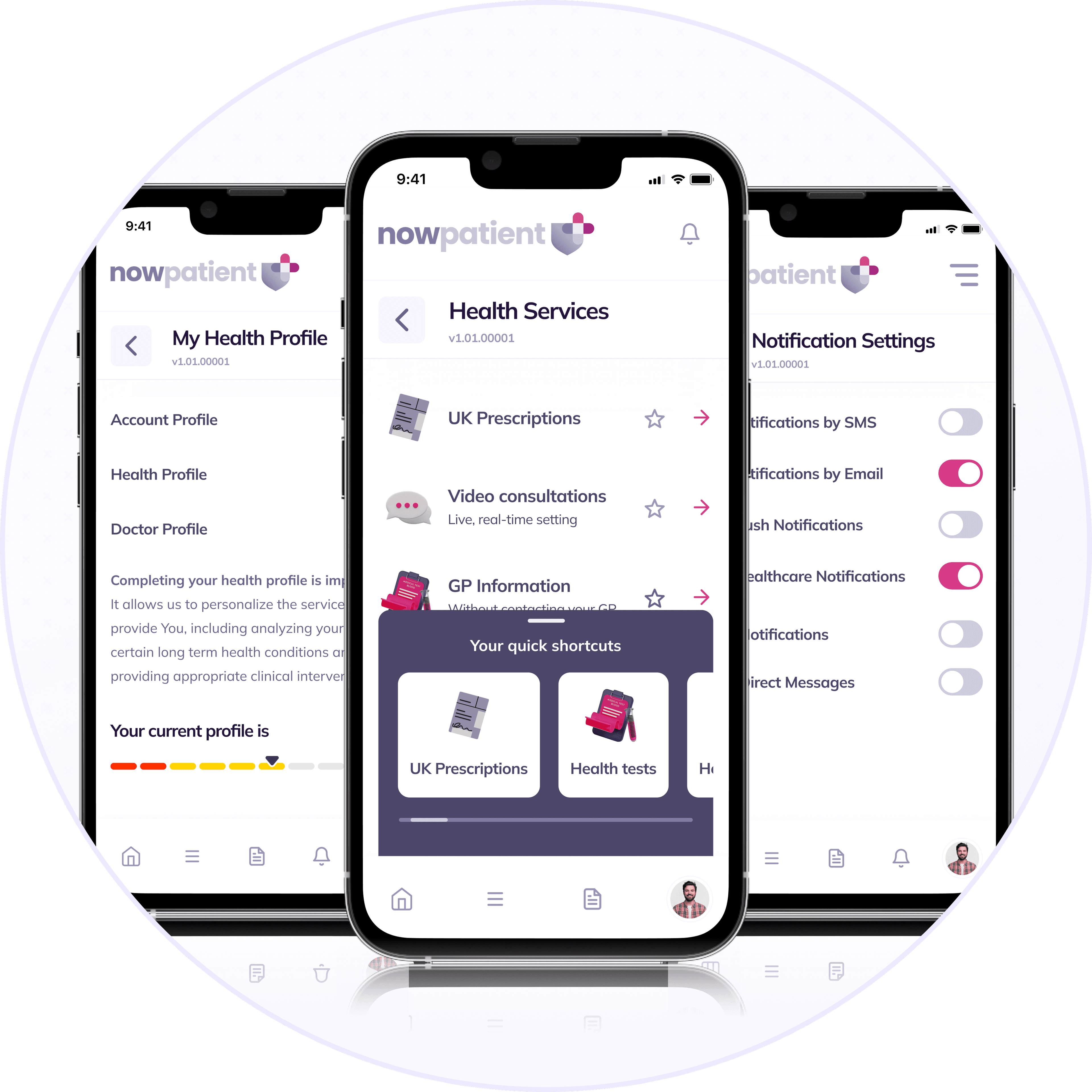 NOW PATIENT
Join the thousands of happy customers in the US and UK already using Now Patient
Manage your health and prescriptions all in one place for FREE. Available to use by downloading the App, or using your web browser.
Your Questions Answered
For your peace of mind, we can answer your health questions quickly
If you want to learn more about the range of services that we provide which can help manage and improve your health, then just click the button below.
Find your answers