Stefano Mirabello
Pharmacist / B.Pharm
Obesity is a growing problem in the United Kingdom and is one of the greatest long-term health challenges currently faced in England. Around two-thirds (63%) of adults are above a healthy weight and half are living with obesity.
Obesity is associated with a number of chronic diseases, including heart disease, the risk of heart attack, stroke, Type 2 diabetes, cancer and osteoarthritis. It also increases the chances of developing high blood pressure, sleep apnea and other breathing problems, gallstones or fatty liver disease.
If you're looking to lose weight, you may have heard of the diabetes prescription drug called Rybelsus. But how can a diabetes drug help with weight loss? It is also being studied as an aid for weight loss in people who are obese or overweight but do not have diabetes. Some doctors may prescribe Rybelsus "off-label" for weight loss. By understanding what Rybelsus is and how it works, you can decide whether this drug is right for you. Let's take a look at what Rybelsus is and how it can help with weight loss.
What is Rybelsus?
Rybelsus is the brand name of the active ingredient semaglutide and is manufactured by Novo Nordisk. It is an oral diabetes medication used to treat type 2 diabetes mellitus, it also helps to reduce the risk of severe cardiovascular events. It is not used to treat type 1 diabetes.
Rybelsus belongs to a class of drugs known as glucagon-like peptide-1 (GLP-1) receptor agonists or GLP-1 inhibitors, which increase insulin production in the body when glucose levels become too high. This helps control blood sugar levels, reducing your risk of developing diabetes-related complications such as kidney disease or stroke.
How Does Rybelsus Work?
Diabetes
Semaglutide is a glucagon-like peptide-1 (GLP-1) receptor agonist designed to help control blood glucose levels for those with type 2 diabetes. This medicine works by signalling the liver to slow the production and release of excess sugar from stored food sources, this helps maintain normal blood glucose levels after meals.
Weight management
Semaglutide can help with weight loss by reducing hunger and increasing feelings of fullness. It works by acting on the brain's satiety centre, which activates hormones that suppress the feeling of hunger and create a longer-lasting feeling of fullness after meals. This hormone is also responsible for increasing metabolism, which helps to burn more calories throughout the day, leading to greater weight loss.
Does Rybelsus cause weight loss?
Rybelsus has been shown to be effective in aiding reductions in body weight. In a one-year clinical trial, those taking Rybelsus (14 mg dose, which is the higher dose) lost an average of 4.4 kilograms or about 10 pounds, even with metformin treatment for type 2 diabetes already established.
A separate comparison between Rybelsus and liraglutide showed that the former was more successful in promoting substantial weight reduction than its counterpart injection medication.
However, it is important to note that while semaglutide may help contribute to weight loss goals when taken along with diet and exercise, patients saw even greater improvements in their overall health, including lower cholesterol and improved glucose control.
Can Rybelsus be used for weight loss in non-diabetics?
While Rybelsus is not yet approved as a weight loss drug for those without diabetes, Wegovy and Saxenda are GLP-1 receptor agonists that have been granted the green light as weight loss medication. These injectables can provide non-diabetics an effective means to reach their health and fitness goals when used with lifestyle changes.
If your prescribing doctor determines it is safe and medically appropriate, it is possible that Rybelesus can be prescribed off-label for weight management if deemed medically appropriate. It is prescribed off-label for those with a body mass index (BMI) of 30 and over with at least one weight-related issue, such as high blood pressure. It must be taken alongside a healthy diet and exercise regime to see the full benefits.
How do I take Rybelsus?
To maximise its effectiveness, take one Rybelsus tablet daily on an empty stomach and at least 30 minutes before consuming the first meal or drink of the day, usually in the morning. Be sure not to crush, split or chew tablets, as this can reduce absorption. If you miss a dose, skip it and continue with your regular schedule; however, if after 12 weeks, treatment has resulted in less than 5% initial body weight loss, your doctor may recommend discontinuing its use.
What dosages of Rybelsus are available?
Rybelsus is designed to be taken in doses of 3mg, 7mg and 14 mg, respectively. To help you achieve healthy weight loss with lasting effects, your doctor will gradually increase the dosage over time, beginning at 3mg per day. After one month on that dose if deemed suitable by your physician, it may move up to the next level of 7 mg for another steadying period, before potentially increasing again but never higher than 14mg every 24 hours. Never exceed 14 mg dose per day or follow instructions from anyone other than a healthcare provider.
What are the common side effects of Rybelsus?
Common possible side effects include:
Taking Rybelsus on an empty stomach can help with some of its side effects, so follow your recommended dosage instructions carefully.
What are the serious side effects of Rybelsus?
There may be risks associated with taking Rybelsus that need to be thoroughly discussed by you and your doctor before beginning treatment. If you experience any of these symptoms while taking Rybelsus, you should immediately seek medical attention.
Patients not suitable for Rybelsus
Rybelsus, the first-ever oral glucagon-like peptide 1 (GLP-1) receptor agonist medication available on the market, is an effective treatment option for Type 2 diabetes. However, it is important to note that Rybelsus is not recommended for certain groups of patients:
Furthermore, risks may be associated with consuming Rybelsus with other medications, so make sure your healthcare provider knows about all your medications and supplements. It's also important to check whether Rybelsus is safe to use if you have other conditions besides type 2 diabetes. By talking to your healthcare provider and knowing which patients should avoid taking the medication, you can ensure that your treatment is safe and effective.
Is Ozempic the same as Rybelsus?
Rybelsus and Ozempic both contain the same active ingredient, semaglutide. Both medications are used to treat type 2 diabetes and can also be prescribed 'off-label' for weight management. The key difference between these treatments lies in the way they're taken: Rybelsus is an oral tablet, while Ozempic needs to be injected into fatty tissue areas like your arm or leg. Rybelsus provides a suitable alternative medication option for those who have difficulty with injections.
Talk to your healthcare professional
Rybelsus may not be suitable for you if you have certain medical conditions, take specific prescriptions, over-the-counter medications or other factors affecting your health. Before starting on any new medications or dietary supplements, discuss them with your healthcare professional first. Your doctor will be able to provide you with personalised advice tailored to your own unique needs and lifestyle. Additionally, if you experience any side effects when taking Rybelsus, such as nausea or stomach pain, speak with your doctor immediately so they can adjust the dosage or recommend an alternative option if necessary.
Rybelsus is an NHS approved treatment for adults, but with a side effect of weight loss, many people are curious if it can help them. The NHS don't recommend taking medication like Rybelsus just for the purpose of losing weight. While it may positively affect body composition, it was made to help control blood sugar levels and should not be taken without first speaking to an NHS GP or Nurse. Suppose you are interested in using an NHS-approved treatment specifically designed for weight loss. In that case, there are several lifestyle and diet changes that an NHS Healthcare Practitioner would be able to suggest.
About Now Patient
Now Patient's online services are available in the US and UK. We help you manage your prescriptions, doctor appointments, test results, health risks and a lot more, all in one place for FREE. US prescriptions are available on a discounted 'cash' basis and delivered across all 50 states by our network of pharmacy providers dispensing FDA-approved generic and branded medications. We do not currently handle commercial insurance, Medicare or Medicaid. UK NHS and private prescriptions are delivered FREE of charge across England & Wales by our UK regulated online pharmacy.
Sources
Disclaimer
Now Patient has taken all reasonable steps to ensure that all material is factually accurate, complete, and current. However, the knowledge and experience of a qualified healthcare professional should always be sought after instead of using the information in this page. Before taking any drug, you should always speak to your doctor or another qualified healthcare provider.
The information provided here about medications is subject to change and is not meant to include all uses, precautions, warnings, directions, drug interactions, allergic reactions, or negative effects. The absence of warnings or other information for a particular medication does not imply that the medication or medication combination is appropriate for all patients or for all possible purposes.
WHY WE BUILT NOW PATIENT
To improve the lives of everyone by making high-quality care accessible and convenient
As technologists and clinicians, we built Now Patient to be more than just an online pharmacy. We are here to improve lives. Our service gives you access to smart features & resources that can help empower you to take control of your health and improve your health outcomes. All this, in one place, for FREE. We strive to bring a fresh perspective to managing health. Not play by the rules. Now Patient can be accessed by downloading the App or using your web browser.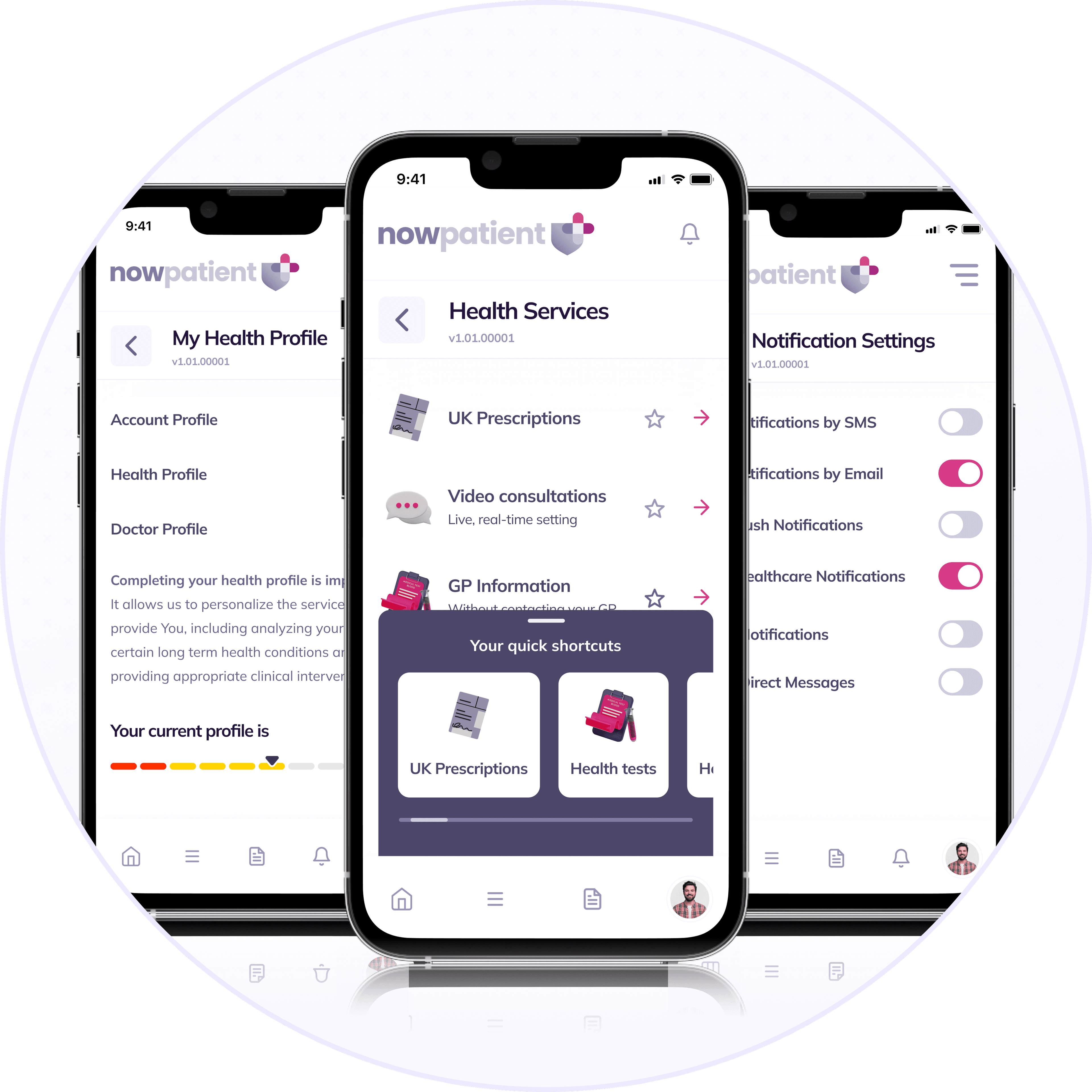 NOW PATIENT
Join the thousands of happy customers in the US and UK already using Now Patient
Manage your health and prescriptions all in one place for FREE. Available to use by downloading the App, or using your web browser.
Your Questions Answered
For your peace of mind, we can answer your health questions quickly
If you want to learn more about the range of services that we provide which can help manage and improve your health, then just click the button below.
Find your answers