Stefano Mirabello
Pharmacist / B.Pharm
The various types of diabetes
There are three classifications of diabetes.
Type 1
Type 2
Gestational diabetes (diabetes that develops during pregnancy)
Type 1 diabetes
Insulin is a hormone that is naturally produced by the body in a small organ called the pancreas. Insulin is important because it's function is to keep blood sugar within range and in control. Type 1 diabetes is a lifelong condition which occurs because the body cannot produce insulin due to an autoimmune reaction that destroys the cells that produce insulin. 8.4 million people live with type 1 diabetes around the globe. Over time, type 1 diabetes complications can have a major impact on organs in the body including the heart, blood vessels, nerves (neuropathy), eyes (retinopathy) and kidney disease (Diabetic nephropathy). Complications can lead to disabilities or even threaten life. It is worth noting that there is no cure for type 1 diabetes and type 1 diabetes management is generally limited to managing the disease through changes in lifestyle choices (for example, not skipping meals, watching portion sizes, eating foods and drinks that do not have sugar), controlling blood glucose levels using insulin injections or an insulin pump.
When blood sugar levels are too high, this is called hyperglycemia. People will tend to develop hyperglycemia if their diabetes is not managed or treated properly. On the other side, hypoglycemia occurs when blood sugar levels are too low. This can be caused by mis-management of insulin medication (for example, not adjusting carb intake to insulin usage), the amount and timing of physical activity, heat and humidity.
Risk factors are shown below and it is worth remembering that type 1 diabetes has no relation to weight as a risk factor.
Genetics – certain genes increase the chances of developing the chronic disease
Age – type 1 diabetes can develop at any age, however, there are two notable peaks. The first is children between the years 4 and 7; the second is children between the years 10 and 14
Family history – type 1 diabetes is at an elevated risk if you have a parent or sibling with the condition
Geography – It has been shown that individuals are likely to develop type 1 diabetes the further you travel away from the equator
Type 2 diabetes
Type 2 diabetes (also known as type 2 diabetes mellitus) is a disease that is characterised by chronic hyperglycemia (high blood sugars). The prevalence of type 2 diabetes is astonishing. It affects 462 million individuals, that's a staggering 6.28% of the world's total population. Thats nearly 60 times more people who live with type 2 diabetes compared to type 1 diabetes. Type 2 diabetes is a significant global public health issue. In fact the NHS, in the United Kingdom spends roughly £14 billion each year on both treating the chronic disease and its associated symptoms, as well as for diabetes care.
Whereas type 1 diabetes is mainly of genetic cause, type 2 diabetes develops over time and is significantly associated with lifestyle choices.
Type 2 diabetes is a long term chronic condition and can be lifelong. Just as with type 1 diabetes, uncontrolled blood glucose can lead to damage of your eyes, heart and feet.
There is no cure for type 2 diabetes, however, the condition can be managed with a number of interventions such as changing to eating healthier, controlling carbohydrate intake, being more active (less sedentary) or by losing weight through aerobic exercise, for example. The management goal also involves maintaining optimal lipids and blood pressure levels to prevent or delay the chronic complications of diabetes. That said, most people will need eventually require medication to bring their blood glucose into target range. Those who are able to control their blood sugar levels and keep it below the diabetes range are considered to be in diabetes remission.
Risk factors are shown below:
Prediabetes (60 million U.S. residents have prediabetes, a condition where blood glucose levels are above the normal range)
Overweight or obesity
45 years or over
Family history with type 2 diabetes
Sedentary (physically active less than 3 times a week)
History of gestational diabetes (diabetes during pregnancy) or given birth to a baby who weighed over 9 pounds
By measuring glycated haemoglobin (HbA1c), clinicians are able to get an overall picture of what the average blood sugar levels have been over a period of weeks/months. This is a particularly useful measure when diagnosing people with prediabetes or diabetes. A HbA1c reading of 42 mmol/mol is normal; a reading of 42 to 47 mmol/mol indicates prediabetes, and a reading of 48 mmol/mol or over is an indication of diabetes.
A recent study by JAMA which was the first-ever randomized trial showed that CGM (continuous glucose monitoring like dexcom G6/G7 and Abbott's freestyle libre) is beneficial people with Type 2 diabetes on less intensive insulin regimens because it allowed people to understand and effectively respond to their changing glucose levels.
Physical activity/exercise and its effect on type 2 diabetes
It is well established that participation and uptake of regular exercise training improves blood glucose control and can help prevent or delay the onset of type 2 diabetes. Exercise interventions are a good way of being proactive.
In a position statement (authored by Sheri R. Colberg et al.), The American Diabetes Association (ADA), defined physical activity as an activity that includes any exercise program that encourages general movement that increases energy use; and that the adoption and maintenance of physical activity are critical foci for blood glucose management and overall health in individuals with diabetes and prediabetes. The definition of exercise, however, covers physical activity that is both structured and planned. There are clear benefits of exercise for type 2 diabetics.
The effects of exercise improve overall blood glucose control in type 2 diabetes. In addition, it can reduce cardiovascular disease risk factors, improve cholesterol, can contribute to weight loss, and improve general well-being and quality of life. Furthermore, taking regular exercise may even prevent or delay type 2 diabetes development. Regular exercise can also deliver health benefits to type 1 diabetes by improving cardiovascular fitness, skeletal muscle strength and insulin sensitivity (countering insulin resistance).
Physical activity and exercise should be tailored to meet the specific needs of each individual and more importantly, to take into account the diabetes type, activity type and presence of any complications.
The following is a list of benefits of exercising on type 2 diabetics:
Reducing HbA1c values by 0.7 percentage point in people even without any weight loss or reduction in body weight.
All forms of exercise, including aerobic, resistance, or combined, were effective in reducing HbA1c values in people with diabetes
Resistance training and aerobic exercise both helped to lower insulin resistance in older adults with abdominal obesity, who were previously sedentary and at risk for diabetes. Both types of exercise combined proved to be more beneficial than doing just one type
People with diabetes who walked at least two hours a week were less likely to die of heart disease than their sedentary counter peers. People with diabetes who exercised three to four hours a week could cut their risk even more
Women with diabetes who spent at least four hours a week doing moderate exercise (including walking) or vigorous exercise had a 40% lower risk of developing heart disease than those who didn't exercise. These benefits persisted even after researchers adjusted for confounding factors, including BMI, smoking, and other heart disease risk factors
As well as exercising, many type 2 diabetics take supplements such as chromium, vitamin E, St. John's wort, or niacin. However, the research on many supplements is not conclusive, and you should always talk to your health care provider before you start taking.
Recommendations for aerobic exercise
The amount and intensity of aerobic exercise/ aerobic activity recommended should vary according to individual goals.
Where the goal is glycemic control for type 2 diabetics, weight maintenance, and to reduce the risk of cardiovascular disease, the recommendation is to perform at least 2.5 hours per week of moderate-intensity aerobic physical activity (40–60% of V̇o2max or 50–70% of maximum heart rate) and/or at least 1.5 hours per week of vigorous aerobic exercise (> 60% of V̇o2max or >70% of maximum heart rate). The physical activity should be distributed over at least 3 days per week and ensuring there is no more than 2 consecutive days without physical activity
Where the goal is even greater cardiovascular disease risk reduction, then the recommendation is to performing more than 4 hours a week of moderate to vigorous aerobic and/or resistance exercise
Where the goal is the long-term maintenance of major weight loss (≥ 13.6 kg [30 lb]), the recommendation is 7 hours a week of moderate to vigorous aerobic physical activity
The American College of Sports Medicine declared that people with type 2 diabetes, who want to lose weight, should consider workouts of moderately high volume for four to five days per week
For people who have metabolic syndrome, which is a combination of diabetes, high blood pressure (hypertension) and obesity, the following regimen is recommended:
Get 150 minutes per week of moderate-to-vigorous-intensity physical activity
Exercise can be broken up into sessions of 10 minutes or more throughout the day
Brisk walking ( 3 miles per hour or faster) is an example of moderate-intensity aerobic exercise, but any activity that raises your heart rate is included
High-Intensity training
Interval training is a form of flexible training that has been shown to be beneficial for type 2 diabetics.
Research has shown that high intensity interval training can be just as beneficial to your health as longer periods of conventional cardiovascular exercise, like continuous jogging.
Your healthcare professional or health care provider can always advise you on the most suitable exercise regimen based on your own individual circumstances and risks.
Strength training
Muscle mass naturally diminishes as we all age. Our body fat percentages will also increase over time. According to the American Diabetes Association, strength training can help type 2 diabetics preserve and enhance muscle mass at any age, which can ultimately help with blood sugar control.
Benefits of strength training include:
Better insulin response
Better glycaemic control of older patients with type 2 diabetes
Lower body weight
Lower cardiovascular risk
Most people with type 2 diabetes can work out relatively safely. If you are unsure, your healthcare professional or health care provider can always advise you on the most suitable exercise regimen based on your own individual circumstances and risks.
Strength training should be performed at least twice a week. It's also important to try and do other physical exercises, as shown in the section above.
Depending on your individual circumstances, you should consider the following strength training plan to cover as many muscle groups as possible:
Standing bicep curl
Triceps extension
Shoulder press
Chest press
Seated row
Classic crunch
Plank
Squat
Lunges
Tai Chi and type 2 diabetes
A recently published study using meta-analysis and systematic review looked into the effects of Tai Chi on type 2 diabetes mellitus.
As part of the study, resource databases were used, including PubMed, The Cochrane Library, EM base, SCI, CNKI, Wanfang Data, and VIP, and randomized controlled trials on the intervention effect of Tai chi on diabetes were retrieved.
The results were fascinating, and the authors of the study concluded that Tai chi can effectively affect the management of blood glucose and HbA1c in type 2 diabetes mellitus patients. Furthermore, long-term adherence to Tai chi has a better role in reducing blood glucose and HbA1c levels in type 2 DM patients.
About Now Patient
Now Patient's online services are available in the US and UK. We help you manage your prescriptions, doctor appointments, test results, health risks, and a lot more, all in one place for FREE. If you are in the United States, you could enjoy savings using Now Patient's mail-order pharmacy or use the Now Patient Rx Advantage Card at over 65,000 pharmacies, with savings of up to 90% on popular FDA-approved brand and generic medications like Ozempic, Mounjaro, clopidogrel and lots more. We do not currently handle commercial insurance, Medicare or Medicaid. UK NHS and private prescriptions are delivered FREE of charge across England & Wales by our UK NHS online pharmacy.
Sources
Disclaimer
Now Patient has taken all reasonable steps to ensure that all material is factually accurate, complete, and current. However, the knowledge and experience of a qualified healthcare professional should always be sought after instead of using the information in this page. Before taking any drug, you should always speak to your doctor or another qualified healthcare provider.
The information provided here about medications is subject to change and is not meant to include all uses, precautions, warnings, directions, drug interactions, allergic reactions, or negative effects. The absence of warnings or other information for a particular medication does not imply that the medication or medication combination is appropriate for all patients or for all possible purposes.
WHY WE BUILT NOW PATIENT
To improve the lives of everyone by making high-quality care accessible and convenient
We are here to improve lives. Our service gives you access to smart features & resources that can help empower you to take control of your health and improve your health outcomes. All this, in one place, for FREE. We strive to bring a fresh perspective to managing health. Not play by the rules. Now Patient can be accessed by downloading the App or using your web browser.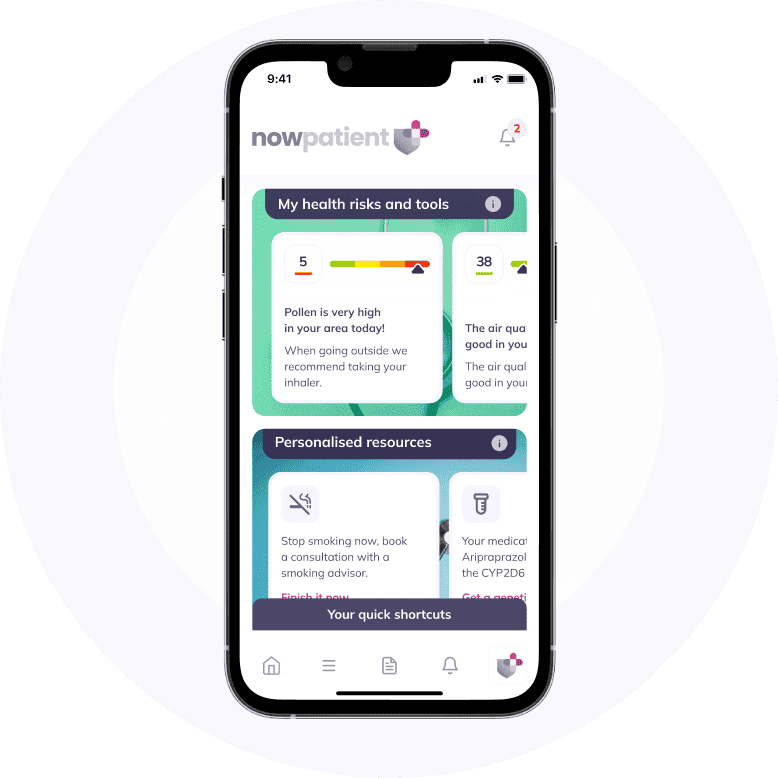 Your Questions Answered
For your peace of mind, we can answer your health questions quickly
If you want to learn more about the range of services that we provide which can help manage and improve your health, then just click the button below.
Find your answers