Stefano Mirabello
Pharmacist / B.Pharm
Lately, you may have noticed a lot of talk about Ozempic on social media, specifically on TikTok. This drug has become the latest diet trend and weight loss medication, but what is it? Let's break it down and discuss why this drug should not be taken lightly.
What is Ozempic?
Ozempic is a brand name for the drug semaglutide and is manufactured by the drug company Novo Nordisk. It is a diabetes medication that helps control blood glucose levels. It is taken as a once-weekly injection. However, clinical trials have shown that Ozempic is also a safe and effective treatment for obese patients to aid weight loss.
How does Ozempic help diabetics?
It works by blocking glucagon-like peptide 1 (GLP-1) receptors, which are responsible for controlling the release of glucose from the liver. By blocking these receptors, Ozempic helps your body better regulate its blood sugar levels. This makes it an effective treatment for type 2 diabetes. Ozempic is also approved to lower the risk of heart disease in patients with type 2 diabetes.
Semaglutide is the active ingredient in Ozempic. It belongs to a class of medications known as glucagon-like peptide 1 (GLP-1) receptor agonists. These drugs work by stimulating the pancreas to produce more insulin when your blood sugar levels increase after eating a meal – this helps regulate your blood sugar levels throughout the day.
How does Ozempic make you lose weight?
In addition to helping manage blood sugar levels, Ozempic has also been shown to help with weight loss and obesity. It delays the rate at which food is transferred from the stomach to the intestines (gastric emptying), increases satiety and reduces hunger by targeting specific hormones responsible for these processes. This could lead to decreased hunger, lower calorie and food intake resulting in weight loss over time. Additionally, because Ozempic helps regulate blood sugar levels, it may also be able to reduce cravings for sugary foods which can cause weight gain when eaten in excess.
In recent months, the demand for unapproved weight loss use of Ozempic has been surging. Unfortunately, this sudden spike in off-label requests is creating serious problems for those who use the drug to treat their diabetes. Patients reliant on a steady supply of Ozempic are now facing increasing difficulty in securing repeat prescriptions due to shortages of the drug.
Is Ozempic effective for weight loss?
Ozempic has been clinically proven to help people lose weight in the long term. In 6 detailed studies where 7,215 patients participated, 4107 individuals took Ozempic while 3108 received alternate treatments or placebos. The results showed those taking Ozempic achieved significant and sustained weight loss after two years regardless of age, gender identity or ethnic background.
Through these trials, it was found that many patients experienced significant weight loss after a year of treatment, with up to two thirds experiencing at least 5% bodyweight reduction and almost one third achieving 10%, or more.
In another two-year clinical trial, participants taking Ozempic 1mg with lifestyle modifications saw an average decrease of 4.9kg in bodyweight while those relying solely on diet and exercise only shed 0.5kg. This suggests that for maximum results when trying to lose weight, prescribed drugs can be used in combination with healthy habits for improved outcomes.
Is Ozempic a weight loss drug?
Ozempic isn't licensed by the UK medicines regulator for weight loss specifically, but clinical studies in many patients have shown Ozempic to be safe for weight loss. Ozempic has been widely used to treat diabetes, but there is also a wealth of clinical evidence that it can help with weight loss too. Doctors are increasingly prescribing the off-label use, purely for its effect helping people lose weight.
Should You Try It?
If you are looking for a way to lose weight or manage your diabetes/prediabetes, then Ozempic could be an option for you. However, it's important to note that this medication should not be used as a "quick fix" for weight loss or other medical conditions. Rather, it should be used as part of a long-term plan for better health and wellness. Before trying Ozempic, talk to your healthcare provider about all possible options including lifestyle changes, such as exercise and nutrition so that you can make an informed decision about what's best for your health.
Can a non-diabetic take Ozempic for weight loss?
While this drug does have benefits for non-diabetics in terms of helping with weight loss, it has not been approved for this purpose and should only be used under the direction of a medical professional. Ozempic is known to cause nausea, vomiting and low blood sugar when taken without advice from a doctor, and those taking the drug without a prescription should speak to their doctors before doing so. Additionally, diet and exercise must be taken into consideration when using Ozempic as part of any weight loss plan.
Who shouldn't use Ozempic?
People with type 1 diabetes should not take Ozempic as it could cause dangerously low blood sugar. Additionally, people who have or have had pancreatitis, gallstones or inflammation of the pancreas should talk to a doctor before using Ozempic.
Pregnant or nursing mothers should also avoid taking Ozempic as there is no scientific evidence of its safety and long-term use and has negative effects on unborn babies. Patients with a history of medullary thyroid cancer who are allergic to semaglutide must also avoid taking this medicine.
Overall, it is important to talk to your healthcare provider before starting any new medication to make sure it is safe for you.
Ozempic alternative for weight loss
Ozempic is the same medication as the popular weight loss drug Wegovy, just at a lower dose. Wegovy is used for chronic weight management for overweight people with a BMI (body mass index) of 27 to 29, who also have weight-related medical problems, such as high blood pressure.
Wegovy provides a higher dose of semaglutide than Ozempic—2.4 milligrams of semaglutide in Wegovy, compared with 0.5 milligrams, 1 milligram or 2 milligrams of semaglutide in Ozempic. It has been available in the US since 2021. Wegovy should be launched by Novo Nordisk in the UK some time this year, no firm date has been announced.
Risks involved with taking Ozempic as a diet aid
There are some potential side effects to consider. The most common side effects of Ozempic include nausea, diarrhoea, abdominal pain, constipation, headache, indigestion, dizziness and weight loss.
It's important to remember that Ozempic also has serious side effects, including pancreatitis (inflammation of the pancreas), low blood sugar levels, kidney problems, and severe allergic reactions. Additionally, taking this drug without consulting a doctor can lead to dangerous interactions with other medications or health conditions you may have.
Moreover, it's important to understand that there is no guarantee of long-term weight loss from taking this medication as a diet aid; and any weight loss achieved could be regained if healthy lifestyle changes and habits aren't maintained.
If any of these side effects become more severe or do not subside with time, it's essential to speak with a healthcare professional about the best way to manage them. Some people may also experience more serious side effects such as an allergic reaction causing hives, tightness or difficulty breathing. Hypoglycemia may also occur if this drug is prescribed with other diabetes medications. If you notice these symptoms after taking Ozempic, contact your doctor immediately for advice.
Speak to your pharmacist or healthcare provider
Ozempic has become one of the hottest trends on TikTok, but before jumping on board, it's important to understand exactly how it works and make sure it's right for you. While it can help with weight loss and managing diabetes/prediabetes, it should always be used in conjunction with lifestyle changes such as exercise and nutrition for long-term success. Talk to your healthcare provider if you think Ozempic may be the right choice for you.
About Now Patient
Now Patient's online services are available in the US and UK. We help you manage your prescriptions, doctor appointments, test results, health risks, and a lot more, all in one place for FREE. If you are in the United States, you could enjoy savings using Now Patient's mail-order pharmacy or use the Now Patient Rx Advantage Card at over 65,000 pharmacies, with savings of up to 90% on popular FDA-approved brand and generic medications like Ozempic, Mounjaro, clopidogrel and lots more. We do not currently handle commercial insurance, Medicare or Medicaid. UK NHS and private prescriptions are delivered FREE of charge across England & Wales by our UK NHS online pharmacy.
Sources
Disclaimer
Now Patient has taken all reasonable steps to ensure that all material is factually accurate, complete, and current. However, the knowledge and experience of a qualified healthcare professional should always be sought after instead of using the information in this page. Before taking any drug, you should always speak to your doctor or another qualified healthcare provider.
The information provided here about medications is subject to change and is not meant to include all uses, precautions, warnings, directions, drug interactions, allergic reactions, or negative effects. The absence of warnings or other information for a particular medication does not imply that the medication or medication combination is appropriate for all patients or for all possible purposes.
WHY WE BUILT NOW PATIENT
To improve the lives of everyone by making high-quality care accessible and convenient
We are here to improve lives. Our service gives you access to smart features & resources that can help empower you to take control of your health and improve your health outcomes. All this, in one place, for FREE. We strive to bring a fresh perspective to managing health. Not play by the rules. Now Patient can be accessed by downloading the App or using your web browser.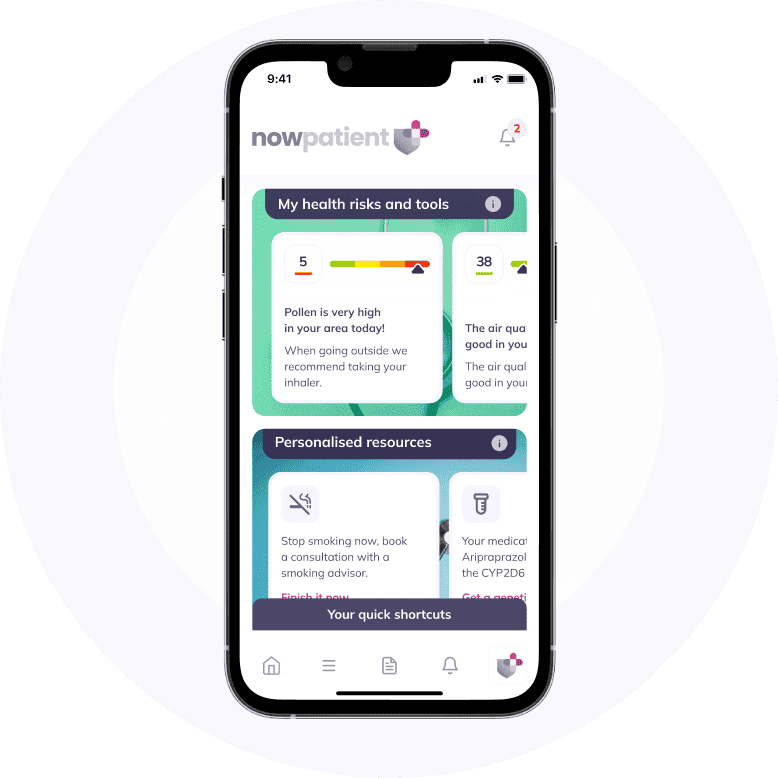 Your Questions Answered
For your peace of mind, we can answer your health questions quickly
If you want to learn more about the range of services that we provide which can help manage and improve your health, then just click the button below.
Find your answers