/
Blog
/
Who benefits from Wegovy for weight management?
Who benefits from Wegovy for weight management?
12 Jun 2023

Stefano Mirabello
Pharmacist / B.Pharm
Obesity has become a global health issue, with millions of people struggling to manage their weight. While lifestyle modifications such as exercise and healthy eating are recommended, some individuals may require additional medical interventions to achieve and maintain a healthy weight. The weight loss drug Wegovy has been approved by the National Institute for Health and Care Excellence (NICE) for use in the NHS. It has been shown to be effective in reducing weight in people who are obese or overweight. In this blog post, we discuss who can benefit from Wegovy medication for weight management.
What is Wegovy?
Wegovy is a brand-name prescription drug manufactured by Novo Nordisk. It is used to aid weight loss in individuals who are obese or overweight. It is a once-a-week injection that contains semaglutide, a synthetic analogue of glucagon-like peptide 1 (GLP-1) hormone. GLP-1 is a hormone naturally produced in the body to regulate blood sugar levels and appetite. Wegovy works by mimicking the action of GLP-1 and reducing hunger, leading to decreased calorie intake, and ultimately, weight loss.
Semaglutide is also licensed under the brand names Ozempic and Rybelsus, which are recommended by NICE and are available on the NHS for managing blood glucose levels in people with type 2 diabetes.
How quickly does Wegovy work?
Keep in mind that medication affects people differently, which is why semaglutide is a prescription medicine.
When using Wegovy it's important to note that weeks 1-8 of treatment are a titration period. To put it simply, titration is the process of gradually adjusting a medication dose until the optimal effect is achieved. This means you won't see any significant weight loss until week 9. Your healthcare provider will create a dosing schedule specifically for you, which may result in a longer or shorter titration period. It is recommended to gradually increase the dosage for a more sustainable treatment plan.
Gradual progress is the key to sustainable weight loss. To improve your chances of success, weekly injections are recommended for at least three months before making any decisions. Reducing your daily calorie intake or increasing physical activity can also boost weight loss.
While many people expect quick results from weight loss treatments, healthy weight loss requires time and effort. GLP-1 receptor agonists can improve results by helping you eat less, making low-calorie diets easier to maintain. However, remember that a consistently slow and steady loss is more beneficial than rapid results.
What are the side effects of Wegovy medication for weight management?
While everyone experiences side effects differently, the most common side effects of Wegovy reported are gastrointestinal issues like nausea, indigestion, diarrhoea, and constipation. Others have experienced headaches, dizziness, and fatigue. It's worth noting that these side effects tend to last the first few weeks and tend to subside over time. The more serious side effects include low blood sugar (hypoglycemia), allergic reactions and diabetic retinopathy (damage to the eye's retina)
It's always best to speak with your healthcare provider about any concerns you may have before beginning a new medication. They can help you weigh the potential risks and benefits and ensure that Wegovy is the right choice for you.
Who can benefit from Wegovy medication for weight management?
Individuals with obesity or those who are overweight:
According to the World Health Organization (WHO), obesity is a major health problem worldwide. It's defined as having a body mass index (BMI) of 30 or higher. Being overweight is defined as having a BMI of 25 to 29.9. If you fall in either of these categories, you may be a good candidate for Wegovy medication.
Wegovy medication has been found to be effective in people with a body mass index (BMI) of 27 or higher. This means that individuals with a BMI of 30 or higher, which is classified as obese, are likely to benefit significantly from this medication. Furthermore, it has been found to reduce waist circumference, blood pressure, and fasting glucose levels in individuals with obesity. During your initial consultation, your prescriber will ask for your height and weight so they can work out your BMI.
Wegovy medication has been clinically proven to help people with obesity and those overweight lose weight. In clinical trials, patients who took Wegovy lost significantly more weight than those who took a placebo.
Those who have tried other weight loss methods with no success:
Have you tried various weight loss medications such as Orlistat or Saxenda (liraglutide) without success? Have you tried other methods such as diet and exercise, but nothing seems to work? If you're struggling to lose weight, Wegovy medication may be an option for you to explore.
Wegovy medication is specifically designed for patients who have difficulty losing body weight through diet and exercise alone. It's important to note that you should take Wegovy medication under the guidance of a healthcare professional.
Individuals with weight-related medical conditions:
If you have weight-related health conditions such as type 2 diabetes, cardiovascular disease (heart disease), obstructive sleep apnoea, high cholesterol or high blood pressure, losing weight can improve your overall health status. Obesity is associated with an increased risk of developing these conditions.
Wegovy medication has been shown to improve blood sugar levels, reduce high blood pressure, and improve overall cardiovascular health in patients with type 2 diabetes and obesity.
Individuals with binge eating disorder:
Binge eating disorder (BED) is a condition that causes individuals to consume large amounts of food in a short period, leading to feelings of distress and guilt. Wegovy medication can help individuals with BED by reducing their appetite, which can help them make better choices and reduce the urge to binge eat.
Those with a commitment to change their lifestyle:
Lifestyle changes such as a healthy reduced-calorie diet and physical activity are important components of any weight loss program. Wegovy medication should not be viewed as a substitute for lifestyle changes.
To experience long-term weight loss, you need to develop healthy habits that you can maintain for a lifetime. If you're committed to making these changes and integrating Wegovy medication into your weight loss plan, you may benefit from its use.
Patients without a personal or family history of pancreatitis (inflammation of the pancreas), multiple endocrine neoplasia syndrome type 2 or gallbladder problems:
Wegovy is not recommended for patients with a history of pancreatitis or a family history of medullary thyroid carcinoma (MTC). Before starting Wegovy, patients should discuss their medical history with their healthcare provider to determine if it is the right medication for them.
Patients who do not mind a self-injection:
Wegovy is self-administered through a weekly injection using a pre-filled pen, much like insulin injections. Patients who do not mind self-injections may find Wegovy to be an easy and convenient way to manage their weight.
How much weight can you lose with Wegovy?
This drug has undergone a series of clinical trials, collectively known as the Semaglutide Treatment Effect in People with Obesity (STEP). These trials have shown that participants who received semaglutide injections once a week lost between 15% and 20% of their body weight.
FAQs
Is Wegovy available on the NHS?
Wegovy was approved in the UK by the MHRA in September 2021. However, Wegovy has not yet been launched in the UK market. It is expected that the manufacturer will launch Wegovy at some point in 2023. The product launch has previously been delayed several times due to supply issues. Once the supply of Wegovy is ensured, the product will be launched in the UK.
The National Institute for Health and Care Excellence (NICE) determined that semaglutide, sold under the brand name Wegovy, is safe and effective. Individuals will be provided Wegovy on prescription as part of a specialised weight management service and for a maximum of two years. NICE advises that it should be taken in conjunction with a low-calorie diet and increased physical exercise.
How do you qualify for weight loss medication?
If you're struggling to achieve your weight loss goals and you're considering weight loss medication, you may be wondering how to determine if you're eligible for it. The truth is that qualifying for weight loss medication varies from person to person and depends on factors such as your body mass index (BMI), any medical conditions you may have, and your previous attempts at weight loss.
Generally, weight loss medication is prescribed to individuals with a BMI of 30 or higher, or a BMI of 27 or higher with an obesity-related condition such as high blood pressure or diabetes. But don't worry, your healthcare provider can help you determine if weight loss medication is right for you and provide guidance on the next steps to take. Remember, it's important to approach weight loss with a holistic approach that includes a healthy diet and regular exercise alongside any medication.
Can I buy Wegovy in the UK?
No, it will only be available on prescription in the UK.
How long should someone be overweight before they can start taking Wegovy medication?
It's important to note that the length of time someone has been overweight doesn't necessarily determine when they can begin taking Wegovy. Factors like overall health, medical history, and weight loss goals should be considered when deciding if this medication is right for you.
Research has shown that individuals with a body mass index (BMI) of 27 or higher may be eligible to start taking Wegovy. Additionally, those who suffer from obesity-related conditions such as high blood pressure or type 2 diabetes can benefit greatly from this medication.
If you're unsure whether you're a good candidate for Wegovy, it's always best to consult your doctor for personalized recommendations. Speak with your healthcare provider to determine the best course of action and whether Wegovy could be part of your weight loss journey. Remember, progress takes time and patience, but with the right support and mindset, you can achieve your goals.
What are the main goals of weight management?
The main goals of weight management:
Weight management aims to help you maintain a healthy weight that aligns with your body mass index (BMI). This means striking a balance between the food you eat and the physical activity you engage in
Weight management reduces the risks of obesity-related complications such as type 2 diabetes, heart disease, stroke, and even some types of cancer. By maintaining a healthy weight, you significantly reduce the risk of developing these complications
Managing your weight positively impacts your mental health by boosting your self-esteem and confidence. This is vital in enhancing your overall well-being
Remember, weight management is a journey, not a destination, and with patience and persistence, you can attain and maintain your desired weight.
Seek advice from a healthcare professional
Wegovy medication offers a new approach to weight management for individuals with obesity or for those who are overweight. Patients who have struggled with different weight management methods without success and are committed to healthy lifestyle changes may benefit from the medication. However, patients should only take Wegovy after discussing their medical history with a healthcare provider.
Ensuring a safe and effective treatment plan is essential when starting a new medication like Wegovy. That's why it's crucial to have an open and honest conversation with your doctor and pharmacist about all the medications, supplements, and vitamins you are currently taking. You should also inform them if you are pregnant, breastfeeding or planning a pregnancy.
If you think Wegovy may be right for you, speak with your healthcare provider about the medication and whether it can help you achieve your weight management goals.
About Now Patient
Now Patient's online services are available in the US and UK. We help you manage your prescriptions, doctor appointments, test results, health risks, and a lot more, all in one place for FREE. If you are in the United States, you could enjoy savings using Now Patient's mail-order pharmacy or use the Now Patient Rx Advantage Card at over 65,000 pharmacies, with savings of up to 90% on popular FDA-approved brand and generic medications like Ozempic, Mounjaro, clopidogrel and lots more. We do not currently handle commercial insurance, Medicare or Medicaid. UK NHS and private prescriptions are delivered FREE of charge across England & Wales by our UK NHS online pharmacy.
Sources
Disclaimer
Now Patient has taken all reasonable steps to ensure that all material is factually accurate, complete, and current. However, the knowledge and experience of a qualified healthcare professional should always be sought after instead of using the information in this page. Before taking any drug, you should always speak to your doctor or another qualified healthcare provider.
The information provided here about medications is subject to change and is not meant to include all uses, precautions, warnings, directions, drug interactions, allergic reactions, or negative effects. The absence of warnings or other information for a particular medication does not imply that the medication or medication combination is appropriate for all patients or for all possible purposes.
WHY WE BUILT NOW PATIENT
To improve the lives of everyone by making high-quality care accessible and convenient
We are here to improve lives. Our service gives you access to smart features & resources that can help empower you to take control of your health and improve your health outcomes. All this, in one place, for FREE. We strive to bring a fresh perspective to managing health. Not play by the rules. Now Patient can be accessed by downloading the App or using your web browser.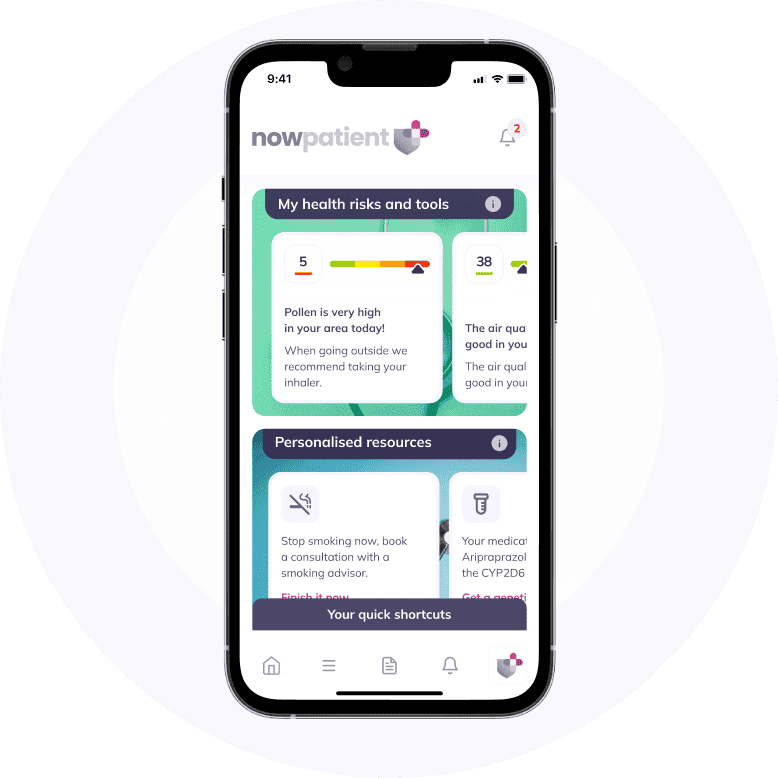 Your Questions Answered
For your peace of mind, we can answer your health questions quickly
If you want to learn more about the range of services that we provide which can help manage and improve your health, then just click the button below.
Find your answers