/
Blog
/
Do you lose more weight on Saxenda or Wegovy?
Do you lose more weight on Saxenda or Wegovy?
15 May 2023

Stefano Mirabello
Pharmacist / B.Pharm
As the prevalence of obesity and weight-related health issues continues to rise, more people are seeking out weight loss treatments. Saxenda and Wegovy are brand names of two of the most popular medications for obesity. Both medicines are effective for chronic weight management when paired with diet and exercise. The pharmaceutical company Novo Nordisk produces both drugs, which belong to the glucagon-like peptide-1 (GLP-1) receptor agonist drug class. Originally developed as diabetes medications, these are now available to aid in weight loss.
How do these two drugs compare in terms of weight loss? Do you lose more weight on Saxenda or Wegovy? In this blog post we'll explore the differences between Saxenda and Wegovy, their benefits, side effects, and drug interactions. This will help you decide which of these weight loss medications is the right choice for you.
What is Saxenda?
Saxenda is a medication used for weight management, it contains the active ingredient liraglutide. It works by reducing your appetite and increasing feelings of fullness. Saxenda works by mimicking a hormone in your body called GLP-1, which regulates appetite and food intake. This injectable medication is prescribed for individuals who have a:
Body mass index (BMI) of 30 or higher
BMI of 27 or higher, with additional weight-related health conditions
It's important to note that Saxenda should be used in conjunction with a healthy lifestyle that includes a balanced, reduced calorie diet and regular exercise. Additionally, it's important to follow your healthcare provider's instructions carefully when using this medication. With proper use and lifestyle changes, Saxenda can be an effective tool in achieving weight loss goals.
It is useful to be aware that the brand name drug Victoza contains the same active ingredient as Saxenda, but is used to treat type 2 diabetes.
What is Wegovy?
This prescription medication was recently approved by the FDA (Food and Drug Administration), in the U.S. It contains the active ingredient semaglutide and is used for weight loss in people with a:
BMI of 30 or higher
BMI of 27 or higher who have at least one weight-related condition, such as high cholesterol or high blood pressure
What sets Wegovy apart from other weight loss drugs is that it's a once-weekly injection, rather than a tablet. The medication works by mimicking a hormone called GLP-1, which helps regulate appetite and metabolism. While it's important to note that weight loss isn't a one-size-fits-all journey, Wegovy may be a helpful option for those struggling to achieve their weight loss goals. Wegovy is not a magic pill and so should be used in combination with proper nutrition, diet and increased physical activity. As with any medication, it's crucial to discuss potential side effects and risks with your doctor before starting treatment.
It is useful to know that Wegovy contains the same acive ingredient as Ozempic, which is used to manage blood sugar levels in type 2 diabetes, but that Wegovy contains a higher-dose form of semaglutide.
Wegovy vs Saxenda
Wegovy and Saxenda are prescription drugs, both FDA-approved in the US and NICE-approved in the UK. Wegovy is the newest medication while Saxenda has been on the market in the US since 2014. In the UK, Saxenda was approved for use by the NHS in 2020.
How do Wegovy and Saxenda Work?
Both of these drugs work similarly, but there are slight differences. Saxenda is a GLP-1 receptor agonist, which means that it mimics the hormone GLP-1 in the body. This hormone is responsible for regulating our appetite and metabolism. When we consume food, GLP-1 is released, our brains receive signals to slow down our eating, we feel fuller faster, and consume fewer calories overall. Saxenda's job is to mimic this process so that we feel full sooner, want to eat less, and ultimately lose weight.
Wegovy, on the other hand works differently. It is an amylin analogue that mimics amylin, another hormone that helps regulate hunger and satiety. Like GLP-1, amylin is also released when we eat, so Wegovy promotes slower digestion by delaying stomach emptying, which results in less frequent and less intense hunger sensations, which in turn results in an overall caloric reduction, and ultimately weight loss.
Efficacy
In a clinical trial involving 300 people Wegovy (semaglutide) and Saxenda (liraglutide) were compared directly to each other for weight loss in people with obesity. Participants either received daily doses of semaglutide, liraglutide, or a placebo injection.
The results showed that those in the semaglutide group lost 15.8% of their body weight, while the liraglutide group lost 6.4%. Not only that, but semaglutide was better tolerated, with only 13.5% of participants discontinuing, compared to 27.6% with liraglutide. Though both groups experienced common side effects, semaglutide was found to be more effective overall.
Side effects
Both Wegovy and Saxenda can cause similar common side effects, including nausea, heartburn, vomiting, diarrhoea, and constipation. However, some studies have suggested that patients may experience fewer side effects with Wegovy than with Saxenda, particularly when it comes to nausea. Both drugs work by slowing digestion, so gastrointestinal disturbances are to be expected.
In people with type 2 diabetes, there was an increased risk of low blood sugar (hypoglycemia). In rare instances, both drugs can lead to certain serious side effects such as an increased risk of pancreatitis (inflammation of the pancreas), thyroid cancer/tumours, and gallbladder disease, although these risks are still relatively low.
Here is an easy list that shows the common side effects of Wegovy and Saxenda:
feeling of nausea (sick feeling)
physically vomiting
Stomach pain
constipation
diarrhoea
headache
indigestion
bloating
dry mouth
lack of energy
low blood sugar (hypoglycemia) in people with type 2 diabetes
alteration in taste
urinary tract infections (UTI)
reactions like pain, bruising or swelling at injection site
anxiety
difficult sleeping/insomnia
Drug administration
Saxenda is administered by subcutaneous injection once a day. Doses start low and gradually increase over several weeks to reduce the possibility of negative side effects.
Wegovy also requires a subcutaneous injection once a week, with the dosage starting low and gradually increasing. It is taken on the same day and time each week.
Liraglutide and semaglutide doses come in prefilled injectable pens.
Dosing schedule
When it comes to Saxenda and Wegovy, both medications require gradual dose increases to help your body adjust properly. With Saxenda, you typically start at a dose of 0.6mg, and then gradually increase by 0.6mg each week until you reach a maximum dose of 3mg. Wegovy starts at a weekly dose of 0.25 mg, increasing every 4 weeks over the next 17 weeks to the maximum dose of 2.4mg. It's important to follow your doctor's instructions carefully and not make any adjustments on your own. As always, consult your healthcare provider to determine the best option for you.
Below is an example of how dosing may increase for both drugs:
Saxenda:
Week 1 – 0.6mg once a day
Week 2 – 1.2mg once a day
Week 3 – 1.8mg once a day
Week 4 – 2.4mg once a day
Week 5 – 3mg once a day
Wegovy:
Month 1 (weeks 1-4) – 0.25mg each week
Month 2 (weeks 5-8) – 0.5mg each week
Month 3 (weeks 9-12) – 1mg each week
Month 4 (weeks 13-16) – 1.7mg each week
Month 5 (week 17 and onward) – 2.4mg each week
Which one is right for you?
If you are considering Wegovy or Saxenda for weight loss, it is essential to weigh the pros and cons of each medication based on your specific needs. Both medications are effective in reducing weight, but Wegovy may be a better option if you prefer a once-a-week injection and want to achieve greater weight loss. However, Saxenda may be a better fit if cost is a significant concern. Ultimately, the decision comes down to what works best for you and your weight loss goals. Please consult with your healthcare provider for more information about these medications and whether they are suitable for your needs.
In conclusion, both Saxenda and Wegovy are effective medications for weight loss. However, Wegovy seems to be more potent than Saxenda, with patients losing 15% or more of their initial weight. On the other hand, Saxenda may be a more appropriate option for those who don't tolerate Wegovy well. As with any medication, there are potential side effects that should be closely monitored by a healthcare provider. But, when used in combination with a healthy lifestyle, these drugs may be just what some patients need to finally achieve their weight loss goals.
About Now Patient
Now Patient's online services are available in the US and UK. We help you manage your prescriptions, doctor appointments, test results, health risks, and a lot more, all in one place for FREE. If you are in the United States, you could enjoy savings using Now Patient's mail-order pharmacy or use the Now Patient Rx Advantage Card at over 65,000 pharmacies, with savings of up to 90% on popular FDA-approved brand and generic medications like Ozempic, Mounjaro, clopidogrel and lots more. We do not currently handle commercial insurance, Medicare or Medicaid. UK NHS and private prescriptions are delivered FREE of charge across England & Wales by our UK NHS online pharmacy.
Sources
Disclaimer
Now Patient has taken all reasonable steps to ensure that all material is factually accurate, complete, and current. However, the knowledge and experience of a qualified healthcare professional should always be sought after instead of using the information in this page. Before taking any drug, you should always speak to your doctor or another qualified healthcare provider.
The information provided here about medications is subject to change and is not meant to include all uses, precautions, warnings, directions, drug interactions, allergic reactions, or negative effects. The absence of warnings or other information for a particular medication does not imply that the medication or medication combination is appropriate for all patients or for all possible purposes.
WHY WE BUILT NOW PATIENT
To improve the lives of everyone by making high-quality care accessible and convenient
We are here to improve lives. Our service gives you access to smart features & resources that can help empower you to take control of your health and improve your health outcomes. All this, in one place, for FREE. We strive to bring a fresh perspective to managing health. Not play by the rules. Now Patient can be accessed by downloading the App or using your web browser.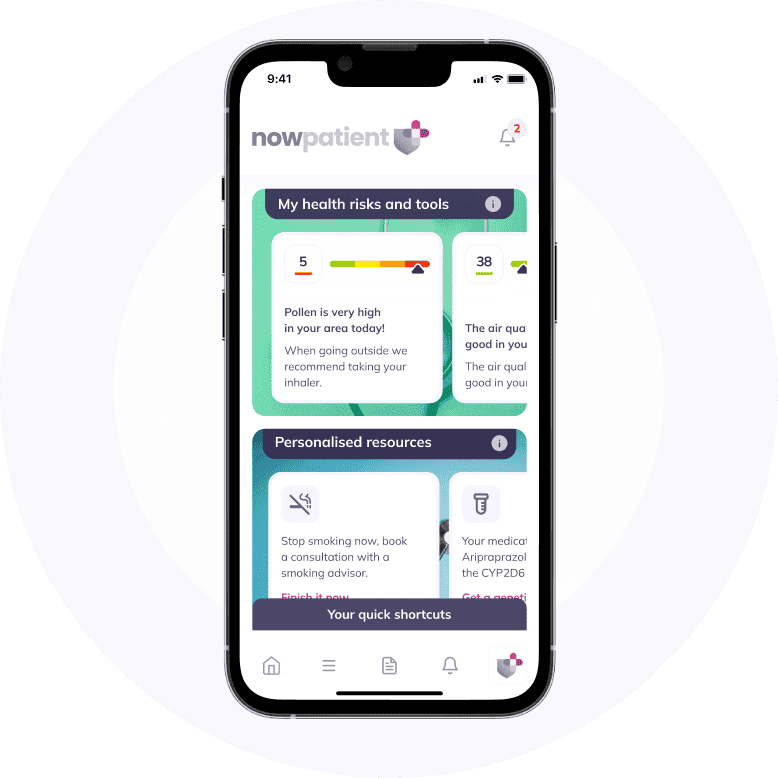 Your Questions Answered
For your peace of mind, we can answer your health questions quickly
If you want to learn more about the range of services that we provide which can help manage and improve your health, then just click the button below.
Find your answers