Rajive Patel
Medical Writer / B.Pharm
Saxenda is an effective weight loss medication that has recently been approved for use within the NHS (National Health Service) in the UK. It was originally developed by Novo Nordisk and approved for the treatment of type 2 diabetes under the brand name Victoza. If you're considering Saxenda as a potential option for weight management, it's important to understand the process of obtaining this medication and the criteria for eligibility. In this comprehensive guide, we will explore the steps involved in accessing Saxenda on the NHS, alternative options, and the benefits of seeking professional guidance.
Image source: Canva
Understanding Saxenda and its benefits
Saxenda, also known as liraglutide, is a medication used for weight management. It is classed as a glucagon-like peptide-1 (GLP-1) receptor agonist. Saxenda works by mimicking a hormone called GLP-1 (glucagon-like peptide-1) in the body, which helps regulate appetite and food intake.
Saxenda is designed to be used alongside lifestyle changes such as a healthy diet and regular exercise. Research has shown that Saxenda can support body weight loss of around 5-7% when combined with these lifestyle modifications.
Saxenda is generally well-tolerated, but like any medication, it can cause side effects. Common side effects may include nausea, vomiting, diarrhoea, constipation, low blood sugar and abdominal pain. Certain medical conditions such as pancreatitis, gallbladder disease, or a history of suicidal thoughts may make a patient ineligible.
Can my GP prescribe Saxenda?
While Saxenda is available on the NHS, it is typically not prescribed by your GP or family doctor. The process of obtaining Saxenda involves accessing tier 3 weight management services rather than relying solely on a GP prescription. These services are usually provided by specialists who have extensive knowledge of obesity and offer a more comprehensive approach to weight management. Patients taking Saxenda should undergo regular monitoring and follow-up with their healthcare provider.
The tier system and accessing Saxenda
In the UK, weight management services are organized into different tiers. Tier 2 services are often community-based and focus on lifestyle changes rather than medical intervention. These services may involve referrals to dietitians or nutritionists, subsidized gym memberships, and support for implementing healthier habits.
Tier 3 weight management services, on the other hand, offer more specialized care and have the authority to prescribe Saxenda to suitable patients. These services are typically led by consultants who take a multi-disciplinary approach to weight management. They consider factors such as your BMI (body mass index), weight-related health conditions, and the potential benefits and risks of Saxenda before making a decision.
Access to tier 3 weight management services may vary depending on your Clinical Commissioning Group (CCG). It's important to consult with your GP or healthcare provider to determine the availability and eligibility criteria for these services in your area.
Criteria for Saxenda prescriptions
Saxenda has been assessed and found to be cost-effective for the NHS by the National Institute for Health and Care Excellence (NICE) for those who fulfil the criteria.
To be eligible for a Saxenda prescription on the NHS, you must meet certain criteria. These criteria include having a BMI of 30 or more, or a BMI of 27 or more with a weight-related comorbidity such as high blood pressure (hypertension), sleep apnoea, or high cholesterol. Additionally, you must have tried lifestyle changes, such as a reduced calorie diet and physical activity, before considering Saxenda as a treatment option.
It's important to note that Saxenda is typically prescribed to individuals with a BMI over 35 who have a high risk of cardiovascular disease or prediabetes. Be prepared that your GP may want to try other medications or programs first before prescribing Saxenda. Saxenda is available for free on the NHS through certain specialist weight management services.
Alternative options for obtaining Saxenda
If you're unable to access Saxenda through the NHS or prefer a faster route, there are alternative options available. Saxenda can be purchased from registered pharmacies by completing an online form to confirm your eligibility. This allows you to bypass the tier 3 weight management services and obtain Saxenda directly. However, it's essential to ensure that you meet the necessary criteria for Saxenda before pursuing this option.
The benefits of Ozempic and Wegovy
Newer GLP-1 medications like Ozempic and Wegovy have shown promising results in supporting significant weight loss with fewer side effects compared to Saxenda. High-quality research has demonstrated that Ozempic, for example, can lead to a weight loss of up to 15% when combined with a healthy lifestyle. These medications have a good safety profile, making them suitable options for individuals seeking effective weight management solutions.
Exploring off-label medication use
It's important to note that using medications like Ozempic as a weight loss treatment is considered off-label medication use. Off-label use refers to the prescription of a medication for a purpose other than its approved indication. However, if a medicine meets the standards of efficacy, safety, and quality, healthcare professionals can prescribe it for off-label use if they believe it's in the patient's best interest. The decision to explore off-label medication use should be made in consultation with a healthcare professional.
Orlistat: A prescription or over-the-counter option
Orlistat, unlike Saxenda, can be obtained either through a prescription from your doctor or by purchasing a lower-dose version from a pharmacy. The over-the-counter options, such as Alli and Orlos, should still be taken under the supervision of a pharmacist. Orlistat works by reducing the absorption of dietary fat, aiding in weight loss. Your GP will assess whether Orlistat is appropriate for you based on your BMI and other weight-related conditions.
Conclusion: Making informed decisions
When it comes to obtaining Saxenda on the NHS or exploring alternative options, it's crucial to make informed decisions about your weight management journey. Understanding the eligibility criteria, the tier system, and the benefits of seeking professional guidance can help you navigate the process more effectively. Whether you choose Saxenda or consider alternative medications like Ozempic, Wegovy or Orlistat it's essential to consult with healthcare professionals and reputable providers to ensure the best possible outcomes for your weight loss journey.
About Now Patient
Now Patient's online services are available in the US and UK. We help you manage your prescriptions, doctor appointments, test results, health risks and a lot more, all in one place for FREE. US prescriptions are available on a discounted 'cash' basis and delivered across all 50 states by our network of pharmacy providers dispensing FDA-approved generic and branded medications. We do not currently handle commercial insurance, Medicare or Medicaid. UK NHS and private prescriptions are delivered FREE of charge across England & Wales by our UK regulated online pharmacy.
Sources
Disclaimer
Now Patient has taken all reasonable steps to ensure that all material is factually accurate, complete, and current. However, the knowledge and experience of a qualified healthcare professional should always be sought after instead of using the information in this page. Before taking any drug, you should always speak to your doctor or another qualified healthcare provider.
The information provided here about medications is subject to change and is not meant to include all uses, precautions, warnings, directions, drug interactions, allergic reactions, or negative effects. The absence of warnings or other information for a particular medication does not imply that the medication or medication combination is appropriate for all patients or for all possible purposes.
WHY WE BUILT NOW PATIENT
To improve the lives of everyone by making high-quality care accessible and convenient
As technologists and clinicians, we built Now Patient to be more than just an online pharmacy. We are here to improve lives. Our service gives you access to smart features & resources that can help empower you to take control of your health and improve your health outcomes. All this, in one place, for FREE. We strive to bring a fresh perspective to managing health. Not play by the rules. Now Patient can be accessed by downloading the App or using your web browser.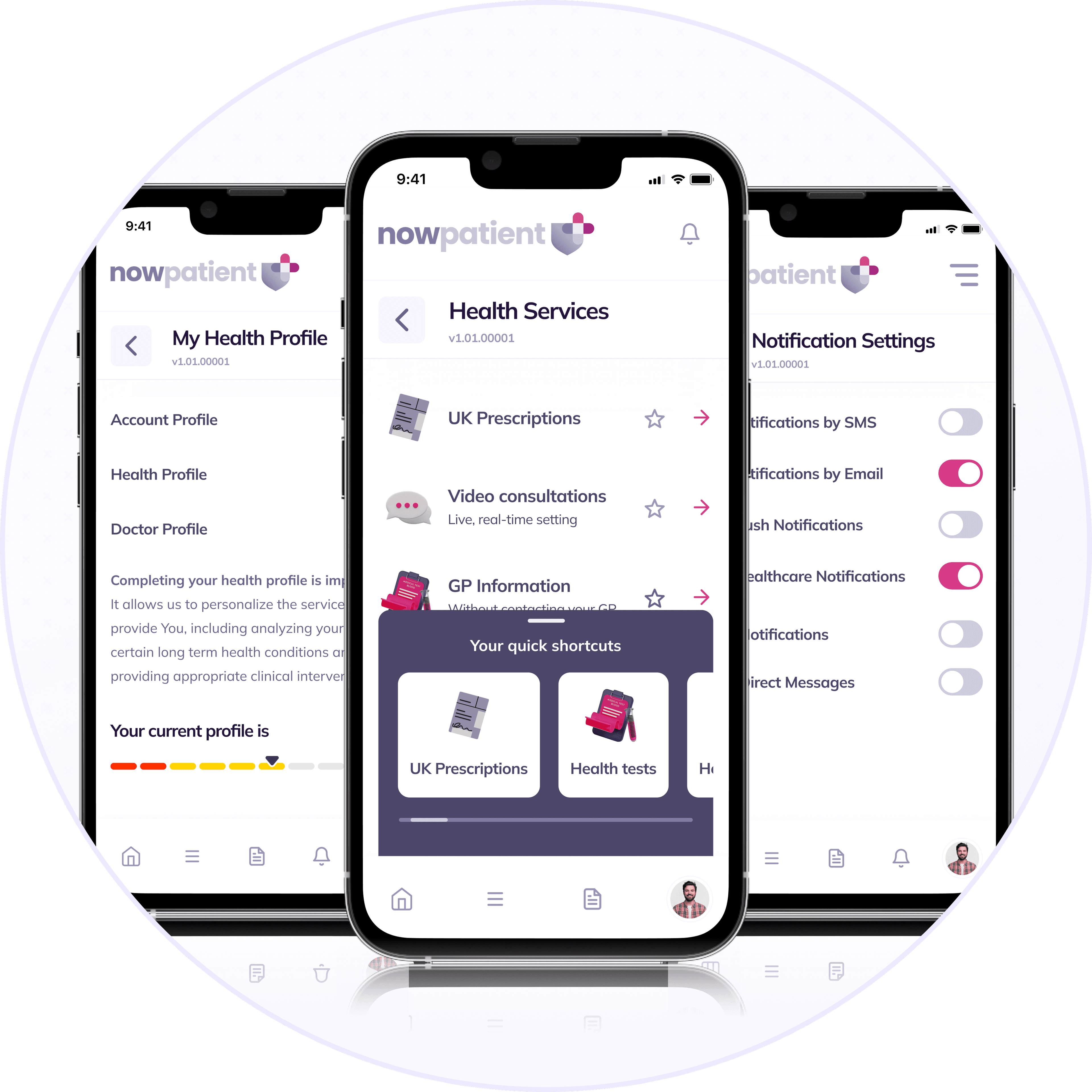 NOW PATIENT
Join the thousands of happy customers in the US and UK already using Now Patient
Manage your health and prescriptions all in one place for FREE. Available to use by downloading the App, or using your web browser.
Your Questions Answered
For your peace of mind, we can answer your health questions quickly
If you want to learn more about the range of services that we provide which can help manage and improve your health, then just click the button below.
Find your answers