/
Blog
/
Can you get the weight loss injection on the NHS?
Can you get the weight loss injection on the NHS?
9 Jun 2023

Stefano Mirabello
Pharmacist / B.Pharm
Obesity has become a significant health concern in many countries, including the UK. According to the NHS, around 28% of adults in England are obese, and this increases the risk of developing health problems such as type 2 diabetes, heart disease, and stroke. There are many weight loss solutions available, but not everyone can achieve their goals through diet and exercise alone. One of the main benefits of weight loss injections is that the procedure is minimally invasive, meaning you won't need to undergo weight loss surgery. This means there is less risk involved and the recovery time is generally shorter than surgery.
If you're struggling to lose weight and wondering if weight loss injections are an option, you might be pleased to hear that some weight loss injections are available on the NHS. In this blog post we'll cover everything you need to know about getting weight loss injections on the NHS.
What is a weight loss injection?
Weight loss injections are medicine injections that can help you lose weight by reducing your appetite, altering your metabolism, or inhibiting fat absorption. There are different types of weight loss injections available on the market, and each injection works differently.
Are weight loss injections available on the NHS?
Some weight loss injections are available on the NHS, but they are only prescribed under certain circumstances. For example, if you have a BMI of over 30 kg/m2, you may be eligible for weight loss injections on the NHS. However, this is not a universal rule, and each patient's case is assessed individually. If you have other health conditions that can be exacerbated by obesity, such as type 2 diabetes, you may also be considered for weight loss injections on the NHS.
To be eligible for NHS-funded treatment with Wegovy, you must have a BMI of 30 or above. NICE guidance is as follows:
NICE has recommended the use of Wegovy alongside a reduced-calorie diet and increased physical activity to adults who have at least 1 weight-related comorbidity and a body mass index (BMI) of at least 35kg/m2.
People with a BMI of between 30-34.9 kg/m2, with 1 weight-related comorbidity who are eligible for referral to specialist weight management services could also be prescribed the drug.
Weight-related comorbidity could be one of dysglycaemia (prediabetes or type 2 diabetes mellitus), hypertension, dyslipidaemia (in which disturbances in fat metabolism lead to changes in the concentrations of lipids in the blood), obstructive sleep apnoea or cardiovascular disease.
If you have a BMI of 27 you can obtain a private prescription of Wegovy.
How do you get weight loss injections on the NHS?
If you believe you might be eligible for weight loss injections on the NHS, you can discuss this with your GP or a healthcare professional. They will assess your health status, weight, and general well-being and let you know whether or not you are eligible. If they deem you a suitable candidate, they can then prescribe the weight loss injection for you.
Saxenda
Saxenda is a prescription-only medication that is injected under the skin daily. The active ingredient, liraglutide, is a hormone that regulates appetite by reducing hunger and increasing feelings of fullness. In clinical studies, overweight and obese patients who took Saxenda lost an average of 5-10% of their body weight, compared to those who took a placebo. This makes it an effective option for people who have struggled to lose weight through other methods.
To get Saxenda on the NHS, you need to meet certain criteria. According to the NHS guidelines, Saxenda is recommended for people who have a body mass index (BMI) of 30 or more, or a BMI of 27 or more with a weight-related condition such as type 2 diabetes, dyslipidaemia (unbalanced or unhealthy cholesterol levels) and cardiovascular disease. You must also have tried to lose weight through lifestyle changes such as diet and exercise, but have not been successful. If you meet these criteria, you can ask your GP to refer you to a specialist obesity service.
If you're referred to an obesity service, you'll undergo an assessment to determine if Saxenda is right for you. This will involve a review of your medical history, a physical examination, and blood tests. If you're deemed suitable for treatment, you'll be prescribed Saxenda and given instructions on how to administer it. You'll also receive support and advice on lifestyle changes such as healthy eating and exercise.
It's worth noting that Saxenda is not a magic bullet for weight loss. It's only effective if used alongside lifestyle changes. This means that you'll need to make sustainable changes to your diet and activity levels to maintain your weight loss. You should also be aware that Saxenda can cause side effects such as nausea, vomiting, and diarrhoea. These usually subside over time, but if you're concerned, you should speak to your healthcare provider.
Wegovy
Recently, a new weight loss jab called Wegovy described as a "game-changer" by doctors has been approved by the National Institute for Health and Care Excellence (NICE) in the UK. NICE is a regulator responsible for assessing the clinical and cost-effectiveness of drugs and treatments. This drug has been proven to help patients lose weight effectively. The drug will be available to NHS patients soon, when the launch of the drug in England is confirmed by the manufacturer Novo Nordisk.
Wegovy is a prescription-only weight loss drug that comes as a weekly injection. It works by mimicking the effects of the hormone glucagon-like peptide 1 (GLP-1), which regulates your body's appetite and helps you feel full. Clinical trials have shown that people who use Wegovy can lose up to 15% of their body weight in just a few months. However, the NHS only offers this treatment to those who meet certain criteria.
To be eligible for NHS-funded treatment with Wegovy, you must have a BMI of 30 or above, and you must have tried to lose weight through behaviour and lifestyle changes (such as diet and exercise) for at least six months without success. You must also have at least one weight-related health condition, such as high blood pressure, type 2 diabetes, pre-diabetes or obstructive sleep apnoea.
If you meet these criteria, your GP can make a referral to a specialist weight management service for assessment. This will usually involve a consultation with a dietitian, who will help you develop a plan for lifestyle changes that can support your weight loss efforts. If the specialist team decides that Wegovy is an appropriate treatment for you, they can prescribe it for you, and you will be able to get it on the NHS.
It's important to note that Wegovy is not suitable for everyone, and it can have some potential side effects. Common side effects include nausea, vomiting, diarrhoea, constipation, and headaches. It can also cause more serious side effects, such as pancreatitis and gallbladder problems. Your doctor will need to assess your individual risk before prescribing Wegovy to you.
In addition to taking Wegovy, it's important to focus on making healthy lifestyle changes that support your weight loss efforts. This can include things like eating a reduced-calorie diet, getting regular physical activity, maintaining a healthy weight and getting enough sleep. Your weight management team can help you develop a plan that works for you.
It is important to note that even if you meet the criteria for treatment with Wegovy on the NHS, your GP may still not prescribe it. This is because the medication is relatively new and GPs may not have much experience with it. In addition, the cost of the medication may be a barrier for some patients. Semaglutide is also found in the diabetes medicine Ozempic, which is prescribed to patients with type 2 diabetes.
In conclusion, weight loss injections are not widely available on the NHS. However, in some cases, patients suffering from obesity-related health issues may be eligible for this treatment. It is important to understand that weight loss injections are not a quick fix and should be used as adjunctive therapy to healthy lifestyle changes. Patients should undergo regular monitoring and follow-up with their healthcare provider to ensure that the injections are safe and effective.
About Now Patient
Now Patient's online services are available in the US and UK. We help you manage your prescriptions, doctor appointments, test results, health risks and a lot more, all in one place for FREE. US prescriptions are available on a discounted 'cash' basis and delivered across all 50 states by our network of pharmacy providers dispensing FDA-approved generic and branded medications. We do not currently handle commercial insurance, Medicare or Medicaid. UK NHS and private prescriptions are delivered FREE of charge across England & Wales by our UK regulated online pharmacy.
Sources
Disclaimer
Now Patient has taken all reasonable steps to ensure that all material is factually accurate, complete, and current. However, the knowledge and experience of a qualified healthcare professional should always be sought after instead of using the information in this page. Before taking any drug, you should always speak to your doctor or another qualified healthcare provider.
The information provided here about medications is subject to change and is not meant to include all uses, precautions, warnings, directions, drug interactions, allergic reactions, or negative effects. The absence of warnings or other information for a particular medication does not imply that the medication or medication combination is appropriate for all patients or for all possible purposes.
WHY WE BUILT NOW PATIENT
To improve the lives of everyone by making high-quality care accessible and convenient
As technologists and clinicians, we built Now Patient to be more than just an online pharmacy. We are here to improve lives. Our service gives you access to smart features & resources that can help empower you to take control of your health and improve your health outcomes. All this, in one place, for FREE. We strive to bring a fresh perspective to managing health. Not play by the rules. Now Patient can be accessed by downloading the App or using your web browser.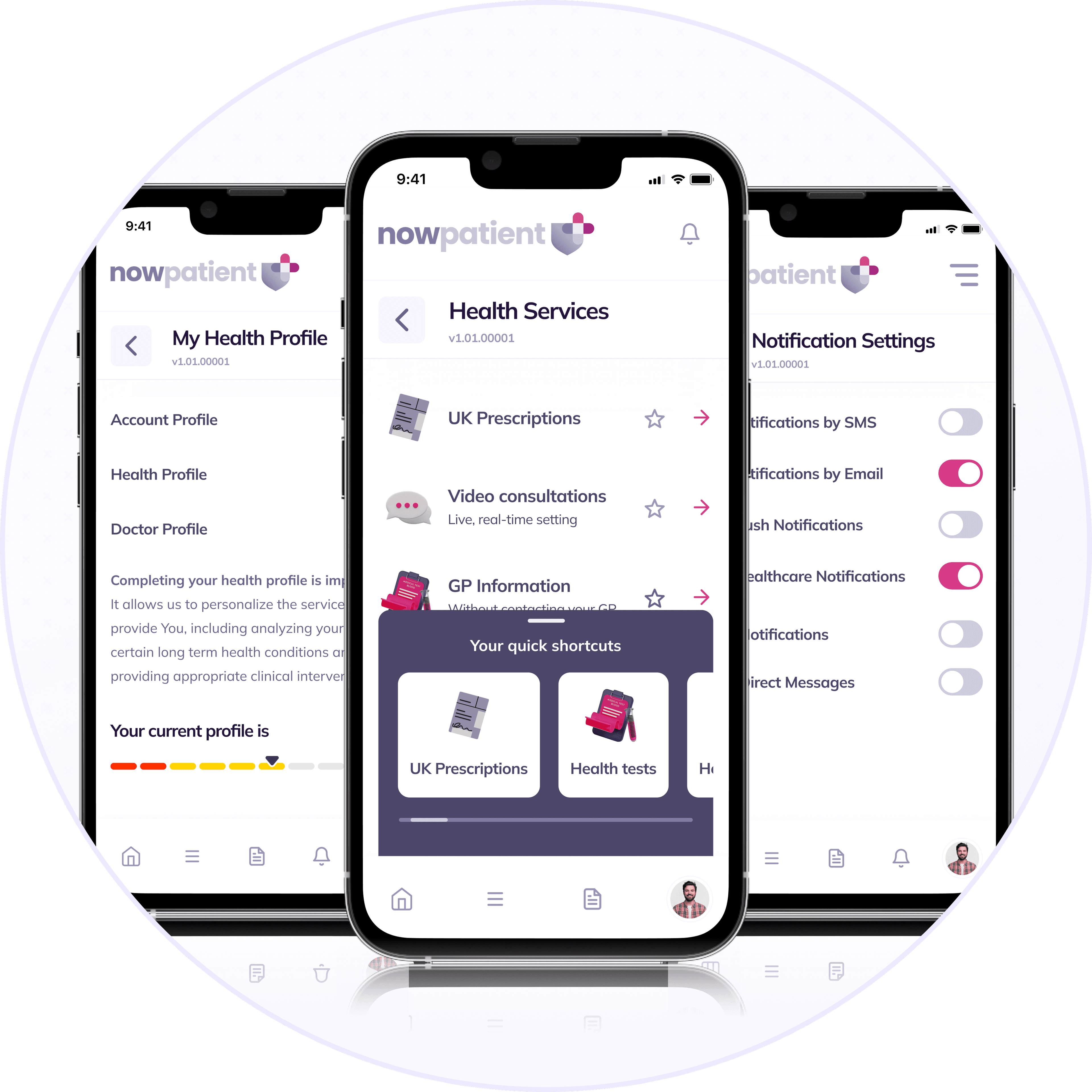 NOW PATIENT
Join the thousands of happy customers in the US and UK already using Now Patient
Manage your health and prescriptions all in one place for FREE. Available to use by downloading the App, or using your web browser.
Your Questions Answered
For your peace of mind, we can answer your health questions quickly
If you want to learn more about the range of services that we provide which can help manage and improve your health, then just click the button below.
Find your answers