Stefano Mirabello
Pharmacist / B.Pharm
The most romantic cities to propose in
Proposing to your significant other requires much thought and consideration. You might go for more personal and traditional proposals or bigger and more public displays of affection, but whatever you're planning the location is a key factor to consider.
So, will it be a restaurant, seaside, or park? Wherever you are, this list will let you know where in the world, and where within the US, is the best place to consider proposing at.
This list, created by the experts here at Now Patient, ranks the top 50 most visited cities in the world by the number of romantic restaurants, romantic hotels, and couples activities on Tripadvisor, to find which city has the most to offer when you are planning your proposal, no matter how big or small you intend it to be.
We also investigated Instagram hashtags relevant to proposals to see which of these cities are the most popular places to propose in according to Instagram.
The best places to propose in the world
1. Rome
Romantic hotels: 684
Couples attractions: 854
Romantic dining: 1,370
Proposal Rank /10: 9.73
The most romantic city on our list is the capital city of Italy. Rome offers a truly unique and romantic experience, with no shortage of historical landmarks and charming piazza restaurants. Rome offers the largest choice when it comes to romantic hotels, with almost 700 to choose from. There are a huge number of activities for you and your partner too: cross the River Tiber on the historic Ponte Sisto, tour the Renaissance masterpieces in the Vatican Museums, or throw coins into the Trevi Fountain, one of the most famous fountains in the world. Be sure to bring a big appetite on your trip to Rome, as Italy is world-renowned for its incredible food. Its national dish is pizza which is sure to keep even the fussiest eaters happy.
2. Paris
Romantic hotels: 551
Couples attractions: 599
Romantic dining: 1,497
Proposal Rank /10: 9.66
Paris, home to the Eiffel Tower and capital of France, is the second-best city to consider proposing in. Long known as one of the romantic capitals of the world, Paris offers lots of everything when it comes to romantic hotels, restaurants, and activities. Discreet secret gardens, tree-lined streets, and gothic cathedrals set the intimate atmosphere, and with charming cafes and sultry bars you can expect a truly romantic evening in Paris. There is also plenty to do and Paris even offers a museum fully dedicated to French romanticism.
3. London
Romantic hotels: 150
Couples attractions: 1,059
Romantic dining: 1,874
Proposal Rank /10: 9.32
We're sure you expected to see both Rome and Paris at the top of this list, but London in third place may come as a surprise as it is not often considered one of the world's most romantic cities. London offers the largest choice when it comes to both couples activities and romantic restaurants, all of which are surrounded by gorgeous architecture and incredible history. London offers cozy wine bars, quaint streets, and an abundance of green spaces, making it an ideal destination for a romantic day out.
The most romantic us cities to propose in
1. New York
Romantic hotels: 84
Couples attractions: 747
Romantic dining: 1,005
Proposal Rank /10: 8.64
New York City really offers everything when it comes to romantic-themed trips. With a gorgeous skyline, beautiful parks, and over 1000 romantic restaurants, there is something here for every kind of romantic. Enjoy the iconic view from the empire state building, a long stroll across the Brooklyn Bridge, or explore the recently created High Lane, an old abandoned railway line in Chelsea that has been converted into a public park and decorated with gardens and art installations.
2. San Francisco
Romantic hotels: 36
Couples attractions: 330
Romantic dining: 253
Proposal Rank /10: 4.76
San Francisco comes runner-up in our US list of romantic cities and is undoubtedly one of America's most romantic locations. There are a million ways to woo your sweetheart in the city, with its rolling hills, endless views, and architectural wonders. Everything from San Francisco's Mediterranean climate to the exquisite food and wine found in the city spells a truly romantic afternoon.
3. Los Angeles
Romantic hotels: 28
Couples attractions: 241
Romantic dining: 391
Proposal Rank /10: 4.35
Los Angeles offers some truly unique beach day experiences where you can sit back, relax, and watch beautiful sunsets or even surprise your partner with an impromptu surf lesson. This city is also well known as home to a number of celebrities, and if that's your thing you can book a wide variety of celebrity tours around the city, and even visit your favorite locations from the movies.
The most Instagrammable cities to propose in
1. Toronto – 39,547 Posts
Toronto, the capital city of Canada, takes the top spot for most Instagrammed proposals with almost 40,000 posts with the hashtag TorontoProposal. Toronto isn't widely known as one of the world's romance capitals, but with so many couples sharing their proposals online there must be love in the air.
2. Paris – 31,847 Posts
Winning a second runner-up title is Paris, with over 30,000 proposal hashtags on Instagram. With so many public proposal posts, it's easy to see why Paris is famous for romance.
3. Miami – 21,673 Posts
Miami Beach is a destination that offers breathtaking vistas, gorgeous views, and international flavors. The city is overflowing with natural beauty and has had over 20,000 proposals shared on Instagram.
Methodology
We made a list of the 50 most visited cities from Euromonitor International. Exploring TripAdvisor, we then recorded the number of restaurants, hotels, and attractions for each city, filtered by romantic and good for couples. Instagram hashtags were also recorded for all cities on this list. Hashtags for "City"+Proposal were searched and recorded to give an idea of how many proposals were being shared on Instagram from each city.
About Now Patient
Now Patient's online services are available in the US and UK. We help you manage your prescriptions, doctor appointments, test results, health risks and a lot more, all in one place for FREE. US prescriptions are available on a discounted 'cash' basis and delivered across all 50 states by our network of pharmacy providers dispensing FDA-approved generic and branded medications. We do not currently handle commercial insurance, Medicare or Medicaid. UK NHS and private prescriptions are delivered FREE of charge across England & Wales by our UK regulated online pharmacy.
Disclaimer
Now Patient has taken all reasonable steps to ensure that all material is factually accurate, complete, and current. However, the knowledge and experience of a qualified healthcare professional should always be sought after instead of using the information in this page. Before taking any drug, you should always speak to your doctor or another qualified healthcare provider.
The information provided here about medications is subject to change and is not meant to include all uses, precautions, warnings, directions, drug interactions, allergic reactions, or negative effects. The absence of warnings or other information for a particular medication does not imply that the medication or medication combination is appropriate for all patients or for all possible purposes.
WHY WE BUILT NOW PATIENT
To improve the lives of everyone by making high-quality care accessible and convenient
As technologists and clinicians, we built Now Patient to be more than just an online pharmacy. We are here to improve lives. Our service gives you access to smart features & resources that can help empower you to take control of your health and improve your health outcomes. All this, in one place, for FREE. We strive to bring a fresh perspective to managing health. Not play by the rules. Now Patient can be accessed by downloading the App or using your web browser.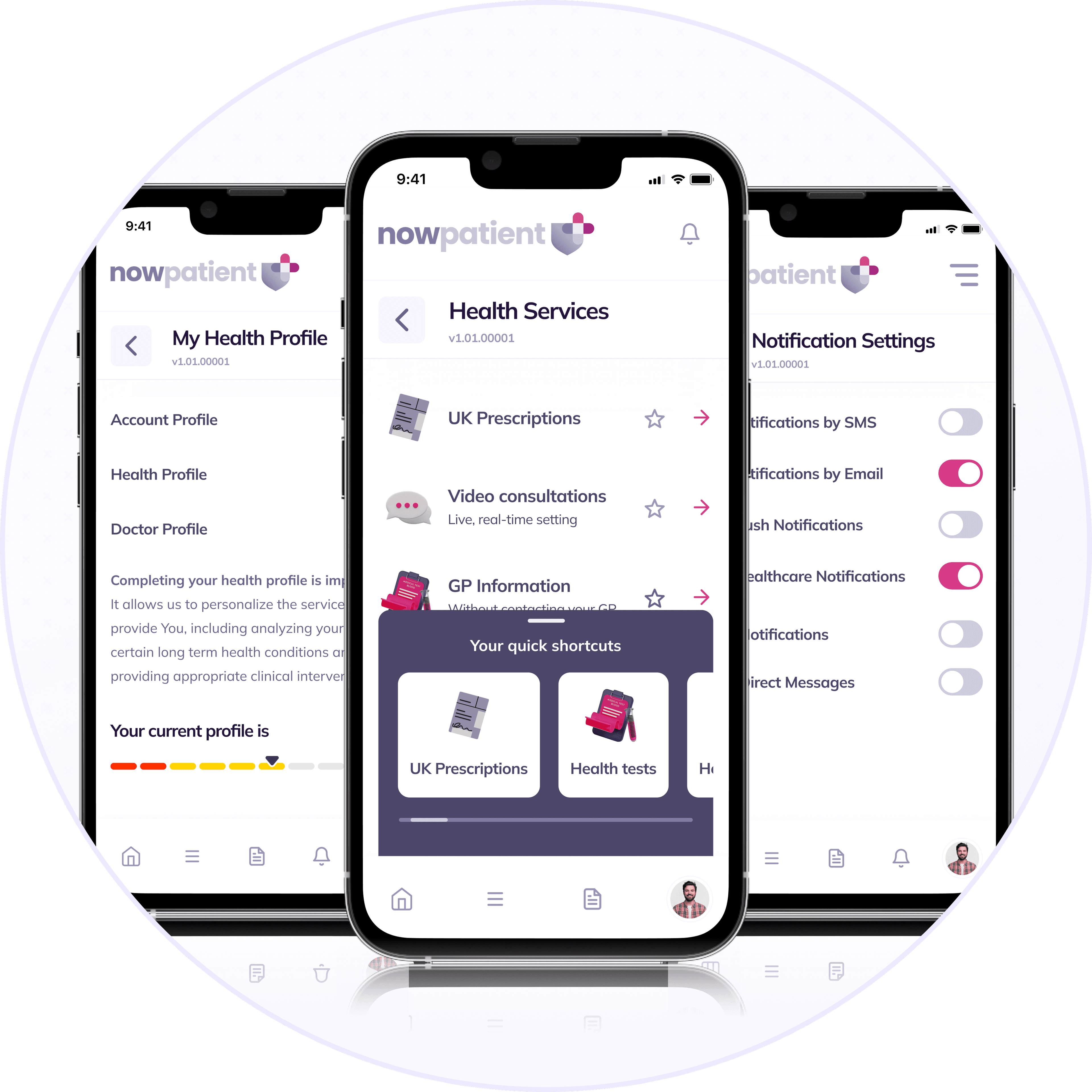 NOW PATIENT
Join the thousands of happy customers in the US and UK already using Now Patient
Manage your health and prescriptions all in one place for FREE. Available to use by downloading the App, or using your web browser.
Your Questions Answered
For your peace of mind, we can answer your health questions quickly
If you want to learn more about the range of services that we provide which can help manage and improve your health, then just click the button below.
Find your answers