Rajive Patel
Medical Writer / B.Pharm
Image source: Dibesity
Are you struggling with obesity or looking to shed those extra pounds? With the rise of weight loss drugs, it can be overwhelming to choose the right one for your needs. In this article, we will compare two popular weight loss brand name drugs: Mounjaro and Saxenda. By understanding their mechanisms, uses, dosages, and side effects, you can make an informed decision to achieve your weight loss goals.
What are Mounjaro and Saxenda?
Both Mounjaro and Saxenda belong to a class of drugs called GLP-1 receptor agonists (glucagon-like peptide-1). These medications mimic the actions of GLP-1, an incretin hormone that stimulates insulin secretion in the pancreas, gastric emptying, and appetite. By activating GLP-1 receptors for an extended period, Mounjaro and Saxenda help lower blood sugar levels, slow down digestion, and decrease appetite
While they share similarities in their mechanisms of action, they have distinct differences that set them apart. Mounjaro, developed by Eli Lilly, contains the active ingredient tirzepatide. Mounjaro in addition to being a GLP-1 medication is also a glucose-dependent insulinotropic polypeptide (GIP) mimetic which Saxenda is not. This makes Mounjaro unique among GLP-1 medications like Saxenda, Ozempic and Wegovy, because it mimics two hormones at once, as opposed to one. Mounjaro is the first and only approved once-weekly GIP (glucose-dependent insulinotropic polypeptide) and GLP-1 (glucagon-like peptide-1) receptor agonist. It is a single molecule that targets the body's receptors for GIP and GLP-1, which are natural incretin hormones.
Saxenda, manufactured by Novo Nordisk, contains the active ingredient liraglutide, a GLP-1 receptor agonist.
Mechanism of action
Both Mounjaro and Saxenda work by activating the GLP-1 receptor, which plays a crucial role in regulating insulin and blood sugar levels. When we eat, our gut releases GLP-1 to promote insulin secretion, allowing glucose to be used as energy by our cells. Additionally, GLP-1 slows down digestion, leading to delayed gastric emptying and reduced appetite. By mimicking GLP-1, Mounjaro and Saxenda prolong the effects of this hormone, helping to control blood sugar levels and promote weight loss.
Uses and FDA approval
Saxenda was the first U.S. Food and Drug Administration-approved (FDA-approved) weight management medication in 2014. It is indicated for the treatment of obesity and excess body weight in adults with a body mass index (BMI) of 30 or higher, or with a BMI of 27 or higher and weight-related comorbidities such as high blood pressure or high cholesterol. Saxenda can also be prescribed to adolescents with obesity.
On the other hand, Mounjaro is currently FDA-approved for the treatment of type 2 diabetes. However, it is commonly prescribed off-label for weight control and is awaiting FDA approval as a weight management medication.
Comparing effectiveness
When comparing the results of clinical trials, Mounjaro has demonstrated a more significant weight loss effect compared to Saxenda. Participants taking Mounjaro experienced an average reduction in body weight of up to 21%, while those on Saxenda achieved an average weight loss of 6.4%. Additionally, a higher percentage of individuals taking Mounjaro saw a 5% or greater change in body weight, indicating its potential for more substantial weight loss.
Dosage and administration
One of the key differences between Mounjaro and Saxenda is their dosing schedules and frequency of administration.
Mounjaro is administered as a once-weekly injection under the skin. The initial dosage is typically 5 mg, and it can be increased based on the patient's response and weight loss goals. The dosage schedule usually follows a pattern of 5 mg for 4 weeks, followed by 10 mg for 4 weeks, and then 15 mg thereafter. However, individual differences may necessitate adjustments to the dosage. This weekly dosing schedule offers convenience for individuals who prefer fewer injections.
On the other hand, Saxenda is administered as a once-daily subcutaneous injection using a multi-dose pen. The initial dose is 0.6 mg, gradually increasing up to a maximum of 3.0 mg once daily. To minimize gastrointestinal side effects, it is recommended to start with a lower dose and escalate gradually over several weeks. It is important to take Saxenda at the same time each day to maintain consistency.
Mounjaro and Saxenda are administered via a subcutaneous injection under the skin in your upper arm, thigh, or abdomen.
Side effects and tolerance
Both Mounjaro and Saxenda can cause gastrointestinal side effects due to their impact on the digestive system. The most common side effects include nausea, vomiting, constipation, stomach pain, and diarrhea. These side effects are usually mild and may occur during the initial adjustment period. Tolerance to the medication often improves over time. It is important to discuss any side effects with your healthcare provider to determine the best course of action.
Mounjaro is contraindicated in individuals with a personal or family history of medullary thyroid carcinoma and multiple endocrine neoplasia syndrome type 2. There are serious side effects too, which are rarer such as gallbladder disease, diabetic retinopathy, and pancreatitis. Saxenda is generally well-tolerated, but rare cases of thyroid tumors, pancreatitis, and gallbladder disease have been reported.
Drug interactions
It is essential to be aware of potential drug interactions when taking weight loss medications. Saxenda has 252 known drug interactions, while Mounjaro has 249. These interactions can affect the absorption of other medications taken orally. It is crucial to inform your healthcare provider about all the medications, supplements, and herbal products you are currently taking to ensure the safe and effective use of Mounjaro or Saxenda.
Choosing the right medication
When deciding between Mounjaro and Saxenda, several factors should be considered, including FDA approval, dosing schedule, side effects, user ratings, and potential drug interactions. It is important to consult with a healthcare professional, such as a board-certified obesity medicine provider, who can assess your specific needs and guide you in choosing the most suitable medication for your weight loss journey.
Conclusion
Mounjaro and Saxenda are both effective weight-loss tools that utilize the mechanisms of GLP-1 receptor activation. While Saxenda is FDA-approved for obesity treatment, Mounjaro is currently FDA-approved as a diabetes drug for type 2 diabetes but is commonly prescribed off-label for weight control. Their dosing schedules and side effects allow individuals to choose the medication that aligns best with their preferences and goals. Remember to consult with your healthcare provider for medical advice to determine the most appropriate weight loss medication for your specific needs. With the right medication and lifestyle changes, you can embark on a successful weight loss journey and improve your overall health and well-being.
About Now Patient
Now Patient's online services are available in the US and UK. We help you manage your prescriptions, doctor appointments, test results, health risks and a lot more, all in one place for FREE. US prescriptions are available on a discounted 'cash' basis and delivered across all 50 states by our network of pharmacy providers dispensing FDA-approved generic and branded medications. We do not currently handle commercial insurance, Medicare or Medicaid. UK NHS and private prescriptions are delivered FREE of charge across England & Wales by our UK regulated online pharmacy.
Sources
Disclaimer
Now Patient has taken all reasonable steps to ensure that all material is factually accurate, complete, and current. However, the knowledge and experience of a qualified healthcare professional should always be sought after instead of using the information in this page. Before taking any drug, you should always speak to your doctor or another qualified healthcare provider.
The information provided here about medications is subject to change and is not meant to include all uses, precautions, warnings, directions, drug interactions, allergic reactions, or negative effects. The absence of warnings or other information for a particular medication does not imply that the medication or medication combination is appropriate for all patients or for all possible purposes.
WHY WE BUILT NOW PATIENT
To improve the lives of everyone by making high-quality care accessible and convenient
As technologists and clinicians, we built Now Patient to be more than just an online pharmacy. We are here to improve lives. Our service gives you access to smart features & resources that can help empower you to take control of your health and improve your health outcomes. All this, in one place, for FREE. We strive to bring a fresh perspective to managing health. Not play by the rules. Now Patient can be accessed by downloading the App or using your web browser.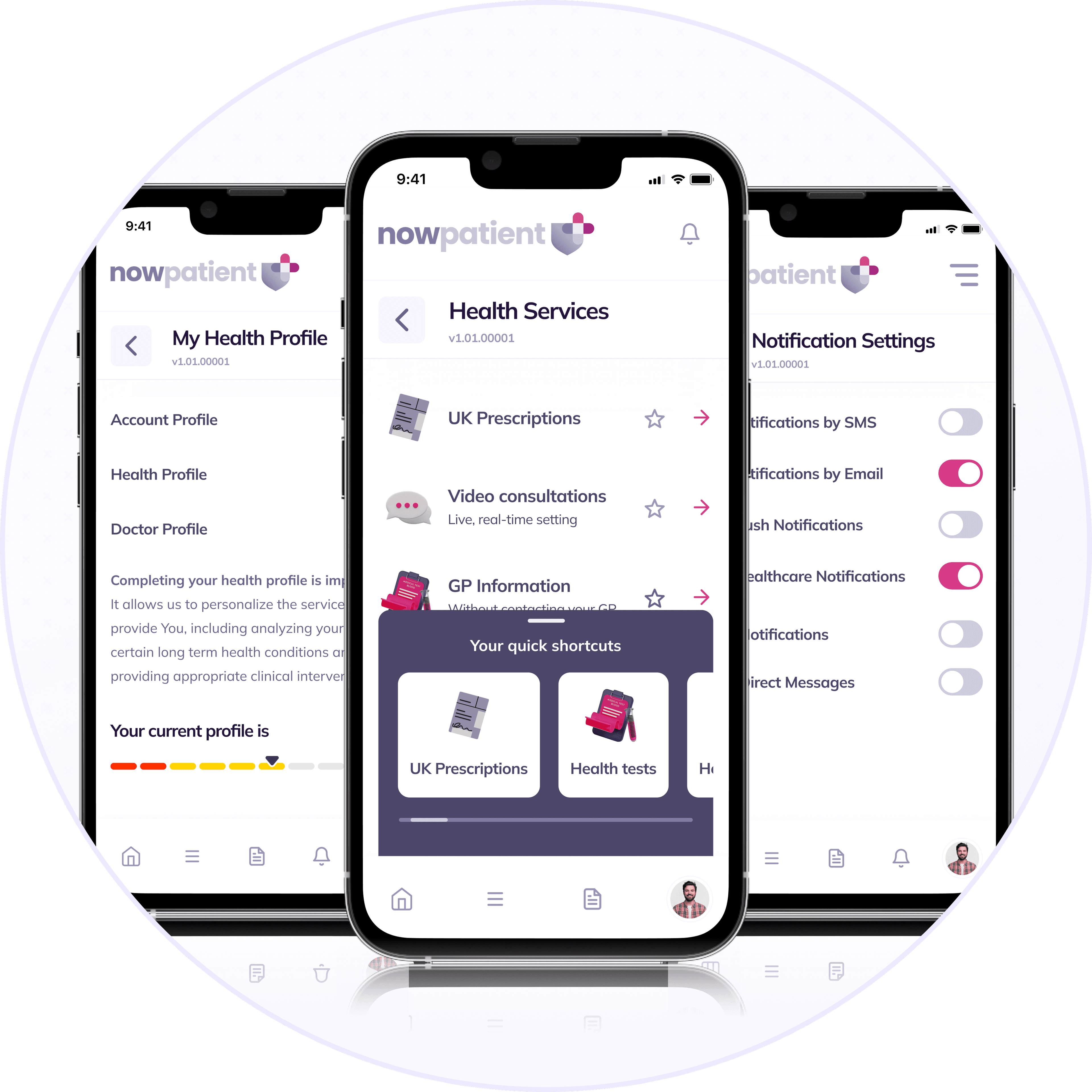 NOW PATIENT
Join the thousands of happy customers in the US and UK already using Now Patient
Manage your health and prescriptions all in one place for FREE. Available to use by downloading the App, or using your web browser.
Your Questions Answered
For your peace of mind, we can answer your health questions quickly
If you want to learn more about the range of services that we provide which can help manage and improve your health, then just click the button below.
Find your answers