Rajive Patel
Medical Writer / B.Pharm
Image source: Issu
Weight loss medications have been making headlines recently, with brand-name drugs like Mounjaro, Wegovy, and Ozempic gaining popularity for their potential to promote weight loss. While these medications are primarily used to treat type 2 diabetes, they have been found to have significant effects on weight loss as well. In this article, we will dive deep into the differences between Mounjaro and Wegovy, exploring their mechanisms of action, approved uses, dosages, side effects, and the current state of their approval for weight loss.
Understanding Mounjaro and Wegovy
Mounjaro, also known as tirzepatide is manufactured by American pharmaceutical company Eli Lilly and Wegovy, also known as semaglutide is manufactured by Novo Nordisk. Both prescription drugs are approved by the U.S. Food and Drug Administration (FDA). They are intended to be used in conjunction with lifestyle changes such as diet and exercise. While Wegovy is currently FDA-approved for chronic weight management, Mounjaro is approved to treat type 2 diabetes but is often prescribed off-label for weight loss due to its significant impact on weight reduction.
Both Mounjaro and Wegovy belong to a class of drugs called GLP-1 receptor agonists (glucagon-like peptide-1). These medications mimic the actions of GLP-1, an incretin hormone that stimulates insulin secretion in the pancreas, gastric emptying, and appetite. By activating GLP-1 receptors for an extended period, Mounjaro and Wegovy help lower blood sugar levels, slow down digestion, and decrease appetite.
Mounjaro in addition to being a GLP-1 medication is also a glucose-dependent insulinotropic polypeptide (GIP) mimetic which Wegovy is not. This makes Mounjaro unique among GLP-1 medications like Ozempic and Wegovy, because it mimics two hormones at once, as opposed to one. Mounjaro is the first and only approved once-weekly GIP (glucose-dependent insulinotropic polypeptide) and GLP-1 (glucagon-like peptide-1) receptor agonist. It is a single molecule that targets the body's receptors for GIP and GLP-1, which are natural incretin hormones.
Differences in approved use
Wegovy is currently the only medication among the two that is specifically approved by the FDA for weight loss. It is indicated for chronic weight management in adults and teens with a body mass index (BMI) of 27 or higher or those with obesity (BMI of 30 or higher) and weight-related health conditions such as high blood pressure or high cholesterol.
On the other hand, Mounjaro is approved to treat type 2 diabetes and is not yet approved as a weight loss drug. However, it is commonly prescribed off-label for weight management, and there are ongoing studies to evaluate its effectiveness for weight loss.
Effectiveness in weight loss
When it comes to weight loss, both Mounjaro and Wegovy have demonstrated significant results in clinical studies. In trials, Mounjaro has been shown to lead to weight loss of up to 21% to 22.5% at the highest dose, which is comparable to the weight loss achieved through bariatric surgery. Wegovy, on the other hand, has resulted in an average weight loss of about 15% in adults and a 16.1% decrease in BMI in teens. While direct comparisons between the two medications are limited, studies have shown that the highest dose of Mounjaro produces more weight loss than Wegovy.
It is important to note that the dosage of Mounjaro plays a significant role in weight loss. Higher doses of Mounjaro have been associated with more significant weight loss. For example, individuals with obesity taking the maximum dose of 15 mg of Mounjaro have experienced weight loss of nearly 21% of their body weight. The dosage strengths of Mounjaro range from 2.5 mg to 15 mg, with the starting dose typically being 2.5 mg and gradually increasing over time. Wegovy, on the other hand, follows a similar titration schedule, with a maintenance dosage of 2.4 mg per week.
Approval for weight loss
While Wegovy is currently approved for weight loss, Mounjaro is not yet approved for this indication and currently remains a diabetes medication. However, ongoing studies and clinical trials are evaluating the use of Mounjaro for weight management. In October 2022, the FDA granted fast-track designation for tirzepatide, the active ingredient in Mounjaro, for the treatment of obesity or overweight with weight-related medical conditions. This designation is designed to expedite the development, testing, and approval process for drugs that address unmet medical needs. It is expected that Mounjaro will undergo a full FDA review for weight loss in the near future, potentially leading to its approval as a weight loss medication.
Dosage and administration
The dosages and administration of Mounjaro and Wegovy differ slightly. Mounjaro is available in various dosage strengths, ranging from 2.5 mg to 15 mg. The recommended starting dosage is 2.5 mg once weekly, which is gradually increased to higher doses over a period of weeks. The maximum dosage of Mounjaro is 15 mg once weekly. On the other hand, Wegovy is available in dosage strengths of 0.25 mg, 0.5 mg, 1 mg, 1.7 mg, and 2.4 mg. The initial dosage for Wegovy is 0.25 mg once weekly, and it is gradually increased to a maintenance dosage of 2.4 mg once weekly.
Both Mounjaro and Wegovy are administered by a once-weekly injection subcutaneously. The injection is typically given in the abdomen, thigh, or upper arm. It is important to follow the recommended injection sites and rotate them with each dose to minimize injection site reactions.
Safety and side effects
Like any medication, Mounjaro and Wegovy come with potential side effects. The most common side effects seen with both medications include gastrointestinal symptoms such as nausea, indigestion, diarrhea, vomiting, constipation, and stomach pain. These side effects are often mild to moderate and tend to subside over time as the body adjusts to the medication. However, in some cases, these side effects can be severe enough to lead to treatment discontinuation.
There are also rare but serious side effects associated with these medications. For example, both Mounjaro and Wegovy carry a boxed warning for the potential risk of thyroid tumors, including cancer. Other rare side effects include pancreatitis, gallbladder issues, low blood sugar and kidney problems. It is important to discuss the potential risks and benefits of these medications with your healthcare provider before starting treatment.
Conclusion
Mounjaro and Wegovy are powerful medications that can help manage type 2 diabetes and promote weight loss. While Wegovy is currently FDA-approved for weight loss, Mounjaro is commonly prescribed off-label for this purpose and may soon receive official approval. These medications work by mimicking GLP-1, a hormone involved in insulin secretion, digestion, and satiety regulation. They have shown significant efficacy in promoting weight loss, with Mounjaro often leading to higher weight loss compared to Wegovy. However, it is important to consider the approved uses, dosages, and potential side effects of each medication before starting treatment. Always consult with your healthcare provider to determine the best course of action for your weight loss journey.
About Now Patient
Now Patient's online services are available in the US and UK. We help you manage your prescriptions, doctor appointments, test results, health risks and a lot more, all in one place for FREE. US prescriptions are available on a discounted 'cash' basis and delivered across all 50 states by our network of pharmacy providers dispensing FDA-approved generic and branded medications. We do not currently handle commercial insurance, Medicare or Medicaid. UK NHS and private prescriptions are delivered FREE of charge across England & Wales by our UK regulated online pharmacy.
Sources
Disclaimer
Now Patient has taken all reasonable steps to ensure that all material is factually accurate, complete, and current. However, the knowledge and experience of a qualified healthcare professional should always be sought after instead of using the information in this page. Before taking any drug, you should always speak to your doctor or another qualified healthcare provider.
The information provided here about medications is subject to change and is not meant to include all uses, precautions, warnings, directions, drug interactions, allergic reactions, or negative effects. The absence of warnings or other information for a particular medication does not imply that the medication or medication combination is appropriate for all patients or for all possible purposes.
WHY WE BUILT NOW PATIENT
To improve the lives of everyone by making high-quality care accessible and convenient
As technologists and clinicians, we built Now Patient to be more than just an online pharmacy. We are here to improve lives. Our service gives you access to smart features & resources that can help empower you to take control of your health and improve your health outcomes. All this, in one place, for FREE. We strive to bring a fresh perspective to managing health. Not play by the rules. Now Patient can be accessed by downloading the App or using your web browser.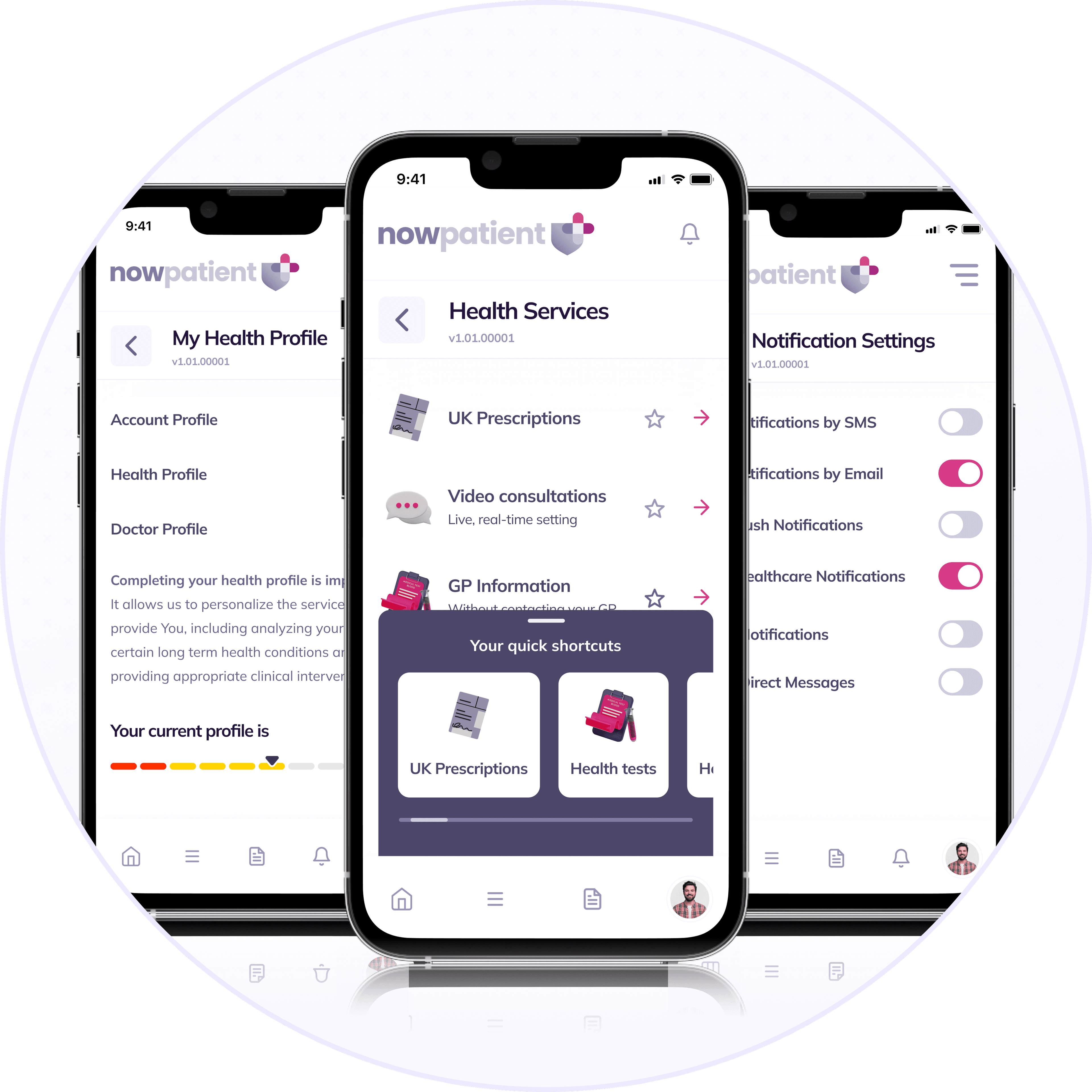 NOW PATIENT
Join the thousands of happy customers in the US and UK already using Now Patient
Manage your health and prescriptions all in one place for FREE. Available to use by downloading the App, or using your web browser.
Your Questions Answered
For your peace of mind, we can answer your health questions quickly
If you want to learn more about the range of services that we provide which can help manage and improve your health, then just click the button below.
Find your answers