/
Blog
/
Wegovy to be available from GPs in pilot scheme
Wegovy to be available from GPs in pilot scheme
10 Aug 2023

Stefano Mirabello
Pharmacist / B.Pharm
In an era where obesity has become a global concern, the United Kingdom is spearheading a revolutionary approach to weight management. The UK government has unveiled a £40 million pilot scheme to extend the availability of the weight loss drug, Wegovy, to General Practitioners (GPs). This initiative is poised to be a game-changer in obesity management, providing a much-needed impetus in the fight against obesity and its associated health risks.
The obesity crisis in the UK
According to statistics, one in four adults in the UK is battling obesity, which is associated with various health conditions such as high blood pressure, type 2 diabetes, heart attacks, stroke, and cancer. The financial burden of obesity on the National Health Service (NHS) is estimated at £6 billion per yea, demonstrating the dire need for effective weight management solutions.
Unveiling the pilot scheme
The UK government, as part of its commitment to curbing the obesity epidemic, announced a £40 million two-year pilot scheme aimed at exploring ways to make Wegovy, an anti-obesity drug, more accessible to UK residents. The pilot scheme is expected to open the doors for GPs and specialist pharmacies to prescribe Wegovy, thereby eliminating the lengthy wait for a clinical appointment and extending the drug's reach to thousands more patients in England.
The wonder drug: Wegovy
Wegovy, the brand name for the drug semaglutide, is an innovative weight loss solution that mimics a naturally-occurring hormone in the body. This hormone is released in the intestines after eating and sends a signal to the brain to stop feeling hungry. By imitating this hormone, semaglutide curbs hunger levels, making it easier for individuals to lose weight.
Semaglutide also has a positive impact on blood sugar levels, which is why it was originally introduced to treat diabetes. Clinical trials have shown that weight loss can begin immediately after taking semaglutide. However, the study also found that weight loss plateaued about a year after starting, with participants losing around 15% of their body weight, despite continued use.
The potential downsides
Like all medications, semaglutide comes with potential side-effects. The most common is nausea, which tends to occur less frequently at lower doses of the drug. Other potential side effects include diarrhoea or constipation, headache, and fatigue.
One of the challenges with using semaglutide for obesity management is determining when to discontinue its use. At present, NICE (National Institute for Health and Care Excellence) has approved the drug for a maximum of two years. This time restriction is likely due to concerns about the long-term cost of the drug and a lack of data on its long-term use.
Research shows that individuals tend to regain most of the weight they lost on semaglutide within six to twelve months of discontinuation. Furthermore, while current evidence shows the drug is safe, its safety for long-term use, especially at doses required to treat obesity, which are roughly twice as strong as those needed for diabetes, is yet to be confirmed.
Financial implications
GLP-1RA drugs like semaglutide are not cheap. The cost to the NHS (for lower doses to treat diabetes) is approximately £75 for a pack of four pens. Those who purchase the drugs (after a healthcare recommendation outside of the NHS) are likely to pay much more.
Balancing the cost of the drugs against the potential economic benefits of weight loss is a complex process, given that obesity affects so many aspects of physical and mental health.
The potential impact of the pilot scheme
Obesity management in the UK currently operates on a tiered service. Tier 1 includes public health lifestyle messages, while Tier 2 consists of group-based diet support. Tiers 3 and 4, mostly hospital-based, offer weight-loss drugs or bariatric surgery. The pilot scheme aims to streamline access to weight-loss medications, ensuring equal care across the country.
However, these proposals will only be effective if accompanied by appropriate measures. Guidance and continued support in making and maintaining healthy lifestyle changes during and after taking Wegovy will be essential.
Conclusion
While Wegovy and similar drugs offer a significant step forward in obesity management, they are not a panacea for the obesity crisis. The UK government's efforts to address the root causes of obesity, such as introducing calorie labeling on menus and restricting the location of unhealthy foods in shops, may not be sufficient. A comprehensive, multi-pronged approach that includes lifestyle-related policies alongside the pilot scheme will be necessary to achieve the desired impact on obesity management.
About Now Patient
Now Patient's online services are available in the US and UK. We help you manage your prescriptions, doctor appointments, test results, health risks, and a lot more, all in one place for FREE. If you are in the United States, you could enjoy savings using Now Patient's mail-order pharmacy or use the Now Patient Rx Advantage Card at over 65,000 pharmacies, with savings of up to 90% on popular FDA-approved brand and generic medications like Ozempic, Mounjaro, clopidogrel and lots more. We do not currently handle commercial insurance, Medicare or Medicaid. UK NHS and private prescriptions are delivered FREE of charge across England & Wales by our UK NHS online pharmacy.
Sources
Disclaimer
Now Patient has taken all reasonable steps to ensure that all material is factually accurate, complete, and current. However, the knowledge and experience of a qualified healthcare professional should always be sought after instead of using the information in this page. Before taking any drug, you should always speak to your doctor or another qualified healthcare provider.
The information provided here about medications is subject to change and is not meant to include all uses, precautions, warnings, directions, drug interactions, allergic reactions, or negative effects. The absence of warnings or other information for a particular medication does not imply that the medication or medication combination is appropriate for all patients or for all possible purposes.
WHY WE BUILT NOW PATIENT
To improve the lives of everyone by making high-quality care accessible and convenient
We are here to improve lives. Our service gives you access to smart features & resources that can help empower you to take control of your health and improve your health outcomes. All this, in one place, for FREE. We strive to bring a fresh perspective to managing health. Not play by the rules. Now Patient can be accessed by downloading the App or using your web browser.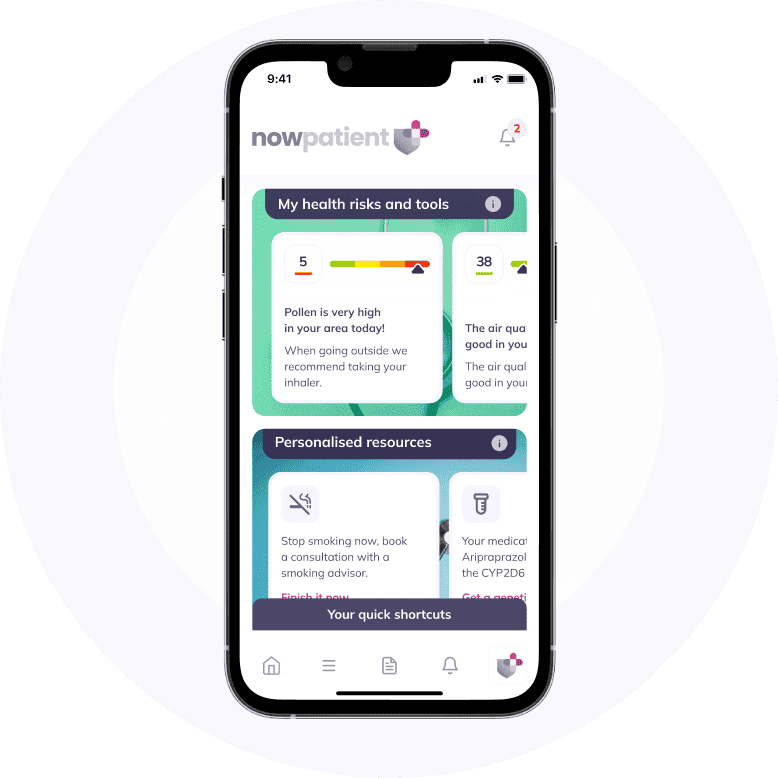 Your Questions Answered
For your peace of mind, we can answer your health questions quickly
If you want to learn more about the range of services that we provide which can help manage and improve your health, then just click the button below.
Find your answers