/
Blog
/
How long does it take to lose weight on Wegovy?
How long does it take to lose weight on Wegovy?
28 Apr 2023

Stefano Mirabello
Pharmacist / B.Pharm
Losing weight can be a difficult journey and it's not always easy to know where to turn for support. However, if you're someone who struggles with weight loss, you've probably heard of a new weight loss drug called Wegovy. Manufactured by Novo Nordisk, Wegovy is the brand name prescription drug that's designed to help people who are struggling with weight loss. A question that frequently arises is how long it takes to experience tangible results with Wegovy. In this blog, we'll look closer at Wegovy and explore how long it takes to lose weight on this medication.
Understanding how Wegovy works
Before we dive into the specifics of weight loss with Wegovy, it's vital to understand what this medication is and how it works.
Essentially, Wegovy contains a drug called semaglutide, which is a glucagon-like peptide-1 receptor agonist. Semaglutide was first developed more than ten years ago by the Danish Pharma company Novo Nordisk to treat type 2 diabetes. Marketed as Ozempic, it is already available on NHS prescription (although at lower doses to Wegovy).
This drug works by mimicking the effects of the hormone GLP-1, which is naturally produced by the body in response to eating. GLP-1 helps regulate blood sugar levels, reduce appetite and reduce food cravings, helping individuals who struggle with weight loss. Another way the medication works is that it slows down stomach emptying, which slows down the absorption of calories and may contribute to the feeling of fullness.
Wegovy medication is generally prescribed to people who have a body mass index (BMI) of 30 or higher, indicating obesity. Alternatively, it may be prescribed to individuals with a BMI of 27 or higher if they have significant weight-related health issues, such as high blood pressure, type 2 diabetes or high cholesterol levels. Wegovy medication has been shown to help reduce weight and improve metabolism in obese individuals, making it a potential option for those struggling to lose weight through diet and exercise.
Wegovy is typically given as a subcutaneous weekly injection, which means it's administered just under the skin with a needle. Your prescribing doctor or other healthcare professional will instruct you on how to properly give yourself the Wegovy injections. It's important to follow their instructions carefully for the best results. Additionally, it's recommended you take the medication at the same time each week to help establish a routine.
How long does it take for Wegovy to start working?
In extensive clinical trials carried out by Novo Nordisk, the makers of Wegovy, the weight loss effects of the drug were examined over 68 weeks in almost 2,000 adults
Participants were randomly assigned to either take Wegovy or a placebo and were advised to stick to a low-calorie diet and increase their physical activity
Those who participated were categorised based on their body mass index (BMI) – either as obese with a BMI of 30 or higher or as having excess weight with a BMI of 27 or higher and a medical condition related to their weight such as high blood pressure or high cholesterol
The studies found that on average, both groups started at about 232 pounds (105.4 kg). After 68 weeks, those taking Wegovy lost around 15% of their body weight or an average of 35 pounds (15.9 kg)
Those taking the placebo lost an average of 6 lbs (2.7 kg) or roughly 2.5% of their body weight
When a patient begins taking Wegovy, the first four to twelve weeks are primarily dedicated to what is called the induction phase. During this period, patients are provided with gradually increasing doses of the drug. The goal is to help their body adjust to the medication without experiencing potential side effects, such as nausea or diarrhoea. Once the induction period is over, the maintenance phase begins. At this stage, the dosage remains constant and the body has adapted well to the medicine. This is where patients begin to lose weight.
How many people lose weight with Wegovy?
In the 68-week studies:
83% of adults taking Wegovy lost 5% or more of their weight compared to 31% of people taking a placebo
66% of adults taking Wegovy lost 10% or more of their weight compared to 12% of people taking a placebo
48% of adults taking Wegovy lost 15% or more of their weight compared to 5% of people taking a placebo
Factors that impact how much weight you lose on Wegovy
Several factors can impact how much weight you lose on Wegovy, including
Age
Sex
Starting weight
Overall health
Lifestyle
Amount of regular exercise
Diet
For patients taking Wegovy, one significant aspect they should understand is that the rate of weight loss will slow down over time. This is because your body will adjust to the medication's effects and its efficiency will gradually decrease. The medication will still help you lose weight, but the rate of weight loss will slow down, patients will have to rely more on diet, monitoring their food intake and exercise. The slowdown should not discourage patients, moderate lifestyle adjustments can help maintain an upward weight loss trend.
Side effects of Wegovy
Like all medications, Wegovy can cause side effects in some individuals. The most common side effects of Wegovy include nausea, diarrhoea, vomiting, constipation and heartburn, which can be relieved with over the counter meds. Other side effect may be low blood sugar. Talk to your healthcare provider about how to recognise the symptoms before you start and while you take Wegovy. The low starting dose is intentional, so that your body can adjust to the medication. However, most individuals find that these side effects disappear over time as their body adjusts to the medication.
Is Wegovy right for you?
If you've been struggling with weight loss, Wegovy might be an option worth considering. However, it's essential to speak with your doctor to discuss whether this medication is right for you. Your doctor will consider several factors, including your overall health and medical history. Be sure to tell your doctor and pharmacist about all medications you take. This includes any over-the-counter supplements or products marketed for weight management, such as Saxenda (liraglutide). This will help determine whether Wegovy is a safe and effective weight loss option for you.
In some circumstances it may not be recommended. For example, if you are using a different GLP-1 receptor agonist medication, you cannot combine it with Wegovy. Also, patients with a personal or family history of medullary thyroid cancer should not use Wegovy. It is also contraindicated if you have a rare genetic syndrome known as multiple endocrine neoplasia (MEN2), in those with a history of pancreatitis (inflammation of the pancreas) or if you have gallbladder problems such as gallstones.
Talk to a healthcare professional
In conclusion, Wegovy is a potent weight loss medication that has shown impressive weight loss results in clinical trials. However, the amount of weight loss you achieve on Wegovy depends on several factors, including your starting weight, lifestyle changes and compliance with the medication. Additionally, remember to incorporate healthy lifestyle changes to maintain weight loss success.
The rate of weight loss also slows down with continued use, but patients can expect to maintain weight loss results by continuing the medication and adhering to a moderate lifestyle. With Wegovy, patients have an efficient and reliable weight loss tool that improves their health and overall wellbeing. Always consult your healthcare provider before using Wegovy or any other weight-loss drug.
About Now Patient
Now Patient's online services are available in the US and UK. We help you manage your prescriptions, doctor appointments, test results, health risks, and a lot more, all in one place for FREE. If you are in the United States, you could enjoy savings using Now Patient's mail-order pharmacy or use the Now Patient Rx Advantage Card at over 65,000 pharmacies, with savings of up to 90% on popular FDA-approved brand and generic medications like Ozempic, Mounjaro, clopidogrel and lots more. We do not currently handle commercial insurance, Medicare or Medicaid. UK NHS and private prescriptions are delivered FREE of charge across England & Wales by our UK NHS online pharmacy.
Sources
Disclaimer
Now Patient has taken all reasonable steps to ensure that all material is factually accurate, complete, and current. However, the knowledge and experience of a qualified healthcare professional should always be sought after instead of using the information in this page. Before taking any drug, you should always speak to your doctor or another qualified healthcare provider.
The information provided here about medications is subject to change and is not meant to include all uses, precautions, warnings, directions, drug interactions, allergic reactions, or negative effects. The absence of warnings or other information for a particular medication does not imply that the medication or medication combination is appropriate for all patients or for all possible purposes.
WHY WE BUILT NOW PATIENT
To improve the lives of everyone by making high-quality care accessible and convenient
We are here to improve lives. Our service gives you access to smart features & resources that can help empower you to take control of your health and improve your health outcomes. All this, in one place, for FREE. We strive to bring a fresh perspective to managing health. Not play by the rules. Now Patient can be accessed by downloading the App or using your web browser.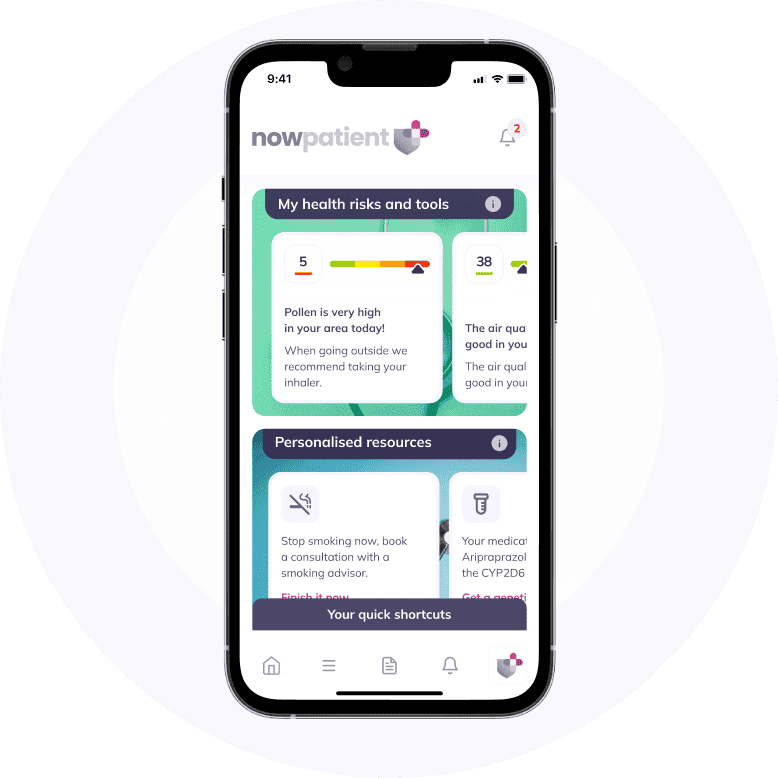 Your Questions Answered
For your peace of mind, we can answer your health questions quickly
If you want to learn more about the range of services that we provide which can help manage and improve your health, then just click the button below.
Find your answers