Rajive Patel
Medical Writer / B.Pharm
The weight-loss drug Wegovy which is also known as semaglutide made its debut in the UK market in September 2023. It is available in most UK pharmacies, however the manufacturer Novo Nordisk has limited the supply to one package per pharmacy per month.  The supply restrictions are in place until Novo Nordisk can scale its logistics and production. Wegovy has been shown to assist patients in reducing body weight when used in conjunction with exercise and lifestyle changes. This highly anticipated obesity drug has already been launched in several other countries, including the United States, Norway, Denmark, and Germany. However, due to high demand, the launch in Europe has been delayed. In this article, we will explore the details surrounding the launch of Wegovy in the UK, its availability, and its potential impact on weight management.
The controlled and limited launch of Wegovy
Novo Nordisk, the Danish drugmaker announced the launch of Wegovy in the UK through a controlled and limited release. This approach ensures that the supply of Wegovy is introduced gradually, allowing for close monitoring of demand and availability. The company aims to provide access to Wegovy both through the National Health Service (NHS) weight management services and privately through registered healthcare professionals.
The efficacy of Wegovy
Clinical trials have demonstrated that Wegovy can help patients achieve significant weight loss. When combined with exercise and lifestyle changes, the drug has shown the potential to reduce body weight by approximately 15%. This makes Wegovy a promising solution for individuals struggling with obesity or weight-related conditions.
The approval process and recommendations
In March, the National Institute for Care and Excellence (NICE), a leading England watchdog, recommended the use of Wegovy in adults with at least one weight-related comorbidity such as type 2 diabetes. NICE guidance suggests that Wegovy should be used within NHS specialist weight management services for a maximum duration of two years. The approval process by the UK Medicines and Health Products Regulations Agency (MHRA) paved the way for the official launch of Wegovy in September 2023.
Availability and pricing
While Novo Nordisk has not disclosed the exact cost of Wegovy in the UK, leading online health and beauty retailers have indicated pricing for private patients. It has been suggested pharmacies plan to charge private patients around £195 per month for Wegovy. It is important to note that these prices include an online consultation with a clinician, prescription, and dispensing costs. The availability and pricing of Wegovy through the NHS weight management services are yet to be confirmed.
The impact of Wegovy launch
The launch of Wegovy in the UK comes amidst Novo Nordisk's significant success in the pharmaceutical market. The company's shares have soared, making it a strong contender for the title of Europe's most valuable listed company. The increasing demand for Wegovy, as well as Novo Nordisk's highly effective diabetes drug Ozempic, have contributed to the company's record-high earnings. Despite supply constraints and delays in the European launch, Novo Nordisk remains committed to meeting the needs of individuals with obesity and advocating for access to effective weight management treatments. Novo Nordisk also has the drug Saxenda approved for weight loss.
The need for weight management solutions in the UK
The availability of Wegovy in the UK addresses a pressing health concern. According to a 2019 report by the Organisation for Economic Co-operation and Development (OECD), nearly one in three adults in Britain is obese, making it the highest obesity rate in Europe. Obesity-related illnesses account for a significant portion of health expenditure and negatively impact the economy. By offering an additional treatment option for individuals living with obesity, Wegovy has the potential to make a substantial impact on public health and the overall well-being of the population.
Eligibility and access to Wegovy
To be eligible for Wegovy, individuals in the UK will need to meet certain criteria. The National Institute for Care and Excellence (NICE) recommends Wegovy for individuals with a body mass index (BMI) of 30 or above or a BMI of 27 or above with weight-related health conditions such as high blood pressure. However, it is important to consult with a healthcare professional to determine who is eligible and discuss the best approach to weight management.
Wegovy and healthcare professionals
Novo Nordisk emphasizes the importance of working closely with healthcare professionals to ensure the appropriate use of Wegovy. Collaboration between the pharmaceutical industry, regulators, and providers is crucial in addressing the high demand for effective weight management solutions. By partnering with healthcare professionals, Novo Nordisk aims to prioritize individuals with the highest unmet medical needs and ensure access to and continuous treatment with Wegovy.
The future of weight management
The launch of Wegovy in the UK represents a significant step forward in the field of weight management. As obesity rates continue to rise for the foreseeable future the need for effective treatments becomes more apparent. Pharmaceutical advancements like Wegovy provide hope for individuals seeking to achieve and maintain a healthy weight. By combining medication, exercise, and lifestyle changes, individuals can work towards long-term weight management and improved overall health.
Conclusion
The introduction of Wegovy in the UK marks an important milestone in the battle against obesity and weight-related conditions. Novo Nordisk's controlled and limited launch of Wegovy aims to ensure that the drug is effectively distributed and monitored. With its proven efficacy in reducing body weight, Wegovy offers a promising solution for individuals struggling with obesity. As healthcare professionals and patients work together to navigate the availability and pricing of Wegovy, there is hope for improved weight management and better overall health outcomes in the UK.
About Now Patient
Now Patient's online services are available in the US and UK. We help you manage your prescriptions, doctor appointments, test results, health risks, and a lot more, all in one place for FREE. If you are in the United States, you could enjoy savings using Now Patient's mail-order pharmacy or use the Now Patient Rx Advantage Card at over 65,000 pharmacies, with savings of up to 90% on popular FDA-approved brand and generic medications like Ozempic, Mounjaro, clopidogrel and lots more. We do not currently handle commercial insurance, Medicare or Medicaid. UK NHS and private prescriptions are delivered FREE of charge across England & Wales by our UK NHS online pharmacy.
Sources
Disclaimer
Now Patient has taken all reasonable steps to ensure that all material is factually accurate, complete, and current. However, the knowledge and experience of a qualified healthcare professional should always be sought after instead of using the information in this page. Before taking any drug, you should always speak to your doctor or another qualified healthcare provider.
The information provided here about medications is subject to change and is not meant to include all uses, precautions, warnings, directions, drug interactions, allergic reactions, or negative effects. The absence of warnings or other information for a particular medication does not imply that the medication or medication combination is appropriate for all patients or for all possible purposes.
WHY WE BUILT NOW PATIENT
To improve the lives of everyone by making high-quality care accessible and convenient
We are here to improve lives. Our service gives you access to smart features & resources that can help empower you to take control of your health and improve your health outcomes. All this, in one place, for FREE. We strive to bring a fresh perspective to managing health. Not play by the rules. Now Patient can be accessed by downloading the App or using your web browser.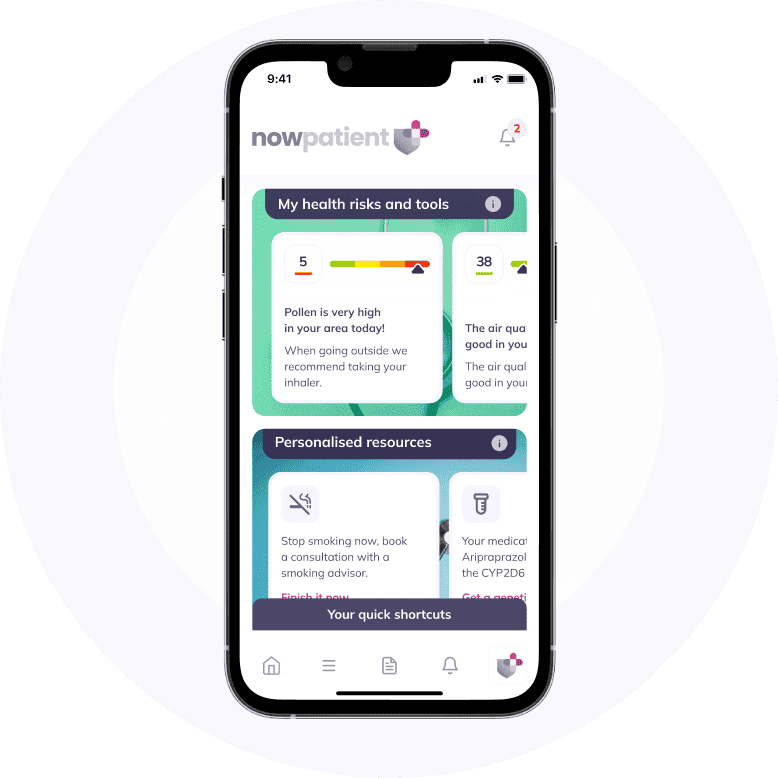 Your Questions Answered
For your peace of mind, we can answer your health questions quickly
If you want to learn more about the range of services that we provide which can help manage and improve your health, then just click the button below.
Find your answers