Ozempic®
Looking for ways to save up to 90%* on your FDA-approved branded and generic medications?
You could enjoy savings using Now Patient's mail-order online pharmacy or the Now Patient Rx Advantage Card at over 65,000 pharmacies.
AVAILABLE CURRENTLY, ONLY IN
United States
*Based on the difference between the U&C price submitted and the price the patient paid, as of April 2023.
Savings Card
Save up to 90% of your branded or generic medications using the Now Patient Rx Advantage Card
US brand name of Ozempic and manufacturer
Ozempic is the brand name of semaglutide and is available in the US under the brand name Ozempic. It is manufactured by Novo Nordisk
UK brand name of Ozempic and manufacturer
Ozempic is the brand name of semaglutide and is available in the UK under the brand name Ozempic. It is also manufactured by Novo Nordisk.
Is Ozempic available in the UK on the NHS?
Ozempic is available on the NHS in the UK. It can be prescribed by healthcare providers for eligible patients.
Prescription requirement for Ozempic
Ozempic (semaglutide) is available as 0.5 mg, 1 mg, or 2mg injection pen.  It is a prescription medicine and requires a valid prescription.
FDA approval of Ozempic
Ozempic has received FDA approval for:
Management of blood sugar levels in adults with type 2 diabetes, along with diet and exercise
Lower the risk of serious cardiovascular problems in adults with cardiovascular disease and type 2 diabetes
It is not indicated for use in people with type 1 diabetes and it is not known if it is safe and effective to use in children under 18 years of age or for people who have had pancreatitis
When not to use Ozempic?
There are certain precautions where Ozempic may not be suitable:
You are allergic to semaglutide or ingredients found in Ozempic pen
You have problems with your pancreas or kidney
You have a history of diabetic retinopathy
You are pregnant or breastfeeding or plan to become pregnant or breastfeed
You or you family have had MTC
You have MEN 2
Active ingredient of Ozempic and mechanism of action
The active ingredient in Ozempic is semaglutide. Semaglutide is a man-made synthetic version of the naturally occurring hormone GLP-1 (glucagon-like peptide-1). It has 94% equivalence to human GLP-1. Ozempic works by binding to GLP-1 receptors which results in insulin release from the pancreas when your blood sugar rises. The increased insulin release leads to lower blood sugar levels and A1C.
Ozempic helps prevent your liver from making and releasing excess sugar and also slows down food leaving your stomach. It is this latter effect that can reduce your appetite and ultimately lead to weigh loss. However, Ozempic is not licensed to be used for weight loss.
The American Diabetes Association (ADA) recommends that a reasonable goal for most adults with type 2 diabetes is an HbA1C less than 7%. The majority of adults taking Ozempic reached an HbA1C under 7% and maintained it.
Does Ozempic reduce cardiovascular risks?
Yes. Studies have shown that in adults with type 2 diabetes and known heart disease, Ozempic lowers the risk of major cardiovascular events including heart attack, stroke, or death.
Can Ozempic be used for weight loss?
Ozempic is not FDA approved for weight loss or chronic weight management. However, other semaglutide products such as Wegovy are. Some physicians and doctors have prescribed Ozempic for weight loss, off-license.
Can Ozempic Pen be shared?
No. You should not share your Ozempic® pen with others, even if the needle is changed. You may give other people a serious infection or get a serious infection from them through cross-contamination.
Is it safe to use compounded Ozempic?
The manufacturer has said that they do not sell Ozempic or the active ingredient semaglutide for compounding. Novo Nordisk is the sole company that has FDA approval to market Ozempic and it is supplied in a branded box that includes a proprietary pen along with FDA-approved prescribing information. Novo Nordisk cannot validate safety or effectiveness of products claiming to contain semaglutide. Therefore, compounded Ozempic should be avoided.
Is there a shortage of Ozempic?
Ozempic, in all strengths, is available to community pharmacies nationwide for treatment in patients with type 2 diabetes. There may be normal delays given the time required to order the product from their local distribution center, and geographical variabilities.
Forms of Ozempic
Ozempic injection 0.5 mg, 1 mg, 2 mg is an injectable prescription medicine. It is available in a proprietary pen format.
Storage requirements for Ozempic
Ozempic is temperature sensitive. 
Prior to first use, you should store your unused Ozempic

®

pen in the refrigerator between 36°F to 46°F (2°C to 8°C)
After first use, you can store your pen for 56 days at room temperature between 59ºF to 86ºF (15ºC to 30ºC) or in a refrigerator between 36°F to 46°F (2°C to 8°C)
Dosage of Ozempic
Ozempic is administered once a week, exactly as prescribed by your health care provider.
Typically, the beginning dose is 0.25 mg once a week for the first 4 weeks. This will help give your body a chance to get used to the medicine.
At Week 5, your health care provider will increase the dose to 0.5 mg once a week.
Your HbA1C needs may shift as the profile of your type 2 diabetes changes. To give additional control of your HbA1C, Ozempic is offered in pens that deliver doses of 1 mg or doses of 2 mg. Even though doses change, the administration frequency will always be weekly. It is important to follow the dosage instructions provided by your healthcare provider.
How long does it take for Ozempic to start working?
Ozempic should be administered exactly as directed by your physician as part of your prescribed treatment plan. Treatment goals should be discussed with your healthcare provider.
How do I use the Ozempic Pen?
Ozempic is used as a once weekly injection. Your health care provider should show you how to use the pen. Ozempic is typically injected under the skin of your thigh, stomach or upper arm. Ozempic must never be injected into a muscle or vein.
How long can I continue using Ozempic?
Ozempic is safe and effective when used as indicated for the treatment of adults with type 2 diabetes to lower blood sugar, along with diet and exercise, and reduce the risk of major cardiovascular events such as stroke, heart attack or death in adults with type 2 diabetes and known heart disease.
What are the common side effects of Ozempic?
Nausea

Diarrhea

Stomach pain

Vomiting

Constipation
What are the serious side effects of Ozempic?
Inflammation of your pancreas (pancreatitis)

Changes in vision

Hyproglycemia

Kidney failure or complications

Serious allergic reactions

Gallbladder complications

Possible tumours including cancer
Contact your healthcare provider if you experience any serious side effects.
What can I do if I experience nausea when using Ozempic?
Consume bland, low-fat foods, like crackers, toast, rice

Consume foods that contain water, like soups and gelatin

Avoid sweet foods, fried foods or greasy foods

Avoid laying down after eating

When eating, eat slowly

Drink ice-cold drinks
What support resources are there for Ozempic?
You can speak with a Diabetes Health Coach by calling 1-866-696-4090.
What prescription assistance is available for Ozempic?
If you are commercially insured and your plan has coverage for Ozempic, you can use the manufacturer savings card, where eligible patients can pay as little as $25 for a 1,2 or 3 month supply for up to 24 months. Eligibility and other restrictions apply
Interactions with other drugs
Ozempic may interact with certain medications, including:
Insulin (Humalog, Tresiba, Lantus, Basaglar)
Sulfonylureas
Antimalarial drugs (hydroxychloroquine, chloroquine)
Clarithromycin
Warfarin
Digoxin
Phenytoin
Sources

Rajive Patel
Medical Writer / B.Pharm
WHY WE BUILT NOW PATIENT
To improve the lives of everyone by making high-quality care accessible and convenient
As technologists and clinicians, we built Now Patient to be more than just an online pharmacy. We are here to improve lives. Our service gives you access to smart features & resources that can help empower you to take control of your health and improve your health outcomes. All this, in one place, for FREE. We strive to bring a fresh perspective to managing health. Not play by the rules. Now Patient can be accessed by downloading the App or using your web browser.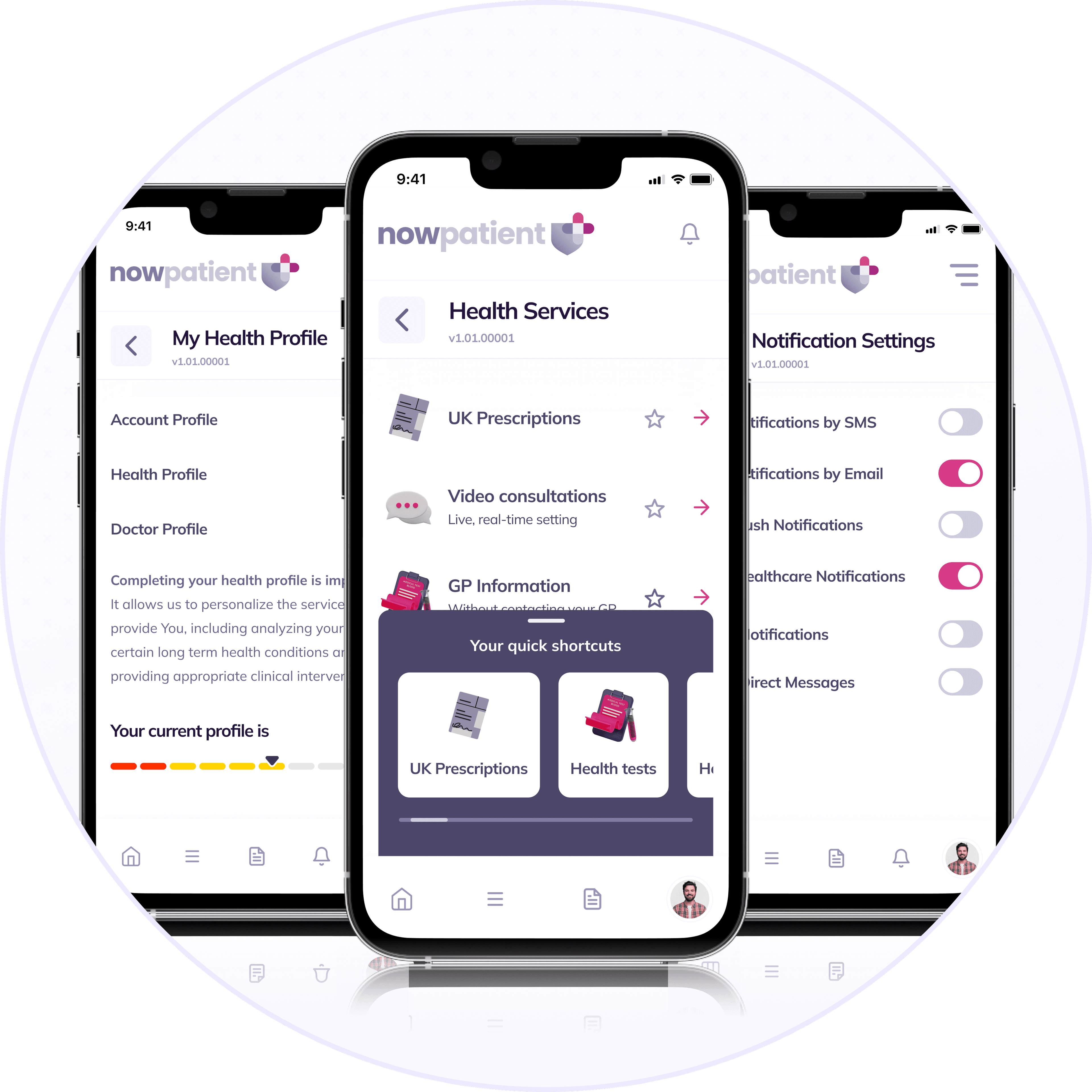 NOW PATIENT
Join the thousands of happy customers in the US and UK already using Now Patient
Manage your health and prescriptions all in one place for FREE. Available to use by downloading the App, or using your web browser.
Your Questions Answered
For your peace of mind, we can answer your health questions quickly
If you want to learn more about the range of services that we provide which can help manage and improve your health, then just click the button below.
Find your answers