/
Blog
/
What happens if you miss a dose of Wegovy medication?
What happens if you miss a dose of Wegovy medication?
12 Jun 2023

Stefano Mirabello
Pharmacist / B.Pharm
Wegovy is a weight management medication that has been approved by the FDA to treat obesity in adults. It is a subcutaneous injection given once a week, that works by suppressing the appetite. However, as with any medication, it is important to take it as prescribed. Missing a dose of Wegovy can have unintended consequences. In this blog post, we will explore what happens if you miss a dose of Wegovy medication.
What is Wegovy and how does it work?
Wegovy is a weight loss drug approved by the FDA (Food and Drug Administration) in the U.S. in June 2021 and is manufactured by the Danish Pharmaceutical company Novo Nordisk. It contains the active ingredient known as semaglutide, which belongs to a class of drugs known as GLP-1 receptor agonists.
The drug mimics a hormone called glucagon-like peptide-1 (GLP-1) that regulates appetite and food intake. Wegovy slows down the emptying of the stomach, which helps to reduce hunger and calorie intake. Studies have shown that Wegovy can help people lose up to 15% of their body weight over 16-68 weeks. People taking a placebo in the study (not on medicine) lost an average of 2.5% body weight.
Wegovy is recommended for adults and children 12 years of age and above with a:
Body mass index (BMI) of 30 or higher, or
BMI of 27 or higher who also have weight-related health conditions such as high blood pressure, type 2 diabetes, cardiovascular disease or high cholesterol
It is helpful to know that Wegovy contains a higher dose of the same active component as Ozempic, a medication used to help control blood sugar in people with type 2 diabetes. Rybelsus is the tablet version of Ozempic used to treat type 2 diabetes.
The importance of taking Wegovy on schedule
Wegovy is a medication that works by reducing appetite and helping patients feel full for longer periods. It is important to take the medication on schedule to maintain a consistent level of the medication in your system. Your healthcare provider will provide instructions on how to take the medication, but typically, you will take it once per week on the same day and time. If you miss a dose, it disrupts the cycle of medication in your system and may impact your weight loss goals.
What happens if you miss a dose of Wegovy?
Missing a dose may cause you to feel hungrier, leading to potential overeating and decreased effectiveness of the medication. Missing a dose of Wegovy can lower the concentration of semaglutide in your body. This can lead to a decrease in the medication's appetite-suppressing effect and delay the desired results of weight loss. It is important to try and maintain a consistent schedule of taking the medication as prescribed to achieve the best results.
It's important to stick to a consistent schedule when taking medication, but occasionally things happen that can throw off our routine. If you miss a dose of Wegovy, don't panic.
If you miss a dose of Wegovy and the next scheduled dose is more than 2 days away (48 hours), take the missed dose as soon as possible
If you miss a dose of Wegovy and the next scheduled dose is less than 2 days away (48 hours), do not administer the dose. Take your next dose on the regularly scheduled day
If you miss doses of Wegovy for more than 2 weeks, take the next dose on the regularly scheduled day or call your healthcare provider to talk about how to restart your treatment
It's important not to double up on doses to make up for a missed one, as this can lead to unwanted side effects. If you have any concerns or questions about missed doses or your medication regimen in general, don't hesitate to speak with your healthcare provider for guidance.
What is Wegovy's dosage?
Wegovy pens come in five different dosages: 0.25 mg, 0.5 mg, 1 mg, 1.7 mg and 2.4 mg. The dosage you require is dependent on various factors including your age, weight, and overall health. The general rule of thumb is to begin with the lowest dosage (0.25 mg) and work your way up, gradually titrating higher until you reach the maximum maintenance dose of 2.4 mg. Your healthcare provider will determine your dose escalation based on your individual needs.
According to manufacturers instructions, the following dosing regime is recommended:
Month 1 – Start your Wegovy dose of 0.25 mg weekly
Month 2 – increase your weekly dose to 0.5 mg
Month 3 – increase your weekly dose to 1 mg
Month 4 – increase your weekly dose to 1.7 mg
From month 5 – onward, you can increase your weekly dose to the full dose of 2.4 mg
When starting on Wegovy medication, it is important, to begin with a lower dosage to allow your body to adjust. The recommended starting dose for Wegovy is 0.25mg, which is a quarter of the full dose. This ensures that your body can handle the medication and minimises the risk of side effects. If you tolerate the lower dosage well, your healthcare provider may gradually increase the dosage over time until the standard maintenance dose is reached. This is where the weight management effects will be most noticeable.
How can you remember to take your Wegovy medication?
It can be challenging to remember to take medication on a regular basis. Here are some tips to help you remember to take your weekly dose of Wegovy:
Set a reminder on your phone or calendar to remind you when it is time to take your dose
Consider setting a consistent day and time of the day to take your medication
Keep track of your medication use in a log or journal to help you stay on schedule
Consider involving a family member or friend to help remind you to take your medication
What other things should you know about Wegovy?
In addition to taking the weight loss medication as prescribed, it is important to maintain a healthy lifestyle that includes regular physical activity and a balanced diet to achieve the best results with Wegovy. Your healthcare provider may recommend regular check-ups to monitor your progress and ensure that the medication is working as intended.
The most common side effects of this type of medication are gastrointestinal-related issues such as nausea, constipation and heartburn.
Other more serious side effects include pancreatitis (inflammation of the pancreas), gallbladder issues, kidney disease, low blood sugar levels (hypoglycemia), diabetic retinopathy, fast heartbeat and allergic reactions.
Those with a family history of thyroid cancer (medullary thyroid carcinoma) and multiple endocrine neoplasia syndrome type 2 should avoid taking Wegovy.
If you experience any of these symptoms and side effects, it's important to contact your healthcare provider and seek medical advice.
You inject Wegovy subcutaneously, which means it's injected just under the skin on your stomach. Injection sites recommended are the stomach, thigh, or upper arm on a weekly basis. Your healthcare provider will likely give you instructions on how to properly use the pen injection device that comes with the medication. It's important to follow these instructions closely to ensure you're receiving the correct dose of the medication.
Can Wegovy be taken by pregnant and breastfeeding women?
As with any medication, it is important to consult with your doctor before taking Wegovy if you are pregnant or breastfeeding. While there have been no specific studies on the effects of Wegovy on pregnant or breastfeeding women, it is recommended to err on the side of caution. Your healthcare provider can help weigh the benefits and potential risks of taking Wegovy while pregnant or breastfeeding and can advise you on the best course of action based on your individual health needs and circumstances. Ultimately, it is important to prioritise the health and safety of both yourself and your baby.
Can Wegovy be taken with other medications?
The short answer is: it depends. Some prescription drugs e.g. sulfonylureas and over-the-counter medications could potentially interact with Wegovy in a way that compromises its effectiveness or safety. That's why it's always best to consult with a healthcare professional before starting any new medication. Be sure to inform them of all the medications you're currently taking, including over-the-counter drugs and supplements. Your doctor or pharmacist can then assess any potential interactions and advise you accordingly. Additionally, you can always refer to the medication guide that comes with your Wegovy prescription for further instruction. Taking the time to ensure that you're taking your medication safely can make all the difference in your health journey.
When it comes to storing Wegovy, it's important to follow a few simple guidelines to ensure the medication remains safe and effective for use. Firstly, it's essential to keep the drug in its original carton to protect it from light and moisture.
Store the Wegovy pen in the refrigerator from 36°F to 46°F (2°C to 8°C)
If needed, before removing the pen cap, Wegovy can be stored from 46°F to 86°F (8°C to 30°C) in the original carton for up to 28 days
Store the carton in a cool dry place at room temperature, away from direct sunlight, heat, and humidity. Avoid freezing it or leaving it in the car, as extreme temperatures can damage the medication and reduce its effectiveness. Additionally, keep Wegovy out of reach of children and pets and dispose of it properly once the treatment is complete. By following these storage instructions, you can help ensure the drug remains safe to use and delivers the intended results.
Wegovy is a medication that can be an effective tool in the treatment of obesity. However, it is important to take it as prescribed and not miss a dose. If you do miss a dose, speak to your healthcare provider about what to do next. By following the instructions for taking the medication and maintaining a healthy lifestyle, you can achieve successful weight loss and improve your overall health and well-being.
About Now Patient
Now Patient's online services are available in the US and UK. We help you manage your prescriptions, doctor appointments, test results, health risks and a lot more, all in one place for FREE. US prescriptions are available on a discounted 'cash' basis and delivered across all 50 states by our network of pharmacy providers dispensing FDA-approved generic and branded medications. We do not currently handle commercial insurance, Medicare or Medicaid. UK NHS and private prescriptions are delivered FREE of charge across England & Wales by our UK regulated online pharmacy.
Sources
Disclaimer
Now Patient has taken all reasonable steps to ensure that all material is factually accurate, complete, and current. However, the knowledge and experience of a qualified healthcare professional should always be sought after instead of using the information in this page. Before taking any drug, you should always speak to your doctor or another qualified healthcare provider.
The information provided here about medications is subject to change and is not meant to include all uses, precautions, warnings, directions, drug interactions, allergic reactions, or negative effects. The absence of warnings or other information for a particular medication does not imply that the medication or medication combination is appropriate for all patients or for all possible purposes.
WHY WE BUILT NOW PATIENT
To improve the lives of everyone by making high-quality care accessible and convenient
As technologists and clinicians, we built Now Patient to be more than just an online pharmacy. We are here to improve lives. Our service gives you access to smart features & resources that can help empower you to take control of your health and improve your health outcomes. All this, in one place, for FREE. We strive to bring a fresh perspective to managing health. Not play by the rules. Now Patient can be accessed by downloading the App or using your web browser.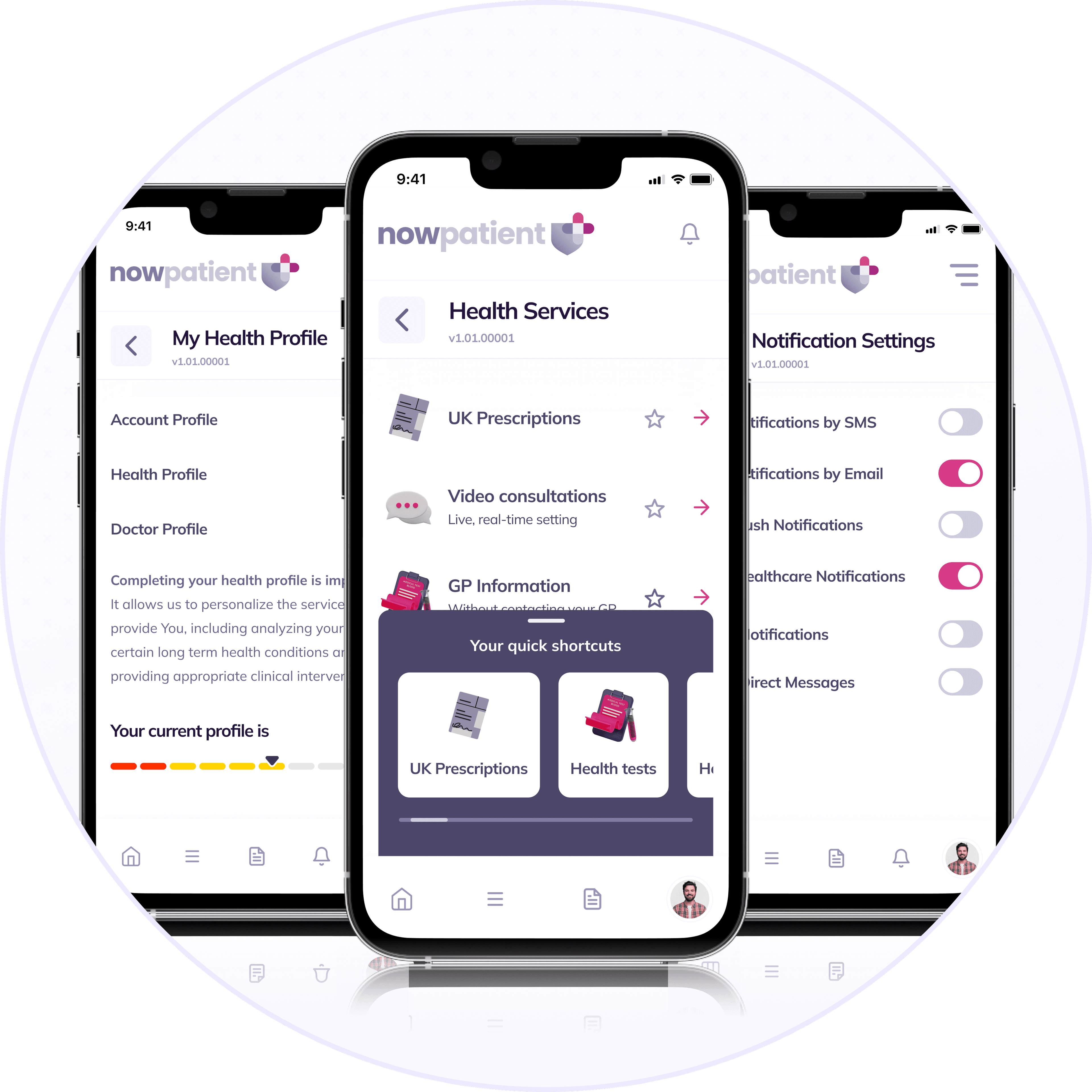 NOW PATIENT
Join the thousands of happy customers in the US and UK already using Now Patient
Manage your health and prescriptions all in one place for FREE. Available to use by downloading the App, or using your web browser.
Your Questions Answered
For your peace of mind, we can answer your health questions quickly
If you want to learn more about the range of services that we provide which can help manage and improve your health, then just click the button below.
Find your answers