Stefano Mirabello
Pharmacist / B.Pharm
There are occasions when people forget to take their medication at correct prescribed times.  This may have not only have an effect on potentially making the medication less effective but it may also inadvertently lead to taking doses too close together, thereby increasing the risks of side effects.
Here we list the steps you should take:
1. Check the patient information leaflet (UK) or patient package insert (US)
The Patient Leaflet supplied with the medicine is the first place to look for advice if someone forgets to take a dose of their medicine at the usual time.
This will usually contain specific advice for patients about missed or forgotten doses. Alternatively, you can find copies of inserts on:
UK – the Medicines and Healthcare products Regulatory Agency (MHRA) website
US – The U.S. Food and Drugs Administration (FDA) website 
2. Check the NHS website (UK)
The NHS website contains a selection of Medicines Guides.
These include advice for patients on missed doses. This is normally phrased as a question: 'What if I forget to take it?'.
3. Follow this general advice
Only follow this advice if you cannot find a Patient Information Leaflet or insert.
The advice depends on how late the dose is:
If the dose is less than 2 hours late:
Take the missed dose as soon as it is remembered.
As a general rule, for the vast majority of medicines it is acceptable to take a dose up to 2 hours late.
Additional advice:
As a one-off, you can usually disregard any warnings about taking the medicine before or after meals. It is more important to take the dose.
Watch for side effects – taking medicines at shorter intervals than usual may cause more side effects.
If the dose is more than 2 hours late:
The advice depends on how often the person usually takes the medicine:
Once or twice each day
Take the missed dose as soon as it is remembered as long as the next dose is not due within a few hours.
Then continue taking the medicine at the usual times.
More often than twice a day
Skip the missed dose, and wait until the next dose is due.
Then continue taking the medicine at the usual times.
4. Do not take a double dose
Never take a double dose to make up for a forgotten dose unless specifically advised.
5. Seek further advice
If in doubt, people should seek advice from a pharmacist, doctor or your specialist nurse/clinic.
This is particularly advisable if:
You have missed more than one day of treatment
You are taking the medicine less frequently than once a day (e.g. on alternate days, once weekly, monthly) or they are following a less typical dosing regimen
You are taking certain medicines that need special care or have special instructions such as:
About Now Patient
Now Patient's online services are available in the US and UK. We help you manage your prescriptions, doctor appointments, test results, health risks and a lot more, all in one place for FREE. US prescriptions are available on a discounted 'cash' basis and delivered across all 50 states by our network of pharmacy providers dispensing FDA-approved generic and branded medications. We do not currently handle commercial insurance, Medicare or Medicaid. UK NHS and private prescriptions are delivered FREE of charge across England & Wales by our UK regulated online pharmacy.
Sources
Disclaimer
Now Patient has taken all reasonable steps to ensure that all material is factually accurate, complete, and current. However, the knowledge and experience of a qualified healthcare professional should always be sought after instead of using the information in this page. Before taking any drug, you should always speak to your doctor or another qualified healthcare provider.
The information provided here about medications is subject to change and is not meant to include all uses, precautions, warnings, directions, drug interactions, allergic reactions, or negative effects. The absence of warnings or other information for a particular medication does not imply that the medication or medication combination is appropriate for all patients or for all possible purposes.
WHY WE BUILT NOW PATIENT
To improve the lives of everyone by making high-quality care accessible and convenient
As technologists and clinicians, we built Now Patient to be more than just an online pharmacy. We are here to improve lives. Our service gives you access to smart features & resources that can help empower you to take control of your health and improve your health outcomes. All this, in one place, for FREE. We strive to bring a fresh perspective to managing health. Not play by the rules. Now Patient can be accessed by downloading the App or using your web browser.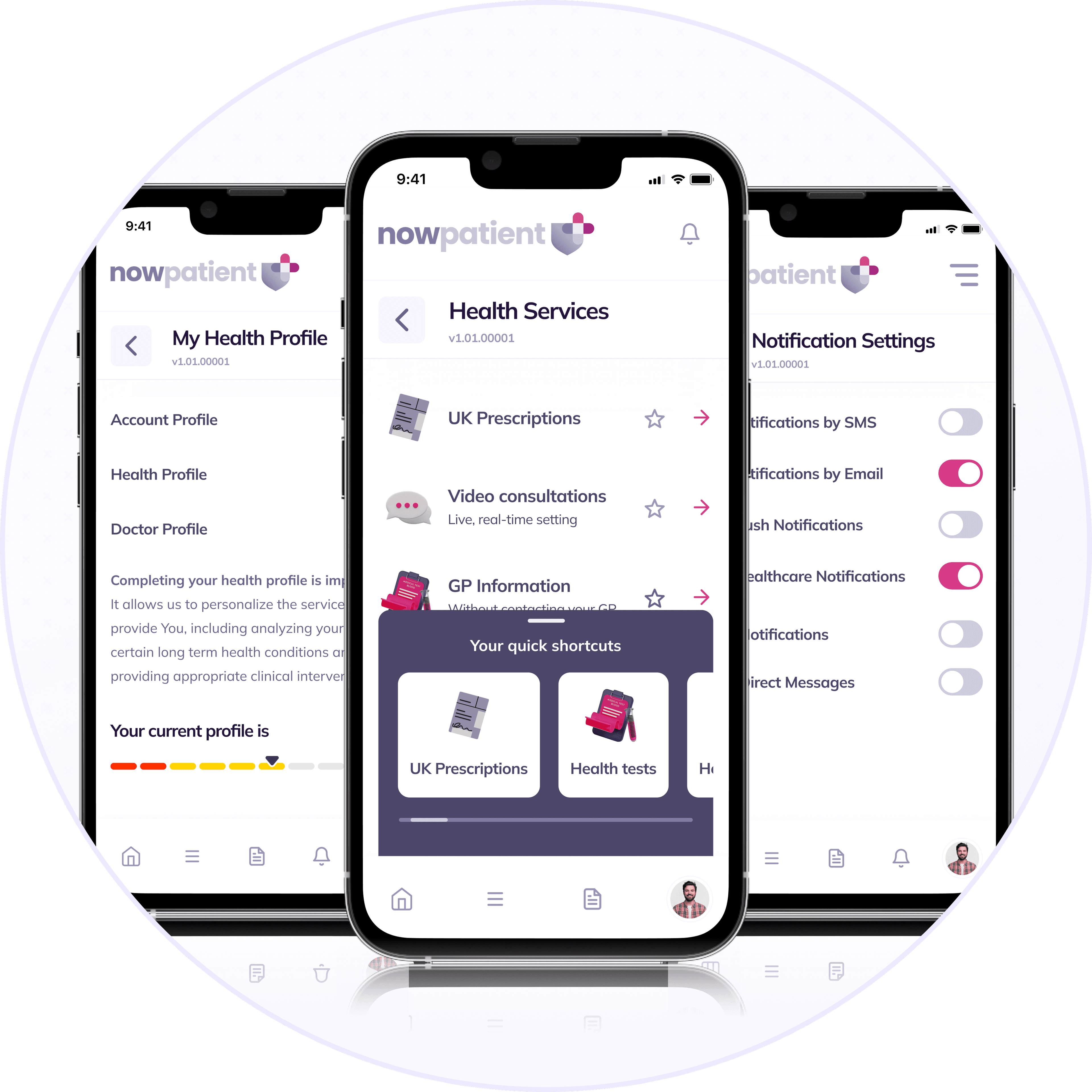 NOW PATIENT
Join the thousands of happy customers in the US and UK already using Now Patient
Manage your health and prescriptions all in one place for FREE. Available to use by downloading the App, or using your web browser.
Your Questions Answered
For your peace of mind, we can answer your health questions quickly
If you want to learn more about the range of services that we provide which can help manage and improve your health, then just click the button below.
Find your answers