/
Blog
/
How to safely use Wegovy medication with other drugs and supplements
How to safely use Wegovy medication with other drugs and supplements
12 Jun 2023

Stefano Mirabello
Pharmacist / B.Pharm
Wegovy is a brand-name medication manufactured by Novo Nordisk that is revolutionising the treatment of obesity. Being overweight increases your likelihood of developing serious health conditions like heart disease and stroke, so striving to get your weight in a healthy range is vital.
Wegovy was approved in 2021 by the US Food and Drug Administration (FDA) and in the UK by NICE (National Insitute of Clinical Excellence) in 2022. It contains the active ingredient semaglutide, which works by suppressing your appetite and helping you feel full. While Wegovy can be a game-changer for people struggling with excess weight, it's important to understand how to use it safely with other drugs and supplements. In this blog post, we'll give you some tips and guidelines to ensure that you're using Wegovy safely alongside other medications and supplements.
Consult with your healthcare provider
Before starting Wegovy or any other medication, it's important to talk to a healthcare professional. They can help you understand how the medication works and whether it will interact with any other drugs or supplements you're taking. Your healthcare provider can also help you develop a treatment plan and monitor your progress to make sure the medication is working as intended. If you are pregnant or breastfeeding consult your doctor if you're taking or planning on taking Wegovy. It is not known if Wegovy passes into breast milk.
Do your research
In addition to talking to your healthcare provider, it's important to do your own research when it comes to using Wegovy with other drugs and supplements. Look up the potential side effects and interactions of any medications or supplements you plan to take alongside Wegovy. This can help you identify any red flags or potential issues before they become a problem.
Wegovy is a weight management drug that targets the glucagon-like peptide-1 (GLP-1) receptor. This receptor plays a vital role in regulating appetite and glucose metabolism in the body. By acting as a GLP-1 receptor agonist, Wegovy can help with weight loss by reducing hunger and increasing feelings of fullness. Clinical trials have shown a 15% reduction in body weight, compared to just 2.4% for those who took the placebo. It's approved for people with a body mass index (BMI) of 27 or higher, who also have at least one weight-related condition such as high blood pressure, type 2 diabetes or high cholesterol. Wegovy contains a higher dose of the same active component as Ozempic, a medication used to help control blood sugar in people with type 2 diabetes.
Medical conditions
Individuals with certain medical conditions need to be aware of potential risks when taking Wegovy. While this medication has been proven effective for weight loss, it may also come with side effects and complications that could exacerbate existing health issues. For example, those with gallstones or pancreatitis may experience worsening symptoms. Additionally, individuals with thyroid conditions have a history of pancreatitis or kidney failure. Wegovy can cause an increased risk of low blood sugar (hypoglycemia) in patients with type 2 diabetes. These groups may need to be closely monitored while on Wegovy to ensure their safety. It is crucial to consult with a healthcare provider before starting any new medication, especially if you have a pre-existing medical condition.
Monitor for side effects
Like any medication, Wegovy can cause side effects. While most side effects are mild and go away on their own, some can be serious, especially if you're taking other medications or supplements at the same time.
Although Wegovy is effective in helping individuals to lose body weight and lower their risk of developing health conditions associated with obesity, it is important to be aware of the potential side effects that may occur. Some of the most common side effects of Wegovy include nausea, vomiting, diarrhoea, bloating, heartburn and constipation. These symptoms may be mild and temporary, but in some cases, they can be severe and impact daily life. It is important to discuss any concerns about side effects with your healthcare provider, and to follow their instructions for use closely, to minimise the risk of experiencing them.
While the majority of people who take Wegovy do not experience any serious adverse reactions, there are some possible complications that patients should be aware of. One is Multiple Endocrine Neoplasia Syndrome Type (MEN) which is a rare genetic disorder that can lead to the development of tumours in several endocrine glands. The other is medullary thyroid carcinoma (MTC), a type of thyroid cancer.
It's important to also keep an eye out for hypoglycemia, diabetic retinopathy, serious allergic reactions, increased heart rate, pancreatitis (inflammation of the pancreas), gallbladder problems, kidney problems, suicidal thoughts and other mental health conditions. While these side effects are rare, it's important to speak with your healthcare provider about dual risk factors before starting any new medication. Wegovy can also cause skin rashes, hives, itchiness, and swelling at the injection site or anywhere on the body.
Avoid certain medications
If you're considering taking Wegovy, it's essential to know which drugs should be avoided. Some drugs may increase or decrease the effectiveness of Wegovy, meaning it's crucial to speak with your healthcare provider before starting any new medications. Generally speaking, you should avoid taking any weight loss drugs or appetite suppressants while using Wegovy as they could lead to unwanted side effects.
Other types of medication that should not be taken with Wegovy include insulin, sulfonylureas certain oral diabetes medications, and drugs that affect the gastrointestinal tract. If you have any questions or concerns about drug interactions, it's always a good idea to speak with your doctor or pharmacist. They can provide you with more information so that you can safely and effectively manage your health with Wegovy. Remember that taking medication responsibly is a crucial aspect of managing your health, so don't hesitate to seek guidance if you need it.
Start with the recommended initial dose
The initial dose of Wegovy is 0.25mg. This is typically the dose that most people start with. The doctor may then increase the dosage gradually over time, up to 2.4mg, depending on how your body reacts to the medication. If you missed a dose of Wegovy and the next dose is more than 48 hours (2 days) away, you should take the injection as soon as possible. If you experience any side effects, notify your doctor immediately. This may mean that you need a lower dose or a different medication altogether.
Take the medication as directed
It is important to follow the dosing instructions provided by your doctor. Wegovy is typically given as a subcutaneous injection once a week in either the upper arm, abdomen or thigh. It is important to take the medication at the same time every week. This helps to ensure that the medication works effectively.
Can I take metformin and Wegovy at the same time?
If you have been prescribed metformin and are now considering taking Wegovy, it's important to know if these two medications can be taken together. While it's always best to consult with your healthcare provider before adding any new drug to your regimen, generally speaking, metformin and Wegovy are safe to take together. Studies have shown that adding Wegovy to metformin can actually enhance its effectiveness in lowering blood sugar levels and promoting weight loss. However, your doctor will need to evaluate the dual case and monitor your progress carefully to ensure that both drugs are working well for you and not causing any adverse effects. So, don't hesitate to speak with your doctor about whether or not taking these two medications concurrently is right for you.
Be cautious with supplements and over-the-counter meds
Supplements can be tricky because they're not regulated in the same way as prescription medications. This means that there's often little information available when it comes to potential interactions with other drugs. Some supplements, such as those containing caffeine or other stimulants, may interact with Wegovy and cause unwanted side effects. If you're taking any supplements alongside Wegovy, be sure to monitor your body's response and talk to your healthcare provider if you notice any unusual symptoms.
Stick to a healthy lifestyle
When taking the prescription drug Wegovy, it is essential to maintain a healthy lifestyle to achieve optimal results. One of the crucial components of a healthy lifestyle is consuming a low-calorie diet. This medication helps individuals lose weight by reducing their appetite, but it should not be used as a substitute for healthy eating habits. Additionally, regular physical activity is an important factor to consider when taking Wegovy. Discussing your physical activity routine with your doctor can help you determine what kind of exercise is best for you. Lastly, always consult with your healthcare provider before starting any new medication or changing your existing regimen. By seeking medical advice and making healthy choices, you can achieve your weight loss goals while taking Wegovy and improve your overall health.
Don't mix with alcohol
It's important to avoid drinking alcohol while taking Wegovy. Alcohol can worsen side effects and increase the risk of serious side effects such as low blood sugar. In addition, alcohol can also contribute to weight gain which is counterproductive when using Wegovy to treat obesity.
Using Wegovy safely with other drugs and supplements requires caution, research, and communication with your healthcare provider. By following these tips and guidelines, you can ensure that you're using this powerful medication to maximise its benefits while minimizing its risks. Remember to monitor your body for any unusual symptoms, and talk to your healthcare provider if you have any questions or concerns. With the right approach, Wegovy can be a powerful tool in the fight against obesity.
About Now Patient
Now Patient's online services are available in the US and UK. We help you manage your prescriptions, doctor appointments, test results, health risks, and a lot more, all in one place for FREE. If you are in the United States, you could enjoy savings using Now Patient's mail-order pharmacy or use the Now Patient Rx Advantage Card at over 65,000 pharmacies, with savings of up to 90% on popular FDA-approved brand and generic medications like Ozempic, Mounjaro, clopidogrel and lots more. We do not currently handle commercial insurance, Medicare or Medicaid. UK NHS and private prescriptions are delivered FREE of charge across England & Wales by our UK NHS online pharmacy.
Sources
Disclaimer
Now Patient has taken all reasonable steps to ensure that all material is factually accurate, complete, and current. However, the knowledge and experience of a qualified healthcare professional should always be sought after instead of using the information in this page. Before taking any drug, you should always speak to your doctor or another qualified healthcare provider.
The information provided here about medications is subject to change and is not meant to include all uses, precautions, warnings, directions, drug interactions, allergic reactions, or negative effects. The absence of warnings or other information for a particular medication does not imply that the medication or medication combination is appropriate for all patients or for all possible purposes.
WHY WE BUILT NOW PATIENT
To improve the lives of everyone by making high-quality care accessible and convenient
We are here to improve lives. Our service gives you access to smart features & resources that can help empower you to take control of your health and improve your health outcomes. All this, in one place, for FREE. We strive to bring a fresh perspective to managing health. Not play by the rules. Now Patient can be accessed by downloading the App or using your web browser.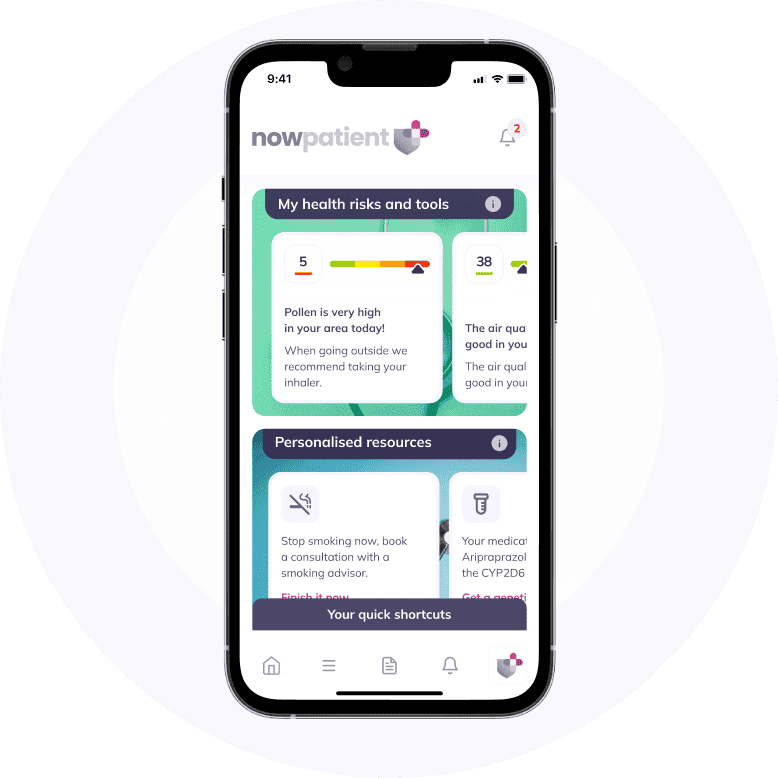 Your Questions Answered
For your peace of mind, we can answer your health questions quickly
If you want to learn more about the range of services that we provide which can help manage and improve your health, then just click the button below.
Find your answers