/
Blog
/
How can you save money on prescription drugs without insurance
How can you save money on prescription drugs without insurance
5 Sep 2023

Rajive Patel
Medical Writer / B.Pharm
Prescription drugs can be a significant financial burden for Americans, especially for those without health insurance coverage. However, there are several strategies and resources available that can help individuals save money on their medications. In this comprehensive guide, we will explore various ways to reduce prescription drug costs, whether you have insurance or not. From exploring generic alternatives to utilizing patient assistance programs, we will provide you with practical tips to make your prescriptions more affordable.
Source: Free Images
Understanding the importance of prescription savings
Prescription drugs play a critical role in managing various health conditions and improving quality of life. However, the rising cost of medications can pose a financial challenge for many individuals, particularly those without insurance coverage. According to the Congressional Budget Office, spending on prescription drugs has been steadily increasing over the years. This upward trend has prompted individuals to seek ways to save money on their prescriptions without compromising their health or well-being.
Exploring generic alternatives
One of the most effective ways to save money on medication costs is by considering generic alternatives. Generic drugs contain the same active ingredients as their brand-name counterparts and are required to meet the same quality and safety standards set by the FDA. However, they are typically more affordable because generic manufacturers do not have to invest in extensive research and development or marketing costs.
When a brand-name drug's patent expires, other drug companies can produce generic versions of the medication. This increased competition often leads to lower prices. It's important to note that generic drugs may have different inactive ingredients, such as fillers or dyes, but these differences do not affect their effectiveness. Your healthcare provider or pharmacist can help determine if a generic alternative is available for your prescribed medication.
Requesting longer prescriptions
Another way to save money on prescription drugs is by requesting longer prescriptions for long-term medications. By obtaining a 90-day supply instead of a 30-day supply, you can reduce the frequency of refills and potentially save on copayments or dispensing fees. Many insurance plans offer mail-order pharmacy services that allow you to receive a three-month supply of your meds conveniently at your doorstep.
It's important to discuss this option with your healthcare provider to ensure it is appropriate for your specific medication and condition. Certain medications, such as those with controlled substances, may have restrictions on the maximum supply that can be prescribed at one time.
Seeking financial assistance programs
Financial assistance programs are available to help individuals who cannot afford their prescription medications. These savings programs are often offered by drug manufacturers, nonprofit organizations, and government agencies. They aim to provide prescription discounts or free medications to individuals who meet specific eligibility criteria.
One such program is the Medicare Extra Help program, which provides information about social security assistance for prescriptions. Medicare and Medicaid also offer a search tool to determine if your state has a pharmaceutical assistance program. Additionally, the Medicine Assistance Tool is a helpful resource that connects individuals with potential assistance programs based on their eligibility.
To qualify for these discount programs, you will generally need to demonstrate that you require the prescribed medication but cannot afford it or have been denied insurance coverage. Each program may have its application process and eligibility requirements, so it's important to research and reach out to the appropriate organization for assistance.
Utilizing pharmacy discount cards
Pharmacy savings cards, like the Now Patient Advantage Rx Card are another valuable resource for saving money on prescription drugs. These cards often provide points programs, member rewards, or other incentives that can help reduce the cost of regular prescriptions. Some cards may even offer discounts on specific medications or a percentage off the total purchase price.
These savings cards are typically free to sign up, without membership fees and can be used at participating pharmacies. It's important to check which pharmacies accept the specific savings card you have and compare prices to ensure you are getting the best deal. Additionally, some online services provide search tools that allow you to compare drug prices from major pharmacies and identify the lowest prices available.
Shopping online for prescription drugs
Online pharmacies have become increasingly popular, offering a convenient and potentially cost-effective option for purchasing prescription drugs. Shopping online allows you to compare prices from different accredited pharmacies, potentially finding the lowest price for your medication. However, it's crucial to ensure that you are buying from a verified online pharmacy that requires a prescription.
Verification programs, such as the Verified Internet Pharmacy Practice Sites (VIPPS), offer digital verification to show that a pharmacy upholds legal and safety standards. By purchasing from a verified online pharmacy, you can be confident that you are receiving high-quality prescription drugs.
It's important to exercise caution when shopping for prescription drugs online. Getting a discount on the cash price of a branded drug is a little trickier than for a generic, but it's still possible. Be wary of websites that do not require a prescription or offer significantly lower prices than other reputable sources. Counterfeit or substandard medications can pose serious health risks, so it's crucial to prioritize safety and quality when purchasing prescription drugs online.
Exploring pharmacy formularies
Pharmacy formularies are lists of medications that are covered by health insurance plans, including both brand-name and generic drugs. Each insurance company has its formulary, which may vary in terms of the medications included and the associated costs.
To save money on prescription drugs, you should request an insurance formulary from your provider. This list will help you identify which medications are covered under your insurance plan and may offer cost-saving alternatives. Working closely with your healthcare provider, you can select medications that are both effective and cost-efficient based on the formulary.
Comparing prescription prices at pharmacies
Before filling a prescription at a specific pharmacy, it's wise to compare prices between different pharmacies. Prices can vary significantly, even for the same medication, so it's important to do your research. Call different pharmacies or use online search tools to compare prices and identify local pharmacies with the best prices.
Supermarkets and large chain retailers, such as Walmart, Walgreens, Target, and Costco, often offer discounted generic drug programs. These programs provide access to a range of generic medications at significantly better prices. Checking each retailer for a list of available drugs can help you find the best-priced generic version of your prescribed medication.
Copay analysis: Insurance copay vs. Out-of-pocket cost
In some cases, paying for a prescription without using insurance may be more cost-effective than paying the copay. Before filling a prescription, it's worth calling the pharmacy to inquire about the cost of the medication without insurance. By comparing this cost with your copay, you can determine the most affordable option.
It's important to note that this analysis may vary depending on your specific insurance plan and the cost of the medication. In some instances, the copay may be lower than the out-of-pocket cost, making it more advantageous to use insurance. However, for certain medications, especially generics, paying out-of-pocket may offer significant savings.
Consulting with your healthcare provider
Your healthcare provider is a valuable resource when it comes to saving money on prescription drugs. They can guide generic alternatives, longer prescriptions, and potential cost-saving strategies. By discussing your financial concerns openly with your healthcare provider, you can work together to find the most affordable solutions without compromising your health.
It's important to remember that your healthcare provider's primary goal is to ensure your well-being. They can assess your unique situation, consider any potential drug interactions, give you medical information and make informed recommendations regarding cost-saving measures.
Final thoughts
Prescription drugs are a necessary expense for many individuals, but they don't have to break the bank. By exploring generic alternatives, requesting longer prescriptions, and utilizing financial assistance programs, you can significantly reduce your prescription drug costs. Additionally, comparing prices at different pharmacies, utilizing pharmacy savings cards, and shopping online can further help you save money. Remember to consult with your healthcare provider throughout the process to ensure you make informed decisions that prioritize both your health and your budget. With these strategies and resources at your disposal, you can navigate the world of prescription drug costs with confidence and financial peace of mind.
About Now Patient
Now Patient's online services are available in the US and UK. We help you manage your prescriptions, doctor appointments, test results, health risks and a lot more, all in one place for FREE. US prescriptions are available on a discounted 'cash' basis and delivered across all 50 states by our network of pharmacy providers dispensing FDA-approved generic and branded medications. We do not currently handle commercial insurance, Medicare or Medicaid. UK NHS and private prescriptions are delivered FREE of charge across England & Wales by our UK regulated online pharmacy.
Sources
Disclaimer
Now Patient has taken all reasonable steps to ensure that all material is factually accurate, complete, and current. However, the knowledge and experience of a qualified healthcare professional should always be sought after instead of using the information in this page. Before taking any drug, you should always speak to your doctor or another qualified healthcare provider.
The information provided here about medications is subject to change and is not meant to include all uses, precautions, warnings, directions, drug interactions, allergic reactions, or negative effects. The absence of warnings or other information for a particular medication does not imply that the medication or medication combination is appropriate for all patients or for all possible purposes.
WHY WE BUILT NOW PATIENT
To improve the lives of everyone by making high-quality care accessible and convenient
As technologists and clinicians, we built Now Patient to be more than just an online pharmacy. We are here to improve lives. Our service gives you access to smart features & resources that can help empower you to take control of your health and improve your health outcomes. All this, in one place, for FREE. We strive to bring a fresh perspective to managing health. Not play by the rules. Now Patient can be accessed by downloading the App or using your web browser.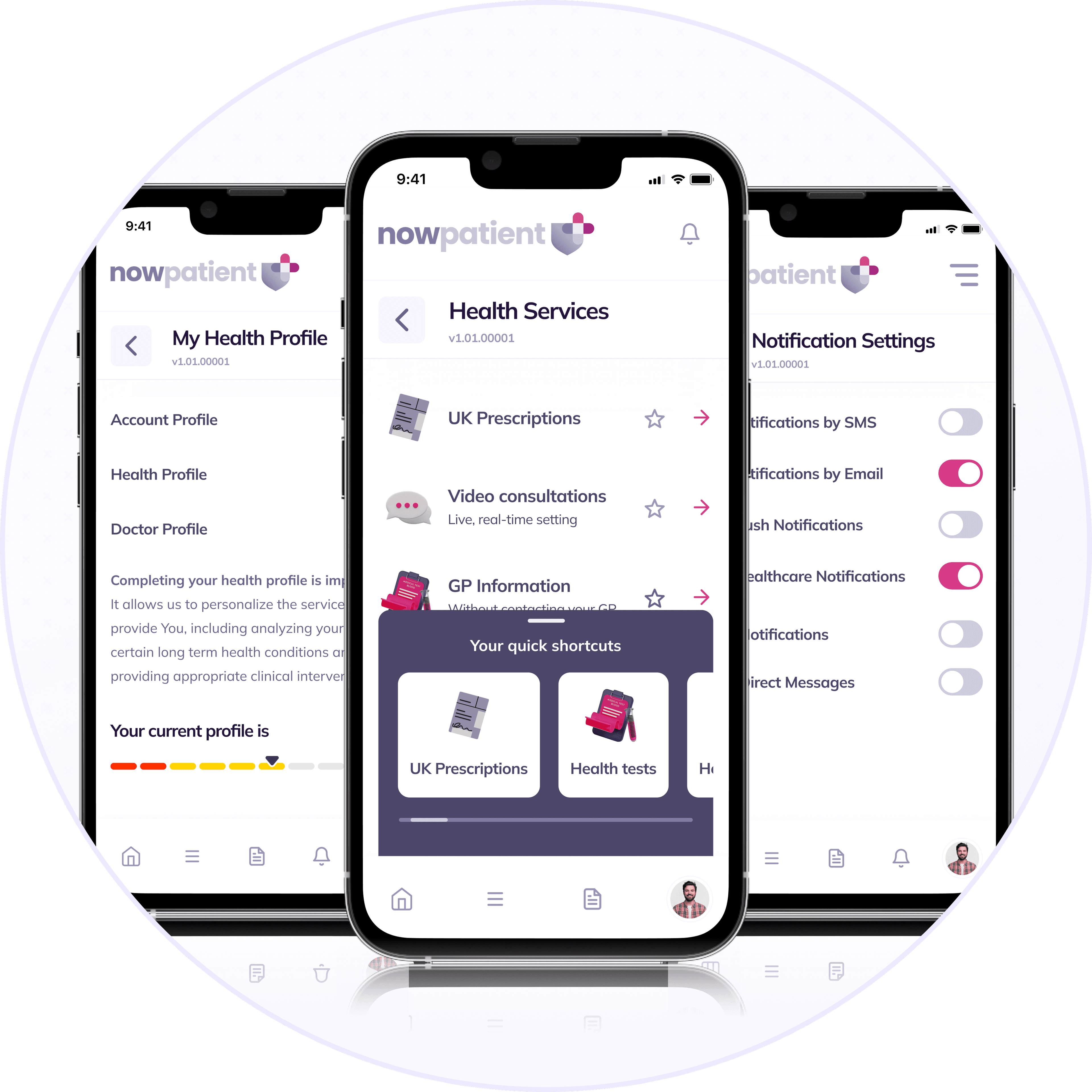 NOW PATIENT
Join the thousands of happy customers in the US and UK already using Now Patient
Manage your health and prescriptions all in one place for FREE. Available to use by downloading the App, or using your web browser.
Your Questions Answered
For your peace of mind, we can answer your health questions quickly
If you want to learn more about the range of services that we provide which can help manage and improve your health, then just click the button below.
Find your answers