Rajive Patel
Medical Writer / B.Pharm
In the world of pharmaceuticals, there are prescription drugs that come with staggering price tags. These drugs are often used to treat rare diseases or complex conditions, and their high costs can pose financial challenges for individuals, healthcare systems, and insurers. In this article, we will provide a comprehensive analysis of the most expensive drugs in the world, shedding light on the exorbitant drug costs associated with these treatments.
Image source: Canva
1. Zolgensma: A revolutionary gene therapy for spinal muscular atrophy
Zolgensma received FDA approval in May 2019 and has remained the most expensive drug in America. Zolgensma, developed by the pharmaceutical company Novartis, tops the list as the most expensive drug in the world. With an average one-time cost of $2.1 million, Zolgensma offers hope to children suffering from spinal muscular atrophy (SMA), a rare and debilitating genetic disorder. This revolutionary gene therapy aims to replace the faulty or missing survival motor neuron 1 (SMN1) gene, which is responsible for the progressive muscle weakness experienced by SMA patients.
The high cost of Zolgensma has sparked debates about accessibility and affordability. Despite its remarkable efficacy, the hefty drug price tag has raised concerns about the financial burden it places on patients, insurers, and healthcare systems. Efforts are being made to explore alternative payment options, such as instalment plans, to make Zolgensma more accessible to those in need.
2. Skysona: Slowing the progression of cerebral adrenoleukodystrophy
Skysona, developed by Bluebird Bio, is another groundbreaking gene therapy on the list of the most expensive drugs. With a cost of $3 million for a single treatment, Skysona offers hope to boys suffering from cerebral adrenoleukodystrophy (CALD), a rare genetic disorder that affects the nervous system. By modifying the patient's stem cells to contain a functional ALDP gene, Skysona aims to slow down the progression of CALD and improve patients' quality of life.
The high cost of Skysona reflects the extensive research, development, and manufacturing processes involved in gene therapies. While the price tag may seem exorbitant, it is important to consider the long-term benefits and potential life-changing outcomes that Skysona can provide for CALD patients.
3. Zynteglo: A breakthrough treatment for transfusion-dependent thalassemia
Zynteglo, also developed by Bluebird Bio, is a one-time treatment lentiviral vector gene therapy that targets transfusion-dependent thalassemia. With a cost of $2.8 million per patient, Zynteglo aims to reduce or eliminate the need for regular red blood cell transfusions in patients with this rare blood disorder.
Thalassemia patients often require lifelong medical intervention, including frequent blood transfusions, which can be burdensome both physically and financially. Zynteglo offers the possibility of long-term relief from transfusion dependence, potentially improving the quality of life for thalassemia patients and reducing the economic burden associated with ongoing transfusion requirements.
4. Zokinvy: Addressing Hutchinson-Gilford Progeria Syndrome and Progeroid Laminopathies
Eiger BioPharmaceuticals' Zokinvy is an orphan drug approved for the treatment of Hutchinson-Gilford progeria syndrome (HGPS) and progeroid laminopathies. Priced at $1.07 million per year, Zokinvy aims to address these ultra-rare genetic diseases that cause premature aging. As a farnesyltransferase inhibitor, Eiger BioPharmaceuticals' med targets the toxic buildup of progerin or progerinlike farnesylated proteins.
HGPS and progeroid laminopathies are characterized by accelerated aging and various health complications. Zokinvy, administered orally, provides a potential therapeutic option to delay disease progression and improve the quality of life for affected individuals. While the cost of Zokinvy may be substantial, it is crucial to consider the limited patient population and the significant research and development investment required for rare disease treatments.
5. Danyelza: Targeting neuroblastoma in pediatric patients
Danyelza, developed by Y-mAbs Therapeutics, is a breakthrough treatment for relapsed or refractory high-risk neuroblastoma in pediatric patients. Priced at $1.01 million per dose, Danyelza offers a glimmer of hope for children battling this rare and aggressive form of cancer.
Neuroblastoma is a challenging disease to treat, and options for relapsed or refractory cases are limited. Danyelza, administered via infusion, specifically targets neuroblastoma cells, potentially improving patient outcomes. While the cost of Danyelza may be substantial, the potential benefits it offers to pediatric patients and their families cannot be understated.
6. Myalept: Addressing leptin deficiency in generalized lipodystrophy
Chiesi Pharma's Myalept is a medication used to treat leptin deficiency in patients with generalized lipodystrophy. With an annual cost of $929,951, Myalept aims to address the metabolic abnormalities associated with this rare disorder.
Generalized lipodystrophy is characterized by the loss of body fat, leading to metabolic complications and insulin resistance. Myalept, administered subcutaneously, helps restore leptin levels, potentially improving metabolic control and reducing the risk of associated complications. Although the cost of Myalept may be high, the therapeutic benefits it offers to individuals with generalized lipodystrophy can be life-changing.
7. Kimmtrak: A novel treatment for uveal melanoma
Immunocore's Kimmtrak is a recently approved drug for the treatment of metastatic or surgically untreatable uveal melanoma, a rare form of eye cancer. Priced at $975,520 per year, Kimmtrak offers a promising therapeutic option for patients with this aggressive malignancy.
Uveal melanoma is a challenging cancer to treat, and options for metastatic or surgically untreatable cases are limited. Kimmtrak, administered via intravenous infusion, targets specific cancer cells, potentially improving patient outcomes and extending survival. While the cost of Kimmtrak may be substantial, it represents a significant advancement in the treatment of uveal melanoma.
8. Luxturna: Restoring vision in inherited retinal diseases
Spark Therapeutics' Luxturna is a gene therapy designed to restore vision in individuals with biallelic RPE65-mediated inherited retinal disease. With a cost of $850,000 per dose, Luxturna offers hope to those affected by these rare and debilitating eye conditions.
Inherited retinal diseases can lead to progressive vision loss and eventual blindness. Luxturna, administered via ocular injection, delivers a functional copy of the RPE65 gene, potentially improving visual function. While the cost of Luxturna may be significant, the potential restoration of vision it offers can have a profound impact on the lives of affected individuals.
9. Folotyn: Treating relapsed or refractory peripheral T-cell lymphoma
Acrotech Biopharma's Folotyn is a medication used to treat relapsed or refractory peripheral T-cell lymphoma. Priced at $842,585 per year, Folotyn offers a potential therapeutic option for patients with this aggressive and difficult-to-treat form of lymphoma.
Peripheral T-cell lymphoma is a rare and aggressive type of non-Hodgkin lymphoma. Folotyn, administered intravenously, targets cancer cells, potentially improving patient outcomes and extending survival. While the cost of Folotyn may be substantial, it represents a valuable treatment option for individuals facing limited alternatives.
10. Mavenclad: A novel oral therapy for multiple sclerosis
Merck's Mavenclad is an oral therapy used in the treatment of multiple sclerosis (MS). Priced at $77,325 per year, Mavenclad offers a convenient and effective option for patients with relapsing forms of MS.
Multiple sclerosis is a chronic autoimmune disease that affects the central nervous system. Mavenclad is taken in short treatment courses, reducing the frequency of administration and potentially improving patient adherence. While the cost of Mavenclad may be significant, it represents a valuable addition to the treatment landscape for individuals living with MS.
Conclusion
The development and manufacturing processes involved in creating breakthrough medications for rare diseases and complex conditions come with substantial costs. While the prices of these drugs may seem staggering, it is important to consider the significant research, development, and investment required to bring these treatments to market. Efforts are being made to explore alternative payment options and improve access to these life-changing therapies.
As advancements in science and medicine continue, it is crucial to strike a balance between innovation, affordability, and accessibility to ensure that patients in need can benefit from these groundbreaking treatments. The high costs associated with these drugs highlight the ongoing challenges faced by individuals, healthcare systems, and insurers. Continued efforts are necessary to address these challenges and ensure that patients have access to the potentially life-saving therapies they require.
About Now Patient
Now Patient's online services are available in the US and UK. We help you manage your prescriptions, doctor appointments, test results, health risks, and a lot more, all in one place for FREE. If you are in the United States, you could enjoy savings using Now Patient's mail-order pharmacy or use the Now Patient Rx Advantage Card at over 65,000 pharmacies, with savings of up to 90% on popular FDA-approved brand and generic medications like Ozempic, Mounjaro, clopidogrel and lots more. We do not currently handle commercial insurance, Medicare or Medicaid. UK NHS and private prescriptions are delivered FREE of charge across England & Wales by our UK NHS online pharmacy.
Sources
Disclaimer
Now Patient has taken all reasonable steps to ensure that all material is factually accurate, complete, and current. However, the knowledge and experience of a qualified healthcare professional should always be sought after instead of using the information in this page. Before taking any drug, you should always speak to your doctor or another qualified healthcare provider.
The information provided here about medications is subject to change and is not meant to include all uses, precautions, warnings, directions, drug interactions, allergic reactions, or negative effects. The absence of warnings or other information for a particular medication does not imply that the medication or medication combination is appropriate for all patients or for all possible purposes.
WHY WE BUILT NOW PATIENT
To improve the lives of everyone by making high-quality care accessible and convenient
We are here to improve lives. Our service gives you access to smart features & resources that can help empower you to take control of your health and improve your health outcomes. All this, in one place, for FREE. We strive to bring a fresh perspective to managing health. Not play by the rules. Now Patient can be accessed by downloading the App or using your web browser.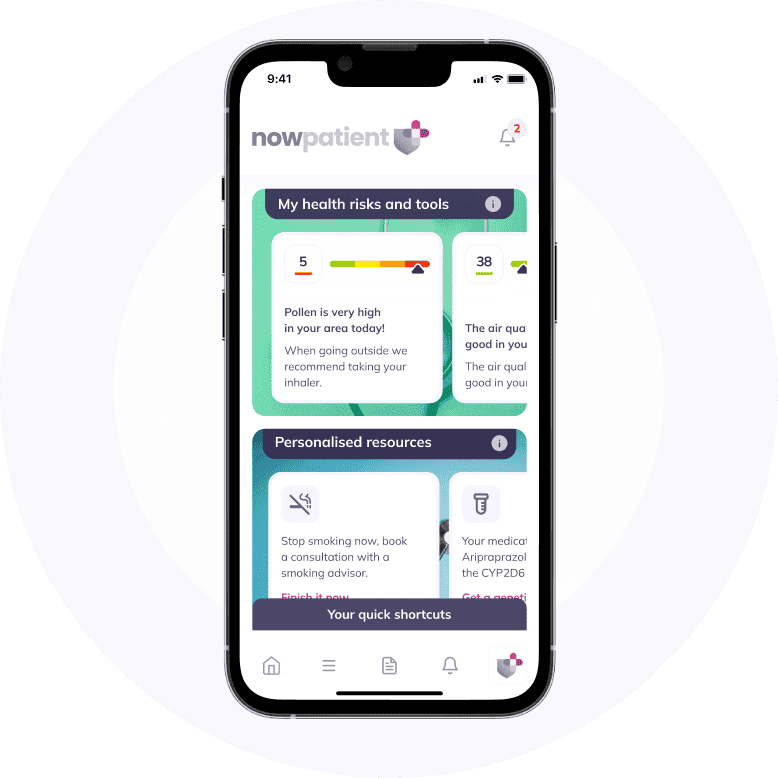 Your Questions Answered
For your peace of mind, we can answer your health questions quickly
If you want to learn more about the range of services that we provide which can help manage and improve your health, then just click the button below.
Find your answers