Stefano Mirabello
Pharmacist / B.Pharm
For someone who is suffering from diabetes or obesity, there are several medications available to help manage the condition. Metformin and Wegovy are two such prescription drugs that are popularly prescribed by healthcare providers. However, there is often confusion among patients about whether these two medications are the same or different in some way. In this blog post, we aim to clear the confusion and help you understand the difference between metformin and Wegovy.
What is Metformin?
Metformin is a medication used to manage blood sugar levels in diabetic patients with type 2 diabetes. It works by reducing the amount of sugar produced by the liver and helps the body to respond better to insulin. Metformin is taken orally and is sometimes used as a combination therapy with other drugs. It's considered to be one of the first-line drugs for managing type 2 diabetes and is usually well-tolerated with minimal side effects, although it can cause gastrointestinal discomforts like nausea or diarrhoea.
What is Wegovy?
Wegovy is a brand-name weight loss drug manufactured by Novo Nordisk, recently approved by the US Food and Drug Administration. Wegovy is specifically approved for the treatment of obesity in adults with a:
Body mass index (BMI) of 30 or more
BMI of 27 or more who have one weight-related medical condition such as high blood pressure (hypertension), heart disease, type 2 diabetes, or high cholesterol
It works by mimicking a hormone called glucagon-like peptide-1 (GLP-1) which regulates insulin secretion, glucose production, and appetite. Wegovy is administered as a subcutaneous injection once a week and is primarily used to manage obesity in people who have not achieved their weight loss goals through diet and exercise. Like any medication, Wegovy comes with a risk of side effects such as nausea, diarrhoea, or vomiting. Other semaglutide brands include Ozempic and Rybelsus.
How do they compare?
Conditions
Metformin and Wegovy are two entirely different medications, used to treat different conditions in the body. Metformin is an oral diabetes drug used to treat type 2 diabetes mellitus. It works by reducing the amount of glucose produced by the liver and also helps to increase the sensitivity of body tissues to insulin. Metformin does not treat type 1 diabetes. On the other hand, Wegovy is a new weekly injection for weight management, recently approved by the FDA for the treatment of obesity. Its active ingredient, semaglutide, helps to regulate appetite and reduce food intake.
Mechanism of Action
Metformin and Wegovy have different mechanisms of action. Metformin is a medication that belongs to the drug class known as biguanides. Its primary mechanism of action is to reduce glucose production in the liver, decrease the amount of glucose absorbed by the intestines, and increase insulin sensitivity. In contrast, Wegovy is a glucagon-like peptide-1 (GLP-1 receptor agonist). It works by regulating blood glucose levels by increasing insulin secretion and reducing glucagon secretion. It also slows down the emptying of the stomach, leading to a feeling of fullness, which can lead to weight loss.
Effectiveness
Metformin and Wegovy have both been shown to be effective in managing blood sugar levels. In a study, metformin was found to reduce HbA1c levels by 1.5%. Similarly, a study on Wegovy showed that it reduced HbA1c levels by 1.6%. However, while both medications are effective at managing blood sugar levels, Wegovy has also been shown to be effective in promoting weight loss. In clinical trials, patients who took Wegovy for 68 weeks lost an average of 16% of their body weight. Metformin, on the other hand, is not typically prescribed for weight loss.
Dosages
Another major difference between metformin and Wegovy are their respective dosages. For metformin, the dosage is determined by the prescriber and can range from 500mg to 2000mg per day, depending on the patient's needs. It is available in immediate and extended-release tablets, along with oral suspensions. However, for Wegovy, the recommended dosage is 2.4mg once a week, administered as a subcutaneous injection. Its dosing regimen is more intensive than that of metformin, and it is therefore important for patients to closely adhere to their prescribed schedule.
Side effects
Metformin has been in use for many years and has proven to be generally well-tolerated by most patients. However, it does come with some common side effects, such as nausea, diarrhoea, and stomach pain. In contrast, Wegovy has only recently been approved and there is limited data on its long-term safety and tolerability. Side effects of Wegovy may include nausea, vomiting, diarrhoea, and constipation. Patients need to discuss these side effects with their doctor as well as any other potential risks and benefits before starting either medication.
It is also worth noting that while metformin can be combined with other diabetes medications to improve control of your blood sugar, Wegovy is not meant to be used in combination with other weight-loss medications. Patients who are interested in starting Wegovy should have a BMI of 30 or greater or a BMI of 27 or greater, with one or more weight-related health issues, to be considered eligible.
Warnings
There are several warnings associated with the use of metformin. For instance, individuals with kidney or liver disease, congestive heart failure, or those on a low-carbohydrate diet should consult their healthcare providers before taking metformin. Metformin also carries the risk of lactic acidosis, a condition characterised by high levels of lactic acid in the blood. Symptoms of lactic acidosis can include weakness, fatigue, muscle pain, and stomach discomfort. If you experience any of these symptoms, seek immediate medical attention.
Wegovy also comes with warning signs. This drug may increase your risk of developing pancreatitis (inflammation of the pancreas), thyroid cancer and kidney disease.
Does Metformin cause weight loss?
Firstly, it's important to note that metformin is not a weight loss drug and should not be taken solely for that purpose. However, studies have suggested that it can help with weight loss in individuals with type 2 diabetes who are overweight or have obesity.
Metformin works by reducing insulin resistance, which is a major factor in weight gain among people with diabetes. By improving insulin sensitivity, it can help control blood sugar levels and reduce cravings. This can help people lose weight if combined with other lifestyle changes, such as regular exercise and a healthy diet. Some doctors are prescribing metformin off-label to people with prediabetes to help them avoid developing diabetes and to help them manage their weight.
Several studies have investigated the relationship between metformin and weight loss. One study found that people who took metformin for six months experienced an average weight loss of 6.2 pounds, while those who took a placebo only lost an average of 2.1 pounds. Another study found that people who took metformin for three months lost an average of 5.6 pounds, while those in the control group only lost an average of 1.1 pounds. While these studies suggest that metformin can lead to weight loss, it is important to note that the weight loss is modest and varies from person to person.
One of the reasons why metformin may contribute to weight loss is that it can reduce cravings for high-calorie foods. By improving insulin sensitivity, the drug can help to regulate appetite and reduce feelings of hunger. Additionally, metformin has been shown to decrease the absorption of carbohydrates in the gut, which can also lead to weight loss. However, this effect is not seen in all people who take the drug.
It's worth noting that the weight loss caused by metformin is not significant in comparison to other weight loss methods, such as bariatric surgery or weight loss medication. It is also more effective in aiding weight loss in individuals who are obese, rather than those who are just slightly overweight.
Conclusion
In summary, metformin and Wegovy are two different medications that are used to treat different conditions. Metformin is for the treatment of type 2 diabetes while Wegovy is used for weight loss in patients with obesity. While both medications can come with side effects, it is important to discuss with your doctor which medication is right for you based on your medical history and treatment goals. Your doctor can help you determine if metformin or Wegovy is the best option for your individual needs. Always share information on prescription medications, including over-the-counter meds and supplements to avoid drug interactions.
About Now Patient
Now Patient's online services are available in the US and UK. We help you manage your prescriptions, doctor appointments, test results, health risks, and a lot more, all in one place for FREE. If you are in the United States, you could enjoy savings using Now Patient's mail-order pharmacy or use the Now Patient Rx Advantage Card at over 65,000 pharmacies, with savings of up to 90% on popular FDA-approved brand and generic medications like Ozempic, Mounjaro, clopidogrel and lots more. We do not currently handle commercial insurance, Medicare or Medicaid. UK NHS and private prescriptions are delivered FREE of charge across England & Wales by our UK NHS online pharmacy.
Sources
Disclaimer
Now Patient has taken all reasonable steps to ensure that all material is factually accurate, complete, and current. However, the knowledge and experience of a qualified healthcare professional should always be sought after instead of using the information in this page. Before taking any drug, you should always speak to your doctor or another qualified healthcare provider.
The information provided here about medications is subject to change and is not meant to include all uses, precautions, warnings, directions, drug interactions, allergic reactions, or negative effects. The absence of warnings or other information for a particular medication does not imply that the medication or medication combination is appropriate for all patients or for all possible purposes.
WHY WE BUILT NOW PATIENT
To improve the lives of everyone by making high-quality care accessible and convenient
We are here to improve lives. Our service gives you access to smart features & resources that can help empower you to take control of your health and improve your health outcomes. All this, in one place, for FREE. We strive to bring a fresh perspective to managing health. Not play by the rules. Now Patient can be accessed by downloading the App or using your web browser.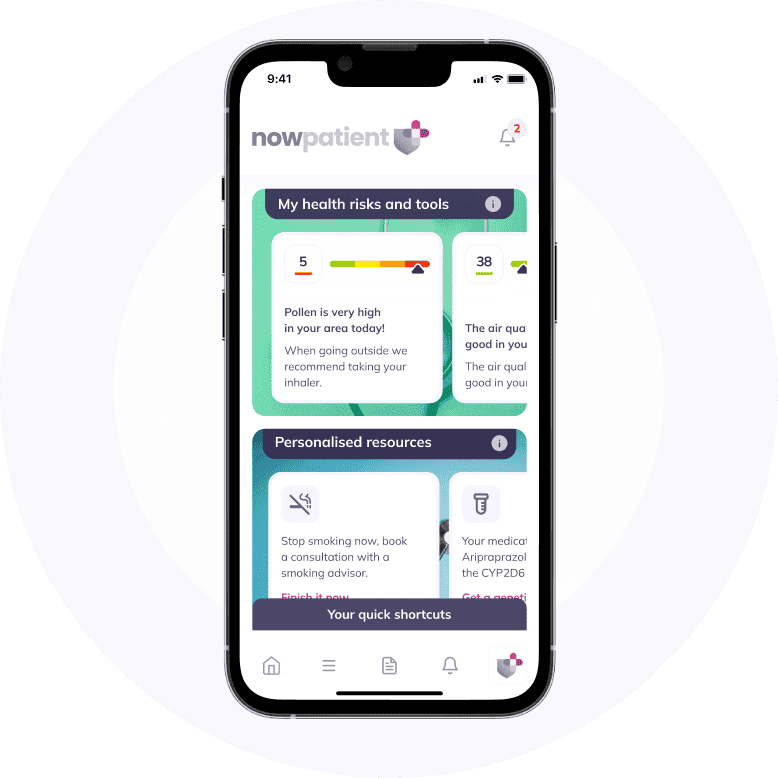 Your Questions Answered
For your peace of mind, we can answer your health questions quickly
If you want to learn more about the range of services that we provide which can help manage and improve your health, then just click the button below.
Find your answers