Rajive Patel
Medical Writer / B.Pharm
Image source: News Techie
In recent years, there has been a remarkable breakthrough in the treatment of type 2 diabetes and weight loss. Mounjaro the brand name of a novel diabetes drug manufactured by Eli Lilly and Company has emerged as a potential game-changer in the field. With its unique mechanism of action and promising clinical trial results, Mounjaro has caught the attention of healthcare professionals and patients alike. In this article, we will explore what Mounjaro is, how it works, and its potential benefits for individuals with type 2 diabetes and those looking to achieve weight loss goals.
The basics of Mounjaro
Mounjaro, also known by its generic name tirzepatide, is a groundbreaking medication. It is injected under the skin (subcutaneously) of your stomach (abdomen), thigh, or upper arm. The drug is FDA-approved (U.S. Food and Drug Administration approved) for the treatment of type 2 diabetes. It belongs to a class of drugs called glucagon-like peptide-1 (GLP-1) receptor agonists, which are designed to improve blood sugar control in individuals with diabetes. However, what sets Mounjaro apart is its dual-agonist action, as it activates both GLP-1 and glucose-dependent insulinotropic polypeptide (GIP) receptors simultaneously.
How does Mounjaro work?
Mounjaro's mechanism of action revolves around its ability to suppress appetite and increase the feeling of fullness, leading to reduced food intake. It also influences the rate at which the stomach empties, further contributing to its weight loss effects. By activating both GLP-1 and GIP receptors, Mounjaro stimulates the release of hormones that regulate blood sugar levels and appetite, ultimately promoting weight loss in individuals with type 2 diabetes.
Clinical trials and efficacy
Extensive clinical trials have been conducted to evaluate the efficacy of Mounjaro in various patient populations. These trials compared Mounjaro to a placebo, other GLP-1 receptor agonists, and long-acting insulin analogs. The results have been impressive, showing significant reductions in hemoglobin A1c (HbA1c) levels, a measure of blood sugar control, when Mounjaro was used as monotherapy or in combination with other diabetes medications.
In terms of weight loss, Mounjaro has demonstrated remarkable outcomes. Patients who received the maximum recommended dose of Mounjaro experienced substantial weight loss, with some individuals losing up to 21% of their body weight. These results are unprecedented and have generated excitement among healthcare professionals and patients seeking effective obesity solutions.
Comparison to other diabetes medications
Mounjaro's effectiveness in promoting weight management has sparked comparisons to other popular diabetes drugs like Ozempic which contains semaglutide. While both medications belong to the GLP-1 receptor agonist class, Mounjaro's dual-agonist action sets it apart. Clinical trials have shown that Mounjaro may lead to greater weight loss and more significant reductions in HbA1c levels when compared to these medications. However, it is important to note that Mounjaro is not yet approved specifically as a weight loss drug and further research is needed to fully understand its potential in this regard.
Considerations for patients
While Mounjaro shows promise as a treatment for type 2 diabetes and weight loss, there are several important considerations for patients. Firstly, Mounjaro is currently approved for use in patients with diabetes and not for individuals who are overweight or obese without diabetes. It is crucial to consult with a healthcare provider to determine if Mounjaro is the right treatment option based on individual circumstances.
Another factor to consider is the cost of Mounjaro. Like many innovative medications, Mounjaro can be expensive and may not be covered by all insurance plans. Patients should explore their coverage options and discuss affordability with their healthcare provider before starting treatment.
Adverse effects and safety
As with any medication, Mounjaro has potential side effects that patients should be aware of. Common side effects are gastrointestinal-related and include nausea, vomiting, diarrhea, decreased appetite, constipation, upper abdominal discomfort, and abdominal pain. These side effects are typically more prevalent during the initial stages of treatment and tend to improve over time.
Mounjaro may cause serious side effects, such as Inflammation of the pancreas (pancreatitis), low blood sugar (hypoglycemia), serious allergic reactions, gallbladder problems and diabetic retinopathy.
It is important to note that Mounjaro carries a risk of thyroid C-cell tumors, based on studies conducted in rats. However, it is still unknown whether Mounjaro poses the same risk in humans. Patients with a personal or family history of medullary thyroid carcinoma (MTC) or multiple endocrine neoplasia syndrome type 2 should not use Mounjaro. Additionally, Mounjaro has not been studied extensively in patients with a history of pancreatitis or in those with type 1 diabetes.
Tell your healthcare provider about all medical conditions and if are pregnant/breastfeeding or plan to become pregnant.
Long-term use and weight maintenance
One key consideration for patients considering Mounjaro is the potential need for long-term use. As with other GLP-1 receptor agonists, such as Ozempic and Wegovy, discontinuing Mounjaro treatment may result in weight regain. To maintain weight loss and effectively manage diabetes symptoms, individuals may need to continue taking Mounjaro indefinitely, alongside lifestyle modifications.
The importance of weight loss in diabetes management
Weight loss is a critical aspect of managing type 2 diabetes, given the strong correlation between obesity and the development of the disease. Approximately 70% of adults in the United States are either overweight or obese, and this population faces an increased risk of heart disease, stroke, diabetes-related complications, and certain types of cancer. Therefore, medications like Mounjaro that can effectively support weight loss efforts have the potential to significantly improve the health outcomes of individuals with type 2 diabetes.
Conclusion
Mounjaro represents a groundbreaking advancement in the treatment of type 2 diabetes and weight loss. With its dual-agonist action and impressive clinical trial results, it has the potential to revolutionize diabetes management and support individuals in achieving their weight loss goals. However, patients should carefully consider the pros and cons, including cost, potential side effects, and long-term use, before starting Mounjaro treatment. Working closely with healthcare providers, individuals can make informed decisions about incorporating Mounjaro into their diabetes management plans and embark on a journey towards improved health and well-being.
About Now Patient
Now Patient's online services are available in the US and UK. We help you manage your prescriptions, doctor appointments, test results, health risks and a lot more, all in one place for FREE. US prescriptions are available on a discounted 'cash' basis and delivered across all 50 states by our network of pharmacy providers dispensing FDA-approved generic and branded medications. We do not currently handle commercial insurance, Medicare or Medicaid. UK NHS and private prescriptions are delivered FREE of charge across England & Wales by our UK regulated online pharmacy.
Sources
Disclaimer
Now Patient has taken all reasonable steps to ensure that all material is factually accurate, complete, and current. However, the knowledge and experience of a qualified healthcare professional should always be sought after instead of using the information in this page. Before taking any drug, you should always speak to your doctor or another qualified healthcare provider.
The information provided here about medications is subject to change and is not meant to include all uses, precautions, warnings, directions, drug interactions, allergic reactions, or negative effects. The absence of warnings or other information for a particular medication does not imply that the medication or medication combination is appropriate for all patients or for all possible purposes.
WHY WE BUILT NOW PATIENT
To improve the lives of everyone by making high-quality care accessible and convenient
As technologists and clinicians, we built Now Patient to be more than just an online pharmacy. We are here to improve lives. Our service gives you access to smart features & resources that can help empower you to take control of your health and improve your health outcomes. All this, in one place, for FREE. We strive to bring a fresh perspective to managing health. Not play by the rules. Now Patient can be accessed by downloading the App or using your web browser.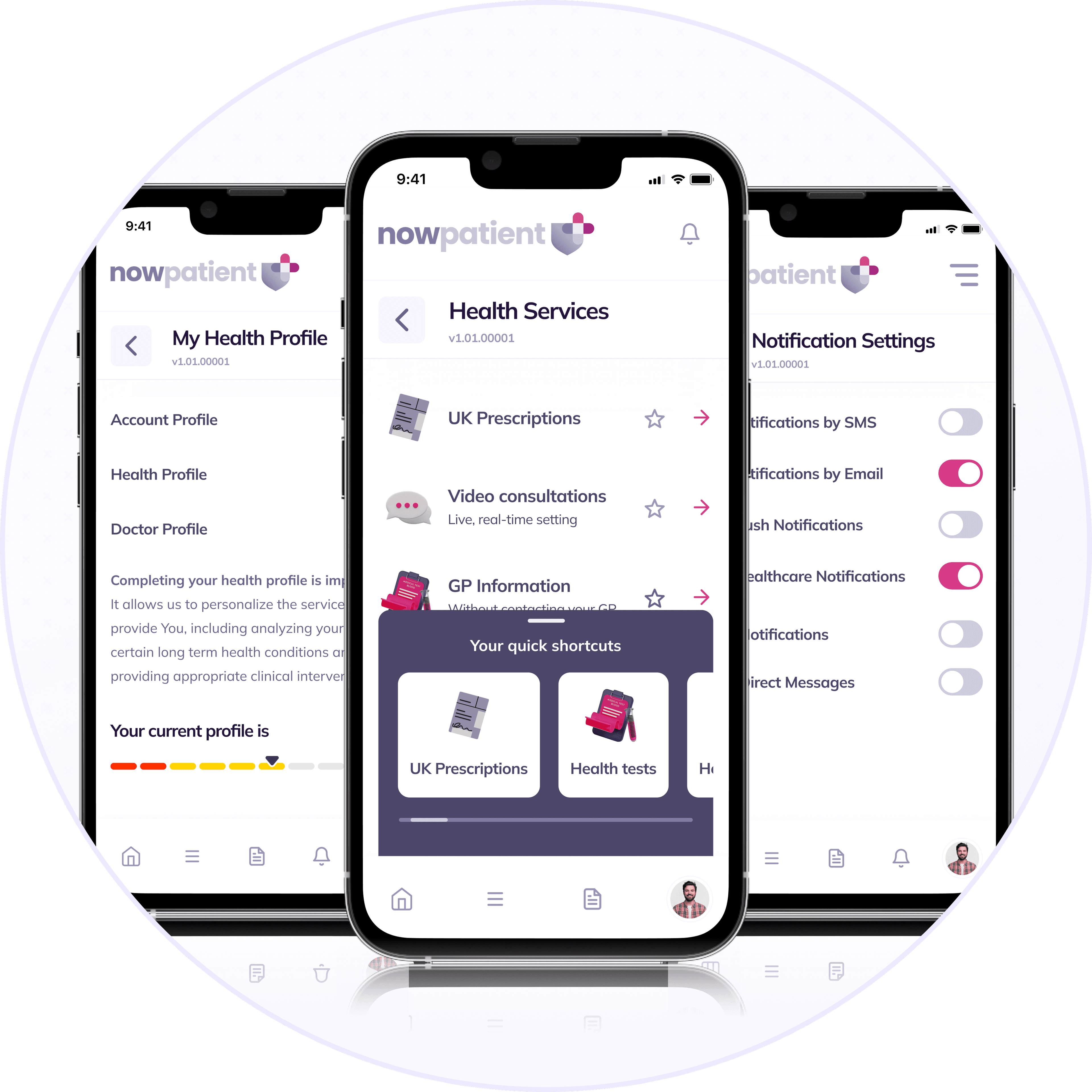 NOW PATIENT
Join the thousands of happy customers in the US and UK already using Now Patient
Manage your health and prescriptions all in one place for FREE. Available to use by downloading the App, or using your web browser.
Your Questions Answered
For your peace of mind, we can answer your health questions quickly
If you want to learn more about the range of services that we provide which can help manage and improve your health, then just click the button below.
Find your answers