/
Blog
/
When will Mounjaro be available in the UK?
When will Mounjaro be available in the UK?
12 Sep 2023

Rajive Patel
Medical Writer / B.Pharm
Image source: Mounjaro
In recent news, the National Institute for Health and Care Excellence (NICE) has released draft guidance approving the use of tirzepatide, also known by its brand name Mounjaro, for the treatment of type 2 diabetes in England and Wales. NICE is Britain's healthcare cost-effectiveness watchdog and its recommendations are used by the National Health Service to determine whether to provide certain medications. The final guidance is expected to be published next month, and once approved, the NHS will have three months to make tirzepatide available for prescription. This breakthrough medication, manufactured by Eli Lilly, offers a new treatment option for individuals with type 2 diabetes. In this article, we will delve into the details of tirzepatide, its benefits, potential side effects, and the impact it may have on the ongoing supply issues of GLP-1 medications.
What is Mounjaro?
Mounjaro is a glucagon-like peptide 1 (GLP-1) receptor agonist manufactured by Eli Lilly and Company containing the active ingredient tirzepatide. It is a weekly injection approved for the treatment of type 2 diabetes. This diabetes drug helps regulate blood sugar levels by stimulating insulin production and reducing glucose production in the liver. Additionally, Mounjaro has been found to aid in weight management, making it an attractive option for individuals looking to improve their overall health.
While Mounjaro does not currently have approval as an obesity drug. The drug could receive approval as a weight loss drug before the end of the year, making it a potential rival to Ozempic and Wegovy both manufactured by Novo Nordisk. In clinical trials, body weight loss ranged from 12 lb (5 mg) to 25 lb (15 mg) in patients taking Mounjaro.
Approved use of tirzepatide
NICE has recommended tirzepatide as an alternative to other GLP-1 medications for the treatment of adults with type 2 diabetes, in conjunction with diet and exercise. It is specifically recommended for individuals with a BMI of 35kg/m2 or more who also experience additional psychological or medical complications. Additionally, tirzepatide may be prescribed to individuals with a BMI below 35kg/m2 who cannot use insulin due to occupation-related risks of hypoglycemia, or for those who would benefit from weight loss to improve other obesity-related health issues. The decision to prescribe tirzepatide will be made by healthcare professionals based on individual assessment and suitability.
Addressing GLP-1 medication supply issues
The ongoing shortages of GLP-1 medications such as semaglutide (Ozempic) are a cause for concern for many diabetes patients. While the approval of tirzepatide is a step in the right direction, how it will impact the existing supply issues remains to be seen. Discussions with the Department of Health and Social Care are ongoing to address the urgent need for resolution. The government's restriction on off-label prescriptions of GLP-1 medications during the supply shortages has been welcomed. However, the new guidance will be required to ensure that tirzepatide can be prescribed to eligible individuals with type 2 diabetes.
Potential side effects of tirzepatide
Like all medications, tirzepatide can have side effects. Common side effects include nausea, indigestion, constipation, and diarrhea. Less common side effects may include pancreatitis and gallstones. It is important to consult with healthcare professionals before starting tirzepatide and to report any side effects experienced during treatment. Individual advice should be sought regarding potential risks and benefits.
Approval across the UK
Tirzepatide is set to be approved for use in England and Wales, with availability expected early in 2024. The approval for use in Northern Ireland will follow NICE recommendations, subject to necessary approvals. In Scotland, the Scottish Medicines Consortium (SMC) is responsible for approving drugs for use on the NHS. The timeline for SMC's appraisal of tirzepatide is yet to be confirmed. NICE is also reviewing the use of tirzepatide for treating obesity, with the outcome expected to be published in March 2024.
Expert opinion
Douglas Twenefour, Head of Care at Diabetes UK, expressed his support for the approval of tirzepatide, highlighting its potential as an effective treatment option for managing type 2 diabetes. He also emphasized the need for an ongoing and sufficient supply of GLP-1 medications to ensure the well-being of individuals with type 2 diabetes. Diabetes UK continues to advocate for action to address the supply shortages and ensure that individuals have access to the necessary medications.
Conclusion
The approval of tirzepatide, or Mounjaro, for the treatment of type 2 diabetes in England and Wales brings new hope to individuals living with this condition. With its unique combination of GLP-1 and GIP analogues, tirzepatide offers improved blood glucose management and weight loss compared to other medications. However, it is important to consider potential side effects and consult with healthcare professionals before starting tirzepatide. While this approval is a significant step, it is crucial to address the ongoing supply issues of GLP-1 medications to ensure uninterrupted access to treatments for individuals with type 2 diabetes.
About Now Patient
Now Patient's online services are available in the US and UK. We help you manage your prescriptions, doctor appointments, test results, health risks and a lot more, all in one place for FREE. US prescriptions are available on a discounted 'cash' basis and delivered across all 50 states by our network of pharmacy providers dispensing FDA-approved generic and branded medications. We do not currently handle commercial insurance, Medicare or Medicaid. UK NHS and private prescriptions are delivered FREE of charge across England & Wales by our UK regulated online pharmacy.
Sources
Disclaimer
Now Patient has taken all reasonable steps to ensure that all material is factually accurate, complete, and current. However, the knowledge and experience of a qualified healthcare professional should always be sought after instead of using the information in this page. Before taking any drug, you should always speak to your doctor or another qualified healthcare provider.
The information provided here about medications is subject to change and is not meant to include all uses, precautions, warnings, directions, drug interactions, allergic reactions, or negative effects. The absence of warnings or other information for a particular medication does not imply that the medication or medication combination is appropriate for all patients or for all possible purposes.
WHY WE BUILT NOW PATIENT
To improve the lives of everyone by making high-quality care accessible and convenient
As technologists and clinicians, we built Now Patient to be more than just an online pharmacy. We are here to improve lives. Our service gives you access to smart features & resources that can help empower you to take control of your health and improve your health outcomes. All this, in one place, for FREE. We strive to bring a fresh perspective to managing health. Not play by the rules. Now Patient can be accessed by downloading the App or using your web browser.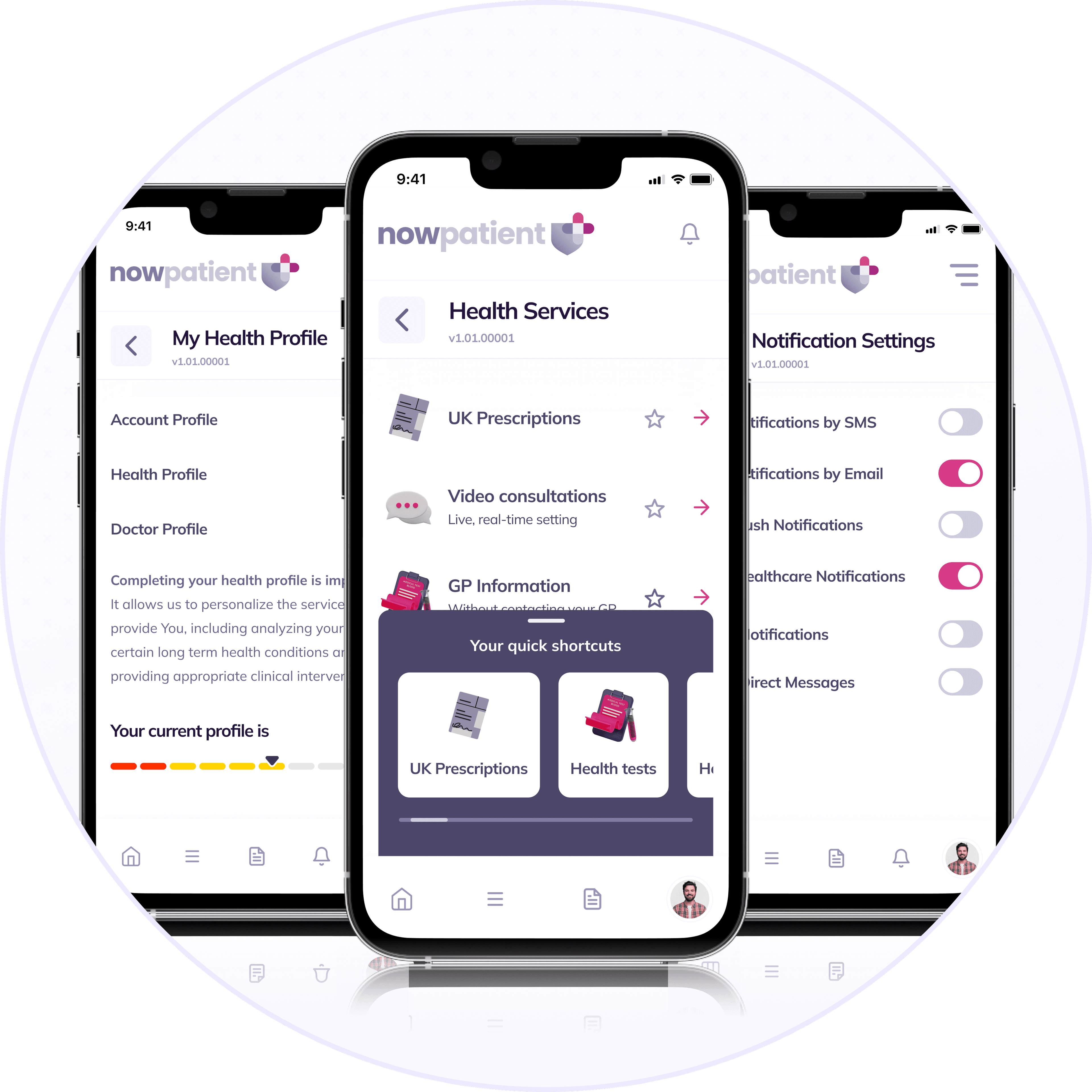 NOW PATIENT
Join the thousands of happy customers in the US and UK already using Now Patient
Manage your health and prescriptions all in one place for FREE. Available to use by downloading the App, or using your web browser.
Your Questions Answered
For your peace of mind, we can answer your health questions quickly
If you want to learn more about the range of services that we provide which can help manage and improve your health, then just click the button below.
Find your answers