Rajive Patel
Medical Writer / B.Pharm
Image Source: Canva
Semaglutide has gained popularity over the past decade as a treatment for type 2 diabetes, but its benefits extend beyond a diabetes drug and glucose control. It has also been found to aid in weight loss, reduce waist circumference, and regulate appetite. Well-known semaglutide products include Ozempic, Wegovy, Mounjaro, and compounded semaglutide. In this comprehensive guide, we will explore the concept of compounded semaglutide, its safety, approved medications, dosage, cost, and a comparison with other semaglutide products.
Understanding semaglutide and its mechanism of action
Semaglutide is a type of glucagon-like peptide-1 (GLP-1) receptor agonist. GLP-1 is a hormone released in the gastrointestinal tract after eating, and it plays a crucial role in regulating blood sugar levels and appetite. By mimicking GLP-1, semaglutide stimulates the production of insulin, lowers blood glucose levels and triggers signals of fullness in the brain, reducing appetite.
FDA-approved semaglutide medications
Several medications containing semaglutide are U.S. Food and Drug Administration (FDA) approved drugs for specific uses. These include:
Ozempic (Injectable): Ozempic was approved in 2017 for lowering blood sugar levels in adults with type 2 diabetes. It has also been approved to reduce the risk of heart attack, stroke, or death in adults with type 2 diabetes and known heart disease
Rybelsus (Tablet): Rybelsus, the first and only oral GLP-1 analog, was approved in 2019 to improve blood sugar regulation in adults with type 2 diabetes
Wegovy (Injectable): Wegovy, approved in 2021, is specifically indicated as a weight loss drug in adults with obesity or excess weight, who also have weight-related medical problems
These FDA-approved medications have undergone rigorous testing to assess their safety and effectiveness for their respective indications.
Compounded semaglutide: A cheaper alternative
Compounding pharmacies offer an alternative route for obtaining semaglutide. Compounded versions of semaglutide are a custom-made medication that combines traditional semaglutide with other vitamins or ingredients, tailored to the individual patient's needs. Compounding pharmacies mix, combine, or alter ingredients to create medications that are personalized for each patient.
One of the main advantages of compounded forms of semaglutide is its lower cost compared to brand-name medications. Compounded semaglutide can be a more affordable option for those who struggle with the high cost of FDA-approved semaglutide medications. However, it is essential to ensure that the compounding pharmacy is FDA-regulated, follows strict quality control measures and meets safety standards.
Safety concerns with compounded semaglutide
While compounded semaglutide may offer cost savings, it is important to consider the safety implications. The FDA has expressed concerns regarding compounded semaglutide. The agency has received adverse event reports from patients who have used compounded versions of the medication. Compounded semaglutide may contain salt forms of semaglutide, such as semaglutide sodium and semaglutide acetate, which are different from the active ingredient in FDA-approved semaglutide products.
The FDA has not found any valid reason for compounding semaglutide using these salt forms. These salt formulations have not been proven to be safe or effective, and their use in compounded products raises concerns about potential risks and unknown side effects. It is crucial for patients to be aware that compounded semaglutide may not have undergone the same rigorous safety and efficacy testing as FDA-approved drugs.
Dosage and administration of semaglutide medications
The dosages and administration methods of semaglutide medications vary depending on the specific product. Here are the recommended starting doses and administration instructions for each FDA-approved medication:
Ozempic (Injectable): The initial dose of Ozempic is typically 0.25 mg injected once weekly. After four weeks, the dose is increased to 0.5 mg per week. The maximum recommended dose is 2 mg per week
Rybelsus (Tablet): Rybelsus is taken orally once daily, with the recommended starting dose of 3 mg. After four weeks, the dose can be increased to 7 mg or 14 mg, based on individual response and tolerability
Wegovy (Injectable): The initial dose of Wegovy is generally 0.25 mg injected once weekly for four weeks. The dose is then increased in 0.25 mg increments every four weeks until reaching a maintenance dose of 2.4 mg per week
It is important to follow the prescribed dosage and administration instructions provided by your healthcare provider to ensure the safe and effective use of these medications.
Cost comparison: Compounded semaglutide vs. brand-name medications
One of the primary reasons patients turn to compounded semaglutide is its lower cost compared to brand-name medications. Compounded semaglutide can be significantly more affordable, with an average monthly cost of less than $500. The cost may vary depending on the dosage, shipping fees, and additional ingredients used in the compounding process.
On the other hand, brand-name semaglutide medications, such as Ozempic and Wegovy, can be quite expensive. Wegovy, specifically approved for weight management, has a list price of $1,349 for a month's supply. Insurance coverage may help mitigate some of the costs, but it is essential to check with your insurance provider to understand the level of coverage for these medications.
Choosing the right semaglutide treatment option
When considering semaglutide treatment options, it is essential to consult with your healthcare provider to determine the most suitable choice for your specific needs and medical condition. While compounded semaglutide may offer cost savings, it is important to weigh the potential risks and unknowns associated with compounded medications. FDA-approved medications like Ozempic, Wegovy, and Rybelsus have undergone extensive testing to ensure their safety and efficacy.
Your healthcare provider will consider various factors, including your medical history, weight management goals, and insurance coverage, to guide you in making an informed decision about which semaglutide treatment option is right for you.
Reporting adverse events and ensuring safety
The FDA encourages patients, healthcare professionals, and compounders to report any adverse events or quality problems related to semaglutide medications or compounded drugs. The FDA's MedWatch Adverse Event Reporting program provides a platform to report such incidents. Reports can be submitted online or via fax using the provided form.
To ensure your safety when obtaining semaglutide or any other medication, it is crucial to only obtain drugs with a prescription from a licensed healthcare provider and to purchase medicines from state-licensed pharmacies or FDA-registered outsourcing facilities. Avoid purchasing medicines from unregulated or unlicensed sources, as they may not undergo appropriate evaluation, approval, or meet quality standards.
Conclusion
Semaglutide medications, such as Ozempic, Wegovy, and Rybelsus, offer significant benefits for individuals with type 2 diabetes and those seeking weight management solutions. While compounded semaglutide presents a potentially more affordable version of the drug, it is essential to consider the safety concerns associated with compounded medications. FDA-approved medications have undergone extensive testing to ensure their safety and efficacy, providing a level of assurance that may not exist with compounded versions.
Consulting with your healthcare provider is crucial in determining the most suitable semaglutide treatment option for your specific needs. By following prescribed dosages, choosing reputable pharmacies, and reporting any adverse events, you can ensure the safe and effective use of semaglutide medications and prioritize your overall health and well-being. For people who use an online pharmacy, the FDA recommends checking the FDA's website BeSafeRx to check its credentials.
About Now Patient
Now Patient's online services are available in the US and UK. We help you manage your prescriptions, doctor appointments, test results, health risks and a lot more, all in one place for FREE. US prescriptions are available on a discounted 'cash' basis and delivered across all 50 states by our network of pharmacy providers dispensing FDA-approved generic and branded medications. We do not currently handle commercial insurance, Medicare or Medicaid. UK NHS and private prescriptions are delivered FREE of charge across England & Wales by our UK regulated online pharmacy.
Sources
Disclaimer
Now Patient has taken all reasonable steps to ensure that all material is factually accurate, complete, and current. However, the knowledge and experience of a qualified healthcare professional should always be sought after instead of using the information in this page. Before taking any drug, you should always speak to your doctor or another qualified healthcare provider.
The information provided here about medications is subject to change and is not meant to include all uses, precautions, warnings, directions, drug interactions, allergic reactions, or negative effects. The absence of warnings or other information for a particular medication does not imply that the medication or medication combination is appropriate for all patients or for all possible purposes.
WHY WE BUILT NOW PATIENT
To improve the lives of everyone by making high-quality care accessible and convenient
As technologists and clinicians, we built Now Patient to be more than just an online pharmacy. We are here to improve lives. Our service gives you access to smart features & resources that can help empower you to take control of your health and improve your health outcomes. All this, in one place, for FREE. We strive to bring a fresh perspective to managing health. Not play by the rules. Now Patient can be accessed by downloading the App or using your web browser.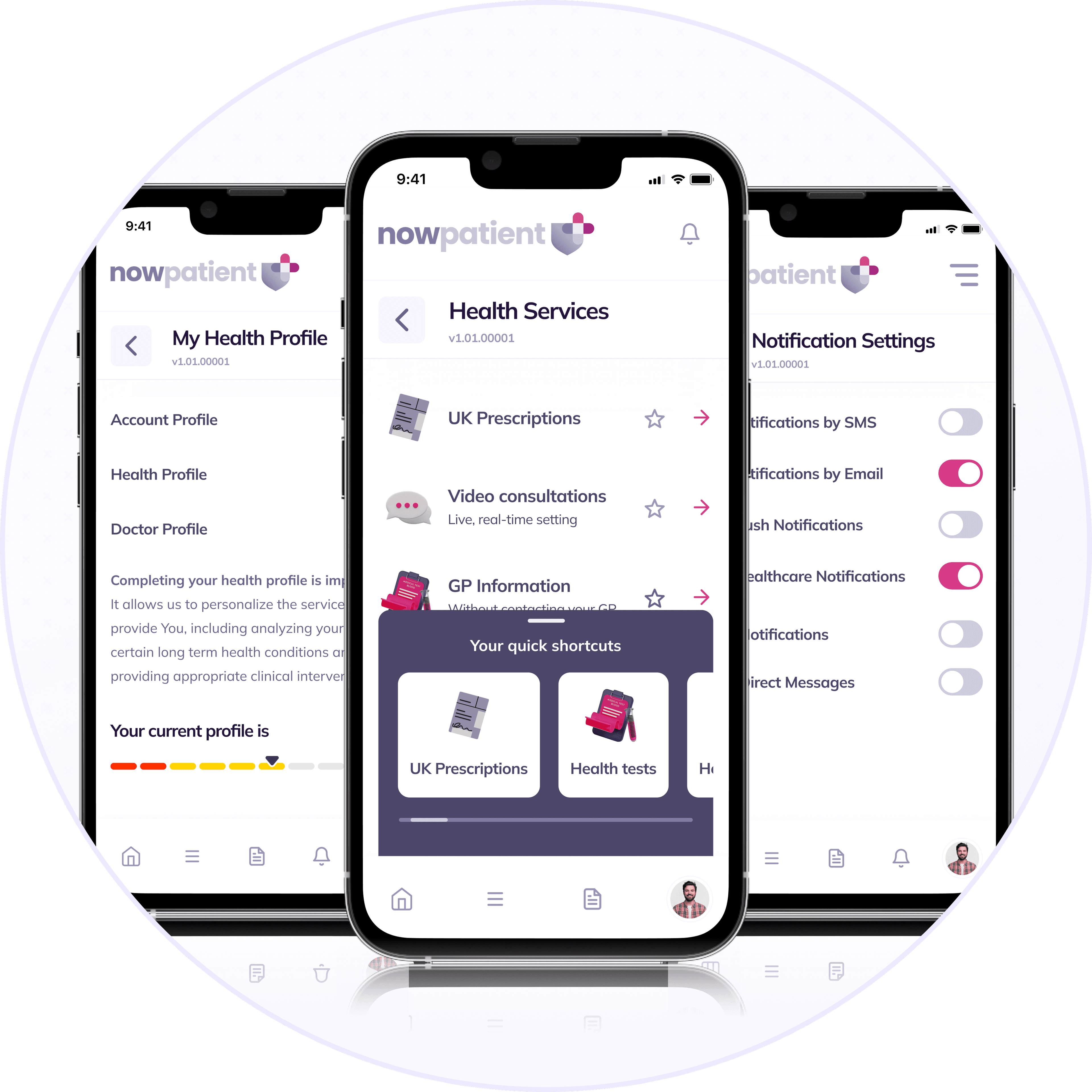 NOW PATIENT
Join the thousands of happy customers in the US and UK already using Now Patient
Manage your health and prescriptions all in one place for FREE. Available to use by downloading the App, or using your web browser.
Your Questions Answered
For your peace of mind, we can answer your health questions quickly
If you want to learn more about the range of services that we provide which can help manage and improve your health, then just click the button below.
Find your answers