/
Blog
/
The unforeseen dangers of compounded Ozempic
The unforeseen dangers of compounded Ozempic
8 Aug 2023

Stefano Mirabello
Pharmacist / B.Pharm
The popularity of semaglutide-based drugs such as Wegovy has led to an unexpected turn of events. With supply shortages of these FDA-approved medications, some patients have turned to compounded versions from pharmacies. However, the U.S. Food and Drug Administration (FDA) has issued stern warnings against this practice due to potential safety concerns.
The complication of compounded drugs
Compounded drugs are a unique category of medications. They are custom-made by pharmacies to meet the specific needs of individual patients. This may involve mixing, combining, or changing ingredients.
This practice can be crucial when there are shortages of FDA-approved drugs. However, the current scenario with semaglutide-based drugs like Wegovy and Ozempic is causing concerns. The FDA has voiced worries about patients experiencing unforeseen side effects with compounded versions of semaglutide.
The compounded versions may use salt-based forms of semaglutide, which differ from the active ingredient in FDA-approved products. This could lead to inconsistent and potentially dangerous results for patients.
The FDA's statement on Semaglutide
The FDA issued a clear warning about this situation. They stated, "Patients should be aware that some products sold as 'semaglutide' may not contain the same active ingredient as FDA-approved semaglutide products and may be the salt formulations."
This is a significant point to consider. While the name 'semaglutide' may be the same, the formulation in compounded drugs could be drastically different. Semaglutide sodium and semaglutide acetate, for instance, have not been proven to be safe and effective.
Adverse events linked to compounded Semaglutide
The FDA has already started receiving adverse event reports from patients who used compounded semaglutide. However, they have not disclosed the number of people affected or the specific side effects reported.
One potential concern is high blood pressure. Sodium, which may be present in higher levels in some compounded semaglutide versions, can elevate blood pressure levels, leading to increased risk of heart attacks and strokes.
Medical experts weigh in on the situation
Medical professionals also express concern over the use of salt-based forms of semaglutide. Adam Gilden, MD, an associate professor at the University of Colorado School of Medicine in Aurora, highlighted the lack of rigorous clinical trials for these versions.
Gilden's clinic does not prescribe compounded semaglutide due to these concerns. Instead, they recommend patients struggling to obtain semaglutide prescriptions to consider other FDA-approved weight loss or diabetes management medications.
Understanding GLP-1 Agonists
Semaglutide belongs to the group of medicines known as GLP-1 agonists. These drugs can aid weight loss by imitating a hormone that curbs hunger. They also help manage diabetes by improving the body's use of a hormone needed to regulate blood sugar levels.
There are other FDA-approved drugs in the same category as semaglutide. Liraglutide (Victoza) is one such drug. Another GLP-1 agonist, Tirzepatide /drugs/tirzepatide (Mounjaro), is currently approved only for treating type 2 diabetes /type-2-diabetes/guide/treatment/ but is expected to gain approval for use as a weight loss drug soon.
Image: Ozempic
Sourcing Semaglutide safely
With the shortages of semaglutide, patients may find it challenging to get their prescriptions filled. While compounded semaglutide may seem like a tempting alternative, the FDA and medical professionals strongly advise against this.
Patients should only purchase semaglutide with a prescription from a licensed pharmacy. They should also be wary of buying medicine online from unregulated, unlicensed sources, as this can expose them to potentially unsafe products.
The FDA's BeSafeRx campaign offers resources and tools to help patients make safer, more informed decisions when buying prescription medicine online.
Semaglutide: A closer look
Semaglutide medications, such as Ozempic, Wegovy, and Rybelsus, have been at the center of a global shortage due to the rising demand. As a result, some patients have resorted to compounding pharmacies for versions of these diabetes and weight loss medications.
However, the FDA warns consumers that these off-label versions could potentially be unsafe. They have received "adverse event reports" linked to some forms of compounded semaglutide, particularly those containing ingredients similar to semaglutide but in a chemically different salt form.
Semaglutide vs. Semaglutide Sodium
Some compounding pharmacies have been dispensing versions of the medication made with a different active ingredient called semaglutide sodium. The FDA has specifically called out these versions as potentially unsafe.
"Patients should be aware that some products sold as 'semaglutide' may not contain the same active ingredient as FDA-approved semaglutide products and may be the salt formulations," the FDA wrote. "Products containing these salts, such as semaglutide sodium and semaglutide acetate, have not been shown to be safe and effective."
The bottom line: No approved generic versions
The FDA clearly states that there are only three FDA-approved semaglutide products – Ozempic, Wegovy, and Rybelsus, and none of them have approved generic versions.
As patients and healthcare providers navigate the current semaglutide shortage, it's crucial to remember that compounded drugs are not FDA-approved and may pose risks. Always consult with a healthcare provider before making decisions about using such alternatives.
About Now Patient
Now Patient's online services are available in the US and UK. We help you manage your prescriptions, doctor appointments, test results, health risks, and a lot more, all in one place for FREE. If you are in the United States, you could enjoy savings using Now Patient's mail-order pharmacy or use the Now Patient Rx Advantage Card at over 65,000 pharmacies, with savings of up to 90% on popular FDA-approved brand and generic medications like Ozempic, Mounjaro, clopidogrel and lots more. We do not currently handle commercial insurance, Medicare or Medicaid. UK NHS and private prescriptions are delivered FREE of charge across England & Wales by our UK NHS online pharmacy.
Sources
Disclaimer
Now Patient has taken all reasonable steps to ensure that all material is factually accurate, complete, and current. However, the knowledge and experience of a qualified healthcare professional should always be sought after instead of using the information in this page. Before taking any drug, you should always speak to your doctor or another qualified healthcare provider.
The information provided here about medications is subject to change and is not meant to include all uses, precautions, warnings, directions, drug interactions, allergic reactions, or negative effects. The absence of warnings or other information for a particular medication does not imply that the medication or medication combination is appropriate for all patients or for all possible purposes.
WHY WE BUILT NOW PATIENT
To improve the lives of everyone by making high-quality care accessible and convenient
We are here to improve lives. Our service gives you access to smart features & resources that can help empower you to take control of your health and improve your health outcomes. All this, in one place, for FREE. We strive to bring a fresh perspective to managing health. Not play by the rules. Now Patient can be accessed by downloading the App or using your web browser.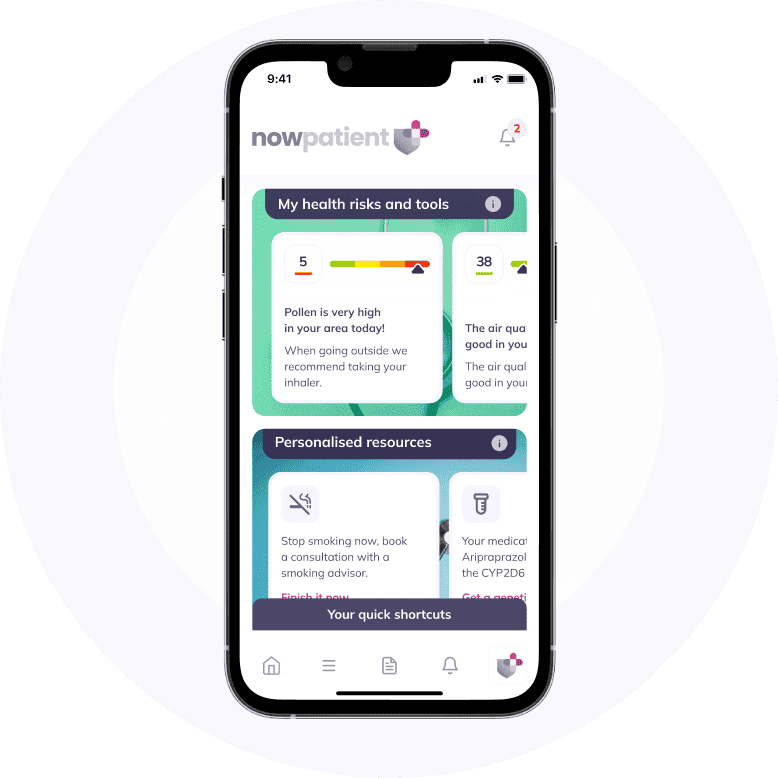 Your Questions Answered
For your peace of mind, we can answer your health questions quickly
If you want to learn more about the range of services that we provide which can help manage and improve your health, then just click the button below.
Find your answers