Stefano Mirabello
Pharmacist / B.Pharm
St. Patrick's Day is a time to celebrate Irish culture. For many people with type one diabetes, Saint Patrick's Day can be a bit of a balancing act. On the one hand, you want to enjoy the holiday and all that comes with it – the St. Patrick's Day parades, the beer, the Irish carbs! On the other hand, you have to be mindful of your blood sugar and how all of those things will affect it. So how can you find the balance?
Read on for some tips and medical advice, followed by a personal blog by our Social Media Assistant Charlie on how she manages type 1 diabetes while celebrating St Patrick's Day with her partner Steve.
Drinking alcohol
First things first. If you plan on drinking alcohol, be sure to check your blood sugar levels before and after drinking, as alcohol can cause them to drop. It's also a good idea to have some simple carbohydrates on hand, like fruit juice or candy, in case your blood sugar does drop. As always, make sure to wear your medical ID bracelet or necklace in case of an emergency.
There are a few modifications that you can make to traditional Irish recipes to make them more diabetes-friendly. For example, when cooking corned beef, you can choose leaner cuts of meat and trim off any visible fat and can be cooked with less salt to help reduce its sodium content. When making Irish soda bread, while most recipes call for buttermilk or milk, you can easily substitute non-fat Greek yoghurt to create a delicious and nutritious loaf of bread. Irish soda bread can also be made with whole wheat flour or oatmeal to increase its fibre content. If you are craving Irish coffee, simply ditch the whipped cream and enjoy your coffee black. These simple modifications will help you enjoy your favourite St. Patrick's Day foods without having to worry about blood sugar spikes.
Lastly, Guinness is often part of the St. Paddy's Day celebration, but it's important to remember that beer is high in carbs and be just sure to enjoy it in moderation! If you want to enjoy a Guinness on St. Patrick's Day, try pairing it with a low-carb meal or snack such as grilled chicken or fish, salads, or vegetables. Eating will help to slow down the absorption of alcohol into your bloodstream and help to keep your blood sugar levels steady. Don't forget to bolus! If you are taking insulin, be sure to bolus for the carbohydrate content of your drink(s) of choice. Also, remember to stay hydrated by drinking water in between alcoholic beverages. Alcohol can cause dehydration, which can lead to higher blood glucose levels.
By following these tips and speaking to a healthcare professional, you can still enjoy all your favourite St. Patrick's Day foods while keeping your diabetes under control.
Our Social Media Assistant Charlie talks about how she manages her type one diabetes while celebrating St Patrick's Day with her partner Steve.
So it was St Patrick's Day on Wednesday and honestly, I had a blast! This year looked a little different due to the pandemic, however, that didn't stop us from having a great time.
Usually, we would either go to Ireland for the celebrations or at least go to Liverpool to the pub. Being part Irish, it's an exciting day that I've grown to really love over the last few years!
Knowing that our original plans would be thwarted, my partner Steve and I planned what we wanted to do well in advance. It was great to have something to look forward to. I was working during the day, so we decided to have an evening filled with fun. Including some delicious food cooked by Steve, and of course, Guinness.
How did the food and excitement of celebrating impact my diabetes?
I decorated our flat a few weeks before, with flag bunting and shamrocks, as well as our two little leprechauns. It definitely adds to the character of our flat, which already has a huge Irish flag in our hallway!
I was interested to see how all the food and excitement would impact my blood sugar levels, as this was my second St Patrick's Day living with diabetes. Last year with the uncertainty and stress of the sudden pandemic we were faced with, we didn't celebrate. Ultimately I just wanted to have a good time and not let diabetes get in the way where possible; I wanted to eat whatever I wanted, enjoy a Guinness, and just be merry. Which is exactly what I did!
With work finished for the day and a blood sugar level of 19mmol/L after a lunchtime hypo, I decided to clean the whole flat while Steve prepared and cooked our Guinness stew, accompanied by soda bread! We had The Pogues playing throughout the flat, with the sunset blazing into our living room. 2 hours of cleaning later, my levels finally started to come down, to around 13mmol/L and then we sat down for dinner.
Let the celebration commence
I had to guess the carb count for the whole meal aside from the Guinness, but because of the cleaning marathon I had just been on, I was unsure how much insulin to inject initially. My insulin sensitivity is really strong when I have been cleaning. If I eat soon after and inject, I almost always go straight into a hypo which just isn't fun. I decided to wait until I had finished my meal and then bolused. Sometimes, I'd split the dose and do half my insulin up front and half after.
This is because I don't always finish my meal. So if I've injected all of it upfront, the likelihood of my levels dropping too low is always there. Really I just applied what I would do on a normal day, but because it was a celebration, and there were lots more variables involved; exercise, alcohol, excitement, all of which can cause my levels to go low.
I was trying to be as careful as possible with avoiding hypos, as I had already had one earlier in the day and didn't want the good times to be spoiled with low blood sugar. This works for me some of the time, but we all know diabetes has a complete mind of its own. What works one day, might not the next!
We finished the celebrations with chocolate cake and watched PS I Love You which was fabulous! Despite all of the glorious food and alcohol, my levels were really quite nice to me!
If you were celebrating St Patrick's Day this year, I hope you had a great time!
About Now Patient
Now Patient's online services are available in the US and UK. We help you manage your prescriptions, doctor appointments, test results, health risks and a lot more, all in one place for FREE. US prescriptions are available on a discounted 'cash' basis and delivered across all 50 states by our network of pharmacy providers dispensing FDA-approved generic and branded medications. We do not currently handle commercial insurance, Medicare or Medicaid. UK NHS and private prescriptions are delivered FREE of charge across England & Wales by our UK regulated online pharmacy.
Disclaimer
Now Patient has taken all reasonable steps to ensure that all material is factually accurate, complete, and current. However, the knowledge and experience of a qualified healthcare professional should always be sought after instead of using the information in this page. Before taking any drug, you should always speak to your doctor or another qualified healthcare provider.
The information provided here about medications is subject to change and is not meant to include all uses, precautions, warnings, directions, drug interactions, allergic reactions, or negative effects. The absence of warnings or other information for a particular medication does not imply that the medication or medication combination is appropriate for all patients or for all possible purposes.
WHY WE BUILT NOW PATIENT
To improve the lives of everyone by making high-quality care accessible and convenient
As technologists and clinicians, we built Now Patient to be more than just an online pharmacy. We are here to improve lives. Our service gives you access to smart features & resources that can help empower you to take control of your health and improve your health outcomes. All this, in one place, for FREE. We strive to bring a fresh perspective to managing health. Not play by the rules. Now Patient can be accessed by downloading the App or using your web browser.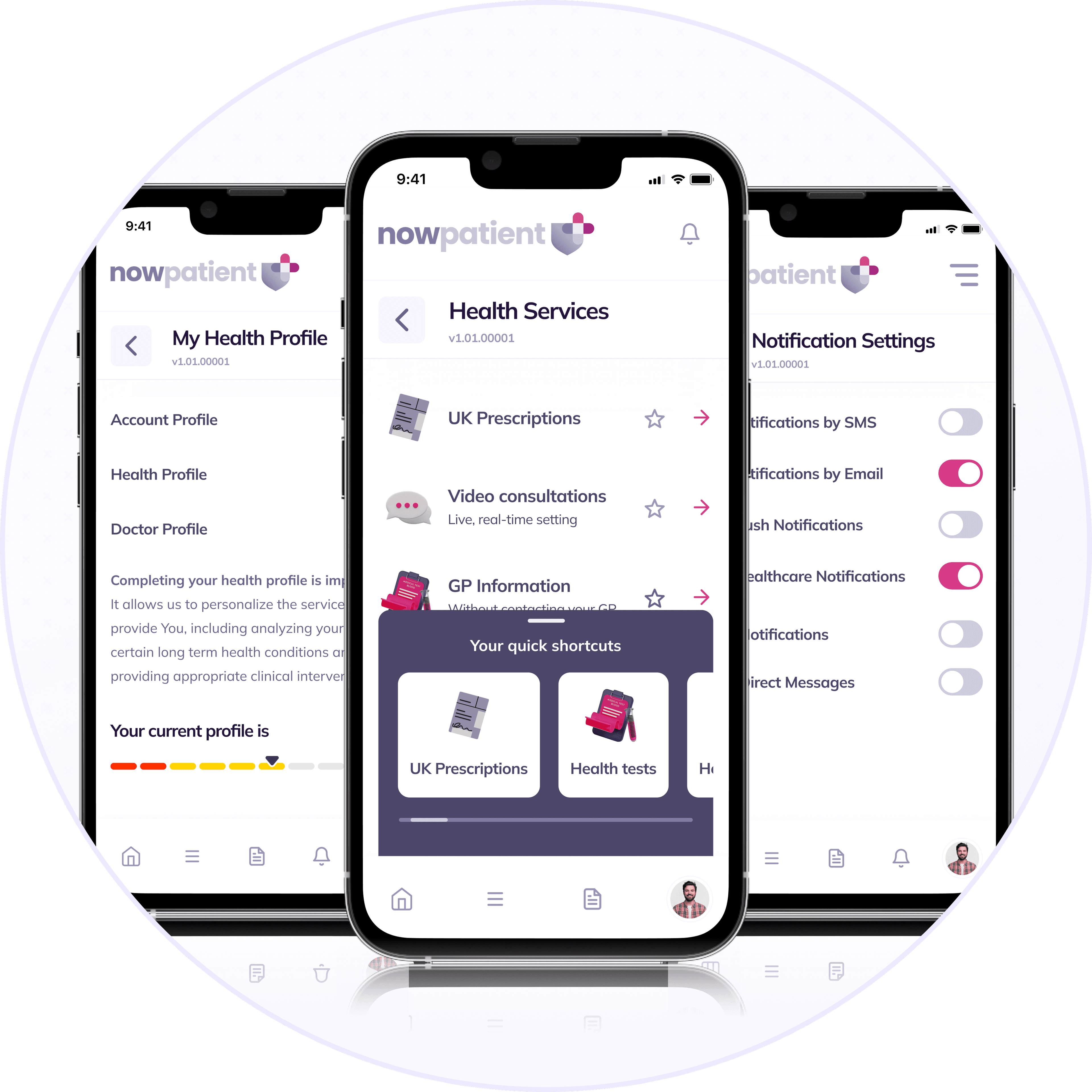 NOW PATIENT
Join the thousands of happy customers in the US and UK already using Now Patient
Manage your health and prescriptions all in one place for FREE. Available to use by downloading the App, or using your web browser.
Your Questions Answered
For your peace of mind, we can answer your health questions quickly
If you want to learn more about the range of services that we provide which can help manage and improve your health, then just click the button below.
Find your answers