/
Blog
/
Navigating Christmas as a person living with diabetes
Navigating Christmas as a person living with diabetes
16 Nov 2022

Stefano Mirabello
Pharmacist / B.Pharm
It's almost here, the big one, the day we've all been waiting for!
For many, Christmas is a time for enjoyment, love and celebration. Reflecting on the year that has been, and gearing up for the New year ahead! The holidays are a time of the year for family, friends and of course, food. Lots and lots of food. If you're living with diabetes, the thought of all that holiday cheer might fill you with more dread than excitement but never fear! With a little bit of planning, you can still enjoy all your favourite holiday traditions without letting your diabetes get in the way. Read on for our top tips on how to navigate the holiday season with diabetes.
Christmas, diabetes management and mental health
Christmas can feel a little overwhelming, no matter where you are on your journey if you are a person living with diabetes, whether you have been diagnosed for 5, 10 or 50 years years, or if you are newly diagnosed.
With lots happening and a big focus on food, there can be the pressure of having 'perfect' blood sugars throughout the holiday season. The mental strain of managing diabetes while trying to enjoy the day and also dealing with comments from family, friends and loved ones about diabetes if you want to indulge can be difficult.
Take time for self-care during the festive period whenever possible. Set aside some time each day to do something that you enjoy and that helps you relax. This could be something as simple as reading a book, taking a walk or spending time with friends or family members who make you feel good. Taking care of yourself should be a priority all year round but it's especially important during the holiday season.
The first Christmas after a diabetes diagnosis
Sophie (@typeonesoph) and I were diagnosed with type 1 diabetes last year. Both in our twenties and very much used to our usual Christmas routines!
On my first Christmas after diagnosis, I knew I didn't want my diabetes to stop me from having a 'normal' day however, it did. I drank two glasses of champagne without fully understanding the impact it could and would have on my blood sugar levels. I was hypo for two hours, unconscious and felt awful for the rest of the day.
This year I am going to try and plan ahead a little. Using Now Patient and my Dexcom to try and have a less demanding diabetes day and enjoy!
This year has been weird enough, so we have come up with a list of tips and advice to help you navigate Christmas as a newly diagnosed, or someone who's been living with diabetes for a while but is looking for some new ideas!
Tips on managing diabetes during the winter holidays:
Plan ahead. This is probably the most important tip I can give you. When it comes to managing your diabetes, advance planning is key. The Christmas period is no different. Take some time before the flurry of holiday meals and gatherings to really think about what you want to eat and drink, and plan accordingly. That way you can indulge in your favourite holiday foods without having to worry about ruining your diet or making yourself sick
Don't skip meals. It can be tempting to let yourself off the hook when it comes to meal times during the festive season. After all, there's always something going on and there's always food around. But resist the urge to skip meals! Skipping meals can cause your blood glucose levels to drop sharply, which can lead to feelings of lightheadedness, dizziness, weakness and confusion. Not exactly how you want to spend your holidays! Eating small, frequent meals throughout the day will help keep your blood sugar levels steady and stave off those unwelcome dips
Get moving! Physical activity is always important for people with diabetes, but it becomes even more crucial during the holidays when indulgent eating is at an all-time high. Taking a brisk walk after big meals can help counteract some of the effects of all that holiday feasting and also help boost your energy levels so you can keep up with all the fun holiday activities! Schedule a crisp Christmas day walk in the afternoon if you feel your sugars are being a bit stubborn
Monitor Your Blood Sugar. This one goes without saying but it's extra important during the holidays when stress levels are high and routines are out of whack. Be sure to check your blood sugar often and take your medications as prescribed. If you find yourself struggling to keep your blood sugar in check, reach out to your healthcare team for help. They may be able to adjust your medication or give you some tips on how to better manage your diabetes during this hectic time of year. Give yourself grace. It's a big day, and you're doing the best you can!
Now Patient can help you keep track of what insulin you have on board and the effect it is having – this is super helpful and can help avoid hypos (low blood sugar)/hypers (high blood sugar)
Try carb counting the best you can (if you usually carb count) but don't stress if it goes a bit wrong. The festive period can be a minefield for anyone managing diabetes, with endless temptation around every corner. Carbohydrate-rich Christmas dinners and sticky puddings can quickly send blood sugar levels soaring, so it's important to be vigilant about what you're eating. That doesn't mean you have to miss out on all the fun though! Here are some things to consider over the festive period:
– When choosing your main meal, go for leaner meats like turkey or chicken, and load up your plate with veggies. This will help to keep your carb intake under control
– When it comes to pudding, there's no need to deprive yourself – just go for a smaller portion
If you're super organised and know what you will eat, PLAN! Pre-plan your carb count so you don't need to worry about it on an actual day
If you are drinking alcohol, remember to drink in moderation. Alcohol can be tricky for people with diabetes because it can cause blood sugar levels to rise or fall unexpectedly. If you do choose to drink alcohol this holiday season, do so in moderation and always with food. That way, you can help mitigate any undesired effects on your blood sugar levels. And remember, if you're taking insulin or other medications that lower blood sugar levels, alcohol can amplify their effects—so be extra careful!
Don't forget to…
Enjoy it! One day a year is not going to cause you long-term damage if you just decide to go for it and eat what you want (and of course, give insulin)
Allow yourself a little more leeway with your ranges. If you wear a CGM, you could set your high alert a little higher to avoid feeling frustrated with the alerts going off
Be prepared with your low-carb snacks
Accept that your blood sugars probably won't be the best and that is okay!
Stay hydrated!
If people are being a little or very ignorant, making unnecessary comments about how you're eating/injecting at the table/testing your blood, trust in yourself. You are doing great, there's nothing wrong with what you are doing. They are the problem, not you. This is your life and that is ok
So there we have it. We hope that some of our tips will help and that you can enjoy your day, no matter where you are! Diabetes is so personal and unique, and it's definitely not a one size fits all, but I think we can all agree that we should be able to enjoy Christmas without our little pal Beetus stealing all the limelight right?
Enjoy yourself, stay safe, and Merry Christmas, from all of us here at Now Patient!
About Now Patient
Now Patient's online services are available in the US and UK. We help you manage your prescriptions, doctor appointments, test results, health risks and a lot more, all in one place for FREE. US prescriptions are available on a discounted 'cash' basis and delivered across all 50 states by our network of pharmacy providers dispensing FDA-approved generic and branded medications. We do not currently handle commercial insurance, Medicare or Medicaid. UK NHS and private prescriptions are delivered FREE of charge across England & Wales by our UK regulated online pharmacy.
Disclaimer
Now Patient has taken all reasonable steps to ensure that all material is factually accurate, complete, and current. However, the knowledge and experience of a qualified healthcare professional should always be sought after instead of using the information in this page. Before taking any drug, you should always speak to your doctor or another qualified healthcare provider.
The information provided here about medications is subject to change and is not meant to include all uses, precautions, warnings, directions, drug interactions, allergic reactions, or negative effects. The absence of warnings or other information for a particular medication does not imply that the medication or medication combination is appropriate for all patients or for all possible purposes.
WHY WE BUILT NOW PATIENT
To improve the lives of everyone by making high-quality care accessible and convenient
As technologists and clinicians, we built Now Patient to be more than just an online pharmacy. We are here to improve lives. Our service gives you access to smart features & resources that can help empower you to take control of your health and improve your health outcomes. All this, in one place, for FREE. We strive to bring a fresh perspective to managing health. Not play by the rules. Now Patient can be accessed by downloading the App or using your web browser.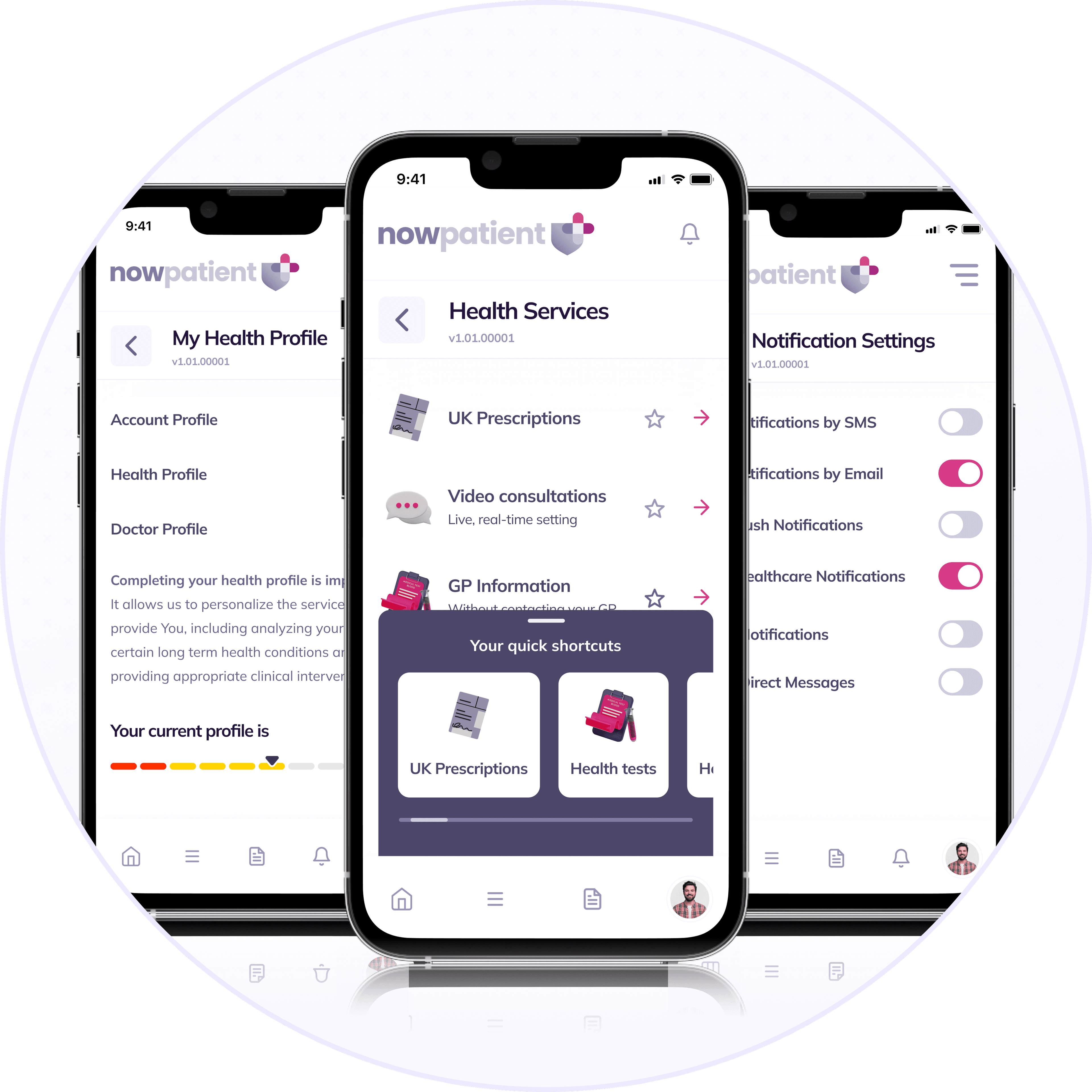 NOW PATIENT
Join the thousands of happy customers in the US and UK already using Now Patient
Manage your health and prescriptions all in one place for FREE. Available to use by downloading the App, or using your web browser.
Your Questions Answered
For your peace of mind, we can answer your health questions quickly
If you want to learn more about the range of services that we provide which can help manage and improve your health, then just click the button below.
Find your answers