/
Blog
/
Why you should care about what's happening in diabetes
Why you should care about what's happening in diabetes
10 Jan 2023

Stefano Mirabello
Pharmacist / B.Pharm
People with chronic conditions like type 1 and type 2 diabetes – just like anyone else – navigate life dealing with stress, exercising, maintaining a healthy lifestyle, falling in love, getting angry, commuting, eating out and travelling etc. Yet, little attention is paid to the expertise they develop in living their lives while managing their own condition and health care.
Despite hundreds of research programmes that sound great on paper, and designed to advance science, little is really known about them as a person.
Why do we need more people looking at diabetes?
Research is essential to finding new treatments. When you have diabetes, your diabetes care goal is always to keep your blood sugar in a healthy range. But sometimes, no matter how hard you try, things happen and your blood sugar levels get too high (hyperglycemia) or too low (hypoglycemia). That's where new treatments come in. Current treatments for diabetes were born out of research and testing. So were the glucose monitors we use to track our blood sugar day-to-day and the insulin pumps many of us rely on to help keep our blood sugar stable. Researchers are working hard every day to find new and improved treatments for diabetes that will make it easier for us to stay healthy.
Research is essential to finding a cure – We don't have a cure for diabetes yet but researchers are working hard on it and making progress every day. In fact, there are more than 1,500 studies currently underway that are looking at everything from new technologies like artificial pancreas systems to potential new medications and therapies. A cure for diabetes may not be found tomorrow but with each study that is conducted, we get closer and closer.
Diabetes research needs our help. Research costs money and the more money that is available for research, the faster progress can be made. One way you can help support research is by participating in studies yourself.
Take a glimpse into the current diabetes tech ecosystem and you'll see that what's hot right now is anything related to closed-loop and the artificial pancreas. Unsurprisingly and rightfully so.
Our approach – personalised self-care focused on people using insulin pens, a rather underserved segment – is made possible by people not personally connected to diabetes.
How do we show we care?
Out of our team of 12 here at Now Patient, 1 of our leaders has lived with diabetes for decades. For those of us not living with the condition, we take pride in perpetually diving into diabetes through human-centric research and speaking to a wide variety of users on a daily basis.
We do not simply scratch the surface while building technology to help solve this problem.
We fill in the knowledge gaps through the use of data, behavioural psychology and literally working hours on end with users sharing with us some of the most intimate details of their life with diabetes.
Why you should care about diabetes
We take for granted being able to get through the day with minimal levels of stress induced by external factors. If you live without diabetes mellitus why not help those who have it, navigate the same things you do without having to worry about taking a life-saving drug?
Adding value to something bigger than yourself is also a reason why you should care. There are many big problems you could give your attention to but with the prevalence of diabetes consistently rising, it's likely we will all eventually become connected to it. Unless you contribute to helping us solve it. What's happening in diabetes should matter to everyone. Here's why:
Cases of diabetes have nearly quadrupled worldwide since 1980. More people than ever have diabetes. More people than ever are at risk of type 2 diabetes. More than 4.9 million people in the UK have diabetes. According to Diabetes UK if nothing changes, they predict that 5.5 million people will have diabetes in the UK by 2030.
There are three different types of diabetes, type 1 diabetes, type 2 diabetes and gestational diabetes each with different causes. Prediabetes is when you have unusually high levels of glucose in your blood, but you are not quite diabetic. Type 1 is where the body's immune system attacks and destroys the cells that produce insulin, so people with this form of the disease need insulin injections daily to stay alive. In type 2 diabetes, either the body doesn't produce enough insulin or cells develop resistance to insulin so that high blood sugar levels build up in the blood instead of being used for energy by the body's cells. Gestational diabetes is high blood sugar that develops at any time during pregnancy in a woman who does not already have diabetes. They are at an increased risk of complications during pregnancy and at delivery.
All types of diabetes share the common problem of how your body uses glucose, or blood sugar and has far-reaching consequences. Over time, high blood glucose levels can cause heart disease, heart attacks, stroke, blindness, blurred vision, kidney disease, nerve damage, blood vessel damage and lower limb amputation. It also takes a toll on mental health, causing depression and anxiety. People with diabetes often have other health problems and conditions, such as high cholesterol and high blood pressure. Almost 80% of the money the NHS spends on diabetes is on treating complications.
Good diabetes management can help prevent complications of diabetes and life-threatening situations such as diabetic ketoacidosis. The good news is that diabetes can be controlled with lifestyle changes such as more physical activity, weight loss, eating a balanced diet and medication. The bad news is that many people don't know they have it. According to Diabetes UK 850,000 people in the UK are currently living with type 2 diabetes but are yet to be diagnosed.
No one knows exactly why cases of diabetes are on the rise, but there are some theories. One is that we're living longer and as we age, our bodies become less able to process sugar properly. Another theory is that as our waistlines expand—the global obesity epidemic is a contributing factor—so does our risk of developing type 2 diabetes. Genetics is also a risk factor and may also play a role; if a family member has diabetes, you may be more likely to develop it yourself.
Whether or not you have diabetes, what happens in this disease affects us all. That's why it's important to stay informed about the latest research and developments regarding the treatment and prevention of this chronic condition.
New science without real science?
Though this may sound bizarre in the world of science, we know we're on the right track. Our latest, self-reported user survey shows that 67% of our users have started feeling more relaxed and confident about living with diabetes since using the Now Patient app. And perhaps more surprisingly some of them have reported experiencing fewer hypers and hypos (and on occasion, both) which is rare in our space.
With a problem that has existed for hundreds of years and many who are trying to tackle this using a data-centric approach, we think it's time to put the person with the diagnosis under the microscope.
The importance of data has been drilled into us from the very beginning. It is part of the evidence that we need to believe what we're seeing. But this means that one crucial factor has been blindsided especially when it comes to studying a chronic condition: the person living with it. This is what we're doing at Now Patient.
About Now Patient
Now Patient's online services are available in the US and UK. We help you manage your prescriptions, doctor appointments, test results, health risks, and a lot more, all in one place for FREE. If you are in the United States, you could enjoy savings using Now Patient's mail-order pharmacy or use the Now Patient Rx Advantage Card at over 65,000 pharmacies, with savings of up to 90% on popular FDA-approved brand and generic medications like Ozempic, Mounjaro, clopidogrel and lots more. We do not currently handle commercial insurance, Medicare or Medicaid. UK NHS and private prescriptions are delivered FREE of charge across England & Wales by our UK NHS online pharmacy.
Disclaimer
Now Patient has taken all reasonable steps to ensure that all material is factually accurate, complete, and current. However, the knowledge and experience of a qualified healthcare professional should always be sought after instead of using the information in this page. Before taking any drug, you should always speak to your doctor or another qualified healthcare provider.
The information provided here about medications is subject to change and is not meant to include all uses, precautions, warnings, directions, drug interactions, allergic reactions, or negative effects. The absence of warnings or other information for a particular medication does not imply that the medication or medication combination is appropriate for all patients or for all possible purposes.
WHY WE BUILT NOW PATIENT
To improve the lives of everyone by making high-quality care accessible and convenient
We are here to improve lives. Our service gives you access to smart features & resources that can help empower you to take control of your health and improve your health outcomes. All this, in one place, for FREE. We strive to bring a fresh perspective to managing health. Not play by the rules. Now Patient can be accessed by downloading the App or using your web browser.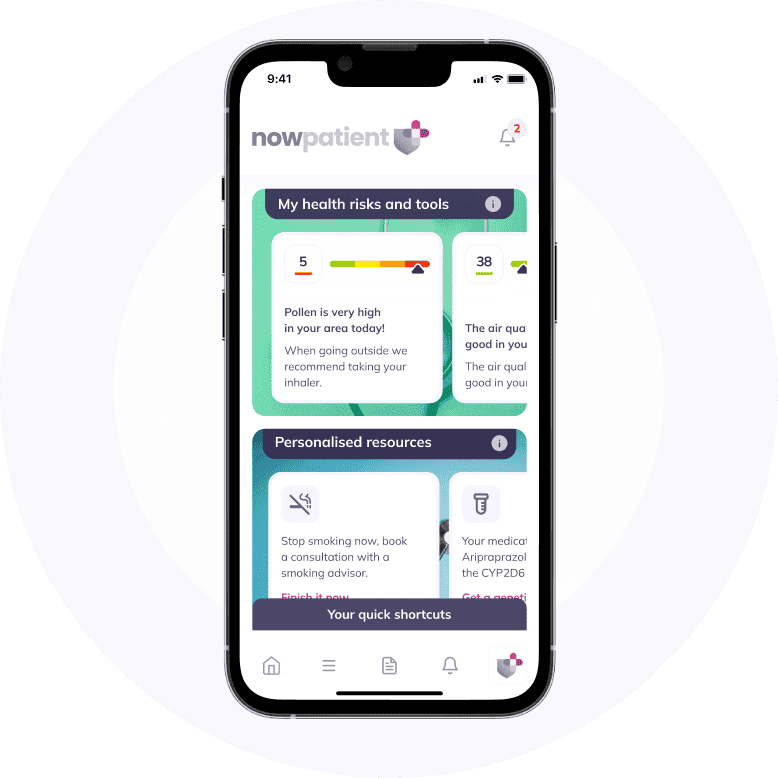 Your Questions Answered
For your peace of mind, we can answer your health questions quickly
If you want to learn more about the range of services that we provide which can help manage and improve your health, then just click the button below.
Find your answers