Pancreas versus human being: the big diabetes debate
An online pharmacy should be about more than just prescriptions.
NowPatient is here to improve lives. Our service gives you access to smart features and resources that can help empower you to take control of your health and improve your health outcomes. All this, in one place, for FREE.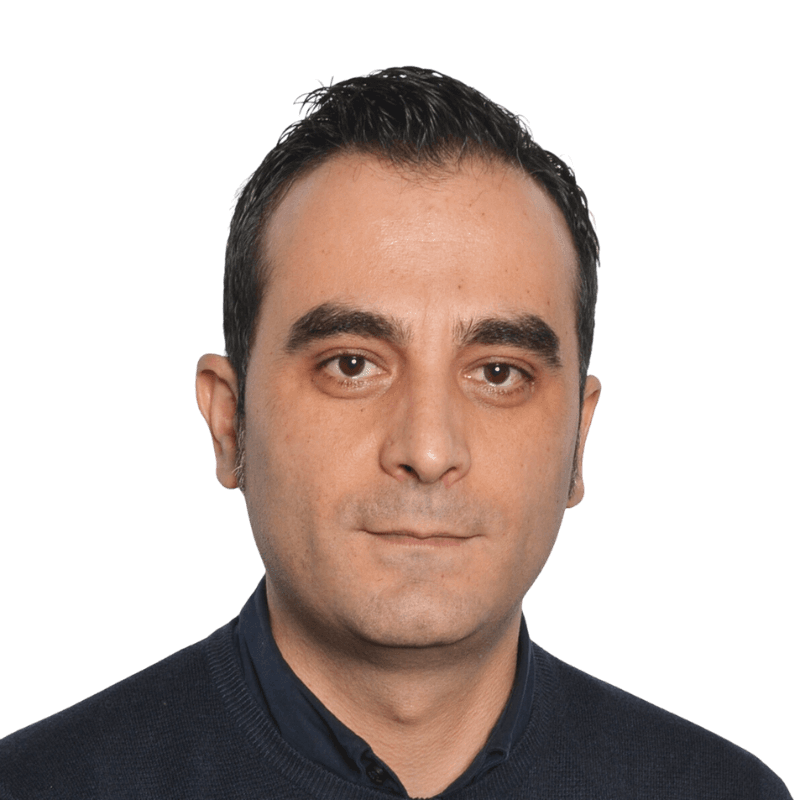 Table of contents
Overview
What is a Pancreas?
Our bodies react to food and to insulin in different ways at different times.
Today many healthcare provider companies and apps try to help people living with diabetes mellitus. These companies can follow one of two approaches: one focuses on the pancreas while the other looks at the entire person in addressing diabetes care. Here at NowPatient, we strive to learn from the pancreas approach, and we pay close attention to the science of the endocrine system, but in the end, we follow the second, human-first approach for helping people with diabetes.
What is a Pancreas?
The pancreas is a small, pear-shaped organ that sits behind the stomach. It has two main functions: producing enzymes that help digest food (endocrine pancreas) and producing hormones that help regulate blood sugar levels (exocrine pancreas). The pancreas has two main cell types with different cell functions: exocrine cells and endocrine cells. Exocrine cells comprise the vast majority of the pancreas and produce enzymes released into the small intestine to help break down food. Beta cells in the pancreatic tissue arranged in clusters with other pancreas cells are called the islets of Langerhans and produce hormones, such as insulin and glucagon, released into the bloodstream. Insulin is a hormone that helps to lower blood sugar levels, and glucagon is a hormone that helps to raise blood sugar levels. The pancreas also produces other hormones, such as somatostatin and pancreatic polypeptide, that play a role in digestion and in regulating appetite. The pancreas has a dual role in both the exocrine and endocrine systems.
Diabetes research and transplantation studies have shown that human islets containing alpha and beta cells have greater glucose-stimulated insulin secretion than clusters containing beta cells.
The driving idea behind the pancreas approach is pretty intuitive. Today the medical community defines type 1 diabetes as an autoimmune condition characterised by little or no insulin production in the human pancreas. In type 1 diabetes the immune system views the pancreatic beta cells (found in the pancreatic islet cells of the pancreas) as a foreign substance producing antibodies against it. Insulin is a hormone needed to turn sugar into energy. When the pancreas doesn't produce enough of it, the person has a high level of glucose, a type of sugar, in the bloodstream. This is type 1 diabetes in a nutshell: elevated levels of blood sugar caused by the pancreas not producing enough insulin hormone. On the other hand Type 2 diabetes is a condition of insulin resistance in which insulin secretion by the pancreatic β-cells is insufficient leading to hyperglycemia.
If the pancreas is not producing enough insulin then, with the pancreas-first approach, we need to somehow replace the work it does. The person with diabetes needs to act like a pancreas, or one needs software that knows what the pancreas knows, or one needs to create an artificial pancreas.
Probably the simplest way to follow the pancreas-first approach is for the person with diabetes to remember some basic medical recipes, for example, "take 1 unit of insulin for every 10 grams of sugar you eat". This is the sort of advice many people receive when they start taking insulin.  All they have to do then is count the carbohydrates they eat (or "carb count") and take the corresponding amount of insulin. A corner piece of lasagna has about 20 grams of carbohydrates, so one would need to take 2U of insulin.
If the pancreas-first approach were enough to help diabetic patients, NowPatient's diabetes app would have been a lot easier to build. In user interviews, many people with diabetes tell us that medical recipes are not easy to follow. Corner pieces of lasagna are not all created equal: some are larger; some are mostly meat; others have more vegetables. If you order lasagna at your favourite restaurant, do you really know how much carbohydrates it contains? Our users have a lot of experience guesstimating the number of carbs in their food, but they tell us mistakes are too easy to make. Little carb-counting mistakes can add up to be significant. There are apps out there that try to codify medical recipes and make carb counting more manageable. But they have a tough time giving personalised recommendations. Around 80 to 92 per cent of people who take insulin do not achieve stable blood glucose levels over time. This can lead to diabetic ketoacidosis and other serious complications. The pancreas-first and medical recipe approaches are clearly not working for many people.  This is the main trouble with pancreas-focused approaches to diabetes. Let's face it.
Our bodies react to food and to insulin in different ways at different times.
Formulas, rules and algorithms do not work well enough for everybody and across all situations in their life. If you are going through a stressful job interview, your body may react differently to a unit of insulin than if you are vacationing in the Bahamas or even taking a nap. Some of the factors that have been found to influence blood glucose are sleep, stress, weather, altitude, food, weight loss, walking, running and other exercises, obesity, menstruation, other health problems and travel, among others. If there is a medical formula here to tell people how much insulin to take, it is complicated and unknown. Medical scientists do not currently know how these factors interact to affect insulin and blood glucose.
A better approach zooms out from the pancreas to the entire human being in addressing diabetes. It is the approach we favour at NowPatient. The fact is that type 1 diabetes is a deficiency of insulin-producing cells in the pancreas and this is not something anybody should deny. At NowPatient, we simply think that the solution is not to replace the work done by the pancreas. Our thinking is that the solution is broader than that. We have learned from the pancreas' first approach that many factors control blood glucose and not all are a function of the endocrine system. The human-first approach takes into account all the relevant factors we mentioned: both inside and outside this system.
How can we use this variety of factors to help people decide how much insulin to take? The pancreas first approach has shown us that no medical formula, however complex, is likely to help different people facing different circumstances, but not all is lost. At NowPatient, we know that people who take insulin know their bodies best and that they are the best sources of information and guidance about how much insulin they ought to take. Who knows best how lasagna affects their blood glucose level? Well, you know best how it affects your body and I know best how it affects mine.
We gather our users' trial-and-error experiences in a collective body of data. The many trial-and-error experiments they conduct for themselves contain hard-won wisdom. Once again, we know from the pancreas-first approach that it is not feasible to codify their wisdom as a set of rules. But what if there was an app that used machine learning to help people take insulin? Unlike impersonal medical recipes and generic algorithms, these models are deeply personalized for each user's experience.
In sum, at Quin, our goal is to help people decide for themselves how much insulin to take and when to take it. We do it not with generic medical formulas but with machine learning models customised to the lived experience of each user.
Medical Disclaimer
NowPatient has taken all reasonable steps to ensure that all material is factually accurate, complete, and current. However, the knowledge and experience of a qualified healthcare professional should always be sought after instead of using the information in this page. Before taking any drug, you should always speak to your doctor or another qualified healthcare provider.
The information provided here about medications is subject to change and is not meant to include all uses, precautions, warnings, directions, drug interactions, allergic reactions, or negative effects. The absence of warnings or other information for a particular medication does not imply that the medication or medication combination is appropriate for all patients or for all possible purposes.
What is NowPatient
Telehealth and Online Pharmacy
NowPatient is a licensed online pharmacy and doctor service that is available around the world. Our service is FREE and packed with useful features that can benefit your health like medication reminders, medically approved symptoms checker, UK NHS online pharmacy, private treatment plans, Rx Advantage card, health conditions information, genetic testing, home test kits, health risks, pollen meter, air quality monitor, and lots more!
See how we are different
WHY WE BUILT NOWPATIENT
To improve the lives of everyone by making high-quality care accessible and convenient
We are here to improve lives. Our service gives you access to smart features and resources that can help empower you to take control of your health and improve your health outcomes. All this, in one place, for FREE. We strive to bring a fresh perspective to managing health. NowPatient can be accessed by downloading the App or using your web browser.
Download our app today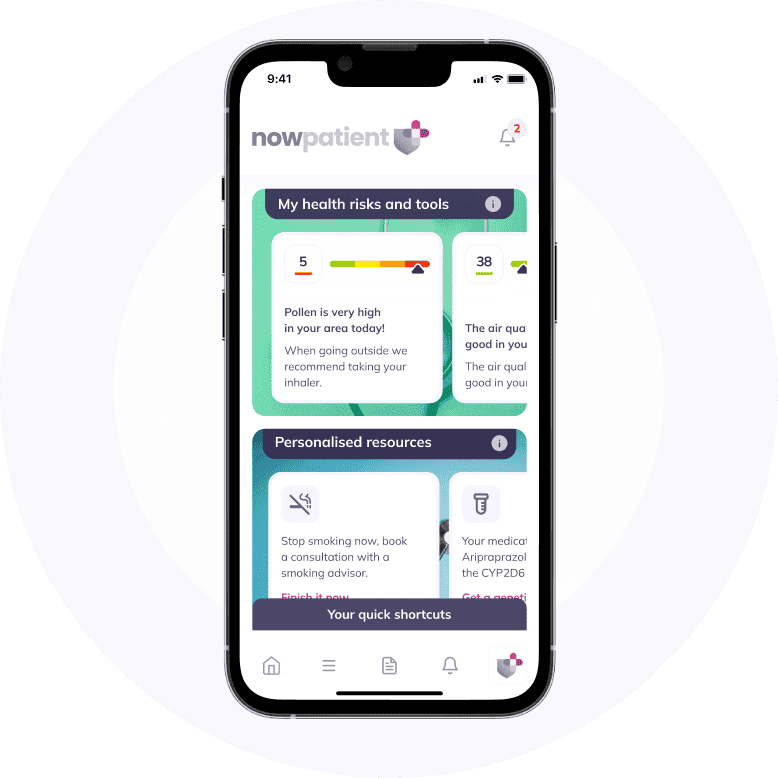 Can I trust NowPatient
Meet our medical review team
Trustworthy and reliable medical content authored and reviewed by our experienced team of medical professionals from the United Kingdom and the United States. Learn more about our team and our editorial process by clicking on the buttons below.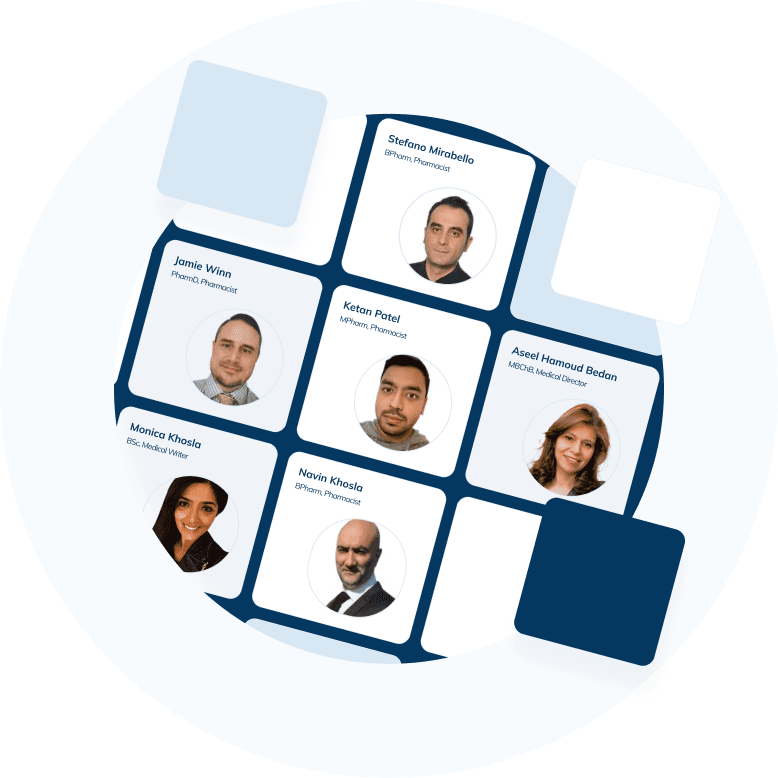 Your Questions Answered
For your peace of mind, we can answer your questions quickly
We have a comprehensive list of FAQ's on each feature page. Alternatively, for broader questions around our service just click the button below.
Find your answers