/
Blog
/
Navigating living with diabetes and needle phobia
Navigating living with diabetes and needle phobia
10 Jan 2023

Stefano Mirabello
Pharmacist / B.Pharm
Our guest blogger today is Francesca Austin. She shares her journey on what it is like navigating diabetes and needle phobia.
By Francesca Austin
I was diagnosed with type 1 diabetes on 28th January 2004 at 4 years old. 17 ½ years later, I am still in the process of navigating life with my illness as an uninvited passenger. I have severely struggled with my mental health, made worse by type 1 diabetes, like so many of us. Having this extra label and the hundreds of additional decisions we must make daily just to stay alive takes its toll for sure. Like so many of us diabetes patients, I also had a very traumatic diagnosis with nurses pinning me down to inject the unknown lifesaving liquid (commonly known as insulin!). Unfortunately for me, to add insult to injury, these early experiences shaped my phobia of needles. Personally, it's the unknown that terrifies me. Will it hurt? Will I be sick? What if I faint? Does it bruise badly? So many questions that I work myself up into hyperventilating. These worries meant I'd scream, wriggle and panic myself to try to get away but as so many of you know, having this diagnosis means we cannot avoid needles, we face them every single day – which is exhausting.
Acknowledging fear of needles and being open about it
Navigating my way through the years of having diabetes treatment and trying to control my blood glucose levels has been tiring, I was prescribed numbing cream and sprays to take some of the pain away but this never seemed to help me. The thought of puncturing my skin at the injection site and potentially hitting a nerve, blood vessel or lump was just too much to bear. Some days it would take nearly 2 hours to complete an injection/cannula change. As an adolescent, I found that people would comment during the routine school vaccines and blood tests that "I bet you are so used to this". "I bet you aren't even scared at all". Of course, these comments seem harmless but I was petrified. I felt I had to put on a front which made it worse. But since acknowledging this phobia and being open about it, I have interacted with so many other diabetics who are equally as scared of needles. This made me feel so much better and validation, that I wasn't the only one, I felt less like a fool for having a phobia of something that helps to keep me alive.
When you feel ready to take the brave step and be open about this phobia (and other phobias!), you develop an understanding that the majority of diabetics are also afraid, many people put a front on; but if you inform people, for example, a phlebotomist, they respect your wishes and make sure they do everything they can to ensure you are comfortable.
Talk to Your Doctor
If you're needle phobic, it's important to talk about your concerns to your doctor, diabetes educator or any other healthcare professional else involved in your diabetes care. They can help you come up with a diabetes management plan that minimises your exposure to needles. For example, they may prescribe an insulin pump instead of daily injections. Or, they may recommend using glucometers that use lancets instead of needles. Did you know that there are different sizes of insulin needles? If you're finding that the thought of injection needles is too much to handle, talk to your doctor about switching to a smaller size. The smaller the needle, the less pain you'll feel! Whatever the case may be, your doctor will be able to work with you to find a solution that meets your self-management needs. They can offer helpful tips and techniques for managing needle anxiety. In some cases, they may also be able to prescribe meds to help ease your anxiety.
Use Distraction Techniques
One of the best ways to manage needle anxiety is to distract yourself from the injection process. Try watching TV or reading a book while you carry out your insulin injections. You can also try deep breathing exercises or listening to relaxation tapes. The key is to find something that works for you and that helps take your mind off of the injection process.
Practice Makes Perfect
If you're really struggling with needle phobia, it might help to practice injections on an orange or another type of fruit before self-injecting. This can help you get used to the sensation of injecting without all of the anxiety that comes with it. Once you feel comfortable injecting fruit, you can move on to injecting yourself!
Create a Support System
Having a supportive network of friends, family and loved ones is essential when managing any chronic illness. Whether you're living with type 1 or type 2 diabetes and needle phobia, it can be helpful to have someone whom you can rely on for emotional support. This person can be a sounding board for your fears and concerns related to needles and can offer words of encouragement and support for your emotional well-being. In addition, they can also provide practical assistance, such as helping you measure your blood sugar levels or inject insulin if needed.
Tips on overcoming fear of needles
The most important thing is to figure out what works for you. Manoeuvre your way through diabetes and needle phobia. The following list is what works for me but please do remember we are all different:
Listening to music to distract myself
Not looking at the needle beforehand
Practising mindfulness
Meditation beforehand
Allowing someone else to assist and help me. This can help take the stress away from you as you are not in control
Seeking professional help
Asking my DSN (Diabetes Specialist Nurse) to trial the Medtronic iPort if on injections
Switching to a cannula device which hides the needles (I use the Medtronic Mio Advance cannulas)
Talking to the person taking blood or performing the injection and letting my healthcare team know I am afraid and the procedure could take some time
Even though I am 21 years old, my mum and boyfriend help me to change my cannulas as I am unable to insert them myself. There is no shame in this though. I need help. I cannot do this by myself and my support network is so brilliant that all they want to do is support me. It makes these experiences a little bit nicer (if possible!). This has helped to reduce the time changing cannulas from 2 hours + to just under 5 minutes. I still flinch sometimes. Replacing those negative thoughts of "It's going to hurt" etc "This will only take a couple of seconds and I can then go" have been beneficial to me. Having help does not mean you are failing! It means you are brave to trust someone else to help keep you alive!
The importance of making progress
To this day I can accidentally look at the needle going in and vomit/faint in a blood test – it happened a couple of months ago! But these occurrences are much less than what they have been previously! This is what progress is: the solution does not arrive straight away!
I believe it's about finding solutions to these problems which can include performing these tasks in a different way. We are all unique for a reason! My mum will always come with me to my clinic appointments especially when a blood test is involved. It's something I can't and won't manage by myself. We just all need support wherever and whenever we can get it!
If you have questions and want to chat with someone living with diabetes that has a needle phobia, please reach out on Instagram, I am always happy to help!
Let's carry on the conversation, follow Now Patient on Instagram, Twitter, and Facebook.
About Now Patient
Now Patient's online services are available in the US and UK. We help you manage your prescriptions, doctor appointments, test results, health risks, and a lot more, all in one place for FREE. If you are in the United States, you could enjoy savings using Now Patient's mail-order pharmacy or use the Now Patient Rx Advantage Card at over 65,000 pharmacies, with savings of up to 90% on popular FDA-approved brand and generic medications like Ozempic, Mounjaro, clopidogrel and lots more. We do not currently handle commercial insurance, Medicare or Medicaid. UK NHS and private prescriptions are delivered FREE of charge across England & Wales by our UK NHS online pharmacy.
Disclaimer
Now Patient has taken all reasonable steps to ensure that all material is factually accurate, complete, and current. However, the knowledge and experience of a qualified healthcare professional should always be sought after instead of using the information in this page. Before taking any drug, you should always speak to your doctor or another qualified healthcare provider.
The information provided here about medications is subject to change and is not meant to include all uses, precautions, warnings, directions, drug interactions, allergic reactions, or negative effects. The absence of warnings or other information for a particular medication does not imply that the medication or medication combination is appropriate for all patients or for all possible purposes.
WHY WE BUILT NOW PATIENT
To improve the lives of everyone by making high-quality care accessible and convenient
We are here to improve lives. Our service gives you access to smart features & resources that can help empower you to take control of your health and improve your health outcomes. All this, in one place, for FREE. We strive to bring a fresh perspective to managing health. Not play by the rules. Now Patient can be accessed by downloading the App or using your web browser.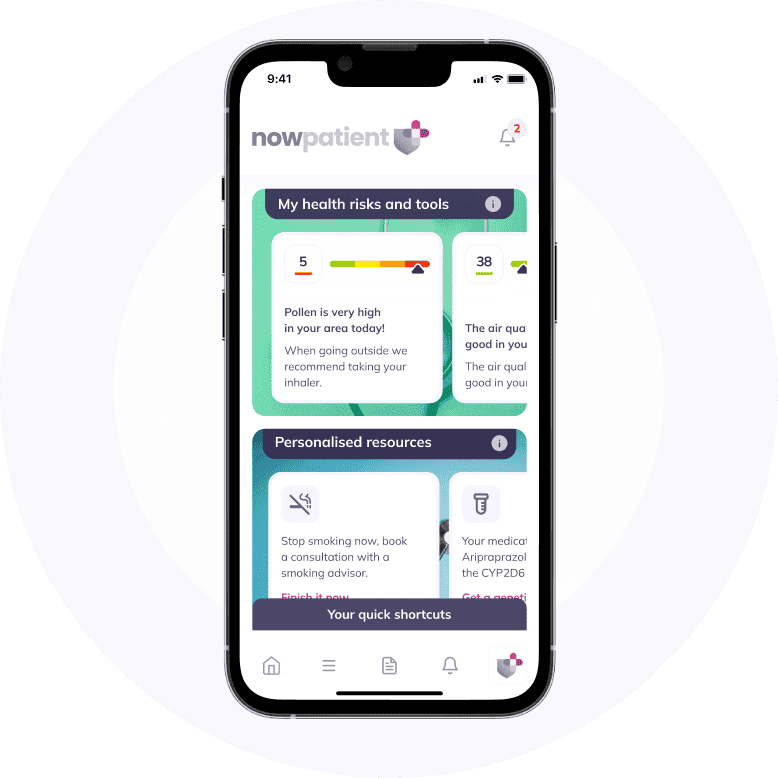 Your Questions Answered
For your peace of mind, we can answer your health questions quickly
If you want to learn more about the range of services that we provide which can help manage and improve your health, then just click the button below.
Find your answers