/
Blog
/
The projected future of diabetes in numbers
The projected future of diabetes in numbers
10 Jan 2023

Stefano Mirabello
Pharmacist / B.Pharm
Today, the number of new cases of Type 1 diabetes is increasing worldwide by between 2-5% per year. If this trend continues the prevalence of diabetes will double in the next 20 years. The Centers for Disease Control and Prevention (CDC) in the USA estimates that 10.5% of the population in the US have diabetes, 90–95% of which have type 2 diabetes. Almost 90 million people in the US 18 years of age or older are thought to have prediabetes. This is just over 34% of the US adult population. Projected numbers and estimates of diabetes based on age, sex and ethnicity are essential to predict health services needs, the cost of diabetes and planning public health programs aimed to reduce the future burden of diabetes.
Currently, it is estimated that the number of people living with type 1 diabetes worldwide is 40 million. According to the National Health Service (NHS) around 19% of people achieve the recommended NICE target for average blood glucose levels in England and Wales. This drops significantly to about 8% when focusing on the WHO-recommended treatment target of <48mmol. It is important to understand that these population projections and population health metrics are for cases of diagnosed diabetes and do not include undiagnosed diabetes, or prediabetes.
The power of technology
At Now Patient, we believe there are many risk factors that affect someone's blood glucose. By harnessing the power and data collected by someone's smartphone we believe we can take more factors into consideration and surface and match these to the user's current situation allowing them to make more informed decisions and lifestyle interventions.
Technology moves forward at a fast pace. Smartphones, wearables and their apps are becoming more and more used in the health space as data sources and tools to understand the epidemiology of this disease. They are also increasingly being employed in diabetes management, from smart pens, insulin pumps CGM and now the emerging and evolving artificial pancreas closed loop pump systems.
Diabetes patients rarely spend more than a total number of two to three hours per year with a healthcare professional for their diabetes care. For the remaining 8,757 hours, the diabetes population must manage their chronic disease themselves. They need the knowledge and skills to do this. This is where technology comes into play.
Diabetes providers should annually provide the adult population demographic with diabetes in the 12 years and over age group with all of the eight NICE recommended healthcare system processes:
1. HbA1c (blood test for glucose control)
2. Blood Pressure (measurement for cardiovascular disease risk)
3. Serum Cholesterol (blood test for cardiovascular risk)
7. Body Mass Index (measurement for cardiovascular risk/obesity/physical activity)
4. Serum Creatinine (blood test for kidney function)
8. Smoking History (question for cardiovascular risk)
5. Urine Albumin/Creatinine Ratio (urine test for risk of kidney disease)
6. Foot Risk Surveillance (examination for foot ulcer risk)
Fewer people with Type 1 than those with Type 2 diabetes mellitus and other diabetes receive their annual checks.
Super smart phones
The vast majority of us carry a smartphone these days. We use them to set reminders, manage our calendars, play games, browse the web and a whole host of things on top of making calls. The computational power of a smartphone generally goes untapped though. In the '80s, supercomputers such as the Cray-2 which took up an entire room were used by organisations like NASA to run simulations of experimental aircraft flights etc. In comparison, today's smartphones outperform those supercomputers on most benchmarks.
The current implementations of this Artificial Pancreas make decisions based on one-off measures (blood glucose) and attempt to adjust the amount of insulin or alert the user to take a hypo treatment. We believe there are more high-risk factors that could be taken into consideration and used to help people make more informed decisions based on their increased risk.
Imagine if that tiny supercomputer in your pocket was continuously learning about you, and what most affects you at any moment. What if you could glance at it at any time and find out what was happening?
We're on our way
We're building an app that does just that. In collaboration with our beta users, we are continuously developing, learning and releasing features to achieve this goal. Our aim is that by continuously learning what affects a user most and by adapting to the current circumstance, our app will allow the user to see past situations that are similar to their current situation, what they did and what the outcomes were. This will enable them to make better-informed decisions in the now with a few simple taps.
About Now Patient
Now Patient's online services are available in the US and UK. We help you manage your prescriptions, doctor appointments, test results, health risks and a lot more, all in one place for FREE. US prescriptions are available on a discounted 'cash' basis and delivered across all 50 states by our network of pharmacy providers dispensing FDA-approved generic and branded medications. We do not currently handle commercial insurance, Medicare or Medicaid. UK NHS and private prescriptions are delivered FREE of charge across England & Wales by our UK regulated online pharmacy.
Disclaimer
Now Patient has taken all reasonable steps to ensure that all material is factually accurate, complete, and current. However, the knowledge and experience of a qualified healthcare professional should always be sought after instead of using the information in this page. Before taking any drug, you should always speak to your doctor or another qualified healthcare provider.
The information provided here about medications is subject to change and is not meant to include all uses, precautions, warnings, directions, drug interactions, allergic reactions, or negative effects. The absence of warnings or other information for a particular medication does not imply that the medication or medication combination is appropriate for all patients or for all possible purposes.
WHY WE BUILT NOW PATIENT
To improve the lives of everyone by making high-quality care accessible and convenient
As technologists and clinicians, we built Now Patient to be more than just an online pharmacy. We are here to improve lives. Our service gives you access to smart features & resources that can help empower you to take control of your health and improve your health outcomes. All this, in one place, for FREE. We strive to bring a fresh perspective to managing health. Not play by the rules. Now Patient can be accessed by downloading the App or using your web browser.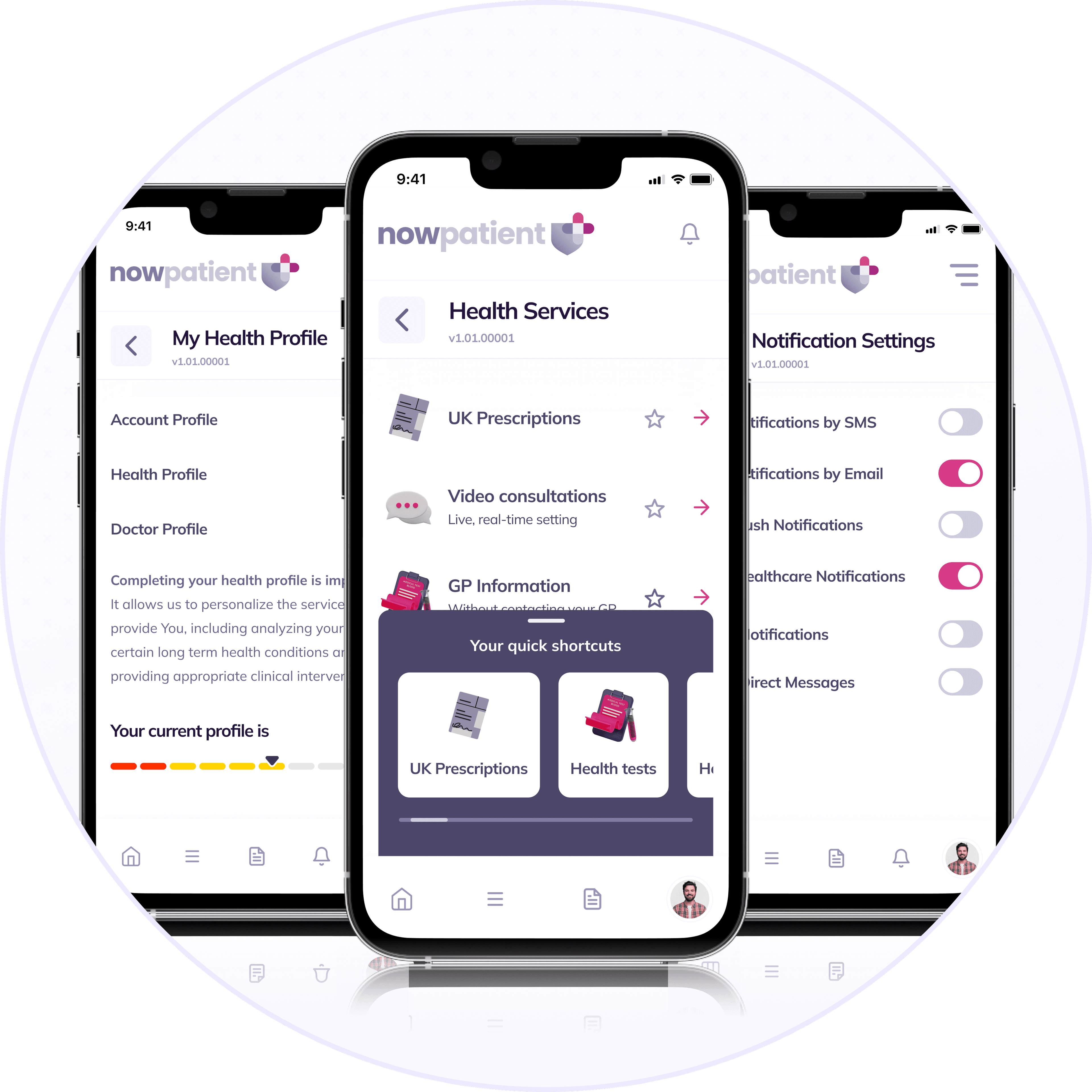 NOW PATIENT
Join the thousands of happy customers in the US and UK already using Now Patient
Manage your health and prescriptions all in one place for FREE. Available to use by downloading the App, or using your web browser.
Your Questions Answered
For your peace of mind, we can answer your health questions quickly
If you want to learn more about the range of services that we provide which can help manage and improve your health, then just click the button below.
Find your answers