Stefano Mirabello
Pharmacist / B.Pharm
There's no doubt that artificial intelligence (AI) is one of the hottest topics in healthcare today. Some researchers believe that AI holds great promise for improving diabetes management. AI-powered devices such as continuous glucose monitors (CGMs) and insulin pumps, help people to manage their diabetes and help reduce high blood sugar levels. AI could also be used to predict which patients are at higher risk of developing complications such as diabetic ketoacidosis or low blood sugar (hypoglycemia) events. AI could help with diabetes care by reminding patients to check their blood glucose levels, take their diabetes treatment, do physical activity, meal plans, healthy eating and other lifestyle changes. While these applications are still in the early stages of development, they hold great potential for helping people with better self-management of their condition and avoiding serious diabetes complications.
However, if humans don't know how to solve a problem, no artificial intelligence can magically create the missing knowledge to solve it for us. We have driverless cars because we know how to drive cars. Computers are world chess champions because we know how to play chess. We have factory robots because we know how to do their jobs.
If only we could say the same about treating diabetes.
Why AI won't solve a chronic disease like diabetes
There are several reasons why artificial intelligence and machine learning won't be able to solve the diabetes epidemic. First, AI relies on large data sets to learn and improve. But when it comes to diabetes, we simply don't have enough data. In order to develop an AI model that can accurately predict which patients will develop diabetes, we need data on patients' lifestyle habits, genetic predisposition, and other health conditions such as heart disease, kidney disease and more. And even if we had this data, it would be nearly impossible to get all of it into a format that AI could understand. The volume of data that's required to train AI algorithms is staggering. In order to build an AI system that can accurately predict outcomes for individual patients, we would need billions of data points. That's a lot of data! While we are quickly amassing more and more patient data, we're not there yet.
AI systems are only as good as the data they're given and right now, our data isn't perfect. There are often gaps in the data sets or inaccuracies that can lead to inaccurate predictions by the AI system. That's why AI always needs a human in the loop to review and interpret the results. And as long as that's the case, AI won't be able to replace humans as healthcare providers anytime soon.
AI is only as good as the humans who design and train it. And when it comes to healthcare, there's a lot we still don't understand about the disease process. For example, we don't know why some people with prediabetes never progress to type 2 diabetes while others do. This lack of understanding makes it difficult to create an AI model that can accurately predict which patients will develop the disease.
AI model
Finally, even if we were able to develop an AI model that could accurately predict which patients would develop diabetes, we still wouldn't be able to prevent or cure the disease. That's because there is no single cause of type 1 diabetes or type 2 diabetes – it is a multi-factorial disease affected by a patient's genetic makeup, lifestyle choices, and environmental factors. Even with all of the advances in AI, we are still years away from having a technology that can identify all of these diabetes risk factors and develop individualised treatment plans for each diabetes patient.
No doctor can give us the formula to calculate how much is enough insulin to take in any given situation. Ditto how much food to eat, how many carbs (carbohydrates) to consume, how much activity to do, how much weight loss is required to prevent obesity and so on. Each of us figures it out as we go, and for most of us, it's different every day. I think we'd all like a robot to take this job, but unfortunately, until human beings know more about how to treat diabetes, we will not get one. I wrote about this in my post about the artificial pancreas a few months ago.
Investors often challenge me: "surely big data like WatsonHealth will eventually solve diabetes with AI?" I so wish that were true. But since no one understands diabetes, no one really knows what data would be needed to create and teach AI to solve diabetes. And the likelihood that the answer happens to be in that data — no matter how big — is nil. In fact, I have a sizeable set of my own diabetes data from the past 23 years, and even as a specialist in AI and robotics, it's no help to me in figuring out how much insulin I need to take.
But the good news is there's a massive body of diabetes knowledge and data that humans (and therefore AI) have yet to explore: the expertise of everyone living with diabetes. All the little tips, tricks, and rules of thumb you come up with every day to keep yourself going (your heuristics). Capturing the data to formalise this knowledge gives us a perfect shot at creating and teaching AI to solve diabetes. It can be done. We just have to start with the right understanding.
Artificial intelligence has been touted as a panacea for many of healthcare's ills, but when it comes to diabetes, AI simply isn't up to the task yet. We need more data on patients with diabetes in order to train AI models effectively, and even then, AI would only be able to predict which patients will develop the disease – not prevent or cure it. In the meantime, we need to focus on proven methods for preventing and treating type 2 diabetes such as lifestyle modification and early detection/treatment of prediabetes.
About Now Patient
Now Patient's online services are available in the US and UK. We help you manage your prescriptions, doctor appointments, test results, health risks and a lot more, all in one place for FREE. US prescriptions are available on a discounted 'cash' basis and delivered across all 50 states by our network of pharmacy providers dispensing FDA-approved generic and branded medications. We do not currently handle commercial insurance, Medicare or Medicaid. UK NHS and private prescriptions are delivered FREE of charge across England & Wales by our UK regulated online pharmacy.
Disclaimer
Now Patient has taken all reasonable steps to ensure that all material is factually accurate, complete, and current. However, the knowledge and experience of a qualified healthcare professional should always be sought after instead of using the information in this page. Before taking any drug, you should always speak to your doctor or another qualified healthcare provider.
The information provided here about medications is subject to change and is not meant to include all uses, precautions, warnings, directions, drug interactions, allergic reactions, or negative effects. The absence of warnings or other information for a particular medication does not imply that the medication or medication combination is appropriate for all patients or for all possible purposes.
WHY WE BUILT NOW PATIENT
To improve the lives of everyone by making high-quality care accessible and convenient
As technologists and clinicians, we built Now Patient to be more than just an online pharmacy. We are here to improve lives. Our service gives you access to smart features & resources that can help empower you to take control of your health and improve your health outcomes. All this, in one place, for FREE. We strive to bring a fresh perspective to managing health. Not play by the rules. Now Patient can be accessed by downloading the App or using your web browser.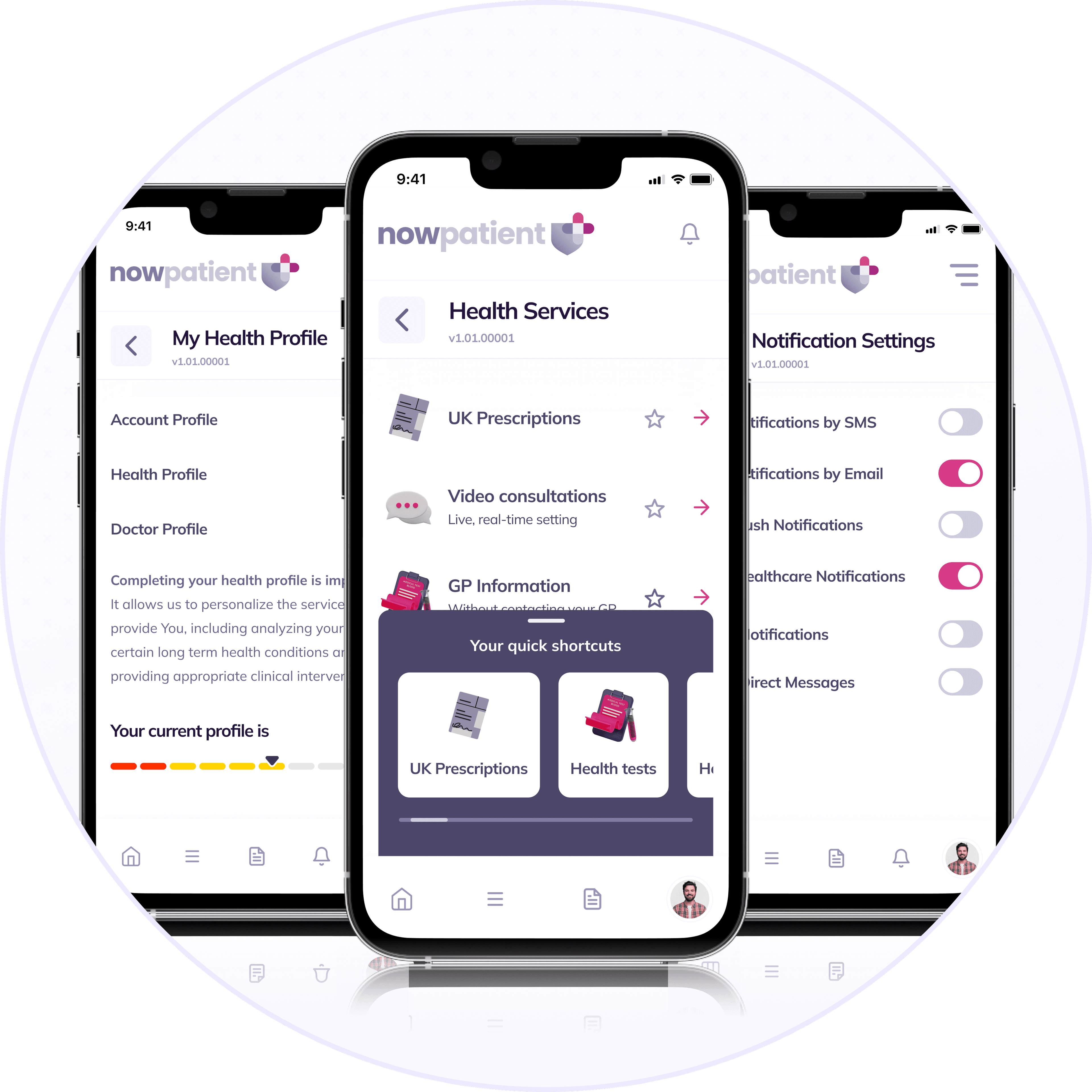 NOW PATIENT
Join the thousands of happy customers in the US and UK already using Now Patient
Manage your health and prescriptions all in one place for FREE. Available to use by downloading the App, or using your web browser.
Your Questions Answered
For your peace of mind, we can answer your health questions quickly
If you want to learn more about the range of services that we provide which can help manage and improve your health, then just click the button below.
Find your answers