Stefano Mirabello
Pharmacist / B.Pharm
Stoptober is an annual campaign by Public Health England that encourages thousands of people to join the 2.3 million people who have made quit attempts since the campaign's launch 10 years ago. Stoptober is a 28-day stop smoking challenge. For free support to quit, search 'Stoptober'.
Can you reverse the effects of smoking if you stop at a certain age?
We all know smoking isn't good for us, but every cigarette you smoke is harmful and does damage to your body.
It takes its toll on your lungs, your heart and blood vessels, and even your skin. Some of this damage is permanent, but you can reverse some of the effects. Whenever you decide to stop, your general well-being should start to pick up very quickly.
Taste and smell disappear when smoking, but within 48 hours of stopping smoking your senses should start to return and you'll be able to enjoy the taste of food. Smoking has a huge effect on your lungs, causing coughs, colds, wheezing and lung damage, but within 72 hours your lung capacity should improve and any mucus coughs should subside.
The appearance of your skin and teeth will improve. Smoking reduces the amount of oxygen that gets to your skin, making your skin look grey and dull and age faster than a non-smoker. Stopping smoking improves your circulation and gradually your skin tone will brighten again.
Your fertility levels will improve, along with your chances of having a healthy pregnancy and baby.
And not to forget. Your chance of having a stroke reduces by 50% within two years of stopping smoking.
How many years can stopping smoking add to my life?
Smoking generally reduces your life expectancy by about 10 years. It usually depends on the individual and other health factors you may have such as diet, weight, stress etc.
However, quitting at any age has been proven to reduce health risks and increase life expectancy. Quitting smoking by the age of 30 remarkably means your life expectancy will be identical to people who have never smoked.
Quitting at 40 has been shown to reduce the risk of smoking-related death by 90 per cent. People who stopped smoking at 45 to 54 years of age gained about six years of life, compared with those who continued smoking. Those who quit at 55 to 64 can look to gain about four years of life.
What is the biggest risk of smoking?
Around 100,000 people per year die from smoking-related illnesses. There are about 50 serious health risks associated with smoking but cancer and particularly lung cancers are the biggest risks. Smoking causes about 90% of all lung cancers.
If you smoke tobacco, your risk of catching a respiratory infection and having severe symptoms is higher. This is especially important with the coronavirus.
Can having an "occasional" cigarette be just as damaging as full-time smoking?
Nicotine is addictive, so remember one occasional cigarette can sometimes become more frequent and that's when the real health problems can start.
Each cigarette you inhale, no matter how infrequently is still causing damage to your skin, lungs and brain, but on a lesser scale than those who smoke regularly.
How do you recommend stopping smoking?
There are many ways to stop smoking. You don't have to do it through sheer will power on your own. There's a lot of information on the internet, or you could speak to your pharmacist or doctor if you're still not sure, need stop smoking advice or just need that little bit of extra support.
The Stoptober app is available on the App Store and Google Play. The Stoptober campaign offers a range of free quitting tools including the NHS Quit Smoking app, Facebook messenger bot, Stoptober Facebook online communities, daily emails and SMS and an online Personal Quit Plan. The Personal Quit Plan will help you find a combination of support that's right for you, including expert support from local stop smoking services and stop smoking aids.
There are lots of stop smoking support groups available too, including NHS support groups that people have great success with. You can get daily emails for daily support to help motivate you. Quitting with others can be a great way to give you that extra bit of support when the cravings hit.
Stop smoking aids will help you manage nicotine cravings and other tobacco withdrawal symptoms. Stop smoking aids include nicotine replacement therapies (NRT) such as patches, inhalers or lozenges, prescription tablets and e-cigarettes. Champix medication is available from either the local community pharmacy service or through your GP.
If you still feel like you need further advice call the free National Smokefree Helpline on 0300 123 1044 (England only) or call the British Lung Foundation helpline on 03000 030 555 and talk to a trained adviser for advice and support.
Remember, if you don't succeed with one method, try another. Read more on the NHS smoke-free website section.
About Now Patient
Now Patient's online services are available in the US and UK. We help you manage your prescriptions, doctor appointments, test results, health risks, and a lot more, all in one place for FREE. If you are in the United States, you could enjoy savings using Now Patient's mail-order pharmacy or use the Now Patient Rx Advantage Card at over 65,000 pharmacies, with savings of up to 90% on popular FDA-approved brand and generic medications like Ozempic, Mounjaro, clopidogrel and lots more. We do not currently handle commercial insurance, Medicare or Medicaid. UK NHS and private prescriptions are delivered FREE of charge across England & Wales by our UK NHS online pharmacy.
Sources
Disclaimer
Now Patient has taken all reasonable steps to ensure that all material is factually accurate, complete, and current. However, the knowledge and experience of a qualified healthcare professional should always be sought after instead of using the information in this page. Before taking any drug, you should always speak to your doctor or another qualified healthcare provider.
The information provided here about medications is subject to change and is not meant to include all uses, precautions, warnings, directions, drug interactions, allergic reactions, or negative effects. The absence of warnings or other information for a particular medication does not imply that the medication or medication combination is appropriate for all patients or for all possible purposes.
WHY WE BUILT NOW PATIENT
To improve the lives of everyone by making high-quality care accessible and convenient
We are here to improve lives. Our service gives you access to smart features & resources that can help empower you to take control of your health and improve your health outcomes. All this, in one place, for FREE. We strive to bring a fresh perspective to managing health. Not play by the rules. Now Patient can be accessed by downloading the App or using your web browser.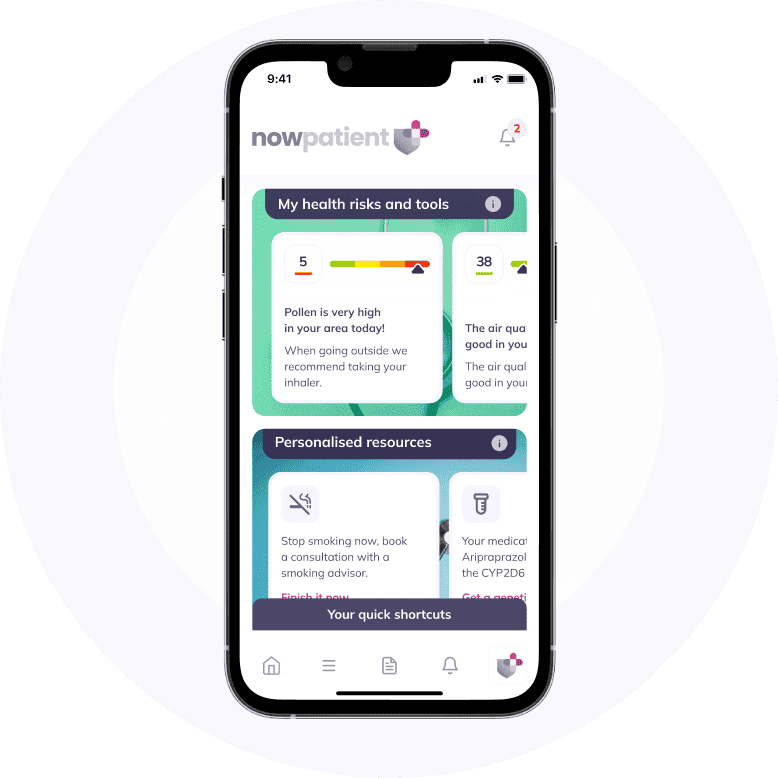 Your Questions Answered
For your peace of mind, we can answer your health questions quickly
If you want to learn more about the range of services that we provide which can help manage and improve your health, then just click the button below.
Find your answers