Stefano Mirabello
Pharmacist / B.Pharm
Image source: Canva – How to Survive Christmas
The Christmas period is here, but it's not just Christmas Day, it's the holiday season run-up to Christmas, it's Christmas Eve, Boxing Day and the New Year festive season. It's a time for family Christmas parties, Christmas presents, spending time with your loved ones and work do's. It's the time of year when you have to see the in law's, but let's not let that spoil your perfect Christmas. Here's some top tips on surviving Christmas.
Having a bit of a binge on the big day is one thing, but drinking over the whole holiday is another. Alcohol might make you feel more relaxed, but it is also a depressant and can cause low mood, irritability or even aggressive behaviour. Drinking consistently over long periods of time can

affect your body and health

. Take care of yourself and give yourself some time before having another drink, so it gives your body and especially your liver time to recover
Christmas can be a difficult time for a lot of people. A lot of people may be spending the festive period on their own. It can be a time full of anxiety, and with the winter season you may be suffering with seasonal affective disorder (SAD). So, unless you really want to spend Christmas on your own, you can still do something about it. Say yes to that invite, whether it's from a family member, a friend or a neighbour. It's a difficult time for a lot of people, especially those with

mental health

issues. Somebody you

know may need

you more than you think
If you are spending Christmas on your own then it's a perfect time to help others. Instead of scrolling through pages of social media and feeling sorry for yourself, volunteer. It's a fantastic way to bring some joy to people who are less fortunate than yourself and you'll feel appreciated. You could help at a soup kitchen, food bank, a children's hospital, or visit residents at a nursing home. Your local church, community organisation or council should be able to point you in the right direction
The festive period can be a stressful time, with work, kids, parties, presents to buy, money issues and everything else you try to cram into the week before Christmas. Start early, plan ahead and spread the cost of Christmas and presents you need to buy. Shop online, avoid those long queues, there's an app for pretty much everything now. It will save you time, and you don't even have to leave the comfort of your own home
If you're lucky enough to be the one cooking Christmas dinner, don't take it all on yourself. I'm pretty sure even Nigella gets the family to muck in. How else could she look so great all the time. Ask other family members to bring different parts of the meal. Maybe a dish each. Or draw straws to delegate tasks in the kitchen and get your family to set the dinner table. Buy ready made stuffing, Yorkshires or puddings. It's only cheating if they find out
It's true what they say, every family always has one. Someone who is guaranteed to go and spoil it for everyone. It wouldn't be Christmas though without everyone would it. Christmas can be a time of dread, with relatives getting argumentative. But no family is perfect and things will be said that you don't like. Try to keep clear of certain topics of conversation, maybe have secret Santa planned or board games to keep everyone occupied, and go easy on the drink. If you do get a bit stressed, take a few long slow deep breaths, or lock yourself in the loo, it's a great place for a time out
One last thing to remember this Christmas, if you haven't already. Get your jabs, and Enjoy!
About Now Patient
Now Patient's online services are available in the US and UK. We help you manage your prescriptions, doctor appointments, test results, health risks, and a lot more, all in one place for FREE. If you are in the United States, you could enjoy savings using Now Patient's mail-order pharmacy or use the Now Patient Rx Advantage Card at over 65,000 pharmacies, with savings of up to 90% on popular FDA-approved brand and generic medications like Ozempic, Mounjaro, clopidogrel and lots more. We do not currently handle commercial insurance, Medicare or Medicaid. UK NHS and private prescriptions are delivered FREE of charge across England & Wales by our UK NHS online pharmacy.
Sources
Disclaimer
Now Patient has taken all reasonable steps to ensure that all material is factually accurate, complete, and current. However, the knowledge and experience of a qualified healthcare professional should always be sought after instead of using the information in this page. Before taking any drug, you should always speak to your doctor or another qualified healthcare provider.
The information provided here about medications is subject to change and is not meant to include all uses, precautions, warnings, directions, drug interactions, allergic reactions, or negative effects. The absence of warnings or other information for a particular medication does not imply that the medication or medication combination is appropriate for all patients or for all possible purposes.
WHY WE BUILT NOW PATIENT
To improve the lives of everyone by making high-quality care accessible and convenient
We are here to improve lives. Our service gives you access to smart features & resources that can help empower you to take control of your health and improve your health outcomes. All this, in one place, for FREE. We strive to bring a fresh perspective to managing health. Not play by the rules. Now Patient can be accessed by downloading the App or using your web browser.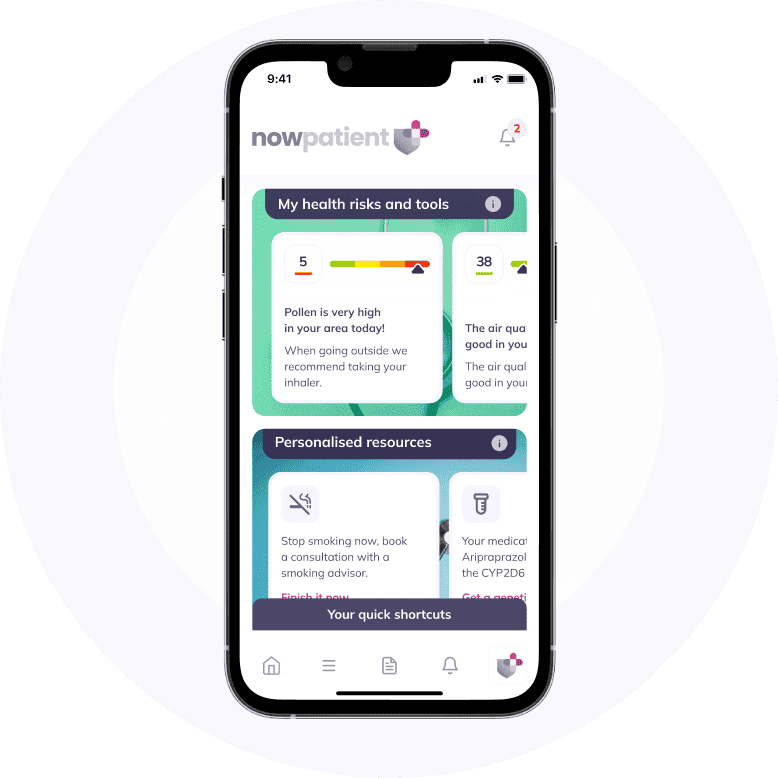 Your Questions Answered
For your peace of mind, we can answer your health questions quickly
If you want to learn more about the range of services that we provide which can help manage and improve your health, then just click the button below.
Find your answers