/
Blog
/
Looking after your mental health during the coronavirus pandemic
Looking after your mental health during the coronavirus pandemic
22 Apr 2020

Stefano Mirabello
Pharmacist / B.Pharm
The coronavirus pandemic has been a difficult time for most people. Whilst some people may have coped with lockdowns and the uncertainties of life, this isn't true for everyone.
You may be worried or anxious about money or your job, your health or the health of your loved ones. You may feel bored, frustrated or lonely if you're self-isolating. If you already have an existing mental health condition, such as anxiety, depression or post-traumatic stress disorder, or other mental health problems, this might be a particularly difficult time.
Looking after your mental health as well as your physical health is really important and there are things you can do to help with your mental wellbeing. Here, we'll discuss some things you can try, to help improve how you're feeling.
What can I do to improve my mental health?
If you are worried about work and money speak to your employer to understand your sick pay and benefits rights. Knowing the details about what the coronavirus outbreak means for you can help reduce worry
Staying connected to friends or family members is important for your mental wellbeing, whether it be by phone calls, text messaging, video calls, skype or social media
Build physical activity into your daily routine, as physical health affects how you feel. Try to have a healthy, well-balanced diet, drink enough water and exercise regularly. If you are staying indoors, try an easy 10-minute home workout
Always use trustworthy news sources such as GOV.UK or the NHS website, and fact-check information from the news, social media or other people about the Covid 19 outbreak. This way you'll know that the information you're receiving is reliable
If you are self-isolating make an effort to focus on your favourite hobby if it's something you can still do at home, or try something new. Meditation, yoga, tai chi or activities that make you feel relaxed and improve your mental health. Listening to relaxing music, having technology-free breaks (especially from social media), taking a hot bubble bath or just introducing periods of time just for you to be can help
Try to get a good night's sleep. Good-quality sleep will make a big difference in how you feel, so it's important to get enough
Make your home environment as light and airy as possible, sit near windows when you're indoors and take plenty of outdoor exercise in natural light
Cognitive behavioural therapy (CBT) can be beneficial. The right therapy can help you curb negative thoughts, attitudes, and behaviours. For many people, CBT can be as effective at treating as antidepressants
Talk therapy, which is also known as psychotherapy, is what mental healthcare professionals use to communicate with their patients. The purpose of talk therapy is to help people recognise the issues that cause emotional distress. Join a support group for depression. Sometimes, just talking about your feelings and going through self-help and self-care techniques can help you feel better
Consider natural remedies, but always check with your Doctor or Pharmacist before taking any natural remedies. Some remedies can interfere with prescription medication or cause complications to exist medical conditions. Melatonin supplements may help you regulate your sleep pattern if it has been disturbed. Also, there is some evidence that St. John's wort may help alleviate mild depressive symptoms
Further support and advice
There are many places to get help and support if you are struggling with your mental health. The NHS mental health and wellbeing advice pages on stress, anxiety, sleep and low mood have lots more tips and specific advice. If you are a parent or a key worker working with young people, Young Minds has guidance on talking to your child about coronavirus.
As the Mental Health Foundation says, "Infectious disease outbreaks, like the covid 19 pandemic, can be scary and affect our mental health. While it is important to stay informed, there are many things we can do to manage our wellbeing.
To help build resilience and maintain good wellbeing, there's a range of resources for everyone at Every Mind Matters, or for mental health support services during this time you can contact the following organisations:
About Now Patient
Now Patient's online services are available in the US and UK. We help you manage your prescriptions, doctor appointments, test results, health risks, and a lot more, all in one place for FREE. If you are in the United States, you could enjoy savings using Now Patient's mail-order pharmacy or use the Now Patient Rx Advantage Card at over 65,000 pharmacies, with savings of up to 90% on popular FDA-approved brand and generic medications like Ozempic, Mounjaro, clopidogrel and lots more. We do not currently handle commercial insurance, Medicare or Medicaid. UK NHS and private prescriptions are delivered FREE of charge across England & Wales by our UK NHS online pharmacy.
Disclaimer
Now Patient has taken all reasonable steps to ensure that all material is factually accurate, complete, and current. However, the knowledge and experience of a qualified healthcare professional should always be sought after instead of using the information in this page. Before taking any drug, you should always speak to your doctor or another qualified healthcare provider.
The information provided here about medications is subject to change and is not meant to include all uses, precautions, warnings, directions, drug interactions, allergic reactions, or negative effects. The absence of warnings or other information for a particular medication does not imply that the medication or medication combination is appropriate for all patients or for all possible purposes.
WHY WE BUILT NOW PATIENT
To improve the lives of everyone by making high-quality care accessible and convenient
We are here to improve lives. Our service gives you access to smart features & resources that can help empower you to take control of your health and improve your health outcomes. All this, in one place, for FREE. We strive to bring a fresh perspective to managing health. Not play by the rules. Now Patient can be accessed by downloading the App or using your web browser.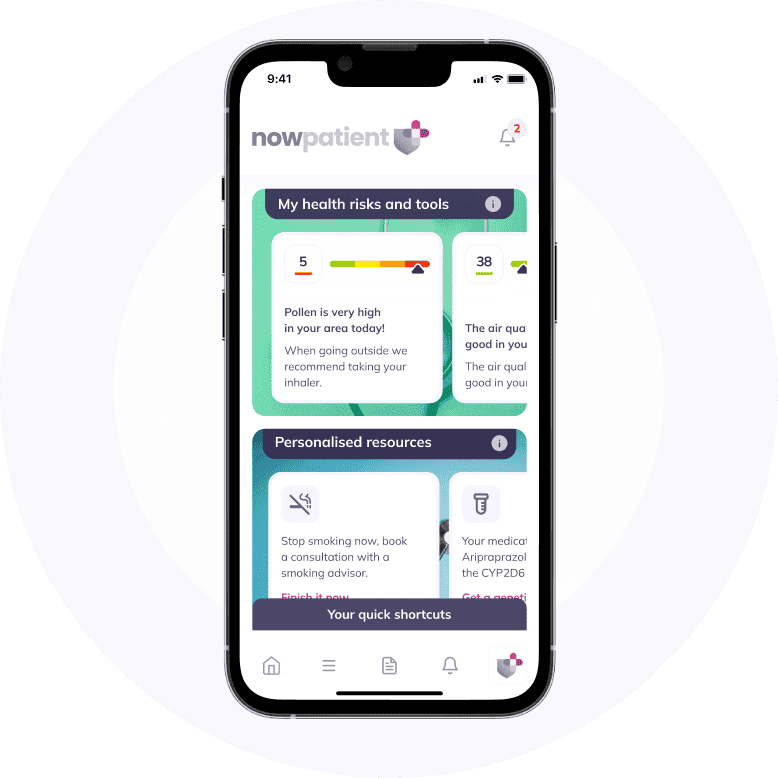 Your Questions Answered
For your peace of mind, we can answer your health questions quickly
If you want to learn more about the range of services that we provide which can help manage and improve your health, then just click the button below.
Find your answers