/
Health news
/
Mental Health Awareness Week 2020: Kindness
Mental Health Awareness Week 2020: Kindness
18 May 2020

Stefano Mirabello
Pharmacist / B.Pharm
This week is Mental Health Awareness Week (18-24th May), hosted by the Mental Health Foundation. The theme for the week is Kindness.
Looking after our mental health and being 'kind' could not come at a timelier period.
Over the past few months we have witnessed the kindness of the nation as we live through a health pandemic.
People look out for friends and neighbours and offer support and guidance when it is very much needed. A little kindness, even the smallest of gestures, can really go a long way and make a huge difference in someone's life.
The impact of kindness on our mental health
Research shows that kindness and our mental health are deeply impacted. Kindness is an antidote to isolation and creates a sense of belonging. It helps to reduce stress, brings a fresh perspective and deepens friendships. Kindness to ourselves can prevent shame from corroding our sense of identity and help boost our self-esteem.
Kindness releases endorphins in the brain, it's a natural painkiller and helps release oxytocin, a 'cardio protective' hormone that releases another chemical called 'nitric oxide in the body that dilates blood vessels, thus reducing blood pressure.
Scientific evidence has proven that kindness changes the brain, impacts the heart and immune system, and may even be an antidote to depression. We're actually genetically wired to be kind.
Tips to be kind to others during the Coronavirus
Call a friend that you haven't spoken to for a while
Tell a family member how much you love and appreciate them
Arrange to have a cup of tea and virtual catch-up with someone you know
Help with household chores at home
Arrange to watch a film at the same time as a friend and video call
Tell someone you know that you are proud of them
Tell someone you know why you are thankful for them
Send a motivational text to a friend who is struggling
Send someone you know a joke to cheer them up
Send someone you know a picture of a cute animal
Send an inspirational quote to a friend
Send an interesting article to a friend
Contact someone you haven't seen in a while and arrange a phone catch-up
Reach out to call a friend, family member or neighbour who is experiencing – loneliness or self-isolation
Donate to a charity
Lend your ear – call a colleague and ask how they're finding the change in routine
Give praise to your colleague for something they've done well
Arrange to have a video lunch with a colleague
Send an inspirational story of kindness people around the world are doing for others to someone you know
Donate to food banks
Offer to skill share with a friend via video call – you could teach guitar, dance etc…
Offer support to vulnerable neighbours
Offer to send someone a takeaway or a meal
Just doing one thing will leave you feeling warm and fuzzy!
Read our blog post on looking after your mental health during the Coronavirus pandemic:
About Now Patient
Now Patient's online services are available in the US and UK. We help you manage your prescriptions, doctor appointments, test results, health risks and a lot more, all in one place for FREE. US prescriptions are available on a discounted 'cash' basis and delivered across all 50 states by our network of pharmacy providers dispensing FDA-approved generic and branded medications. We do not currently handle commercial insurance, Medicare or Medicaid. UK NHS and private prescriptions are delivered FREE of charge across England & Wales by our UK regulated online pharmacy.
Sources 
Disclaimer
Now Patient has taken all reasonable steps to ensure that all material is factually accurate, complete, and current. However, the knowledge and experience of a qualified healthcare professional should always be sought after instead of using the information in this page. Before taking any drug, you should always speak to your doctor or another qualified healthcare provider.
The information provided here about medications is subject to change and is not meant to include all uses, precautions, warnings, directions, drug interactions, allergic reactions, or negative effects. The absence of warnings or other information for a particular medication does not imply that the medication or medication combination is appropriate for all patients or for all possible purposes.
WHY WE BUILT NOW PATIENT
To improve the lives of everyone by making high-quality care accessible and convenient
As technologists and clinicians, we built Now Patient to be more than just an online pharmacy. We are here to improve lives. Our service gives you access to smart features & resources that can help empower you to take control of your health and improve your health outcomes. All this, in one place, for FREE. We strive to bring a fresh perspective to managing health. Not play by the rules. Now Patient can be accessed by downloading the App or using your web browser.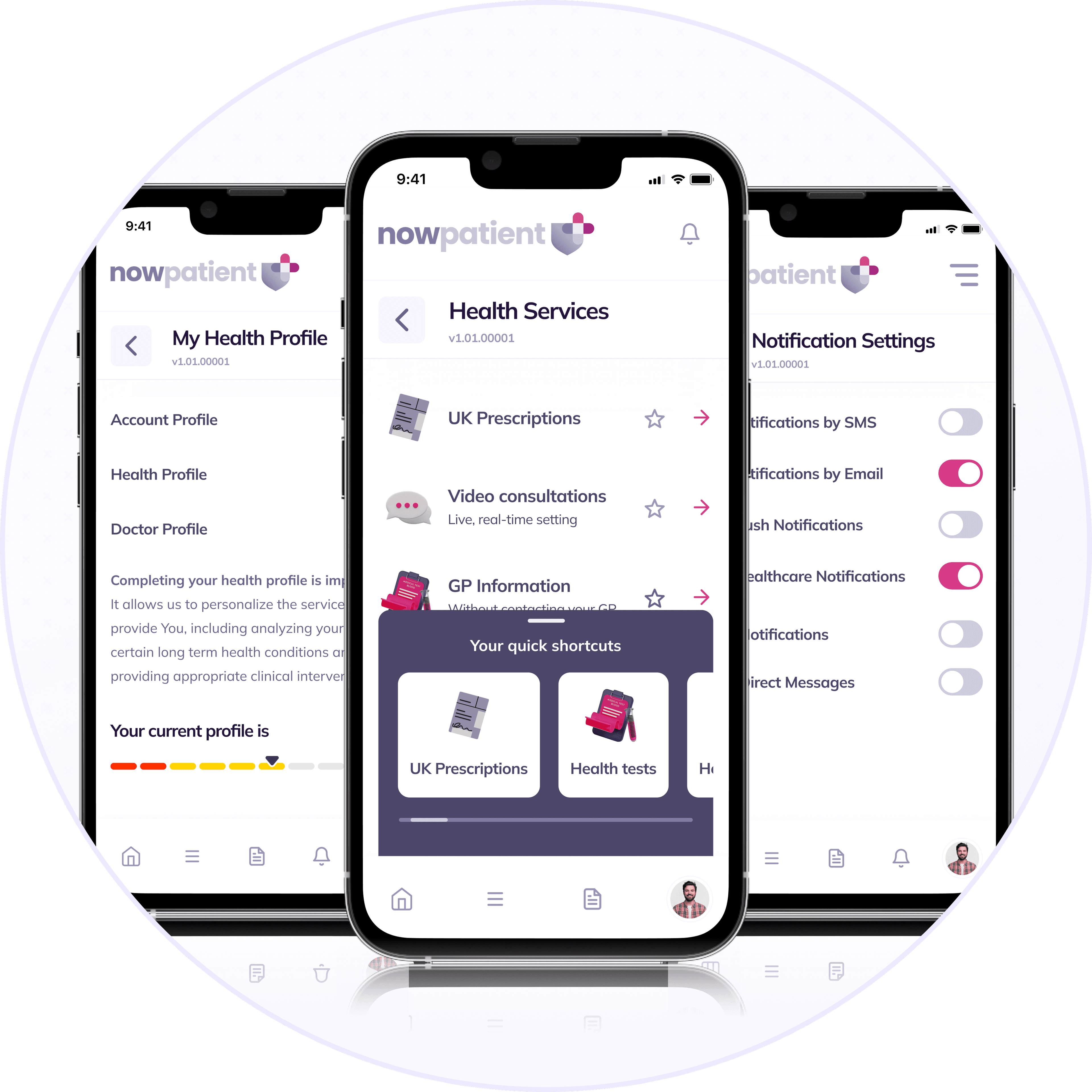 NOW PATIENT
Join the thousands of happy customers in the US and UK already using Now Patient
Manage your health and prescriptions all in one place for FREE. Available to use by downloading the App, or using your web browser.
Your Questions Answered
For your peace of mind, we can answer your health questions quickly
If you want to learn more about the range of services that we provide which can help manage and improve your health, then just click the button below.
Find your answers