Stefano Mirabello
Pharmacist / B.Pharm
Depression is a serious condition. It can take a heavy toll on your life and it can lead to suicide. Around 5% of men in America have experienced depression, and since men are less likely to seek help for depression than women, we're almost four times more likely to die of suicide.
It's easy to point the finger at men and tell us to get help for depression, but sometimes it's not as simple as that. Depression varies by person and can look different in men than women. Sometimes men can be living with depression without realizing it.
Movember is a global movement dedicated to improving men's mental health and reducing suicide. As part of our contribution to Movember, we're talking openly about men and mental health. Here we're going to talk about men and depression. We will also provide advice on how men can spot the signs that they're depressed.
What is depression?
When we talk about depression, we're usually talking about a serious mental health disorder called major depressive disorder (MDD) – although sometimes it's also referred to as clinical depression or major depression. We're going to refer to it as depression here.
Depression causes you to go through periods where you experience a lasting low mood. This may include feelings of sadness, numbness, hopelessness, and a loss of interest in your life. These periods are called depressive episodes and can last for a couple of weeks to months, or even years. During these periods, it can be a struggle to meet the responsibilities of your daily life, including your work, relationships, and taking care of yourself.
What are the 4 types of depression?
While there are more than four types of depression, the most common are:
Major depressive disorder
Seasonal affective disorder (SAD)
Psychotic depression
Persistent depression
Other types of depression include:
Minor depression
Situational depression
Postpartum depression
As we've already mentioned, major depressive disorder is the most common form of depression but there are others including:
Minor depression is a less severe version of major depressive disorder, where depressive episodes are shorter-lasting and less intense.
Persistent depression, also called dysthymia or chronic depression. This is a type of depression where symptoms last continually for two years or more, although symptoms tend to be less severe than those of major depressive disorder.
Seasonal affective disorder, also called major depressive disorder with seasonal pattern, is a depression that's more common or worse in fall and winter and is thought to be caused by low levels of sunlight.
Psychotic depression is a form of depression where people also suffer from psychosis alongside their depressive episodes. Psychosis is a difficulty distinguishing between what's real and what isn't. It causes people to experience delusions and hallucinations.
What are the symptoms of depression?
The most common symptoms of depression include:
Feelings of sadness, numbness, and hopelessness
Feelings of worthlessness and guilt
Low energy levels and fatigue
A lack of interest in the activities you normally enjoy
A loss of interest in sex
Problems sleeping or sleeping more
Eating less or eating more, which can lead to weight loss or weight gain
Social isolation
Self-harm
Thoughts of suicide or attempts to commit suicide
But here's one of the big problems with depression – these are only some of the symptoms of the condition. There are plenty more and they can vary by person. Depression can look completely different in different people, particularly in men. You might be living with depression and not realize it because your depression looks different from the symptoms we've listed above.
What are the signs of depression in men?
Research has shown that men can experience depression differently than women and are more likely to experience:
Increased anger and aggression
Controlling and abusive behavior in relationships
An increase in risk-taking activities, like reckless driving, gambling, and having unsafe sex
Alcohol and drug abuse
An increase in escapist behaviors, like working obsessively or excessive amounts of time spent watching sports, pornography or playing video games
Physical pain, including back pain and headaches
If these symptoms sound like something you're going through, then you may be depressed without knowing it.
How to spot the signs of depression in someone you know?
Sometimes it takes a friend, brother, son, or father to recognize another man's depression. You might not think of some of the symptoms we've listed above as the usual symptoms of depression, but after reading them, you may realize that a man in your life could be living with depression. You can help by starting a conversation with them, listening, and encouraging action. Movember have some great advice for talking to another man about depression.
WHAT IS THE NUMBER ONE CAUSE OF DEPRESSION?
Unfortunately, depression isn't as simple as that. There is no one simple cause of depression in men. It's brought on by a mixture of your genetics, the level of certain chemicals in your brain called neurotransmitters, hormone changes, your personality, and events and experiences in your life.
Treatments for depression
Depression isn't usually curable but it is treatable. Treatment can keep depressive episodes at bay, make them less severe, and help you live more easily with your condition.
There is a range of depression treatments available, and some will be more effective for you than others. You may have to experiment with the following to see what works best for you:
Medication – a range of different antidepressants are available and they're effective treatments for many people with depression. They work in different ways and can have different side effects, so you may have to try different medications to find one that helps you the most.
Talk therapy – there are several different versions of talk therapy, but psychotherapy and cognitive behavioral therapy are amongst the most common. They involve talking about and exploring your thoughts, emotions, and behaviors with a trained mental health professional. You can read up about them and decide if a particular approach sounds appealing to you.
Lifestyle changes – getting regular exercise, eating a healthy diet, and cutting back on alcohol and drugs can all help with depression. Making positive lifestyle changes alongside medication and therapy can be an effective part of a holistic treatment for depression.
Self-care – no matter how busy life gets, you need to take the time to enjoy yourself in order to protect your mental health. Self-care will be different for different people. It could be reading, playing sports, watching movies, or spending time with your kids, whatever works for you.
Where to find support for depression?
If you are living with depression, treatment is important, but sometimes you might need some extra support. It can be a huge help to talk to people facing similar challenges to you, and sometimes you may need to talk to someone in an emergency if you're troubled with thoughts of self-harm and suicide.
There are a wide array of options for support for depression, and Movember has done a great job of listing a lot of them. You should check them out – it could make all the difference.
Sources
Disclaimer
Now Patient has taken all reasonable steps to ensure that all material is factually accurate, complete, and current. However, the knowledge and experience of a qualified healthcare professional should always be sought after instead of using the information in this page. Before taking any drug, you should always speak to your doctor or another qualified healthcare provider.
The information provided here about medications is subject to change and is not meant to include all uses, precautions, warnings, directions, drug interactions, allergic reactions, or negative effects. The absence of warnings or other information for a particular medication does not imply that the medication or medication combination is appropriate for all patients or for all possible purposes.
WHY WE BUILT NOW PATIENT
To improve the lives of everyone by making high-quality care accessible and convenient
We are here to improve lives. Our service gives you access to smart features & resources that can help empower you to take control of your health and improve your health outcomes. All this, in one place, for FREE. We strive to bring a fresh perspective to managing health. Not play by the rules. Now Patient can be accessed by downloading the App or using your web browser.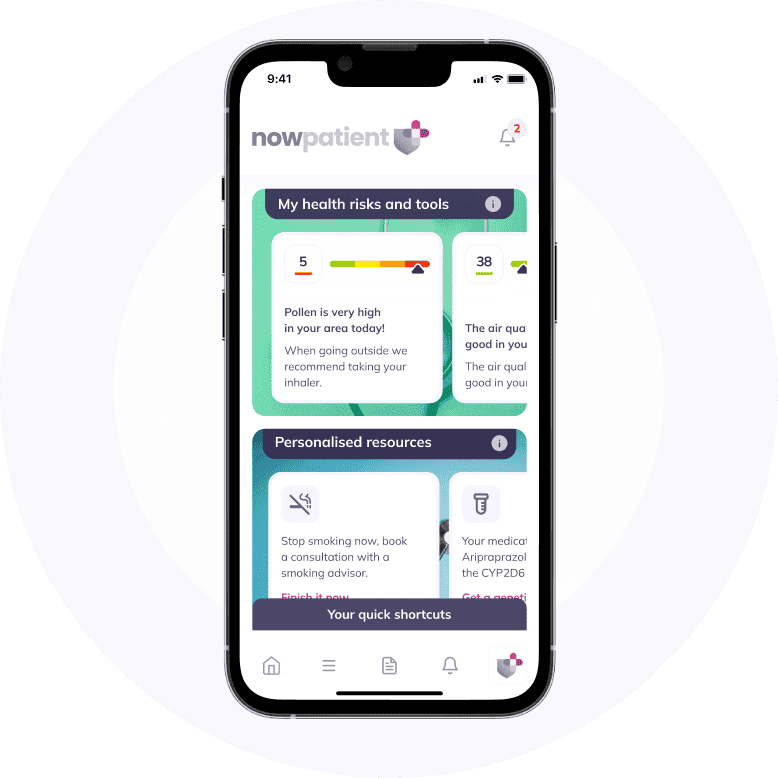 Your Questions Answered
For your peace of mind, we can answer your health questions quickly
If you want to learn more about the range of services that we provide which can help manage and improve your health, then just click the button below.
Find your answers