/
Blog
/
The lessons I have learnt from living with diabetes
The lessons I have learnt from living with diabetes
10 Jan 2023

Stefano Mirabello
Pharmacist / B.Pharm
Our latest guest blogger is Chloe. She's been living with type 1 diabetes mellitus for almost 12 years and was recently awarded Myabetic's Diabetes Award for sharing Confidence & Individuality with the Diabetes Community. Today, she talks us through the lessons she has learnt from living with a chronic disease like diabetes.
Hello! My name is Chloe and I have been living with type 1 diabetes for almost 12 years. I was diagnosed on 31st December 2009 at the age of 8. Over the years, I have learnt so much from my condition. It has helped to shape me into the person I am today. Indeed, I would not be the person I am today without my diabetes diagnosis and the lessons I've learnt from it.
Diabetes definitely isn't always easy, but I believe that the challenges we face can be an opportunity for us to get to know ourselves more, challenge ourselves and make us into better people!
So I have decided to share with you some lessons that I have learnt through living with diabetes…
Numbers don't define you.
We are surrounded by numbers in every aspect of life. Sorting our finances, cooking a meal, the scales, nutrition on food packaging, and so much more. But when you live with diabetes, being surrounded by numbers brings on a whole new meaning. We are constantly checking our blood glucose levels, counting carbohydrates in the food and drink we have and making decisions on our insulin dosing. It can quickly consume you and make you feel very overwhelmed when it feels like there is no escape and not even a break from the numbers. It's very easy to become obsessed with each number, especially with technology like CGMs where you are getting data every 5 minutes.
I've definitely fallen victim to the constant checking, trying to stay in control of a very uncontrollable condition. Of course, CGM data is so helpful in diabetes management, but it can make me feel like I have to be in constant control of those numbers and if I'm not, I have failed in some way. But it really is just a number; a piece of information that you can use to make the best decisions on how to manage your condition. Those numbers do not show our worth and we are so much more than those numbers!
Be proud to be different
In our society, being different isn't always celebrated. Having a disability definitely isn't. I find this way of thinking so wrong and so damaging. Disabilities don't make anyone any 'less' than they would be without that disability. Diabetes is an invisible illness. However, there are devices a person living with diabetes can wear that make their condition 'visible'. I have been on an insulin pump for 10 years, and have been using a continuous glucose monitor (CGM) for 3. Diabetes instantly becomes visible when wearing these devices and it can be scary. You worry about what others will think of you.
But being different isn't a bad thing at all.
Not many people can say they're "part robot", but put these devices on and you can, which is pretty cool! I also find wearing my pump and CGM allows people to ask questions that they otherwise wouldn't ask, so it's a great opportunity to educate them about diabetes. Spreading awareness of my condition is very important to me, so I'm so grateful that my devices allow me to do that too! Hopefully, society's views and knowledge about invisible illnesses will grow and improve the more we talk openly about them. Next time you feel nervous about going out with your devices on show, wear them with pride because being different is one of the best things about you!
There is no such thing as a perfect day
One of the hardest things about living with diabetes is that there is no such thing as a "perfect" day. No matter how well I plan or how disciplined I am, there will always be days when my blood sugar levels are higher or lower than they're supposed to be. Part of learning to live with diabetes is accepting that there will be ups and downs – literal ups and downs in blood sugar levels, but also emotional ups and downs as well. Some days managing my condition will feel like a breeze, while other days it will feel impossible.
Pay attention to your body
When you have diabetes, it is important to pay attention to your body and how it feels. This includes listening to your hunger cues and eating when you are actually hungry – not just because it is meal time. It also means being aware of when you have low blood sugar (hypoglycemia) or high blood sugar (hyperglycemia) and acting accordingly. For example, if my blood sugar is low, I make sure to eat or drink something sugary right away so that my blood sugar levels don't drop too low. If my blood sugar is high, on the other hand, I might take a walk to help bring it down. Paying attention to your body helps you stay in control of your diabetes and prevents serious complications.
Educate yourself about your disease
Knowledge is power when it comes to your diabetes care and management. The more you know about the condition, the better equipped you'll be to manage it and avoid diabetes complications and a life-threatening condition called diabetic ketoacidosis. That's why it's important to educate yourself about diabetes. Start by learning the basics, such as what diabetes is, what type of diabetes you have, the role of the pancreas and how it affects your body. Then, find out what the risk factors are and what you can do to prevent or delay the onset of diabetes. It's also a good idea to familiarise yourself with the diabetes complications that can occur if the condition is not properly managed. These include nerve damage (neuropathy), kidney disease, and heart disease. By understanding the risks involved, you can take steps to protect yourself and live a healthy life. So don't hesitate to learn all you can about diabetes. It could make all the difference in your health.
There are lots of resources available so take advantage of them! Your doctor to refer you to diabetes self-management education and support services.
Take care of yourself
When you have diabetes, taking care of yourself becomes even more important than it was before. This means eating healthy foods, regular physical activity, and taking your medication as prescribed by your doctor. It can be tempting to let your self-care routine slide when you are feeling tired or stressed but trust me – it is not worth it. Taking care of yourself may require some extra effort but it is necessary in order to keep your diabetes under control. Additionally, taking care of yourself will also help your mental health which will make dealing with diabetes that much easier.
Don't be afraid to ask for help
When I was first diagnosed with diabetes, I tried to do everything on my own. I didn't want to burden anyone else with my condition and I thought that I could handle it by myself. However, I quickly realised that this was not a sustainable approach. Diabetes is a lot of work and sometimes you need help – whether it is help in the form of emotional support or practical help with things like checking your blood sugar levels or giving yourself insulin injections. Your diabetes educator can suggest ideas for you to try that have worked for other people with type 1 diabetes. Asking for help does not mean that you are weak or that you are not capable of managing your own condition. It simply means that you are wise enough to know when you need a little extra support. So, don't be afraid to reach out to other young people in your situation, family members, friends, or even healthcare providers and support groups when you need help managing your diabetes.
About Now Patient
Now Patient's online services are available in the US and UK. We help you manage your prescriptions, doctor appointments, test results, health risks and a lot more, all in one place for FREE. US prescriptions are available on a discounted 'cash' basis and delivered across all 50 states by our network of pharmacy providers dispensing FDA-approved generic and branded medications. We do not currently handle commercial insurance, Medicare or Medicaid. UK NHS and private prescriptions are delivered FREE of charge across England & Wales by our UK regulated online pharmacy.
Disclaimer
Now Patient has taken all reasonable steps to ensure that all material is factually accurate, complete, and current. However, the knowledge and experience of a qualified healthcare professional should always be sought after instead of using the information in this page. Before taking any drug, you should always speak to your doctor or another qualified healthcare provider.
The information provided here about medications is subject to change and is not meant to include all uses, precautions, warnings, directions, drug interactions, allergic reactions, or negative effects. The absence of warnings or other information for a particular medication does not imply that the medication or medication combination is appropriate for all patients or for all possible purposes.
WHY WE BUILT NOW PATIENT
To improve the lives of everyone by making high-quality care accessible and convenient
As technologists and clinicians, we built Now Patient to be more than just an online pharmacy. We are here to improve lives. Our service gives you access to smart features & resources that can help empower you to take control of your health and improve your health outcomes. All this, in one place, for FREE. We strive to bring a fresh perspective to managing health. Not play by the rules. Now Patient can be accessed by downloading the App or using your web browser.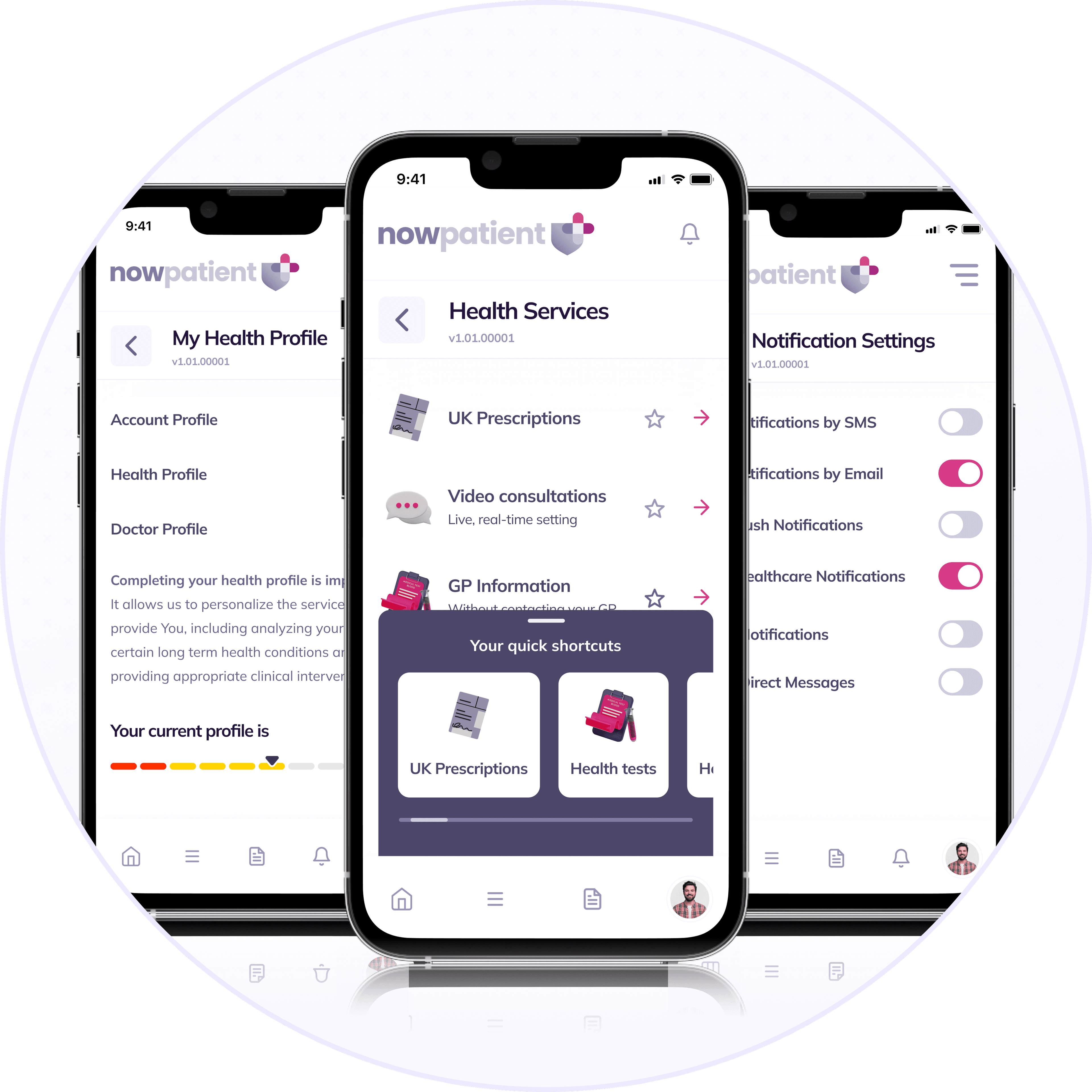 NOW PATIENT
Join the thousands of happy customers in the US and UK already using Now Patient
Manage your health and prescriptions all in one place for FREE. Available to use by downloading the App, or using your web browser.
Your Questions Answered
For your peace of mind, we can answer your health questions quickly
If you want to learn more about the range of services that we provide which can help manage and improve your health, then just click the button below.
Find your answers