Stefano Mirabello
Pharmacist / B.Pharm
Before joining Now Patient, I worked at another health-tech start-up with a similar mission – to empower people with long-term conditions, like diabetes, to better manage their everyday lives. I had designed for a number of different complex health conditions but never diabetes.
Diabetes experience
My diabetes experience prior to joining Now Patient was limited to a simplistic understanding from having a close friend living with type 1 diabetes. Admittedly, in hindsight, I was naive and my understanding of diabetes management was highly oversimplified. It followed the logic that specific foods increased a person's blood glucose level, which required enough insulin to be injected to lower it, balancing these factors. If these weren't balanced correctly, there was the potential for the person to have dangerously low blood sugar (hypoglycemia) or dangerously high blood sugar levels (hyperglycemia). Simple, right?
Far from it. Since joining Now Patient, my empathy for what it is like to live with diabetes mellitus has been forever increasing. I'm very quickly learning that living with diabetes can make everything in life harder if the equilibrium between a number of factors isn't found. Factors like the hormones in our body or the weather, things we have no control over, can impact our blood sugar levels and the symptoms of diabetes. For most people, the impact of these is minimal, but for people living with diabetes, the effect of these on blood sugar can, over time, have long-lasting consequences. These factors, as well as many more, appear obvious now, but it is easy to lack an understanding of what, in everyday life, is an invisible health condition.
For each person, the experience of type 1 diabetes and type 2 diabetes is unique, with each having various ways to try to keep their sugars within range. People with diabetes need to consider some of the following: whether their diabetes medication is working correctly, their carbohydrate intake, when to take their insulin injections, when it's best to do physical activity, establishing a healthy life with healthy eating habits and meal plans for weight loss, keeping cholesterol levels within range and awareness of diabetes complications such as diabetic ketoacidosis, heart disease, heart attacks, high blood pressure, kidney disease, and potential nerve damage. There is a whole array of factors for people with diabetes to consider. However, continual reevaluation and guesstimation with diabetes care can bring a heavy mental burden. In addition to balancing glucose, this can lead to a negative impact on physical and mental well-being. Balancing the factors that a person with diabetes can control can be overwhelming, but technology is there to help.
[the_ad id= "4771"]
Unfortunately, most current apps and devices focus on healthcare, recording and reporting, and the perspective of treating diabetes and fail to alleviate the burden of planning everyday life. This is why I'm glad to be designing at Now Patient, helping to develop a future-focused App for people with diabetes.
Our goal is to help alleviate some of the everyday mental burdens of planning by helping our users visualise how the factors they control impact their blood glucose, as well as assisting them in making better-informed decisions based on their collective past experiences.
Having only been at Now Patient for a short while, I'm conscious there is much more to learn from our users and people living with diabetes. I'm incredibly grateful for those who've shared their stories and experiences with me so far.
About Now Patient
Now Patient's online services are available in the US and UK. We help you manage your prescriptions, doctor appointments, test results, health risks, and a lot more, all in one place for FREE. If you are in the United States, you could enjoy savings using Now Patient's mail-order pharmacy or use the Now Patient Rx Advantage Card at over 65,000 pharmacies, with savings of up to 90% on popular FDA-approved brand and generic medications like Ozempic, Mounjaro, clopidogrel and lots more. We do not currently handle commercial insurance, Medicare or Medicaid. UK NHS and private prescriptions are delivered FREE of charge across England & Wales by our UK NHS online pharmacy.
Disclaimer
Now Patient has taken all reasonable steps to ensure that all material is factually accurate, complete, and current. However, the knowledge and experience of a qualified healthcare professional should always be sought after instead of using the information in this page. Before taking any drug, you should always speak to your doctor or another qualified healthcare provider.
The information provided here about medications is subject to change and is not meant to include all uses, precautions, warnings, directions, drug interactions, allergic reactions, or negative effects. The absence of warnings or other information for a particular medication does not imply that the medication or medication combination is appropriate for all patients or for all possible purposes.
WHY WE BUILT NOW PATIENT
To improve the lives of everyone by making high-quality care accessible and convenient
We are here to improve lives. Our service gives you access to smart features & resources that can help empower you to take control of your health and improve your health outcomes. All this, in one place, for FREE. We strive to bring a fresh perspective to managing health. Not play by the rules. Now Patient can be accessed by downloading the App or using your web browser.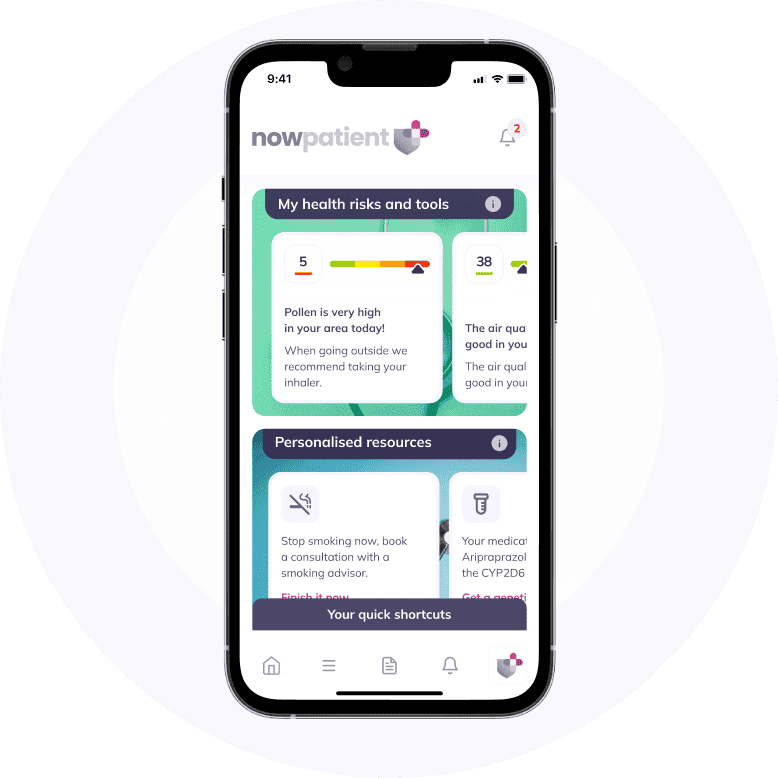 Your Questions Answered
For your peace of mind, we can answer your health questions quickly
If you want to learn more about the range of services that we provide which can help manage and improve your health, then just click the button below.
Find your answers