Rajive Patel
Medical Writer / B.Pharm
Source: Eli Lilly
Yes.  Mounjaro is licensed by the Medicines and Healthcare Products Regulatory Agency (MHRA) for sale in the UK.  
Mounjaro is licensed for the treatment of adults with insufficiently controlled type 2 diabetes mellitus (T2D) as an adjunct to diet and exercise.  It can be used:
as monotherapy when metformin is considered inappropriate due to intolerance or contraindications

in addition to other medicinal products for the treatment of diabetes.
Mounjaro, is manufactured by the pharmaceutical company Eli Lilly and is the brand name of the drug tirzepatide.
Is Mounjaro available to me through the NHS?
Even though a medication is 'licensed', it does not mean it is available through the NHS (National Health Service – government-funded medical and health care services).  However, for any drug to be supplied through the NHS, it has to be recommended by The National Institute of Clinical Excellence (NICE).  The NHS is legally obliged to fund and resource medicines and treatments recommended by NICE. On Friday 8th September 2023, NICE approved Mounjaro for treating poorly controlled type 2 diabetes (T2D) in adults alongside diet and exercise.  Therefore, it will be made available to NHS patients with poorly controlled T2DM.
There are roughly 180,000 NHS patients with type 2 diabetes who will be eligible to be given tirzepatide, subject to a physician's assessment.
Can Mounjaro be used for weight loss?
Yes and No.  
Mounjaro has been recently referred to in the UK press as the  'King Kong' of slimming jabs.  Clinical trials showed people on Mounjaro could shed 20 per cent of their body weight when using it. However, weight loss or obesity treatment is not an approved licensed indication.  This means, it cannot be offered by the NHS for the use in weight loss or treatment of obesity, even though clinical trials show the weight loss benefit. 
For the drug to be made available through the NHS for the treatment of obesity, the pharmaceutical company, Eli Lilly, will firstly need to make an application to the MHRA for that indication.  This requires submission of robust evidence.  Even if that is approved, NICE will need to provide an independent assessment, before the NHS can fund and supply it.  The drug may be of significant importance since obesity is a serious public health issue that costs the NHS an estimated £6.5billion each year. However, as it stands, it is not licensed for weight loss.
While Mounjaro is not licensed for use in weight management,  some weight management services are offering it by prescribing the medication 'off-label'.  This means, it is being prescribed outside of the drugs licensed or approved use. The prescriber will consider all medical evidence available before prescribing it as an off-label supply.
Most private services, like Now Patient offer users the drug through a private treatment plan only. And then, only if the user has a body mass index (BMI) of 30 or higher — or a BMI of more than 27 and at least one weight-related illness.  The user will also need to commit to dieting and exercise plans before being made eligible. 
How does Mounjaro provide weight loss benefits?
Tirzepatide is the active ingredient of Mounjaro, made by US pharmaceutical company Eli Lilly.
One of the listed common side effects of Mounjaro is decreased appetite. It affects 1 in 10 people using Mounjaro. 
Unlike GLP-1 treatments like Wegovy; Mounjaro is different in that it not only works as a GLP-1 agonist (which mimics a natural hormone that tells the body when it's full, suppressing the appetite) but as opposed to competitors, it also mimics a second hormone which influences appetite called glucose-dependent insulinotropic polypeptide (GIP). Therefore, this combination compounds the weight loss effect.
Source: Genemedics Health Institute
How much will Mounjaro cost? 
If it is made available on the NHS in the future for weight loss, then NHS patients would only have to pay £9.65 for their dose in England.
However, in practice, many will get it for free under an exemption rule that waives prescription charges for people with certain health conditions.
Most UK private clinics, providing Mounjaro for weight loss, have varied selling prices.  Some have already listed it at £119 for a starting dose.  
In the US, the price can be over $1,000 a dose depending on the patient's insurance.  Eli Lilly do offer patient assistance in the form of copay coupons or discount cards that can make access to the drug achievable. 
Will there be a shortage of Mounjaro similar to Ozempic? 
This is very likely.  Especially because social media tends to hype weight loss treatments.  This is what happened with Ozempic.  The shortage meant that people being prescribed Ozempic for type 2 diabetes, were unable to get supply because of the huge demand created through private weight loss clinics.
This isn't just a UK problem. It is a Global problem.  In the United States, there is a continuous shortage of Ozempic (semaglutide) and Wegovy (semaglutide).
Eli Lilly has indicated in August 2023, that it will be pushing for the license of Mounjaro in the United States to include weight loss.  If they follow suit, in the UK, then it is likely demand will be significant.
About Now Patient
Now Patient's online services are available in the US and UK. We help you manage your prescriptions, doctor appointments, test results, health risks, and a lot more, all in one place for FREE. If you are in the United States, you could enjoy savings using Now Patient's mail-order pharmacy or use the Now Patient Rx Advantage Card at over 65,000 pharmacies, with savings of up to 90% on popular FDA-approved brand and generic medications like Ozempic, Mounjaro, clopidogrel and lots more. We do not currently handle commercial insurance, Medicare or Medicaid. UK NHS and private prescriptions are delivered FREE of charge across England & Wales by our UK NHS online pharmacy.
Sources
Disclaimer
Now Patient has taken all reasonable steps to ensure that all material is factually accurate, complete, and current. However, the knowledge and experience of a qualified healthcare professional should always be sought after instead of using the information in this page. Before taking any drug, you should always speak to your doctor or another qualified healthcare provider.
The information provided here about medications is subject to change and is not meant to include all uses, precautions, warnings, directions, drug interactions, allergic reactions, or negative effects. The absence of warnings or other information for a particular medication does not imply that the medication or medication combination is appropriate for all patients or for all possible purposes.
WHY WE BUILT NOW PATIENT
To improve the lives of everyone by making high-quality care accessible and convenient
We are here to improve lives. Our service gives you access to smart features & resources that can help empower you to take control of your health and improve your health outcomes. All this, in one place, for FREE. We strive to bring a fresh perspective to managing health. Not play by the rules. Now Patient can be accessed by downloading the App or using your web browser.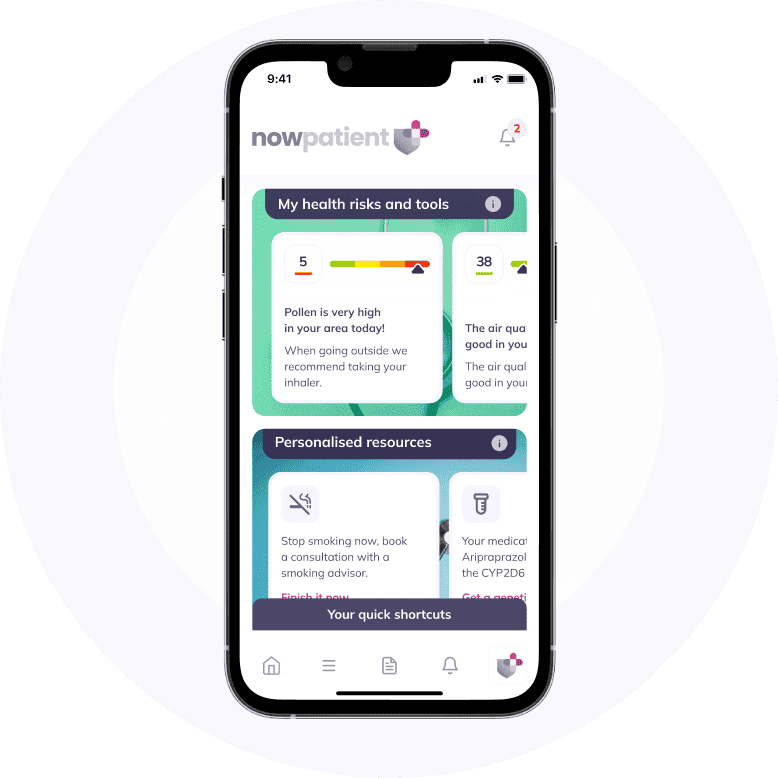 Your Questions Answered
For your peace of mind, we can answer your health questions quickly
If you want to learn more about the range of services that we provide which can help manage and improve your health, then just click the button below.
Find your answers