/
Blog
/
BMI and the link to coronavirus (COVID-19)
BMI and the link to coronavirus (COVID-19)
17 Apr 2020

Stefano Mirabello
Pharmacist / B.Pharm
What is BMI?
BMI stands for Body Mass Index. This is calculated using a person's height and weight. The formula is BMI = kg/m2. Kg is a person's weight in kilograms, and m2 is their height in metres squared. Healthy normal weight is classed as a BMI of 18.5 to 24.9. Overweight is classed as over 25.0 and obese is classed as a BMI of over 40. BMI applies to most adults 18-65 years.
Obesity is a complex disease with many contributing factors. Access to healthy, affordable food and safe and convenient places for physical activity can all affect obesity. Racial and ethnicity disparities in obesity underline the need to address social inequalities of health such as poverty, education, and housing.
What is Covid-19?
In December 2019, a new coronavirus named Severe acute respiratory syndrome coronavirus 2 (SARS-CoV-2 infection) started spreading and triggered a global Covid-19 pandemic. This Coronavirus causes an illness known as Covid-19, a respiratory disease that can affect your lungs, throat, and nose. The disease has spread at an unprecedented speed and magnitude to become the greatest healthcare concern of the twenty-first century.
BMI and Covid-19
Obesity is a major risk factor for adverse outcomes after infection with SARS-CoV-2 in Covid-19 patients with a BMI of 40+. These patients are at higher risk of contracting Coronavirus disease 2019. A recent NHS audit has revealed that almost two-thirds of patients who fall seriously ill from Coronavirus are obese, and nearly 40% are under the age of 60.
Covid-19 patients with underlying conditions like Type 2 diabetes, cardiovascular diseases, hypertension (high blood pressure), and cancer have an increased risk of severe illness and increased risk of death due to Covid-19 infection. However, obesity has emerged as a major risk factor for hospital admissions and death due to Covid-19.
Obesity-related conditions seem to worsen the outcomes of Covid-19. The Centers for Disease Control and Prevention (CDC) reported that people with heart disease and diabetes are at higher risk of COVID-19 complications.
Facts about Obesity and COVID-19
Data extracted included demographic, clinical, and clinical values linked with Public Health England's database of positive SARS-CoV-2 test results and death certificates from the Office of National Statistics. Outcomes, as a proxy measure of severe Covid-19, were admission to the hospital, admission to an intensive care unit (ICU), and death due to COVID-19
Systematic reviews and meta-analyses overwhelmingly show that obesity is associated with a high risk for ICU admission and poorer outcomes for Covid-19. In the UK, a report flags that out of 10,465 patients critically ill with confirmed Covid-19, 73.7% were overweight or obese
People with excess weight, even without other comorbidities, are at substantially increased risk of admission to hospital and death due to Covid-19, especially for younger adults and black people
Excess weight is a modifiable risk factor, and investment in the treatment of overweight and obesity, and long-term preventive strategies could help reduce the severity of Covid-19 disease
The proportion of patients who required invasive mechanical ventilation increased with BMI categories, and it was the greatest in patients with a BMI above 35 kg/m 2
Among those with Covid-19, young obese patients (< 60 years old and BMI > 35 kg/m2) were reported to be 3.6 times more likely to be admitted to the critical care unit than those with BMI < 30 kg/m2
Males of Black and Asian ethnicity and type 2 diabetes have been found to be associated with an increased risk of adverse outcomes from severe SARS-CoV-2 infection. One factor that links these groups is the tendency to store fat in the abdominal region and also in tissues other than adipose tissue, such as the liver, heart, or skeletal muscle
Two things happen when obesity occurs: the amount of fat increases, but also you put fat in the wrong places. You put it in the liver and skeletal muscle. And that disturbs metabolism. The key disturbance is that you get very high insulin levels in the blood. If we look at genetic markers for metabolic disturbance they are much more closely related to bad outcomes than genetic markers for obesity itself
People with a higher BMI tend to eat a diet with very little fibre and antioxidants, which normally keep the immune system healthy
Recent evidence has shown that obesity weakens the immune system and, therefore, makes the host vulnerable to infectious diseases. If you mount a very slow immune response, then you end up with greater viral replication
Studies have shown that physical activity increases the number of certain immune cells that help to bolster immune activity. Weight-loss interventions might reduce Covid-19 disease severity
People with a higher BMI are also more likely to suffer from diabetes and heart disease – two chronic conditions that put you at greater risk
About Now Patient
Now Patient's online services are available in the US and UK. We help you manage your prescriptions, doctor appointments, test results, health risks, and a lot more, all in one place for FREE. If you are in the United States, you could enjoy savings using Now Patient's mail-order pharmacy or use the Now Patient Rx Advantage Card at over 65,000 pharmacies, with savings of up to 90% on popular FDA-approved brand and generic medications like Ozempic, Mounjaro, clopidogrel and lots more. We do not currently handle commercial insurance, Medicare or Medicaid. UK NHS and private prescriptions are delivered FREE of charge across England & Wales by our UK NHS online pharmacy.
Sources
Disclaimer
Now Patient has taken all reasonable steps to ensure that all material is factually accurate, complete, and current. However, the knowledge and experience of a qualified healthcare professional should always be sought after instead of using the information in this page. Before taking any drug, you should always speak to your doctor or another qualified healthcare provider.
The information provided here about medications is subject to change and is not meant to include all uses, precautions, warnings, directions, drug interactions, allergic reactions, or negative effects. The absence of warnings or other information for a particular medication does not imply that the medication or medication combination is appropriate for all patients or for all possible purposes.
WHY WE BUILT NOW PATIENT
To improve the lives of everyone by making high-quality care accessible and convenient
We are here to improve lives. Our service gives you access to smart features & resources that can help empower you to take control of your health and improve your health outcomes. All this, in one place, for FREE. We strive to bring a fresh perspective to managing health. Not play by the rules. Now Patient can be accessed by downloading the App or using your web browser.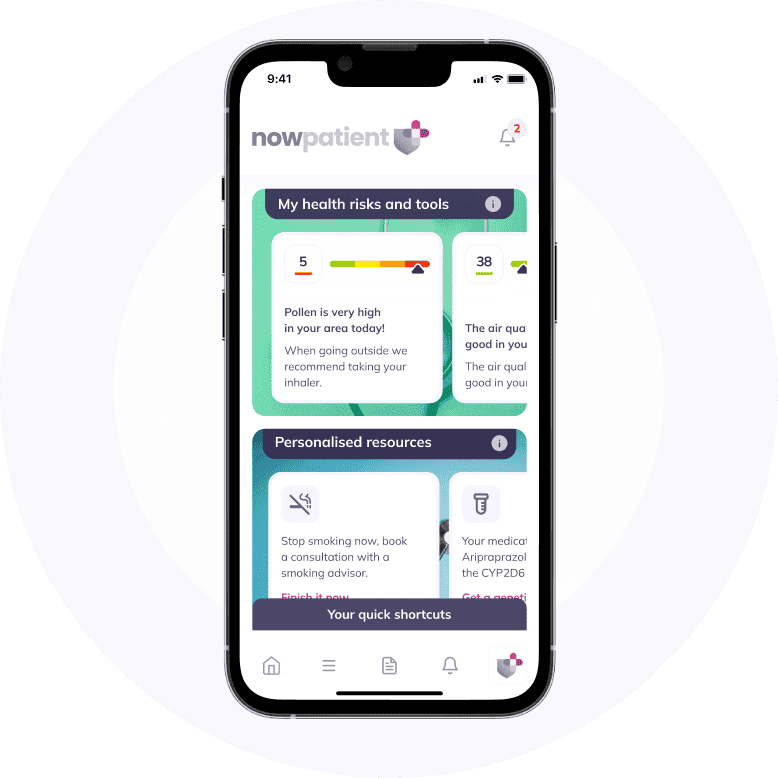 Your Questions Answered
For your peace of mind, we can answer your health questions quickly
If you want to learn more about the range of services that we provide which can help manage and improve your health, then just click the button below.
Find your answers