Stefano Mirabello
Pharmacist / B.Pharm
In December 2019, a new coronavirus named SARS-CoV-2 started spreading and triggered a global pandemic. This coronavirus causes an illness known as Covid-19, a respiratory disease, meaning it can affect your lungs, throat, and nose.
Who is classed as high risk in the UK?
Certain groups of people are at higher risk from Covid-19. This includes older people, people with health conditions and pregnant women. If you were to catch coronavirus, you will have a higher risk of severe illness if you meet the criteria for being at the highest risk.
These medical conditions include:
Long-term lung disease (such as severe asthma, chronic obstructive pulmonary disease (COPD), including emphysema and chronic bronchitis, bronchiectasis, pulmonary fibrosis, and cystic fibrosis with or without lung or other solid organ transplant)
Long-term conditions affecting the heart or blood vessels (such as congenital heart disease, heart failure, hypertension (high blood pressure) and peripheral arterial disease)
Chronic kidney disease or if you are on kidney dialysis
Long-term liver conditions (such as liver disease, cirrhosis and hepatitis)
Conditions affecting the brain or nerves (such as dementia, Parkinson's disease, motor neurone disease, multiple sclerosis, epilepsy, cerebral palsy or stroke)
Severe or multiple learning disabilities
Down's syndrome
Diabetes
Problems with the spleen or the spleen has been removed (splenectomy)
Severely obese (a BMI of 40 or above)
Severe mental health conditions (such as schizophrenia and bipolar disorder)
A condition or treatment that makes you more likely to get infections e.g. bone marrow transplants
A condition a healthcare professional advises puts you at high risk
People at high risk from Covid-19 are advised to follow the same guidance as everyone else. You are no longer advised to stay at home (shield). But there are still things you can do to help keep yourself safe such as maintaining social distancing, hand washing regularly or using a hand sanitiser and wearing a face mask in closed spaces.
People aged 16 and over can get a 1st and 2nd dose of a covid-19 vaccine. Most children aged 12 to 15 are currently only being offered the 1st dose. All young people aged 12 to 15 can get their first vaccine through the school-based vaccination programme or at an HSC Trust vaccination hub.
1. Pregnant women/expectant Mums
The RCOG says pregnant women do not appear to be at higher risk of catching the coronavirus disease than the rest of the public, although at this point the data available is limited. Also, it's very unlikely you will get seriously ill with it.
Pregnant women are classed in the moderate risk group only as a precaution. This is because pregnant women can sometimes be more at risk from viruses like flu. It's not clear if this happens with Covid-19 because it's a new virus.
Although it's very rare for pregnant women to become seriously ill if they get Covid-19, it may be more likely later in pregnancy. If this does happen, there's a small chance your baby may be born early or you may be advised to give birth earlier than your due date.
While the chances of having a preterm birth or a stillbirth are low, there is some evidence that there is an increased risk of this if you have Covid-19 at the time of birth. Having Covid-19 should not affect whether you have a vaginal or caesarean birth.
Studies have found that pregnant women from Black, Asian and minority ethnicity are more likely than other women to be admitted to hospital for Covid-19. Pregnant women over the age of 35, those who have a BMI of 25 or more, and those who had other health conditions, such as high blood pressure and diabetes, are also at higher risk of developing severe symptoms and requiring admission to hospital. Living in areas or households of increased socioeconomic deprivation is also known to increase the risk of developing severe illness.
Studies have also shown that there are higher rates of admission to intensive care units for pregnant women with Covid-19 compared to non-pregnant women with Covid-19. It is important to note that this may not be because pregnant women are at high risk of complications, but because clinicians are more likely to take a more cautious approach when deciding whether to admit someone to the intensive care unit when a woman is pregnant
Why are those with diabetes at high risk? How might their condition influence the way the virus affects them?
Type 1 or type 2 diabetes can increase your risk of serious illness. Having a higher body mass index that's considered overweight, obese or severely obese also increases this risk.
Being diabetic and obese both reduce the efficiency of a person's immune system. Diabetes increases the risk of infections in general. This risk can be reduced by keeping blood sugar levels under control and continuing to take your diabetes medications and insulin. If you are overweight or obese, aim to lose weight by eating a healthy diet and getting regular physical activity.
According to the Center for Disease Control those with a BMI of 40+ are high risk: why is this?
Obesity is a major risk factor for adverse outcomes after infection with SARS-CoV-2 in Covid-19 patients with a BMI (body mass index) of 40+. These patients are at higher risk of contracting Coronavirus. Almost two-thirds of patients who fall seriously ill from coronavirus are obese and nearly 40% are under the age of 60, a recent NHS audit has revealed.
Obesity-related conditions seem to worsen the outcomes of Covid-19. The Centers for Disease Control and Prevention (CDC) reported that people with heart disease and diabetes are at higher risk of Covid-19 complications.
Two things happen when obesity occurs: the amount of fat increases, but also you put fat in the wrong places. You put it in the liver and in skeletal muscle. And that disturbs metabolism. The key disturbance is that you get very high levels of insulin in the blood. If we look at genetic markers for the metabolic disturbance they are much more closely related to the bad outcomes than genetic markers for obesity itself.
About Now Patient
Now Patient's online services are available in the US and UK. We help you manage your prescriptions, doctor appointments, test results, health risks and a lot more, all in one place for FREE. US prescriptions are available on a discounted 'cash' basis and delivered across all 50 states by our network of pharmacy providers dispensing FDA-approved generic and branded medications. We do not currently handle commercial insurance, Medicare or Medicaid. UK NHS and private prescriptions are delivered FREE of charge across England & Wales by our UK regulated online pharmacy.
Sources
More information and advice for people who are at higher risk – GOV.UK
Disclaimer
Now Patient has taken all reasonable steps to ensure that all material is factually accurate, complete, and current. However, the knowledge and experience of a qualified healthcare professional should always be sought after instead of using the information in this page. Before taking any drug, you should always speak to your doctor or another qualified healthcare provider.
The information provided here about medications is subject to change and is not meant to include all uses, precautions, warnings, directions, drug interactions, allergic reactions, or negative effects. The absence of warnings or other information for a particular medication does not imply that the medication or medication combination is appropriate for all patients or for all possible purposes.
WHY WE BUILT NOW PATIENT
To improve the lives of everyone by making high-quality care accessible and convenient
As technologists and clinicians, we built Now Patient to be more than just an online pharmacy. We are here to improve lives. Our service gives you access to smart features & resources that can help empower you to take control of your health and improve your health outcomes. All this, in one place, for FREE. We strive to bring a fresh perspective to managing health. Not play by the rules. Now Patient can be accessed by downloading the App or using your web browser.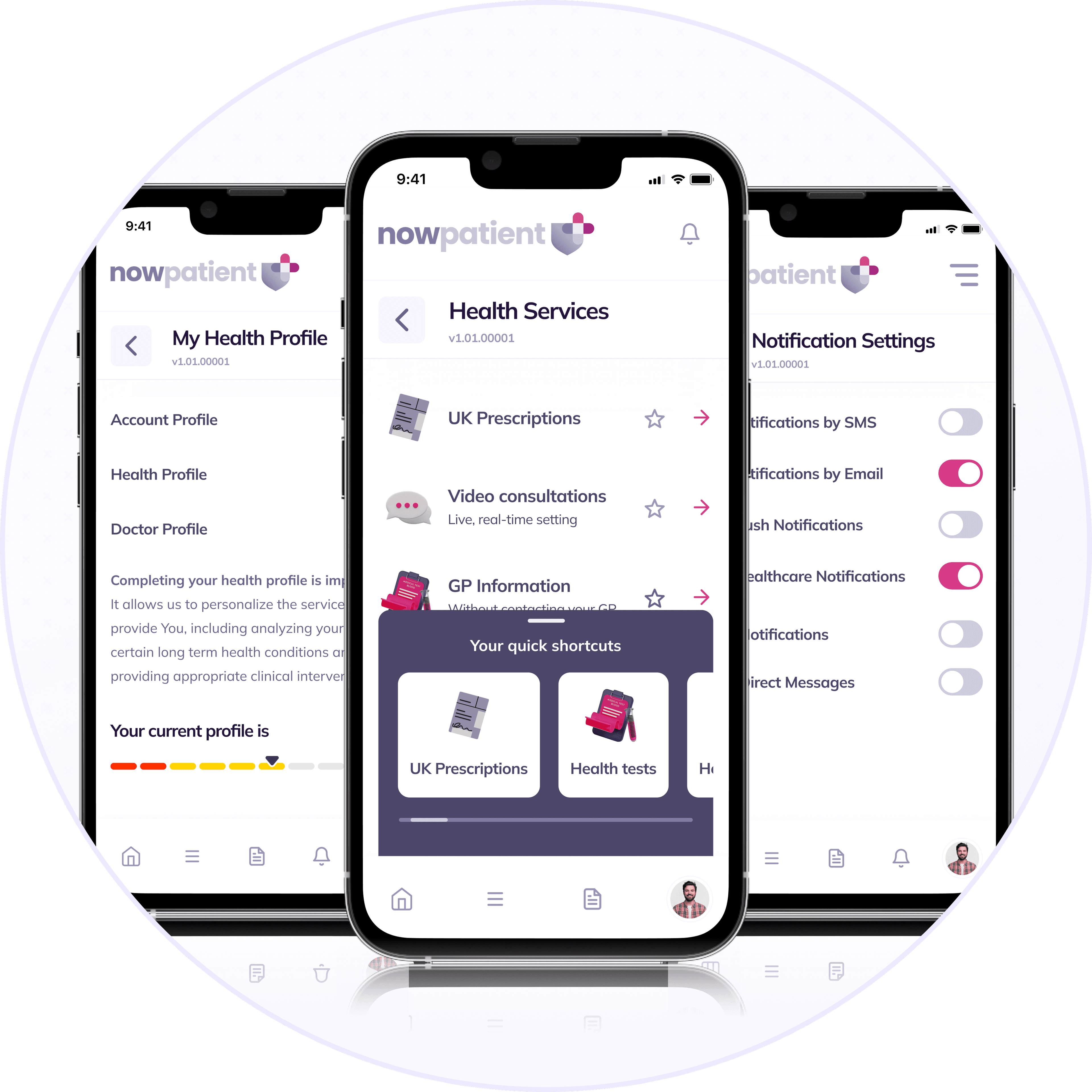 NOW PATIENT
Join the thousands of happy customers in the US and UK already using Now Patient
Manage your health and prescriptions all in one place for FREE. Available to use by downloading the App, or using your web browser.
Your Questions Answered
For your peace of mind, we can answer your health questions quickly
If you want to learn more about the range of services that we provide which can help manage and improve your health, then just click the button below.
Find your answers