/
Blog
/
Diabetes and the link to coronavirus (COVID-19)
Diabetes and the link to coronavirus (COVID-19)
16 Apr 2020

Stefano Mirabello
Pharmacist / B.Pharm
Why are those with Diabetes at high risk?
Type 1 or type 2 diabetes mellitus can increase your risk of serious illness. Having a higher body mass index that's considered overweight, obese or severely obese also increases this risk.
Being diabetic and obese both reduce the efficiency of a person's immune system. Diabetes increases the risk of infections in general. This risk can be reduced by keeping blood sugar levels under control and continuing to take your diabetes medications and insulin. If you are overweight or obese, aim to lose weight by eating a healthy diet and getting regular physical activity.
According to the Center for Disease Control those with a BMI of 40+ are high risk: why is this?
Obesity is a major risk factor for adverse outcomes after infection with SARS-CoV-2 in patients with a BMI (body mass index) of 40+. These patients are at higher risk of contracting Coronavirus. Almost two-thirds of patients who fall seriously ill from coronavirus are obese and nearly 40% are under the age of 60, a recent NHS audit has revealed.
Obesity-related conditions seem to worsen the outcomes of Covid-19. The Centers for Disease Control and Prevention (CDC) reported that people with heart disease and diabetes are at higher risk of Covid-19 complications.
Two things happen when obesity occurs: the amount of fat increases, but also you put fat in the wrong places. You put it in the liver and in skeletal muscle. And that disturbs metabolism. The key disturbance is that you get very high levels of insulin in the blood. If we look at genetic markers for the metabolic disturbance they are much more closely related to the bad outcomes than genetic markers for obesity itself.
Covid-19 and Diabetes
At the start of the Covid-19 pandemic, clinicians started to raise concerns around new cases of diabetes in people who had caught the virus. In England, 19% of people admitted to intensive care with Covid-19 suffered from diabetes, 1/3 of whom died in hospital.
Other studies have linked Covid-19 with new-onset diabetes to varying degrees. Researchers in China who tracked 2,500 Covid-19 patients after they were discharged from the hospital for six months recorded 58 (2.35%) cases of new-onset diabetes. A separate study in England found that within 5 months, of 47,780 patients with Covid-19 infection, who were discharged from hospital, 4.9% were diagnosed with having developed diabetes.
They also showed that people who had been in hospital with the coronavirus disease were 1.5 times more likely to be diagnosed with diabetes after they'd been discharged than people of the same age and background who hadn't been in hospital with severe COVID-19.
The evidence to suggest a link between coronavirus and new cases of diabetes is growing but there's still a lot we don't know. We can't yet be sure if coronavirus is directly causing diabetes, or whether there are other factors that could explain the link. Continuous glucose monitoring is required of these patients to monitor for hyperglycemia post-covid-19.
What's going on inside the body?
One theory is that inflammation inside the body caused by coronavirus is causing insulin resistance, a feature of type 2 diabetes. This means the body isn't using the insulin it's making properly.
We also know that coronavirus uses a protein found on the surface of some cells, called ACE2 receptors. It uses this protein to enter and infect these cells. ACE-2 (Angiotensin-converting enzyme-2) is found in the pancreas and there's evidence that this makes the pancreas vulnerable to coronavirus infection.
Studies looking at pancreas cells grown in the lab and pancreas samples taken from people who died from coronavirus have shown that the virus can enter and infect insulin-producing beta cells in the pancreas, causing them to die or change the function of islets, the pancreatic tissue that contains beta cells. This means people can't produce enough insulin.
Another theory suggests that when coronavirus infects the pancreas it could trigger the immune system to attack and destroy beta cells, a key feature of type 1 diabetes.
Diabetes UK says it is unclear how coronavirus affects people in remission from type two diabetes. They advise everyone, including people in diabetes remission, to follow the stay-at-home measures.
Covid-19 and Diabetic ketoacidosis
When sick with a viral infection, people with diabetes face an increased risk of diabetic ketoacidosis (DKA), commonly experienced by people with type 1 diabetes.
DKA can make it difficult to manage your fluid intake and electrolyte levels, which is important in managing sepsis. Sepsis and septic shock are some of the more serious complications that some people with Covid-19 have experienced.
The signs of diabetic ketoacidosis are excessive thirst, frequent urination, nausea and vomiting, stomach pain, weakness or fatigue, shortness of breath, fruity-scented breath, and confusion. Be sure to talk with your diabetes care team about when to check for ketones and when to contact your doctor if you have them.
Facts about Diabetes and Covid-19
When you have diabetes, being ill can make your blood sugar go all over the place. Your body tries to fight the illness by releasing stored glucose (sugar) into your bloodstream to give you energy, but your body can't produce insulin to cope with this, so your blood sugars rise.
Your body is working overtime to fight the illness, making it harder to manage your diabetes. This means you're more at risk of having serious blood sugar highs and lows, as well as longer-term problems with your eyes, feet and other areas of your body.
For most people, novel coronavirus is a mild illness, but some people develop a more serious form of the virus and could have further complications or loss of life.
Diabetics who do contract coronavirus need to be vigilant about keeping their blood glucose levels on target and follow the guidelines for when they are ill.
This includes checking blood glucose levels more often if they monitor their levels at home. It is important that diabetics follow the isolation rules should they feel unwell or feel they have symptoms.
Who is classed as high risk in the UK?
Diabetics and certain other groups of people are at higher risk of serious complications from Covid-19. This includes older people, people of Black or Asian ethnicity, people with underlying health conditions and pregnant women. If you were to catch coronavirus, you will have a higher risk of severe illness if you meet the criteria for being at the highest risk.
These medical conditions include:
Long-term lung disease (such as severe asthma, chronic obstructive pulmonary disease (COPD), including emphysema and chronic bronchitis, bronchiectasis, pulmonary fibrosis, and cystic fibrosis with or without lung or other solid organ transplants
Long-term conditions affecting the heart or blood vessels (such as congenital heart disease, heart failure, hypertension (high blood pressure) and peripheral arterial disease)
Chronic kidney disease or if you are on kidney dialysis
Long-term liver conditions (such as liver disease, cirrhosis and hepatitis)
Conditions affecting the brain or nerves (such as dementia, Parkinson's disease, motor neurone disease, multiple sclerosis, epilepsy, cerebral palsy or stroke)
Severe or multiple learning disabilities
Down's syndrome
Diabetes
Problems with the spleen or the spleen has been removed (splenectomy)
Severely obese (a BMI of 40 or above)
Severe mental health conditions (such as schizophrenia and bipolar disorder)
A condition or treatment that makes your immune response less effective and you're more likely to get infections e.g. bone marrow transplants
A condition a healthcare professional advises puts you at high risk
People at high risk from Covid-19 are advised to follow the same guidance as everyone else. You are no longer advised to stay at home (shield). But there are still things you can do to help keep yourself safe such as maintaining social distancing, hand washing regularly or using a hand sanitiser and wearing a face mask in closed spaces.
People aged 16 and over can get a 1st and 2nd dose of a covid-19 vaccine. Most children aged 12 to 15 are currently only being offered the 1st dose. All young people aged 12 to 15 can get their first vaccine through the school-based vaccination programme or at an HSC Trust vaccination hub.
FAQ's
Are diabetics more likely to get a coronavirus infection?
The problem diabetics have is that they're more likely to have complications if they get Covid, not a greater chance of getting the virus
Do diabetics have a higher chance of serious complications from Covid-19?
Diabetics are more likely to have serious complications from Covid, but your risk of getting seriously ill from Covid-19 is lower if your diabetes management is good. Having other complications as well as diabetes could increase the chance of getting seriously ill because having more than one condition makes it harder for your body to fight the infection
Are the risks from Covid-19 different for people with type 1 and type 2 diabetes?
People of any age with certain underlying health conditions, including any type of diabetes, are at increased risk of severe illness from Covid-19. Based on current data, people with type 1 or gestational diabetes may be at an increased risk for severe illness from Covid-19. This information may however change as we learn more about the coronavirus.
What are the signs and symptoms I should be watching out for?
Symptoms may appear 2-14 days after exposure to the virus.
Potential Covid-19 symptoms include:
Fever
Cough, sore throat
Shortness of breath or problems breathing
Tiredness
Muscle or body aches, headache
New loss of taste or smell, congestion or runny nose.
Nausea or vomiting
Diarrhoea
What should I do if I think I'm developing symptoms of Covid-19?
Call your doctor. When you call:
Have your glucose and ketone reading available
Monitor your fluid consumption
Be clear on your symptoms
What are the emergency warning signs, what should I do?
Get medical attention immediately. In adults, emergency warning signs include:
Difficulty breathing or shortness of breath
Constant pain or pressure in the chest
New confusion
Inability to wake or stay awake
Bluish lips or face
About Now Patient
Now Patient's online services are available in the US and UK. We help you manage your prescriptions, doctor appointments, test results, health risks, and a lot more, all in one place for FREE. If you are in the United States, you could enjoy savings using Now Patient's mail-order pharmacy or use the Now Patient Rx Advantage Card at over 65,000 pharmacies, with savings of up to 90% on popular FDA-approved brand and generic medications like Ozempic, Mounjaro, clopidogrel and lots more. We do not currently handle commercial insurance, Medicare or Medicaid. UK NHS and private prescriptions are delivered FREE of charge across England & Wales by our UK NHS online pharmacy.
Sources
Disclaimer
Now Patient has taken all reasonable steps to ensure that all material is factually accurate, complete, and current. However, the knowledge and experience of a qualified healthcare professional should always be sought after instead of using the information in this page. Before taking any drug, you should always speak to your doctor or another qualified healthcare provider.
The information provided here about medications is subject to change and is not meant to include all uses, precautions, warnings, directions, drug interactions, allergic reactions, or negative effects. The absence of warnings or other information for a particular medication does not imply that the medication or medication combination is appropriate for all patients or for all possible purposes.
WHY WE BUILT NOW PATIENT
To improve the lives of everyone by making high-quality care accessible and convenient
We are here to improve lives. Our service gives you access to smart features & resources that can help empower you to take control of your health and improve your health outcomes. All this, in one place, for FREE. We strive to bring a fresh perspective to managing health. Not play by the rules. Now Patient can be accessed by downloading the App or using your web browser.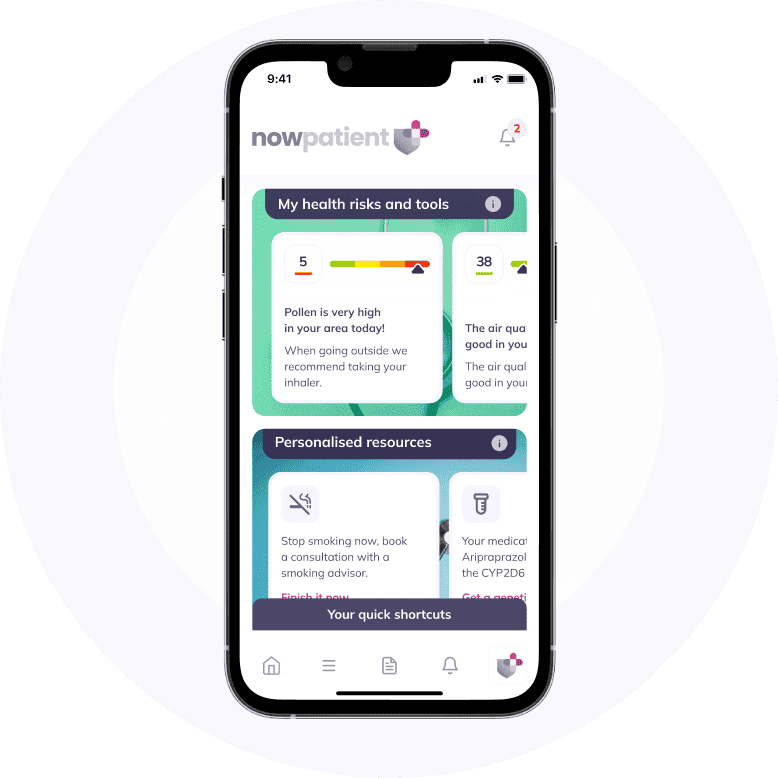 Your Questions Answered
For your peace of mind, we can answer your health questions quickly
If you want to learn more about the range of services that we provide which can help manage and improve your health, then just click the button below.
Find your answers