Stefano Mirabello
Pharmacist / B.Pharm
The Royal College of Obstetricians and Gynaecologists (RCOG) has released official guidelines to outline information for pregnant women and new mums surrounding the recent outbreak of coronavirus (COVID-19).
Are pregnant women more likely to catch coronavirus?
The RCOG says pregnant women do not appear to be at higher risk of catching the coronavirus disease than the rest of the public, although at this point the data available is limited. Also, it's very unlikely you will get seriously ill with it.
How long should pregnant women self-isolate?
Stay home and self-isolate for 10 days from symptom onset, plus three days after symptoms cease. Call your health care provider or hotline for advice.
As with everyone else, all pregnant women are advised to avoid unnecessary contact with people and to maintain social distancing.
It's important to follow advice to stop the spread of Covid-19 throughout your pregnancy. Especially when you're more than 28 weeks (third trimester of pregnancy).
What effect does Covid-19 have on pregnant women?
Pregnant women are classed in the moderate risk group only as a precaution. This is because pregnant women can sometimes be more at risk from viruses like flu. It's not clear if this happens with Covid-19 because it's a new virus.
Although it's very rare for pregnant women to become seriously ill if they get Covid-19, it may be more likely later in pregnancy. If this does happen, there's a small chance your baby may be born early or you may be advised to give birth earlier than your due date.
While the chances of having a preterm birth or a stillbirth are low, there is some evidence that there is an increased risk of this if you have Covid-19 at the time of birth. Having Covid-19 should not affect whether you have a vaginal or caesarean birth.
Studies have found that pregnant women from Black, Asian and minority ethnic backgrounds are more likely than other women to be admitted to hospital for Covid-19. Pregnant women over the age of 35, those who have a BMI of 25 or more, and those who had other health conditions, such as high blood pressure and diabetes, are also at higher risk of developing severe illness and require admission to hospital. Living in areas or households of increased socioeconomic deprivation is also known to increase the risk of developing severe illness.
Studies have also shown that there are higher rates of admission to intensive care units for pregnant women with Covid-19 compared to non-pregnant women with Covid-19. It is important to note that this may not be because pregnant women are at high risk of complications, but because clinicians are more likely to take a more cautious approach when deciding whether to admit someone to the intensive care unit when a woman is pregnant.
Should I still attend my antenatal appointments?
Yes, if you are well – The Royal College of Midwives advises that you attend your routine appointments. You will be required to follow guidance about face coverings during visits to healthcare settings.
It's important to tell your midwife or maternity team if you have symptoms of Covid-19 or feel unwell. You can ask them for help with any other concerns as you usually would.
Pregnancy and Covid-19 Vaccination
You may wish to discuss the benefits and risks of having the vaccine with your healthcare professional to reach a joint decision. The NHS is encouraging pregnant women to get the Covid-19 vaccine as new data shows that nearly 20 per cent of Covid-19 patients with severe illness are pregnant women who have not been vaccinated.
Data from Public Health England showed that over 81,000 pregnant women have received the first dose of the Covid jab, and around 65,000 have received their second dose.
The vaccination can also help pregnant women build antibodies that might protect their babies from coronavirus infection.
It's preferable for pregnant women to have the Pfizer/BioNTech or Moderna vaccine. This is because they've been more widely used during pregnancy in other countries and no safety concerns have been identified.
I'm feeling anxious – where can I get help?
Understandably, you may be worried because of the pandemic and have lots of questions at this time. Speak to your GP, midwife, pharmacist or have a look at Tommy's mental wellbeing page for advice on taking care of yourself before, during and after pregnancy.
Can coronavirus be passed to your baby?
Scientists in China have said there is a chance Covid-19 may be passed from mother to baby during pregnancy, despite no direct evidence pointing to this method of transmission.
You will be encouraged to breastfeed. There is no evidence Covid-19 is passed on to your baby in breast milk, so the benefits of breastfeeding and the protection it offers outweigh any risks.
More information
About Now Patient
Now Patient's online services are available in the US and UK. We help you manage your prescriptions, doctor appointments, test results, health risks and a lot more, all in one place for FREE. US prescriptions are available on a discounted 'cash' basis and delivered across all 50 states by our network of pharmacy providers dispensing FDA-approved generic and branded medications. We do not currently handle commercial insurance, Medicare or Medicaid. UK NHS and private prescriptions are delivered FREE of charge across England & Wales by our UK regulated online pharmacy.
Sources
Disclaimer
Now Patient has taken all reasonable steps to ensure that all material is factually accurate, complete, and current. However, the knowledge and experience of a qualified healthcare professional should always be sought after instead of using the information in this page. Before taking any drug, you should always speak to your doctor or another qualified healthcare provider.
The information provided here about medications is subject to change and is not meant to include all uses, precautions, warnings, directions, drug interactions, allergic reactions, or negative effects. The absence of warnings or other information for a particular medication does not imply that the medication or medication combination is appropriate for all patients or for all possible purposes.
WHY WE BUILT NOW PATIENT
To improve the lives of everyone by making high-quality care accessible and convenient
As technologists and clinicians, we built Now Patient to be more than just an online pharmacy. We are here to improve lives. Our service gives you access to smart features & resources that can help empower you to take control of your health and improve your health outcomes. All this, in one place, for FREE. We strive to bring a fresh perspective to managing health. Not play by the rules. Now Patient can be accessed by downloading the App or using your web browser.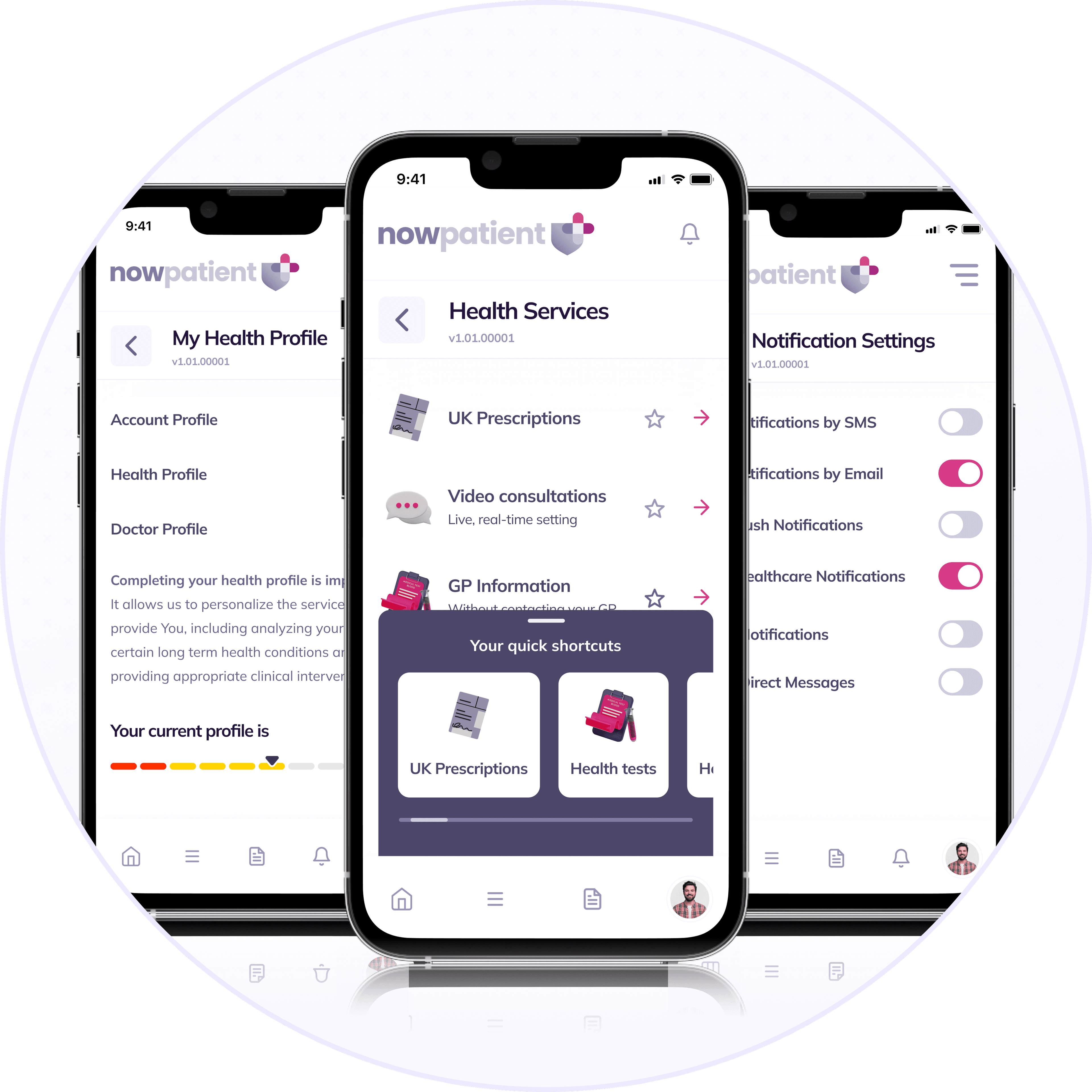 NOW PATIENT
Join the thousands of happy customers in the US and UK already using Now Patient
Manage your health and prescriptions all in one place for FREE. Available to use by downloading the App, or using your web browser.
Your Questions Answered
For your peace of mind, we can answer your health questions quickly
If you want to learn more about the range of services that we provide which can help manage and improve your health, then just click the button below.
Find your answers