/
Blog
/
Parents to be: Can I take paracetamol while pregnant?
Parents to be: Can I take paracetamol while pregnant?
14 Mar 2023

Stefano Mirabello
Pharmacist / B.Pharm
Are you expecting a baby? Congratulations! Parenting is an amazing journey and one of the things that can make it even more enjoyable is knowing that you're doing all that you can to look after both your health, as well as the health of your little one.
As a parent-to-be, you want to do everything possible to ensure a healthy pregnancy. But sometimes that means making tough decisions, like whether or not to take medication. If you're wondering, "can I take paracetamol while pregnant?" read on. In this blog post, we've compiled everything there is to know about paracetamol use while pregnant, so that you feel informed and empowered to make decisions regarding your health.
How does paracetamol work?
Paracetamol is a type of medicine known as an analgesic, it reduces the production of prostaglandins in the body. Prostaglandins are hormones that are involved in pain and inflammation.
It is commonly used to relieve mild to moderate pain, such as headaches. It also reduces fever. Paracetamol works differently than other non-steroidal anti-inflammatory drugs, such as ibuprofen or aspirin. This means that it has fewer adverse effects but may take longer to provide relief from pain or fever.
Paracetamol is a safe medication for treating common aches and pains when taken as directed. However, it is important to understand how paracetamol works and its always best talk to a healthcare professional, such as a pharmacist, about any existing health conditions before taking it for relief.
How does paracetamol compare to ibuprofen?
Paracetamol and ibuprofen are two of the most common over-the-counter medications used to relieve pain, fever and inflammation. While both are effective pain relievers, they work differently and have unique side effects. Paracetamol works primarily by blocking the effect of chemicals in the brain that cause pain. It is recommended for pregnancy as it does not cause stomach or intestinal issues like ibuprofen. Ibuprofen has a different action and is also known as an anti-inflammatory, meaning it helps reduce inflammation associated with certain medical conditions such as arthritis or back pain, and can reduce stiffness and swelling. However, if you're pregnant, it is recommended that you avoid taking ibuprofen. Ultimately, paracetamol may be a better option than ibuprofen when pregnancy is involved due to fewer potential complications. Talk to your doctor to find an appropriate solution for your need.
How much paracetamol can I take while pregnant?
Pregnant and breastfeeding women can take paracetamol for fever and pain relief, but should stick to the lowest dose of paracetamol for the shortest possible time. According to NHS guidelines, a maximum of 8, 500mg tablets over 24 hours is recommended, with at least 4 hours between each dose. Taking more than this could pose a risk in pregnancy, so you must adhere closely to these instructions when taking paracetamol as needed.
Paracetamol is the first choice of pain relief treatment during pregnancy. It is mild, safe during antenatal stages and can minimise mild to moderate pain levels, with no major side effects when taken as instructed. Compared to other analgesics or painkillers such as ibuprofen, paracetamol carries relatively little risk to the mother and baby when properly dosed during pregnancy. Ibuprofen is not usually recommended in pregnancy due to the increased risk of miscarriage.
It has been demonstrated that paracetamol effectively relieves mild to moderate pain without causing any major health concerns. As such, it has become the go-to choice by many doctors as a safe and effective first-line treatment for mild to moderate pain relief in pregnant women.
Is paracetamol safe to take while pregnant?
Although it is not possible to say that any medicine is safe to use in pregnancy, there is currently no good evidence that paracetamol will harm your baby.
Recent scientific studies have suggested that taking paracetamol during pregnancy may be associated with various health risks.
A 2021 Finnish study found an association between pregnant women who use the medication and developing pre-eclampsia – a serious condition characterised by high blood pressure thought to be caused by problems with the placenta
UK research in 2019 indicated potential links to behavioural issues such as memory troubles or lower IQ scores among children of mothers who took paracetamol while pregnant
Swedish/UK scientists in 2019 proposed possible connections between prenatal use of this pain reliever and asthma assessment for babies after birth. This correlation was further explored in another US survey published in 2021 which linked prenatal exposure to paracetamol to neurological disorders, like autism or attention deficit hyperactivity disorder (ADHD) in children
However, it is important to recognise the limitations of these studies. There is no clear evidence that paracetamol harms an unborn baby. These studies do not demonstrate that taking paracetamol during pregnancy directly causes adverse outcomes. It could be an unrelated illness necessitating medicine intake, causing them instead. Thus, experts agree more research must be done before any conclusions can confidently be made about paracetamols' safety while pregnant.
Regarding paracetamol, taking the lowest dose for a limited duration is paramount. This advice from experts will give you peace of mind that using this over-the-counter medication won't put your health at risk.
Is paracetamol safe in pregnancy first trimester?
It is essential to consider the potential drug-related harm to the unborn baby during pregnancy. Exposure to drugs, either prescription medication or recreational substances, at any stage of pregnancy can adversely affect the fetus's development.
This is true during the first trimester (0-12 weeks of pregnancy ), marking a critical time for forming organs. Damage can also occur in the second trimester (12-24 weeks of pregnancy) when organs fully develop and even up to the third trimester ( 24-40 weeks) when physical growth begins. Therefore, it is important for both women of childbearing age and men trying to father a child to be aware of the risks associated with drugs.
What are the potential side effects of paracetamol?
Despite its relatively mild nature, there are potential side effects to consider. Some people may experience gastrointestinal issues such as nausea, vomiting or diarrhoea while taking paracetamol. Rarely, someone may have a rash, hives or other allergic reactions after taking medicine. In very rare cases, paracetamol can cause liver damage and even death if taken in large amounts. It is important for those taking paracetamol to follow their doctor's instructions carefully, avoid taking too much of the medication and avoid alcohol while taking it. Anyone having any adverse effects from paracetamol should stop and seek medical help immediately.
Speak to a healthcare professional
As a parent, it's essential to consider the effects of paracetamol on your pregnancy. If used in moderation, paracetamol can safely be used for fever and mild pain during pregnancy. However, excessive medication use should be avoided as it may increase the risk of complications. It is always wise to consult with your healthcare provider before taking any medicine when you are pregnant.
You should not self-medicate without speaking to your doctor or pharmacist first. So remember, if you have any questions or doubts about whether paracetamol is safe to take while pregnant, talk to your healthcare professional, such as a pharmacist, before taking any medication now or in the future.
About Now Patient
Now Patient's online services are available in the US and UK. We help you manage your prescriptions, doctor appointments, test results, health risks, and a lot more, all in one place for FREE. If you are in the United States, you could enjoy savings using Now Patient's mail-order pharmacy or use the Now Patient Rx Advantage Card at over 65,000 pharmacies, with savings of up to 90% on popular FDA-approved brand and generic medications like Ozempic, Mounjaro, clopidogrel and lots more. We do not currently handle commercial insurance, Medicare or Medicaid. UK NHS and private prescriptions are delivered FREE of charge across England & Wales by our UK NHS online pharmacy.
Sources
Disclaimer
Now Patient has taken all reasonable steps to ensure that all material is factually accurate, complete, and current. However, the knowledge and experience of a qualified healthcare professional should always be sought after instead of using the information in this page. Before taking any drug, you should always speak to your doctor or another qualified healthcare provider.
The information provided here about medications is subject to change and is not meant to include all uses, precautions, warnings, directions, drug interactions, allergic reactions, or negative effects. The absence of warnings or other information for a particular medication does not imply that the medication or medication combination is appropriate for all patients or for all possible purposes.
WHY WE BUILT NOW PATIENT
To improve the lives of everyone by making high-quality care accessible and convenient
We are here to improve lives. Our service gives you access to smart features & resources that can help empower you to take control of your health and improve your health outcomes. All this, in one place, for FREE. We strive to bring a fresh perspective to managing health. Not play by the rules. Now Patient can be accessed by downloading the App or using your web browser.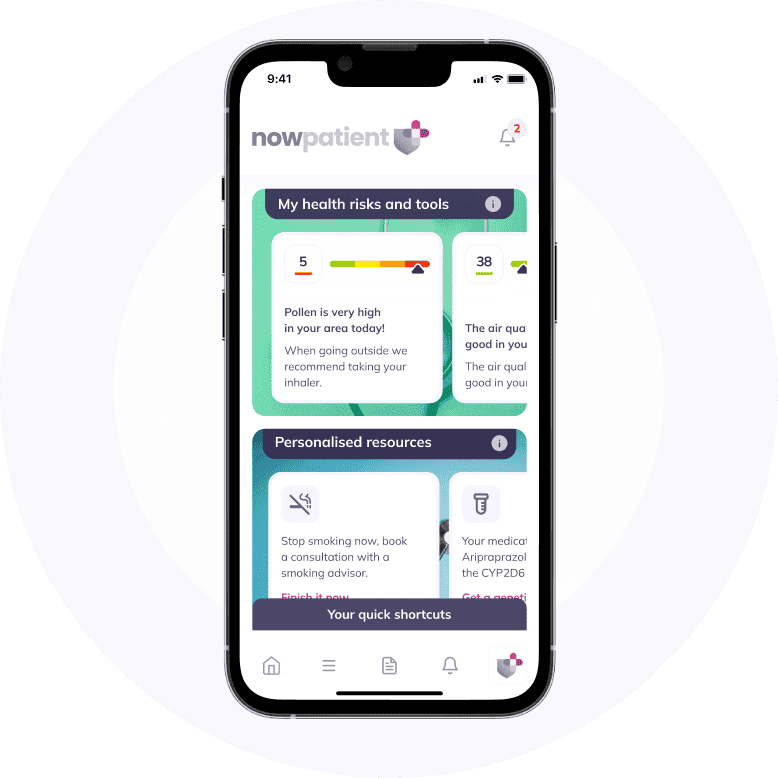 Your Questions Answered
For your peace of mind, we can answer your health questions quickly
If you want to learn more about the range of services that we provide which can help manage and improve your health, then just click the button below.
Find your answers