Stefano Mirabello
Pharmacist / B.Pharm
It can feel like you're constantly fighting a losing battle when it comes to your acne, but a daily skin care routine for acne can work wonders.
Clearing your follicles, removing excess oil and fighting bacteria can all make a huge difference. But with so many products and claims out there, where do you even start? It's all about finding what works for you and sticking to it.
This is what you really need to know about looking after your acne-prone skin.
What is acne and what causes it?
To understand how best to care for acne-prone skin, you need to understand what acne is and what causes it.
Acne is a skin condition which causes various types of spots. The spots can become infected with bacteria, which can cause inflammation and sometimes permanent scarring.
You get acne when your follicles (the small holes in your skin which hairs grow out of) become blocked, usually by dead skin cells or sebum (the natural oil your skin produces). Once the follicle is blocked it can form a black head or white head, and if it becomes infected, it can grow into a papules, pustules, nodules, and cysts.
What is the best skin care for acne prone skin?
You need a skin care routine that removes excess oil and dead skin from your face, unblocks and clears your follicles, and which fights infection. You should use mild, unscented products which don't contain alcohol, to avoid irritating your face.
Will I have to use lots of expensive products to care for acne prone skin?
Not necessarily. You'll need to use a couple of different products as part of a full skin care routine and you'll need to experiment to find which one's suit you best. But sometimes the cheaper brands of these products work just as well as the more expensive ones, sometimes even better.
Should I moisturize at night if I have acne?
You should moisturize as part of your acne skin care routine, and you should do so at least once a day. Usually people moisturize in the morning, particularly if their moisturizer also protects their skin from the sun. But you can moisturize in the evening if that suits you better, and you may have to moisturize both in the morning and evening if your skin dries out easily.
How do you take care of acne skin?
Now on the skin care routine itself.
Step 1: cleanse your face
You need to start your skin care routine by cleansing your face to remove excess oil, sweat, and dirt. Think of this as clearing the way for your other skin care products.
Rather than just using soap and water, you should use a cleanser specifically intended for treating acne, such as one that contains salicylic acid or benzoyl-peroxide (you can buy these over the counter). However, if you're also using prescription acne medications, it may be better to use something gentler, ideally a mild, unscented cleanser.
You don't need to be too harsh with your skin when cleansing. Use warm, but not hot water, and don't rub too hard. Clean gently with your fingertips or with a soft cloth.
Do this every morning, but if you have an active day playing sport or getting sweaty, cleanse your face again in the evening.
Step 2: use a toner or astringent
Toners are another product which help clean your skin, and they can also make your follicles shrink, reducing the likelihood that they'll become blocked. Astringents are products designed to remove excess oil from your skin, which also helps prevent your follicles from becoming clogged.
While both toners and astringents can help reduce the likelihood and severity of acne outbreaks, they may not be suitable for everyone as they can dry your skin, as well as irritating sensitive skin. To limit the chances of this happening, use products that don't contain any alcohol and choose ones designed for sensitive skin. If you find they still irritate your skin, skip this step.
Step 3: apply your acne treatment
After your face has dried, apply a topical acne treatment.
Over the counter options include acne creams that contain salicylic acid or azelaic acid. These acids can have a mild exfoliant effect and help treat acne by removing dead skin cells and more effectively clearing blocked follicles.
Prescription medication may be more suitable for moderate to severe acne. Some prescription medications contain stronger acids, like retinoic acids, which can be even more effective at cleaning follicles and removing dead skin. Others include creams and gels containing antibiotics, which can help fight bacterial infections that accompany acne, reducing inflammation, and lowering the risk of scarring.
We recommend a product called tretinoin which is a type of all-trans retinoic acid. Tretinoin is applied directly to your face and works by removing dead skin cells and oil from your face, which can block your pores and cause acne. Tretinoin also promotes the faster growth of new skin cells and reduces inflammation.
Step 4: moisturize
Acne treatments can dry your skin out, so moisturize at the end of your skin care routine to re-hydrate your skin. This will help to stop your skin becoming sore, will reduce peeling and rashes, and limit any discoloration due to dryness.
Use a mild moisturizer, ideally one without any scent, as these will be kinder to your skin. You can buy moisturizers specifically formulated for oily skin too, which should help limit further blocking of your follicles.
Go for a moisturizer that's designed specifically for faces too, rather than an all-body moisturizer, as these can be oily.
Step 5: sunscreen
One for your morning routine rather than the evening.
Whilst some sunlight can be good for your skin, it can also dry it out and encourage more sebum oil to be produced. The sun can also make it harder for your skin to shed dead skin cells, all of which can make it more likely for your follicles to be blocked. Some skin care products can make your face more sensitive to damage from the sun too.
There are certain moisturizers that contain SPF (sun protection factor) meaning you might be able to do steps 4 and 5 with only one product.
Experiment to find what's right for you
Everyone's skin is different, so you'll need to experiment to find out what works best for you. You might find that toners or astringents aren't right for your skin, and you'll find that some brands work better than others. Remember that the cheaper ones often work just as well as the expensive ones, sometimes even better.
Stay consistent
A daily skin care routine won't banish your acne entirely, but it can help keep you skin as clear and blemish free as possible, especially if you're consistent. If you take care of your skin on a daily basis, you'll see the best results.
Don't worry if you miss a day here and there. No one's perfect, and sometimes life gets in the way, but try your best to care for your skin every morning, and every evening if necessary. Try to make it part of your daily routine, so you do it without even thinking.
Now you should have a good foundation for an acne skin care routine to help you deal with acne. You might find some steps don't work for you or you may find that other skin care products help.
It's all about working out what works best for you.
About Now Patient
Now Patient's online services are available in the US and UK. We help you manage your prescriptions, doctor appointments, test results, health risks and a lot more, all in one place for FREE. US prescriptions are available on a discounted 'cash' basis and delivered across all 50 states by our network of pharmacy providers dispensing FDA-approved generic and branded medications. We do not currently handle commercial insurance, Medicare or Medicaid. UK NHS and private prescriptions are delivered FREE of charge across England & Wales by our UK regulated online pharmacy.
Sources
Disclaimer
Now Patient has taken all reasonable steps to ensure that all material is factually accurate, complete, and current. However, the knowledge and experience of a qualified healthcare professional should always be sought after instead of using the information in this page. Before taking any drug, you should always speak to your doctor or another qualified healthcare provider.
The information provided here about medications is subject to change and is not meant to include all uses, precautions, warnings, directions, drug interactions, allergic reactions, or negative effects. The absence of warnings or other information for a particular medication does not imply that the medication or medication combination is appropriate for all patients or for all possible purposes.
WHY WE BUILT NOW PATIENT
To improve the lives of everyone by making high-quality care accessible and convenient
As technologists and clinicians, we built Now Patient to be more than just an online pharmacy. We are here to improve lives. Our service gives you access to smart features & resources that can help empower you to take control of your health and improve your health outcomes. All this, in one place, for FREE. We strive to bring a fresh perspective to managing health. Not play by the rules. Now Patient can be accessed by downloading the App or using your web browser.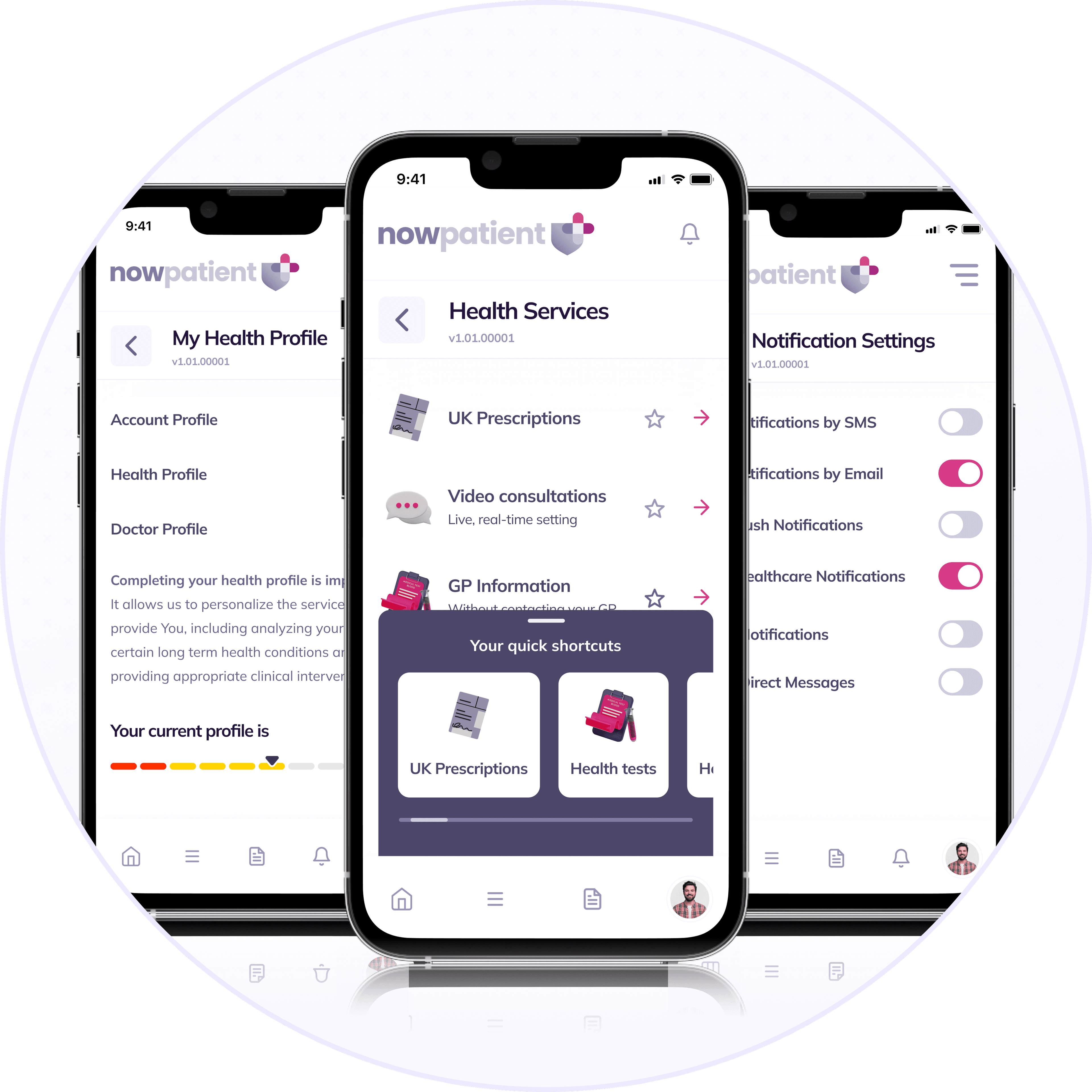 NOW PATIENT
Join the thousands of happy customers in the US and UK already using Now Patient
Manage your health and prescriptions all in one place for FREE. Available to use by downloading the App, or using your web browser.
Your Questions Answered
For your peace of mind, we can answer your health questions quickly
If you want to learn more about the range of services that we provide which can help manage and improve your health, then just click the button below.
Find your answers