Stefano Mirabello
Pharmacist / B.Pharm
Having acne is bad enough, but the scars it can leave behind can be devastating. It's cruel that you can finally conquer the stubborn condition only to be left with a lasting reminder of it. A reminder that can be every bit as difficult to live with as the acne itself.
But you don't have to live with acne scars forever. Even serious acne scarring can be treated. Here we explain the different options available to get rid of your acne scars, including products you can use at home and professional acne scar treatments provided by a dermatologist.
How does acne cause scarring?
You get acne scars when the layers of skin beneath the surface become damaged. These layers act as structural support for your skin. If they're harmed, the skin on the surface layer above can pit and sag or raise up into bumps, giving you scars.
Acne doesn't always leave you with scars but two factors make acne scars more likely. The first is the severity of your acne. Larger pimples – particularly infected ones – can intrude into the supportive layers of your skin and damage it. Damage is also more likely if your acne causes inflammation in your skin.
The second factor is whether or not you try to pop your pimples. Squeezing your pimples can be satisfying but you increase the risk of damaging the lower layers of your skin, leaving you with acne scars.
What types of acne scars can you have?
There are two main categories of acne scarring – these are called 'depressed acne scars' and 'raised acne scars'. While most treatments are suitable for both, it's worth knowing what types of scars you have as some treatments work better for specific scars.
So, what do acne scars look like?
Depressed acne scars
Depressed acne scars occur when the supportive layer in your skin is damaged by spots and inflammation intrudes down into it. A loss of structural collagen in these layers causes cavities to form that your surface skin sags into. These scars range from shallow boxcar scars to deep and sharp ice pick scars.
Raised acne scars
The second category of acne scars – raised scars – occurs when your supportive skin layers produce too much collagen in response to damage. As a result, bumps and lines can start to form in your surface skin. These scars can often be a brighter color than your skin, making them particularly visible.
Do acne scars go away?
Acne scars often fade over time but won't go away unless you treat them. This is because they are the result of permanent skin damage.
How long does it take for acne scars to fade?
Acne scars can fade over time, particularly in the first few years after they appear. However, some acne scars are a result of permanent damage to the layers of your skin and if left untreated they won't fade entirely.
How to prevent acne scars
Prevention is better than the cure. You can limit your chances of developing acne scars by:
Treating your acne: You should use an effective acne treatment like tretinoin to try and stop your acne from becoming too severe and limit your chances of getting scars. This is really the most important step you can take to prevent acne scars
Not popping or picking your pimples: As tempting as this can be, it increases your chances of causing damage that can lead to acne scarring. Read more about popping pimples
Seeing a dermatologist: A dermatologist (a specialist in skincare) can recommend appropriate acne treatments to tackle your acne and reduce the inflammation and damage it causes
How to remove acne scars
Because acne scars are caused by permanent damage to the supportive layers of your skin, they're tough to tackle. You may never get rid of your acne scarring entirely but there is a lot you can do to dramatically reduce the appearance of your acne scars. Effective acne scar treatments include:
Salicylic acid for acne scars: This is a type of natural acid that can remove dead skin cells and reduce inflammation in your skin to improve the appearance of acne scarring. You can find salicylic acid in a wide range of over-the-counter skin products. These are generally more suited to tackling mild acne scarring
Topical retinoids for acne scars: These are a group of acids that are based on vitamin A. They're found in a range of skin products like creams and serums that you apply to your affected skin. Retinoids help to speed up the regeneration of your skin cells. Research has shown this can visibly reduce the appearance of acne scars. You can buy milder retinoids over the counter or stronger ones including tretinoin with a prescription
Chemical peels for acne scars: This is when certain chemicals are applied to your face to remove the surface layers of skin. Research has shown chemical peels can improve the appearance of acne scars, but they should only be performed by a qualified dermatologist
Dermal fillers for acne scarring: These are soft fillers often based on collagen that can be injected into your skin by a dermatologist. They help to fill the cavities in your supportive skin layers that cause depressed acne scars
Microneedling for acne scars: This is when a dermatologist inserts a small needle repeatedly into the skin around your scars to encourage the production of new collagen to smooth out your skin. Research has shown it can be effective in lessening acne scars
Laser treatments for acne scars: This can remove the surface layers of your skin, leaving clearer skin beneath and reducing the visibility of your scars. You need to have a consultation with a dermatologist first as laser treatments aren't suitable for all skin types
You'll likely also find a lot of advice online about natural and home treatments for acne scars. The majority of these have little to no scientific evidence to back them up but they're often safe and cheap to try, so you can always experiment and see how they affect your skin. Recommended natural acne scarring treatments include:
Vitamin E capsules that are broken and rubbed into your skin
Apple cider vinegar
Coconut oil
Olive oil
Shea butter
Aloe vera gel
Honey
Baking soda
Lemon juice
There's plenty of noise online about acne scar removal too. Surgical removal is rarely an option however, as the process of cutting a scar away from your skin also causes damage and would often result in a more pronounced scar.
Can exfoliating help acne scars?
Exfoliation may improve the appearance of acne scars, particularly milder scars. However, acne scars are caused by damage to layers of your skin that exfoliation can't reach. This means that exfoliation can't completely get rid of acne scars and will likely have little impact on more pronounced scars.
Remember, with the right treatment you can conquer your acne scars and boost your confidence at the same time.
About Now Patient
Now Patient's online services are available in the US and UK. We help you manage your prescriptions, doctor appointments, test results, health risks, and a lot more, all in one place for FREE. If you are in the United States, you could enjoy savings using Now Patient's mail-order pharmacy or use the Now Patient Rx Advantage Card at over 65,000 pharmacies, with savings of up to 90% on popular FDA-approved brand and generic medications like Ozempic, Mounjaro, clopidogrel and lots more. We do not currently handle commercial insurance, Medicare or Medicaid. UK NHS and private prescriptions are delivered FREE of charge across England & Wales by our UK NHS online pharmacy.
Sources
Disclaimer
Now Patient has taken all reasonable steps to ensure that all material is factually accurate, complete, and current. However, the knowledge and experience of a qualified healthcare professional should always be sought after instead of using the information in this page. Before taking any drug, you should always speak to your doctor or another qualified healthcare provider.
The information provided here about medications is subject to change and is not meant to include all uses, precautions, warnings, directions, drug interactions, allergic reactions, or negative effects. The absence of warnings or other information for a particular medication does not imply that the medication or medication combination is appropriate for all patients or for all possible purposes.
WHY WE BUILT NOW PATIENT
To improve the lives of everyone by making high-quality care accessible and convenient
We are here to improve lives. Our service gives you access to smart features & resources that can help empower you to take control of your health and improve your health outcomes. All this, in one place, for FREE. We strive to bring a fresh perspective to managing health. Not play by the rules. Now Patient can be accessed by downloading the App or using your web browser.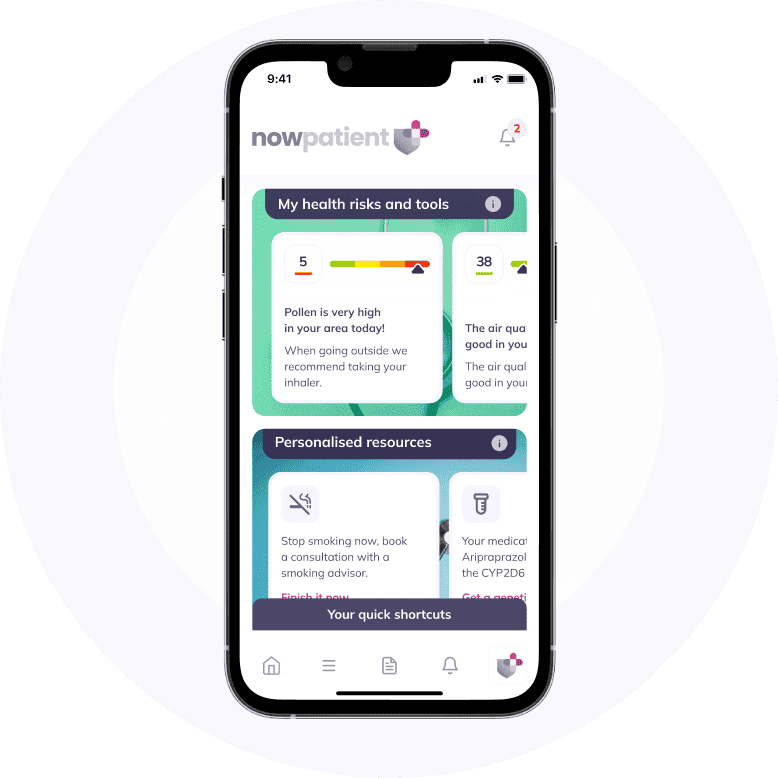 Your Questions Answered
For your peace of mind, we can answer your health questions quickly
If you want to learn more about the range of services that we provide which can help manage and improve your health, then just click the button below.
Find your answers